Burgh Island and Art deco
Everybody can mention a place which put a spell on him/her, which had a magical and special ambiance. There is a tiny island in South West England in Devon, which took my heart. If you read my introduction, you can guess I am a big Poirot fan and I can not really tell why. Perhaps because Poirot films make me feel relaxed, the elegant lifestyle of the 1930s and of course the beautiful filming locations take me to a different world. My favourite Poirot episode is "Evil under the Sun". The reason for that is the story which does not contain any violence (apart from the explanation of the murder of course) and the sunny, summer English seaside with an art deco building.
My dream to visit the filming location of the episode "Evil under the Sun", Burgh Island, came true in July 2016 when we had summer holiday in Cornwall.
We made a detour on the way down and I will never forget those one narrow, curvy country lanes that led to the village of Bigbury-on-Sea. After about 20 minutes drive on these country roads, on the top of a hill I spotted a tiny island in front of us with the white, elegant hotel on it. Being overly excited and happy, I cried out loud and could not believe I was there, soon be able to put my feet on the ground of that tiny island I had seen so many times on TV… The five story building with its, flat roof, white concrete building, with a rotunda staircase and a dome was standing elegantly and splendidly in the sunshine and made a perfect contrast to the blue sky and green grass. Agatha Christie wrote my favourite episode in this building on this tiny island.
Getting to the island
When the tide is out you can walk across to the island, but when it is in, there is a strange vehicle called a tractor that carries tourists over. The first tractor was built in 1930 and I would have loved to try it in spite of the not exactly cheap fare (£2) but the tide was out so we could walk over.
We walked around the island fairly quickly, therefore I think, the plot of the murder could not be filmed on this island. In the episode, you can see beach staircases, they are talking about a secret cave, rowing around the island. It is impossible to have all this on this little piece of earth. We passed by the tennis courts and saw the stony beach where Arlena Stuart was bathing with Patrick Redfern.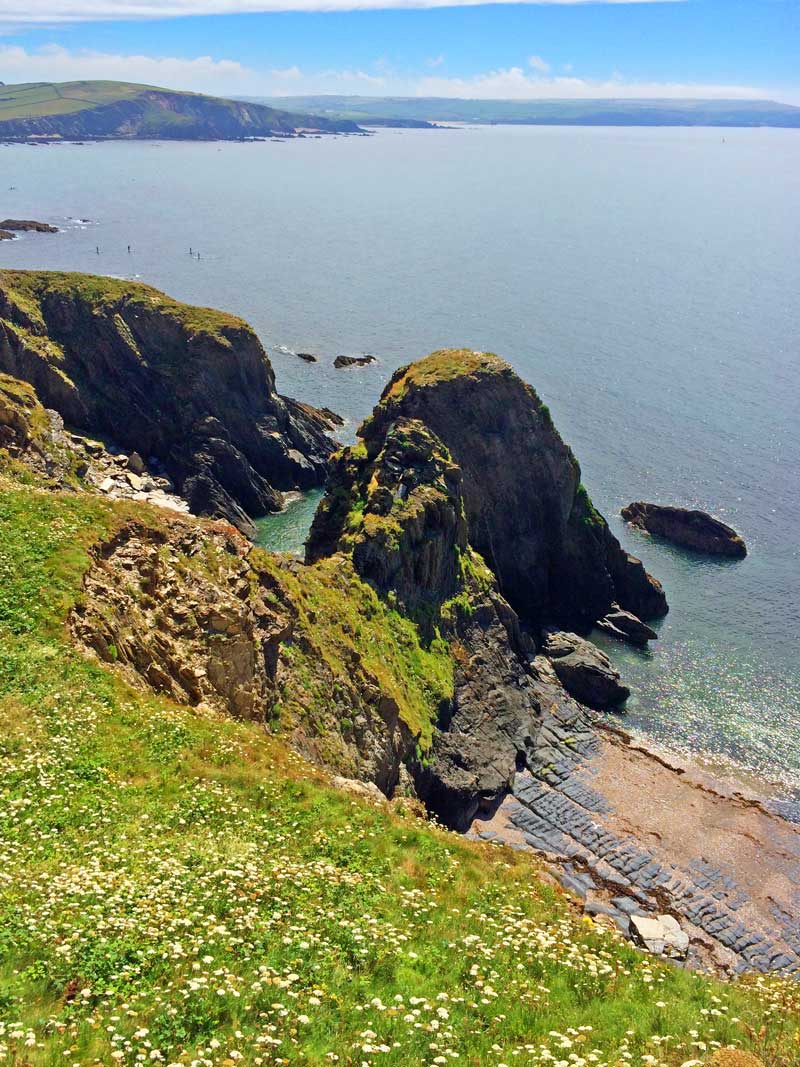 What do we know about the island?
To be honest, not a lot, unfortunately. The island was called St Michael's island, later Borough Island on old maps. Apparently, there was a monastery on the island and its ruins are said to be beneath the hotel. There is a 14th century pub called Pilchard Inn which probably served the tenants of the monastery and later the fishermen. As in most seaside villages in the South West, smuggling flourished here, too. The most famous smuggler of the island was a man called Tom Crocker who ended his life here by having been shot by a tax inspector.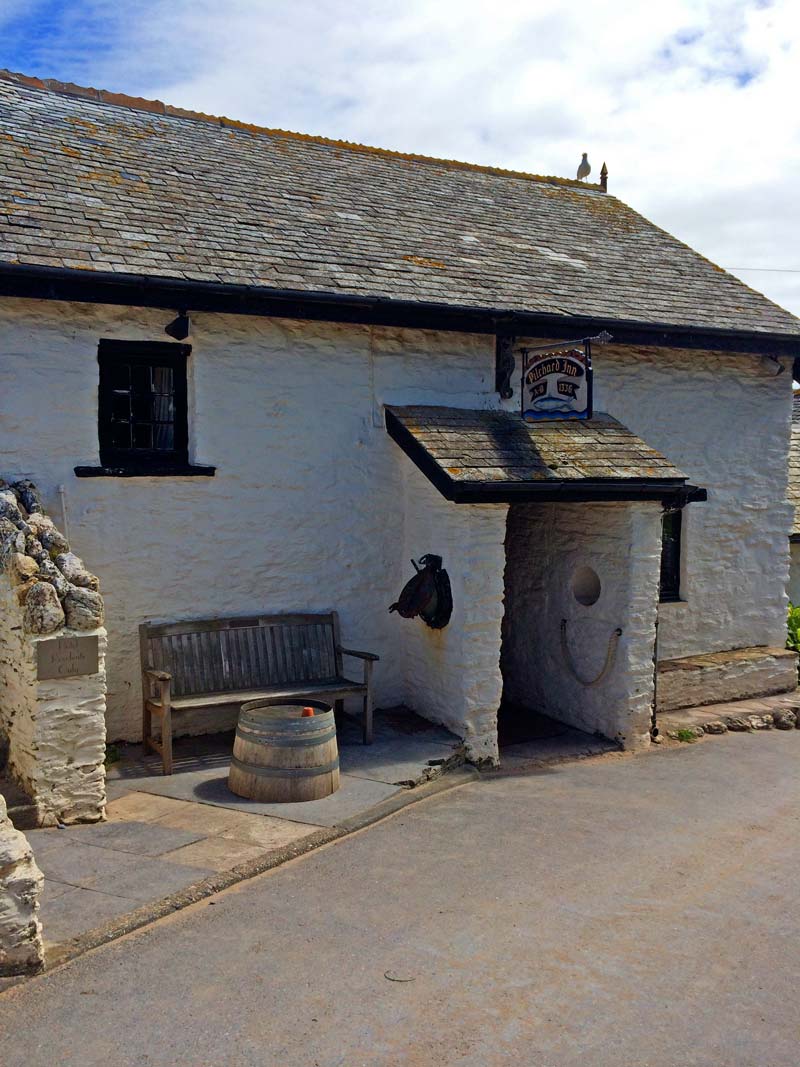 Later history
The entire island was bought by George Chigwirn, a popular English comedian and he built a huge wooden house on it where he entertained his friends at the weekends. Later, in 1927 Archibald Nettlefold, a filmmaker bought it and built the art deco building in 1929 for entertaining his friends. The island had some famous visitors: apparently Noël Coward intended to spend 3 days here, but he liked the island so much that he stayed 3 weeks. Some say, Edward and Mrs Wallis Simpson too stayed here but there is no evidence for that. Eisenhower and Churchill met here few weeks before the D-Day. During the World War II the building was used by the RAF for recreation purposes and the top 2 floors were damaged in a bombing raid. The building was refurbished in 1990s and opened as a hotel.
When a lecturer specialized in 20th century architecture was asked about the art deco hotel on the Burgh Island, he said:
I don't know much about it (I don't think architectually there maybe a lot to know).
I am slightly disappointed that this pretty little art deco building is obviously overlooked architecturally. The fact they admit, the building has been overlooked might comfort me. What they also say is that the building on Burgh Island does not represent the distinctive European art deco style, but the English adaptation of the deco style, with its twists, was influenced by blurred concepts and foibles of the millionaire Archibald Nettlefold. He wanted to establish a Treasure-island ambiance, mixed with modern lifestyle to impress his wealthy and well-connected friends. As a result, one room has a Hollywood glamour style, some others look like granny's cottage. Even so, for me this building is wonderful. I love its distinctive art deco style, especially for a Hungarian person, it is something truly beautiful. Unfortunately, we do not have many art deco buildings in Hungary, we have more of art nouveau and bauhaus. Maybe this is the reason why I love art deco and England as it has plenty to see and visit.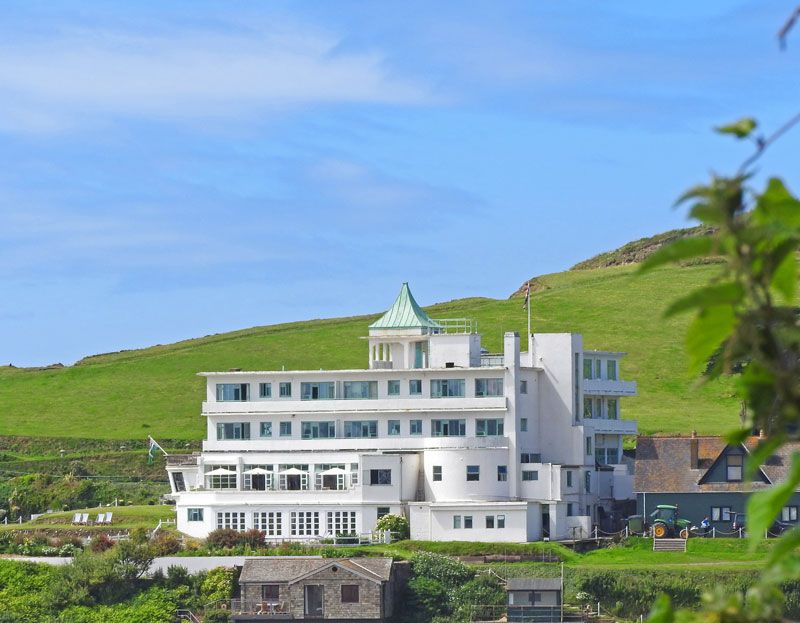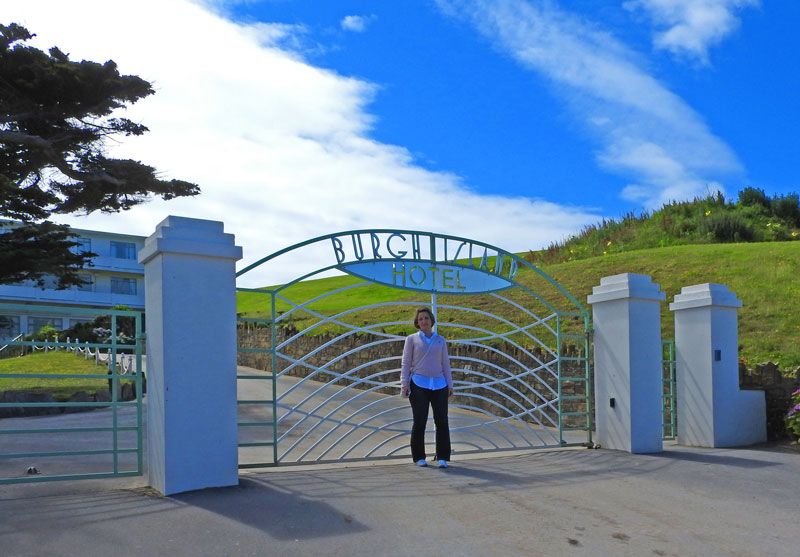 Today's hotel
Apparently, rooms are rather on the small side and beds are rather double than king size (what a shame you have to put up with haha) and out of the 25 rooms only 3 have modern showers. No televisions in the rooms (I would not mind, who wants to watch TV in a place like this…?) and you have to change for dinner, where you would be entertained by live music and local sea food is served. Mmmm… it must be magical. I would not mind having a dinner here and spending a night in one of the rooms. Unfortunately, any service on the island is for hotel guests only, even the little pub serves them only. For a coffee and cake at the hotel reservation has to be made. I do not even dare to dream of spending a night here as one night including dinner and breakfast in the cheapest room cost £420… Maybe once… It must be fabulous… Who could resist to this island? It is worth having a look at the hotel's website, it is breathtaking…