4 beautiful gardens in the Cotswolds
Of course there are more than 4 beautiful gardens in the Cotswolds, in fact, the Cotswolds is full of wonderful gardens. However, in this post I am going to take you to four of them.
1) Sezincote – a slice of India in the middle of England
Sezincote was created by three brothers. Charles Cockerell was serving with the East India Company in India and upon his return he bought the estate. He wanted to build a country house here, but unfortunately, he passed away three years after he had bought the place. His brother inherited it, who then hired the third brother, Samuel Pepys Cockerell to design the house. Samuel was an architect and although he has never been to India, he knew the Indian architecture well and decided to build it in a Mughal style.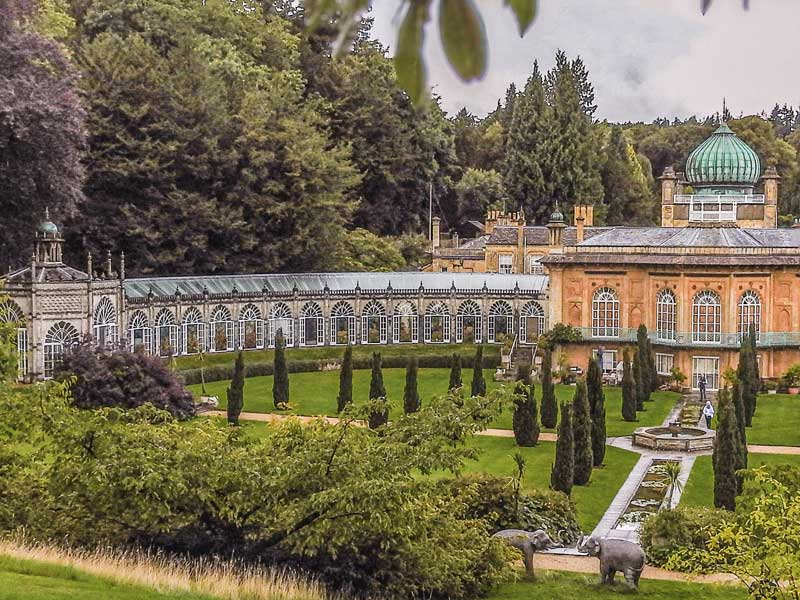 But what is a Mughal style?
Emperor Akbar, who ruled the Indian empire from 1556 to 1605, 'deliberately mixed Islamic and Hindu elements in architecture in an effort to culturally integrate' his kingdom, thus creating the Mughal architecture.
Sezincote is dominated by its red sandstone colour, typical in Mughal architecture, but features a copper-covered dome instead of the typical white marble. Complete with minarets, peacock-tail windows, jali-work railings and pavilions. The interior is purely classical – Greek Revival – and no attempt was ever made to Indianise it.
The landscape was designed by one of the most popular Georgian landscape designers, Humphry Repton. It is essentially a renaissance-style garden with elements of Hindu style, as seen in the crescent bridge with columns. But there is so much to see in this beautiful garden! There are Brahmin bulls on top of the Hindu Bridge, a Snake Pond, a Temple of Surya, the God of Sun, a crescent orangery etc.
If you think, Sezincote resembles the Royal Pavilion in Brighton, you are right. It does! That's because the Prince Regent visited Sezincote in 1807 and fell in love with the building so much, that he had the plans of the Royal pavilion changed and John Nash, the most famous architect of the Georgian era, had to redesign it.
2) Snowshill Manor
Although I have seen many pictures about it in books and on social media, I had no idea how much this place has to offer. It is definitely a place you have to visit and see it for yourself, I would say. Walking in of one of the most famous gardens of the Cotswolds is a completely different experience.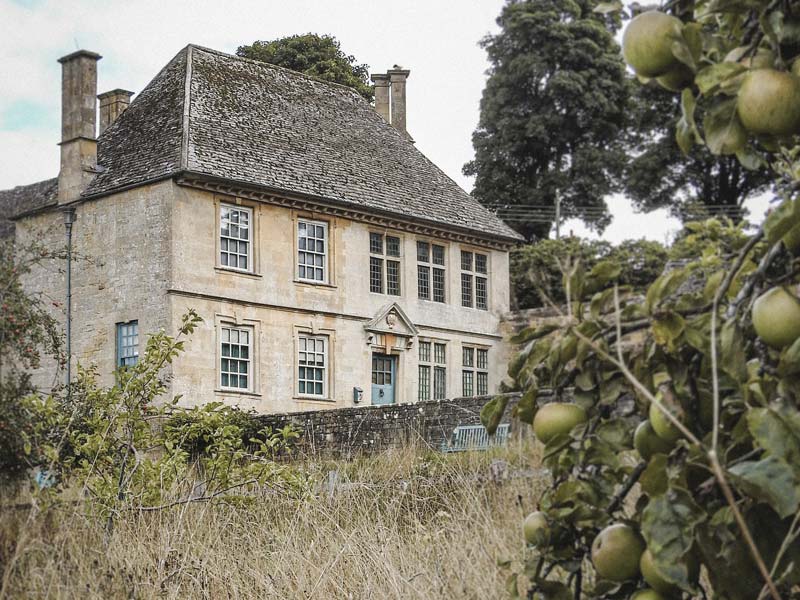 Snowshill was bought by an eccentric gentleman, Charles Paget Wade in 1919. He wanted to renovate the Tudor manor house and build a garden around it. I do not think it would be an understatement to say that Wade was perhaps as strange as he was talented: he was interested in interior design, painting and craftsmanship, he then became an architect and a passionate collector of different objects and also wrote poems. In the first world war for example, he tried to make a room cosy by adding hessian lining, putting pictures on the wall and making a cupboard for military papers. His officer asked him to make the room look more practical, so Wade hung maps in frames on the wall. A general thought Wade was very clever to achieve so much with so little.
Wade was not only interested in interior design, but in collecting antique things and objets d'art. He turned into a passionate collector and during his life he collected 22,000 pieces of furniture, instruments, toys and paintings and other objects.
So now you start to realise that he was indeed a bit strange…
Wade let his friend architect, M. H. Baille Scott design the garden in Arts and Crafts style. Wade was keen to use local materials and craftsmanship and according to him, the purpose of a garden was to rest and think in them, to enjoy the birdsongs and to provide food for insects. He disliked deck chairs, but was of the opinion that a properly designed bench, well positioned, could be a nice element of the garden. Wade thought turquoise was the best colour for nature, therefore all garden elements were painted turquoise, or Wade Blue.
I think Charles Paget Wade managed to create a fantastic garden, which hides something new for you when you explore it. Walking from one end to the garden to the other, you would find bells, wells, a model village, sundials, dovecotes, beehives… to mention a few!
3) Hidcote Manor
Hidcote is one of the most famous and beautiful gardens not only in the Cotswolds but in England. The 17th century manor and the gardens have a very English feel, yet the gardens were designed by an American.
Lawrence Johnston arrived in England with his mother around 1900 – like many other Americans who fancied a life in the English countryside. His mother bought Hidcote where there were no gardens built at the time. Lawrence was interested in garden design, so he started to build the garden in Arts and Crafts style and within 10 years he managed to build most of what you can see today.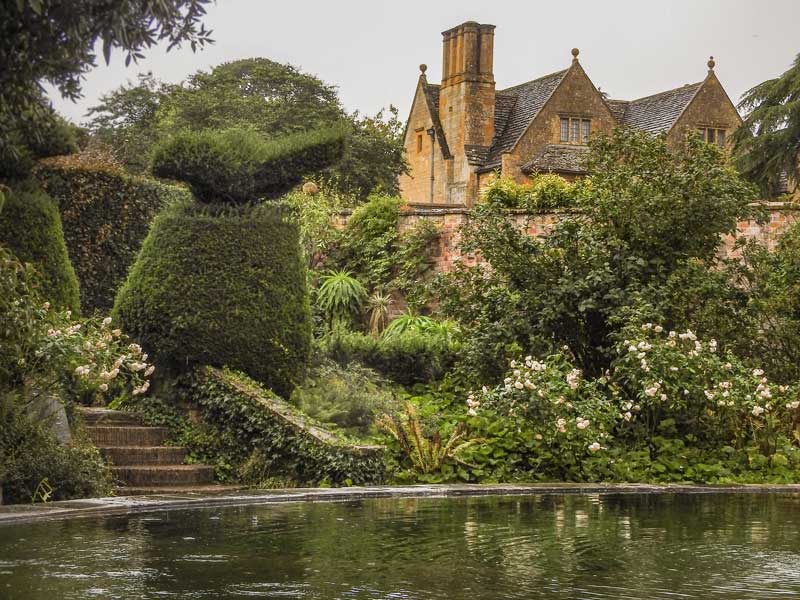 What is an Arts and Crafts garden?
Just like in fashion, trends came and went in garden design. While carpet bedding was in favour during the Victorian era, the Arts and Crafts aimed for a natural look where flowers harmonised with each other. The most famous garden designer of the Arts and Crafts movement was Gertrude Jekyll, who was one of the first women in Britain to study at university. When her eyesight started to fail, she turned to gardening. She believed the garden should melt in with the surrounding countryside. Jekyll established her colour theory (harmony and contrast of colour), texture and form.
Although topiary was used already during the Roman times, for some reason it was widely used and favoured by the Arts and Crafts.
Lawrence studied Jekyll's works which influenced him. Lawrence created different rooms in the garden, which he then linked perfectly with hedges, rare trees, shrubs and herbaceous borders.
4) Kiftsgate Court Gardens
Kiftsgate is special because this garden is built on an escarpment and was created by three generations of women. The private history and the fact that it is still owned by the family, makes it more personal. You can feel the family's dedication and heart that has been put into the garden.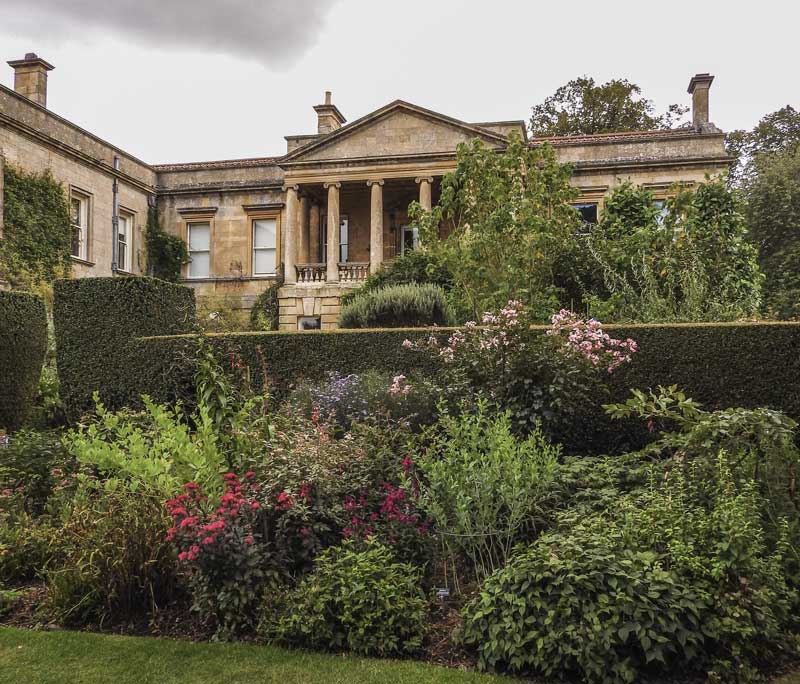 The manor house was built between 1887 and 1891 and later a Georgian portico was added. The estate was bought by Mr and Mrs Muir in 1919. At this point there was only a small garden in front of the portico, so Heather Muir decided to lay out the gardens in the upper areas. Although she was not a gardener, she loved gardening and her neighbour and friend Lawrence Johnston from Hidcote Manor, helped her a great deal.
In the 1960s her daughter, Diany Binny continued to add to the garden and she built the semicircular swimming pool in the Lower Garden from where you have a fantastic view of the area. She also redesigned the White Sunk Garden and added a small pool and a well head. She thought everything was in its place and was there for a definite purpose.
Today the gardens are run by her daughter Anne Chambers and her family. Although neither of them are gardeners, they self-educated themselves and the knowledge was passed on from generation to generation.
The garden is stunning as you walk from one area to the other. Each section contains special flowers and plants. Walking through the rock garden down to the Lower Garden and sitting by the semicircular pond is amazing. However, the garden also has modern parts added by Anne Chambers and her husband. At first I was not thrilled with the sculptures and the big modern pond, but later on I understood Anne Chamber's view on it. She believes they had to add their own ideas to the garden. Indeed, they have! That's the only way to add something from the 21st century which hopefully will be seen by the coming generations as romantic and antique as we see things from previous centuries…
~
So touring the Cotswolds admiring the towns and villages and the beautiful thatched cottages is only the tip of the 'Iceberg'. These wonderful gardens really do bring to life the full splendour of the Costwolds.