Gatehouses of Windsor Great Park
There are a bunch of pink buildings in all shapes and sizes in Windsor Great Park that everybody is aware of, yet nobody seems to take any notice of them. It annoyed me that I didn't know anything about them, so I did a little research.
Windsor Great Park
Windsor Great Park has a special atmosphere. It is mysterious, full of history and is spooky at the same time. Yes, you can feel it there even if you don't know anything about the park. Every time I walk in the park I can sense something… I know it sounds stupid but the whole forest comes to life and I can feel the history, the sadness and happiness that all happened on this very land. No, I do not mean evil ghosts or anything like that and it is really difficult to put it into words. The park that has been there since William the Conqueror, is gorgeous and spooky at the same time.
I will never forget when we moved to the area years ago, we did not know what routes we could take to get home, therefore Bill always made a detour and took one particular route that led through Windsor Great Park. I did not mind it at all because at least I could see the beautiful pink gatehouses of the park again and again. Although the park is full of landmarks, statues and royal properties (you can read about them in this blogpost), its gatehouses somehow do not get attention and are forgotten. I think that is unfair, especially that some of them are really quirky and a masterpiece in their own right. Therefore, in this blogpost I am going to give you an overview of the Gatehouses of Windsor Great Park.
Important:
the park is full of other buildings where access is denied.
Also there are other gatehouses and cottages at various points of the park and finding them all is quite difficult.
If you drive around the park you may notice that there are numerous posh gates and gatehouses on the other side of the road as well.
How did that happen?
During the Commonwealth many of Cromwell's soldiers stayed in the area, but their salaries were often delayed or not paid. To resolve the problem, they got land instead. Fences were simply moved to acquire a small piece of the forest which resulted in legal debates and many irregular-shaped plots. By the end of the 18th century it was resolved to clear the mess and the park was enclosed (1813) and access gates were built.
Who built the gatehouses?
The majority of the gatehouses were built by the famous architect James Wyatt and his nephew, Jeffry Wyatville in the 18th and beginning of the 19th century. A few of the gatehouses (cottages) were built in the Victorian and Edwardian era, some in the middle of the 20th century.
James Wyatt was a neoclassical architect who later turned to the Gothic style Inspired by Strawberry Hill, Wyatt made a serious study of Gothic and can claim to be the father of the Gothic Revival. He was a very busy and somewhat chaotic architect who took on far too much work, so much so that he converted his carriage to an office so that he could work during travelling. Allegedly he travelled 4 thousand miles a year. His life ended whilst travelling: in 1813 his carriage overturned and he died instantly.
His nephew, Jeffry Wyatville may sound familiar as he was mainly commissioned for works at Chatsworth House and Windsor Castle. The latter was commissioned by the hedonist Prince Regent, later King George IV.
Wyatville, who was called Wyatt at the time, was a respected and sought after architect, but his surname annoyed him as people associated him with his uncles James and Samuel Wyatt, both famous architects. Therefore, he dared to ask King George IV whilst laying the foundation stone in Windsor Castle in 1824, whether he was allowed to add 'ville' to his surname. The king's response was funny: 'Veal or mutton, call yourself what you like. It's all one to me.'*
Style
You will see that the gatehouses were built in different styles. Those built in the 18th century and remodelled at the beginning of the 19th century have a romantic, Gothic or Tudor look and are mainly painted pink. These may make you feel as if being in a Jane Austen film played during the Regency era. But there are cottages built in 'Cottage Ornée' or 'Old English' style. I love them all and I am not sure I could pick one as a favourite.
Blacknest Gate
This gatehouse is simply stunning with its four Neo-Tudor chimneys, arched windows and pink colour. I love the fact they paid attention even to gatehouses and made sure they had a nice design. On this plot the first Ranger of Windsor Great Park, the Duke of Cumberland, wanted to re-erect the early 16th century Holbein Gate from  the Palace of Whitehall. The project never happened. NB: The Ranger of Windsor Great Park is a position that is always taken by a member of the Royal Family. Currently it is owned by Prince Philip, the Duke of Edinburgh.
Bishops Gate
These gatehouses and cottages are not original. The ones designed by Wyatville were replaced first in 1902, then in 1936 and finally in 1946 in Neo-Georgian style. Behind the gates is Royal Lodge, where the Queen mother lived until her death. Now Prince Andrew lives there.
Sandpit Gate
Monarchs were often gifted exotic animals and in the 18th century menageries became fashionable among the wealthy. The wife of King George III, Queen Charlotte had a menagerie at Buckingham Palace where she had an elephant. No wonder that her son, King George IV had a menagerie in Windsor Great Park, right here at Sandpit Gate where he kept cockatoos, a kangaroo, an emu, a lama, parrots and even a giraffe. The giraffe died after two years though… Allegedly, the king took the then 7 year old Princess Victoria on a carriage ride and showed her the animals. After his death, his successor, King William IV closed the menagerie and sent the animals to the London Zoo. The plot was later used for the Royal Kennels. The gatehouse was built by Wyatville in 1800 in Gothic style.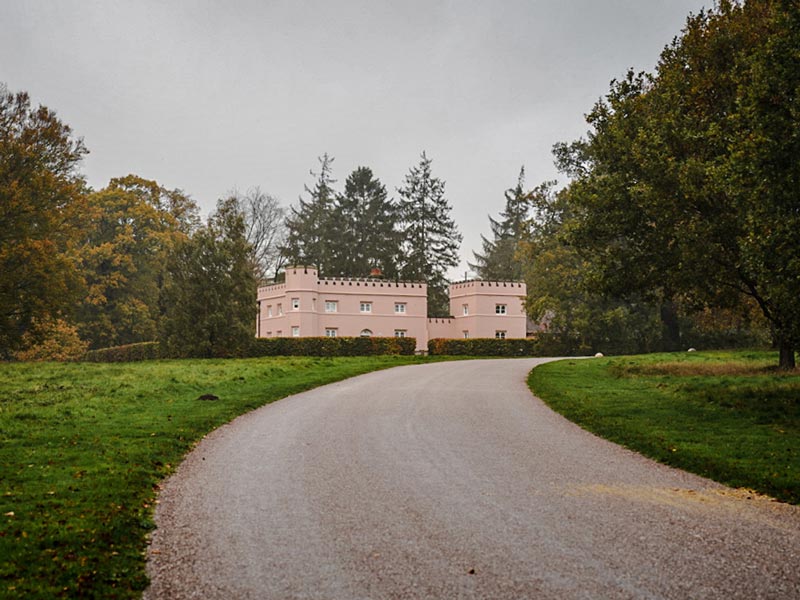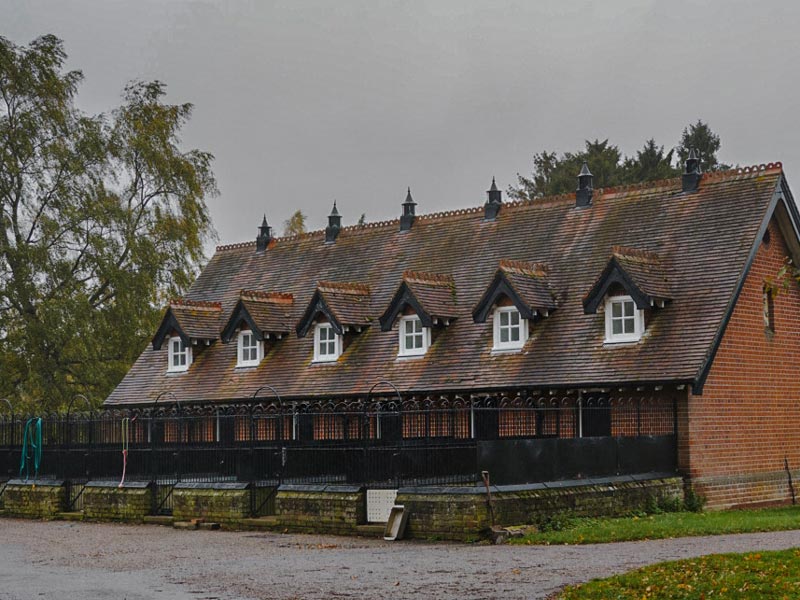 Forest Gate Lodge
This beautiful gatehouse was built in 1790 and remodelled in 1832 by Wyatville in Gothic style. This is when the house got its castellated style and pink render.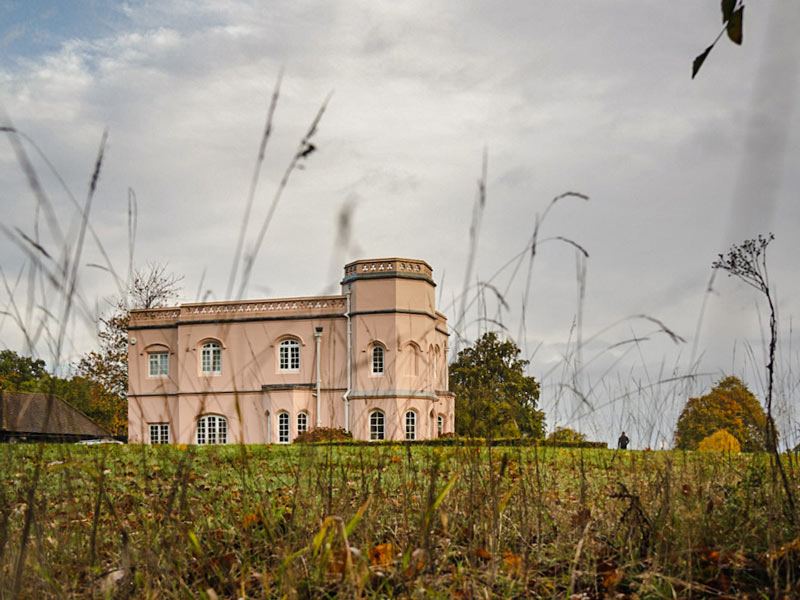 Rangers Gate
The gates next to Rangers Lodge were built in 1790 and remodelled in 1835 by Wyatville. Rangers Lodge, however, has a very different style and looks more like an art deco building in a Poirot film. That is because it was redesigned by Gerald Warren in 1932 for the Deputy Ranger, Sir Eric Savill, founder of Savill Garden.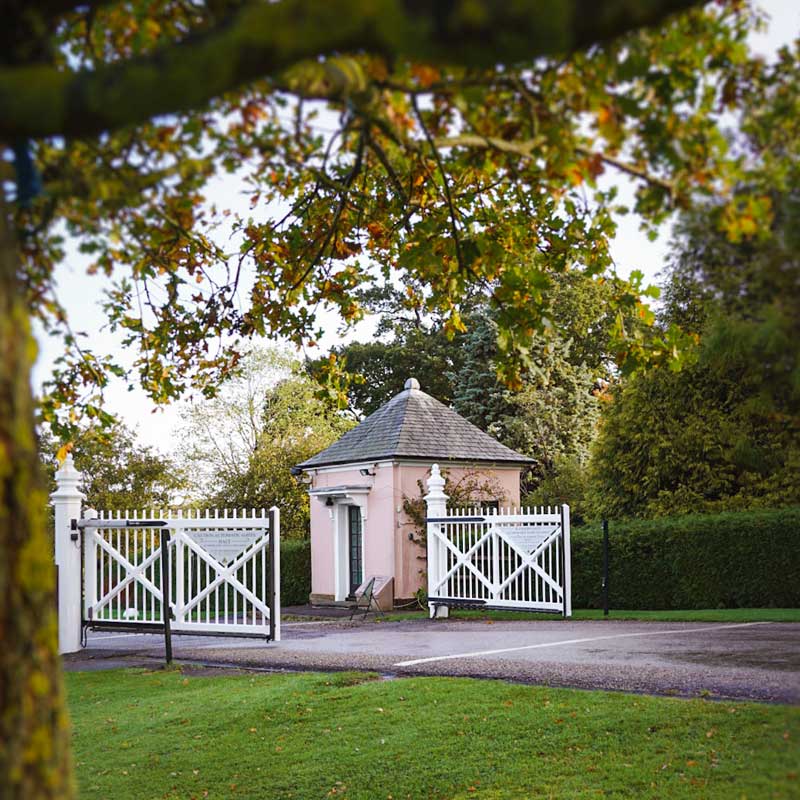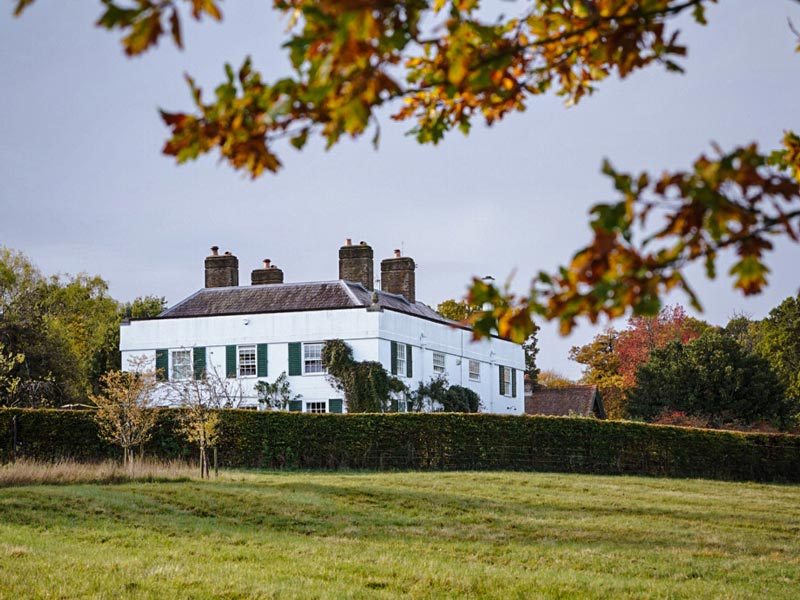 Cranbourne Gate
Cranbourne Gate provided access to Cranbourne Lodge, which is where the Duke of Cumberland kept part of his stud. The house was destroyed and only the 1805 Cranbourn Tower survives. The tower has a rather sad story: the 17 year old sister of King George IV, Charlotte fell in love with the Preussian prince, Augustus but she was supposed to marry William, Prince of Orange. When Charlotte broke up the engagement with William, her father ordered her to be incarcerated in Cranbourne Tower where she was not allowed to see anybody else other than the Queen. Three years later she married Leopold of Saxe-Coburg and died during child birth at the age of 21.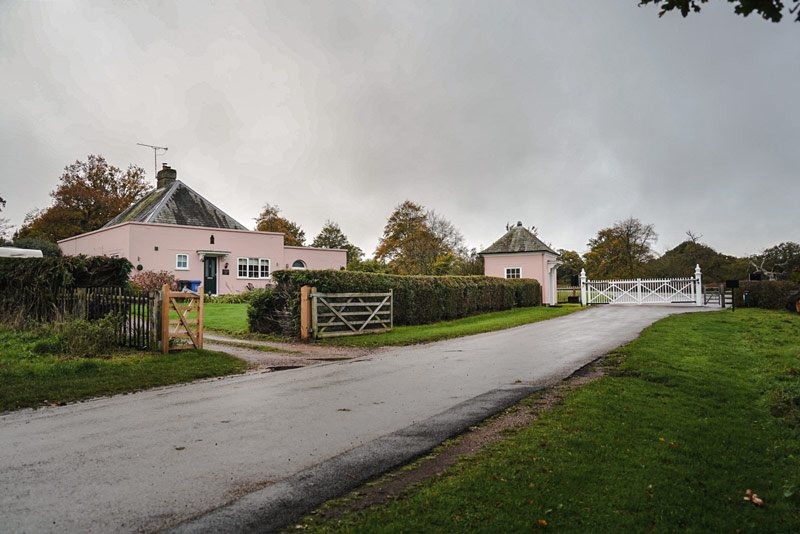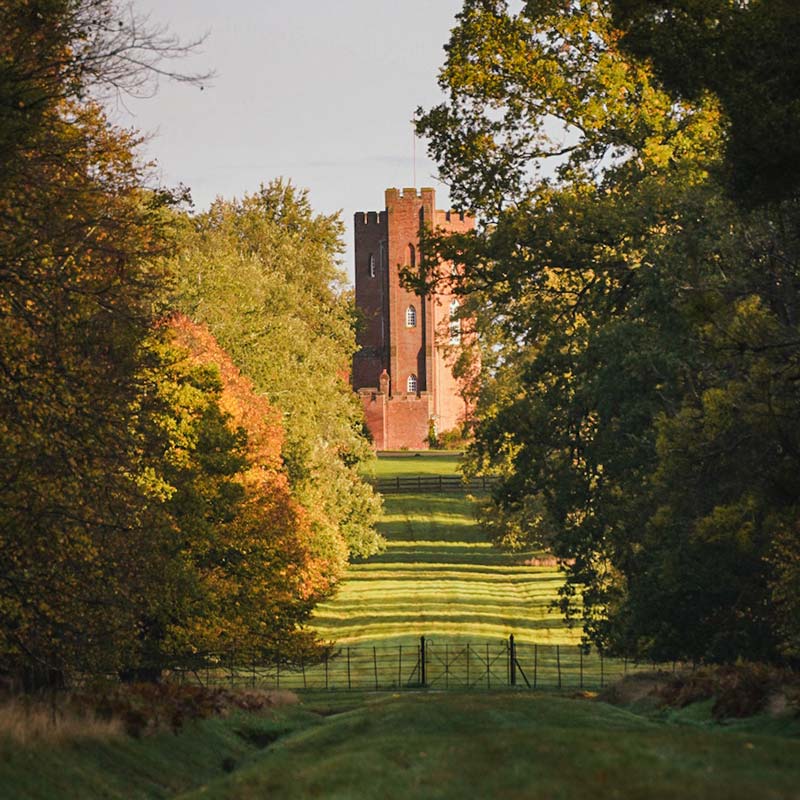 Queen Anne's Gate
The Queen Anne's Ride which resembles the Long Walk, starts here. The gatehouse was built in 1797 and remodelled by Wyatville in 1830 and got carved bargeboards.
Cumberland Gate
The romantic Victorian style gatehouse by Cumberland Lodge was built in 1936.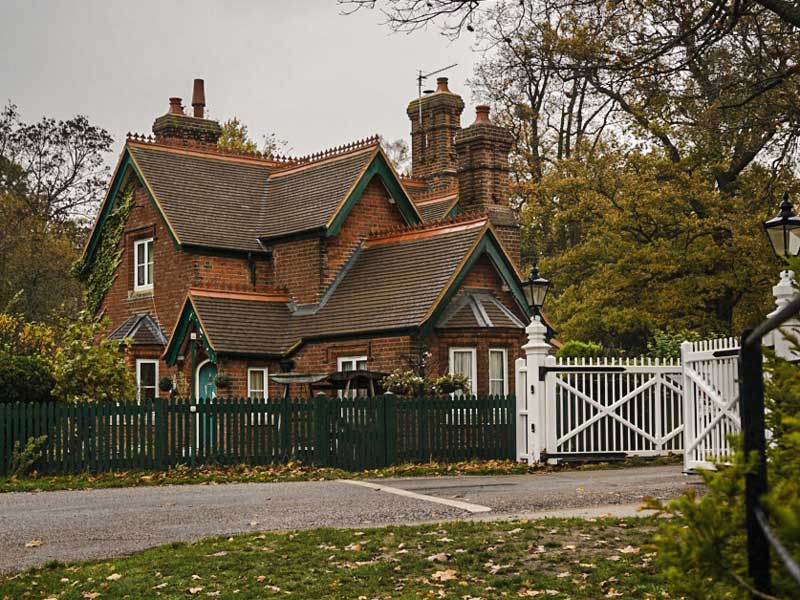 Long Walk Lodge
This lodge was built in 1854 for the gatekeeper, however, there is an Edward VII plaque on the house.
Lodges Albert Road, Shaw Farm
Perhaps the most different of all of the gatehouses is the Shaw Farm's gatehouse which – believe it or not – was equally designed by Wyatville ca 1820-1830. This one, however, was built in Jacobethan style with mullioned windows and Dutch gables and looks more elegant. The farm by the way was revamped as a Model Farm by Prince Albert. The farm is thriving and is home to the Queen's pedigree Ayrshire cattle.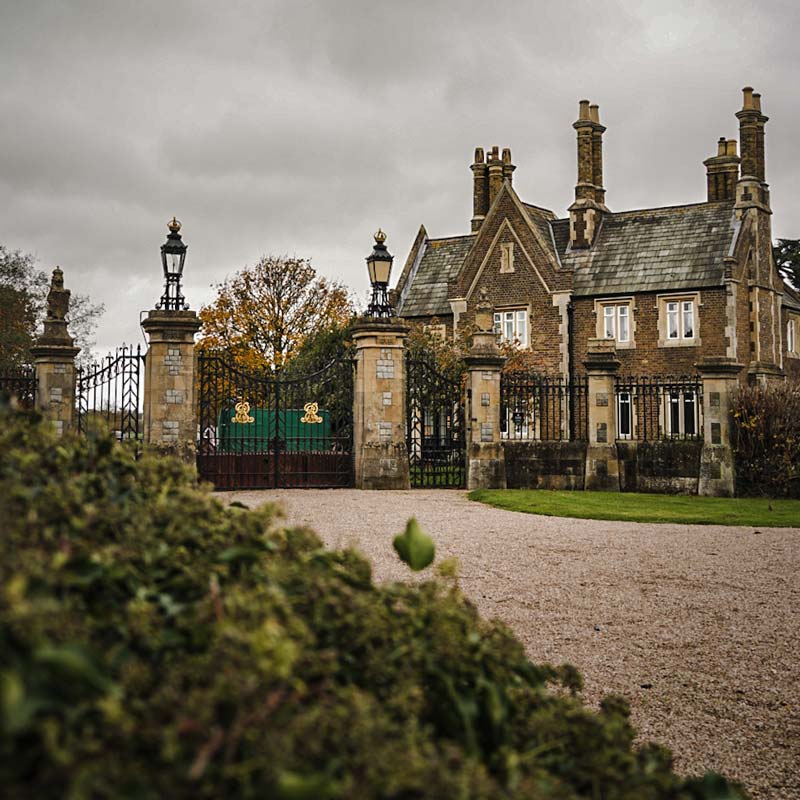 ~
Gatehouses are still occupied by workers of the Windsor Great Park. Looking at the different gatehouses and the ambience they make, I wonder what it was like living in them back in the day… What sort of stories are they hiding…? Because I am sure if they could talk, they could tell us some unbelievable stories… It would be great to research this. I hope one day, I will be able to do that too.
If you liked this post, please share it.
*The Walker's Guide Windsor Great Park, David McDowall
As a summary like this about the gatehouses of Windsor Great Park has not appeared yet printed or online neither in English nor in Hungarian, please link back to my original post in case you would like to use it. Please do not crop or edit any of my images without first obtaining written permission from me. For that and in case of any questions, please contact me at englandspuzzle@gmail.com. Thank you.