A day in the Cotswolds – Sudeley Castle
I realised the other day that we have been to many places during the 2.5 years since we have been living here and as a result I have loads of photographs which I can only share step by step depending on different topics presented on this blog. Therefore, I decided to share these trips and photographs with you – it is surely better sharing, than just storing them on my laptop, isn't it? (What sort of impact photos will have on my site speed, that is a different story, but I give it a whirl.)
So we decided to visit Sudeley Castle in Gloucestershire two years ago. I think Bill saw it on the telly and he was interested. He did not have to convince me, I instantly agreed to go especially because at that time we were short of cash and could not really afford any trips, plus I welcome the opportunity to get out and about.
It was a wonderful sunny day, although the weather forecast said it would rain. During breakfast I quickly read the section about the Cotswolds of my Britain's Guide book and became very excited as the Cotswolds seemed to be a very authentic and magical part of England. William Morris, one of the key members of the Arts and Crafts movement said, Bibury was "the most beautiful village in England". As Bilbury was on our way to the castle, we planned to stop there.
It took 2-2.5 hours to get there and I was amazed how quickly the landscape changes from flat to hills. Sitting in the car I too could feel the ambiance of the countryside changing as well as we traveled along. Although Maidenhead is in the countryside, it does have a town ambiance, not quite the same as London, but its own hustle and bustle. The capital is close, people are commuting every day to the city, you can feel and see there is money around, whilst in the Cotswolds it feels more like a proper countryside and a fairy tale land. Having said that, I feel that the whole UK is like being in a fairy-tale world. Because there weren't any wars on the British Isles and none of its enemies managed to step on its ground, the British were able to preserve their architecture and traditions. But back to the Cotswolds and its fairy tale, on this beautiful, sunny day.
Bibury
We got to Bibury and indeed we saw lovely cottages. Interestingly, all the houses are built of yellow lime stone, even the window frames are made of stone. Slate is used for roofs and they are laid out in the fish scales style, meaning beside the ridge slates are small and they are bigger and bigger on the way down. We also had a look at the local church, which to me is always mysterious and reminds me of English ghost stories, especially when I walk in churchyards. I guess it is not too exciting for Bill as this is just another Anglo-Saxon church, but for us, foreigners, they are exciting! To be fair with Bill, I imagined the situation where I would travel around Hungary with someone being excited about my country and culture. You would probably find at least one church in every village and most probably it would be a Catholic one in baroque style with a distinctive dome, or twin dome which to me would be equally boring. I guess, this is how Bill feels when I am excited about English churches. 🙂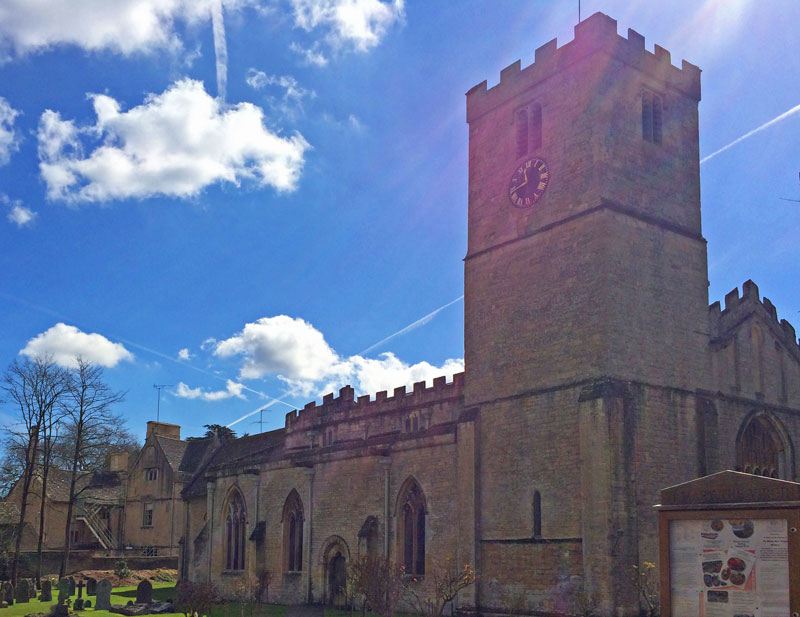 As we drove by the village, I saw the little street Morris talked about. It was slightly disappointing as it was full of buses and tourists and we could not stop. Never mind, next time, I am sure we will come back here. I was interested to understand what brings Japanese tourists to Bilbury and I found out that Horihoto, Emperor of Japan stayed in Bibury on his England's tour. Where we could stop was a small Cotswold pub at the edge of the village and even popping into a pub for a while and having a cup of tea makes me happy. (Yes they do serve tea in an English Pub! 🙂 ) I love watching people come and go…
Sudeley Castle
Shortly after we left the pub we arrived at Sudeley Castle. The building and the grounds were just amazing. Lady Ashcombe still lives here but opened her home to the public in 1969. No wonder, it must be extremely difficult if not impossible to maintain a property like this.
There were so many interesting things displayed in the castle, that it was impossible to take everything in, no matter how much I wanted to. It would have been good to learn everything about Henry VIII who lived here, or about the story of the lace, about the gardens in the Great War (First World War), but I just simply could not. When I say there was a lot, I do mean it and it was brilliant, on the other hand maybe too much. Maybe this is the reason you can buy an annual pass – if you come back several times, you might be able to finish reading the exhibition. 🙂
Unfortunately, it is not allowed to take photos inside the castle, therefore I am not able to show you the servant's staircase in the back of the building which is said to be a haunted staircase and which was not used by servants because of that. (No idea which staircase they used instead…) We walked through rooms/suites in which Lady Ashcombe still has guests today. One of the guides explained that one of the four poster beds was made in the 17th century and was the portable bed of Charles I. It was later restored in Victorian style but the mattress is contemporary. Bathrooms were refurbished according to today's needs keeping the old character. As we walked through the castle, I could not even imagine how it can feel like having a castle and garden like this. How must it feel to grow up in a castle like this, which has its own private chapel as well? How must it feel, that one day you are going to be responsible for a castle which had belonged to kings before you and where you have so many antiques and valuables that it is difficult to make an inventory of…? This is beyond my imagination! Surely it is a very unique feeling and scary at the same time, as it is a huge responsibility to maintain and preserve it for future generations.
If this was not enough to visit Sudeley Castle, here are some more reasons why you should:
It is one of the most beautiful Tudor castle which is still a residence.
Exhibition about Tudor attire.
Exhibition about laces and gloves and a family badger. 🙂
Amazing gardens
Pheasantry with 16 rare and endangered species.
~
I always find places, buildings like this inspiring, not just because of the history, but simply just because of the ambiance. Especially on a beautiful sunny day, it is worth leaving the town behind and exploring the countryside. As we walked in Bibury and traveled in the Cotswolds, I had the feeling houses in this area look like real homes. Homes you can see in fairy-tale books and you dream of…