Norfolk! A country gentleman
Who is Desmond? You do not know him? It does not matter, I will explain who he is.
Desmond is a phenomenon, (who came to the public attention in a TV documentary entitled "Normal for Norfolk"), and perhaps this is the best way to sum him up and you may agree at the end of this post. You can either like or hate Desmond but for sure, you can not ignore him.
How it all began…
When I was living on my own in the cottage we rent, evenings were lonely, not to mention the weekends. There was no internet connection in the house for a long period, it was winter and dark outside and I was scared most of the time. But then in spring, the days became longer and it was not that scary anymore to stay up late, I started to realize how much I enjoyed spring evenings. I often put the telly on and explored different programs and exactly two years ago, back in April 2016, I saw Desmond on TV for the first time. I can not recall how I ended up watching that program which at that time I did not have a clue what it was about, I just knew I loved it. Whether it was down to the pleasant voice of the narrator, the beautiful countryside or Desmond's quirky character, I do not know. But I loved it. That program title "Normal for Norfolk" is apparently a rather derogatory expression used by doctors when they got upset with patients who were unable to describe their symptoms.
Desmond
So Desmond MacCarthy is the name of the gentleman, a simple and average guy who is not average in any shape, way or form. He has a smallish manor house and land in Norfolk, called Wiveton Hall which was bought by his grandparents in 1944, so it is not the case the family owned it over hundreds of years, they have had it for 70 years "only". Desmond has never lived anywhere else and as he said, he does not have higher education. But he loves the house, the land and farming and in general the country life and he tries to save the estate. He is positively a simple guy, not wealthy or big headed aristocrat who always wears Barbour and is only able to turn up driving a Land Rover. But you can see that immediately: although he does like his quality tweed jacket, he always wore some dodgy jumpers with a hole on it just as you normally would see someone working on a farm. I liked him for that instantly, just his look: his big and bushy eyebrows and thick framed glasses put a smile on my face. These have become his distinctive marks.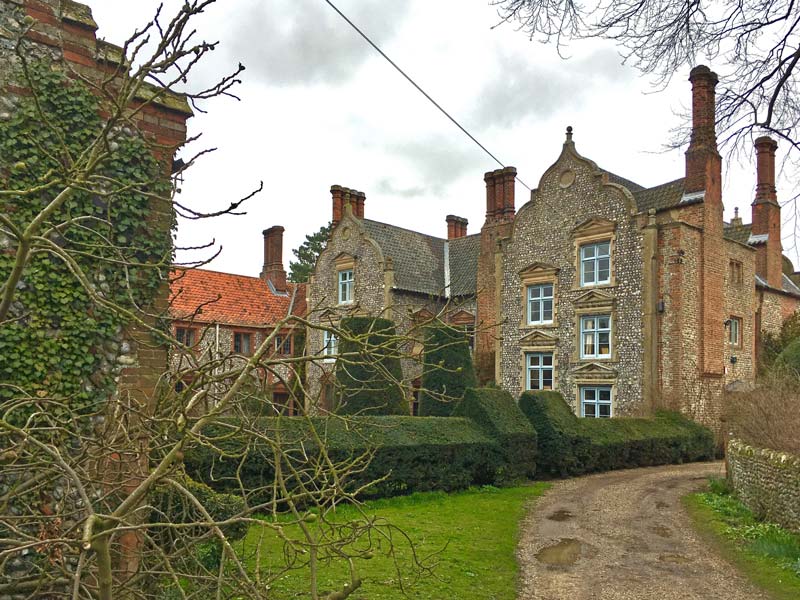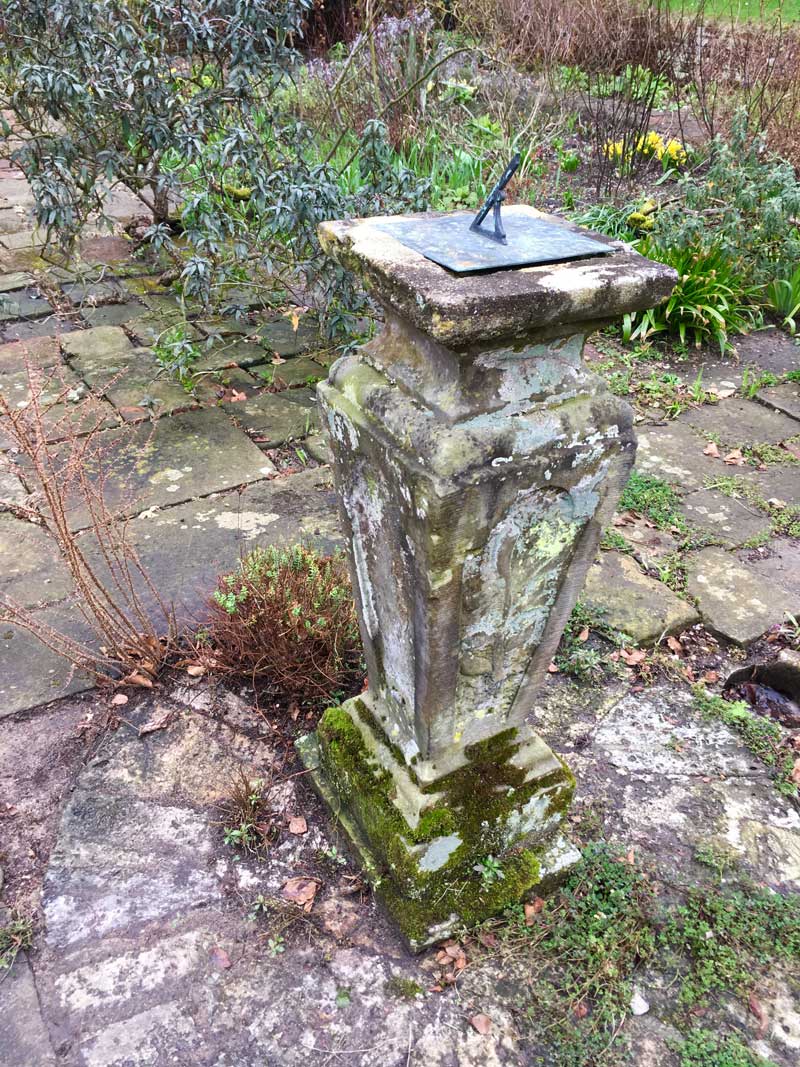 The BBC Series
Desmond is not really well off financially, this is probably one of the reasons why he contacted the BBC to make a series. Besides, he wanted to show how real country life was, that working on a farm or estate is not necessarily that posh as shown in other TV programs and how much and hard you have to work to keep your business running. Therefore, Desmond let the cameras inside his house and life and let the BBC record his daily difficulties, how he tries to make money and run the business. The fruit and vegetables grown on his farm are used in the cafe and restaurant, one wing of the manor house as well as some cottages nearby are holiday lettings. After the success of the first series the BBC planned to make a second, so Desmond's plan worked. It become obvious if Desmond wanted to generate more profit (which he wanted and still wants), he had to invest and hire professionals to run the business. Therefore, in the second series we could follow how a new brand "Normal" was born, how he employed an estate and marketing manager who put the business on new foundations, how the restaurant was opened beside the cafe, how the card payment was implemented, how yoga classes were organized in the manor house's living room, how the house got on the front page of an interior design magazine, how duck shooting and barn concerts were organized at the end of the season. I suspect, not only Desmond's quirky character and funny look struck me, but the way his business and brand was built. In fact, what I really love in the UK is that you can see stories of successful and creative people building their own businesses which I find are quite inspirational.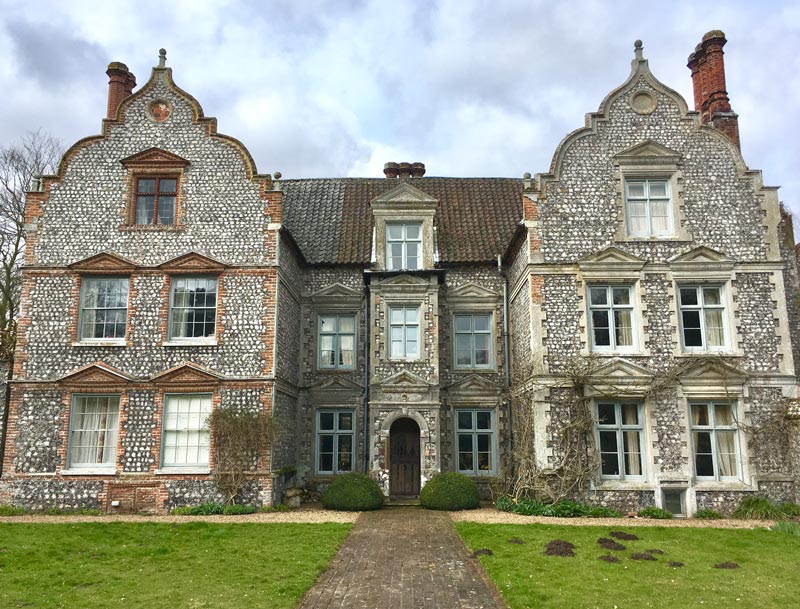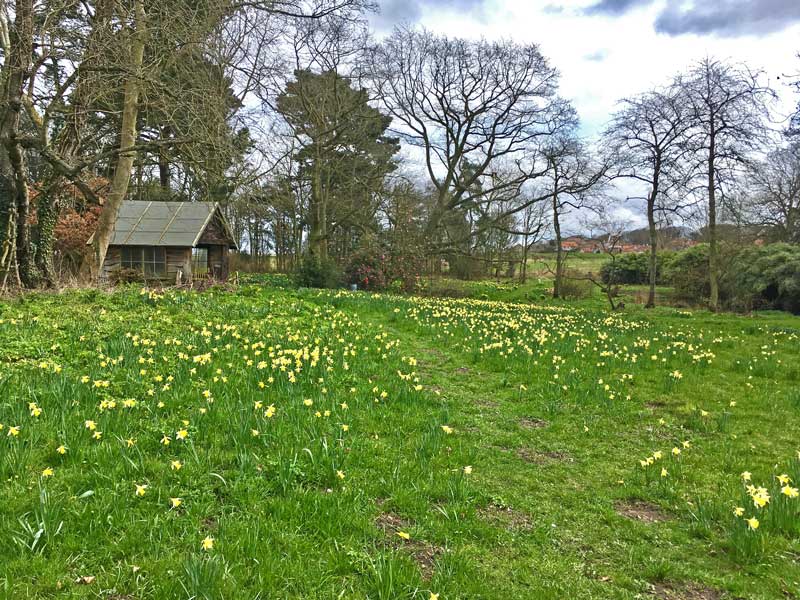 Desmond's character
Of course, Desmond's character is a bit like Jekyll and Hyde: we have heard before the visit through some friends who know him, that he can be a difficult person, quite demanding and frugal. Indeed: even in the BBC series sometimes he appeared to go after every penny which does not necessarily make him attractive. At the same time, he has a good sense of humour, he is good-hearted and in his defense he does not want the money to buy a new Land Rover or to go on holiday in the Maldives or Dubai, but to save Wiveton Hall. On top of this, he does not know what the future of the estate is going to be, as his son, Edmund is studying and even though he likes the estate, not sure he wants to take it over from Desmond. His daughter is an artist. Funny, isn't it? You would not have to ask me twice if I wanted to take over the estate. 🙂 The manor house is a great size, like I said before and even though it is a huge responsibility to run a business on this scale having several employees, I can see potential in it.
It goes without saying when I saw Desmond on TV, I knew I wanted to go and visit Wiveton Hall and preferably meet him. We had heard that the food in his restaurant was fantastic and you had to pre-book tables well in advance as it was so popular. Well, this Easter we managed and got to see Desmond for which again we traveled hundreds of miles! (OK, we also spent a few days exploring Suffolk and Norfolk which I am going to write about soon.) Desmond's marketing lady very quickly realized that not only food, jams and accommodation can be sold, but Desmond himself as a brand. So we booked the Historic Garden Tour with Desmond, which guaranteed a meeting with Desmond in person!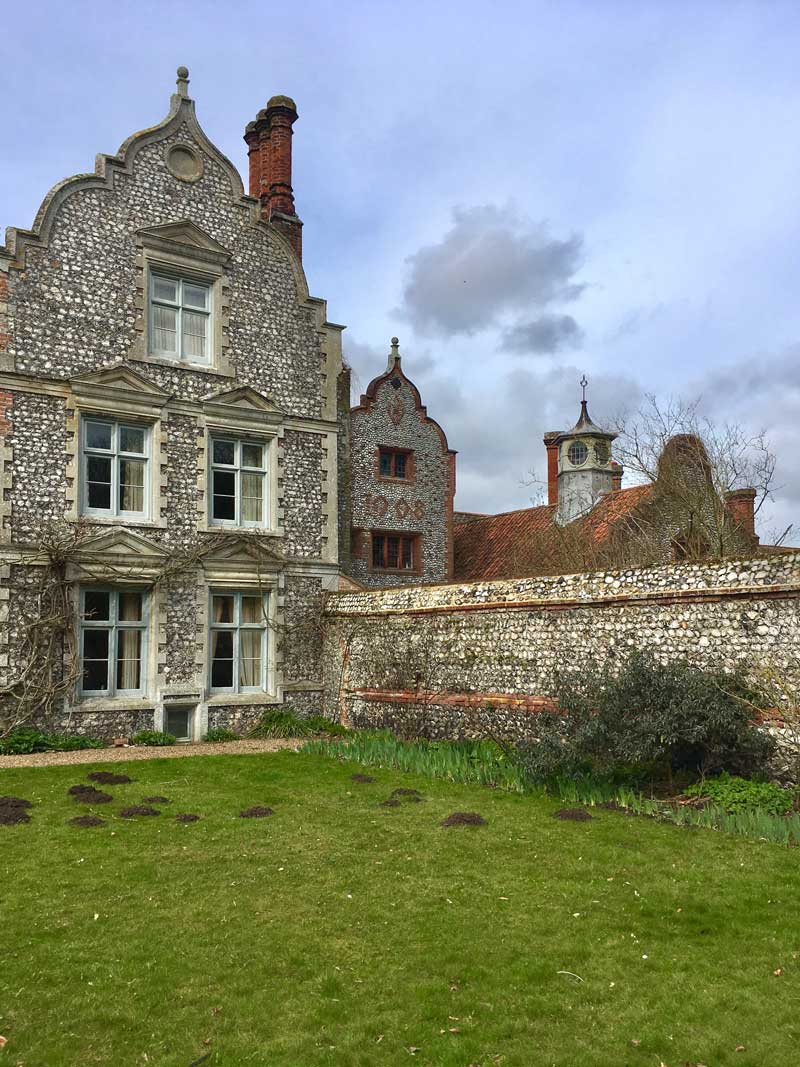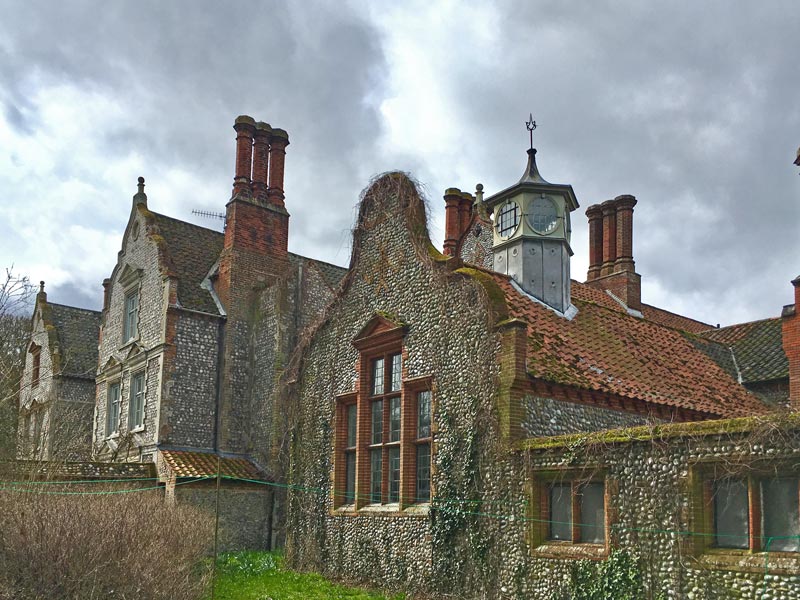 A visit to Wiveton Hall and meeting Desmond
I was excited and looking forward to seeing Desmond. We could not believe how many people turned up on the Historic Garden Tour! There must have been around 40 people waiting for him. Of course, all of these people were interested in Desmond, rather than the house and gardens, which has a short story in itself, albeit interesting and quirky. Most of the houses previous owners and tenants had run into financial difficulties, which probably drives Desmond on to be successful to break with the houses history. I could not believe I was standing in front of the cafe building, that I used to see on TV and it was even more incredible seeing Desmond! He was punctual and was wearing a shabby, slightly dirty jumper and trousers and his beloved and distinctive tweed jacket of course. Desmond appears to be a shy person, but he knows he has to sell himself because that brings some extra money. At the same time you could feel he can be strict and demanding, but also somebody who has a big heart. His character almost contradicts itself! This is why I said at the beginning: you can either like him or not but you can not ignore him.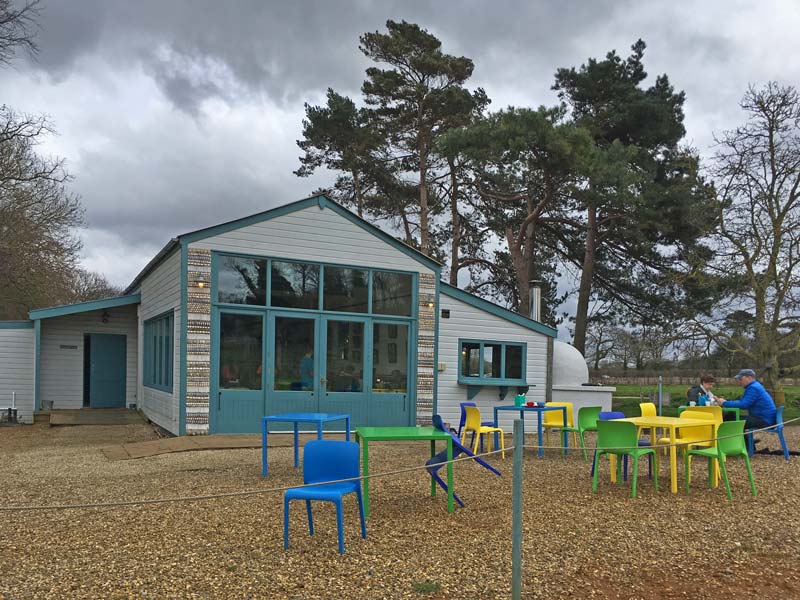 He took us around the house and gardens and you could clearly see how much he loves the house and land and farming. He knows all the birds and butterflies plus observes the birds migration patterns. He is aware of the impacts of modern farming on nature and knows all sorts of plants and trees. Desmond may be considered as a funny, quirky guy, but he is more clever than people would think, plus he is an entrepreneur. Just think about it, he even appears in the Kellogg's advert for a few seconds, surely not for free.
Walking around the house and gardens, you could see the estate needs a lot of money and TLC. Desmond mentioned it several times how difficult it is to run a business and I am not surprised. Generating money to pay the bills, salaries and have some profit as well even if you hire Eastern-European workers and you use your farm's products, can't be easy.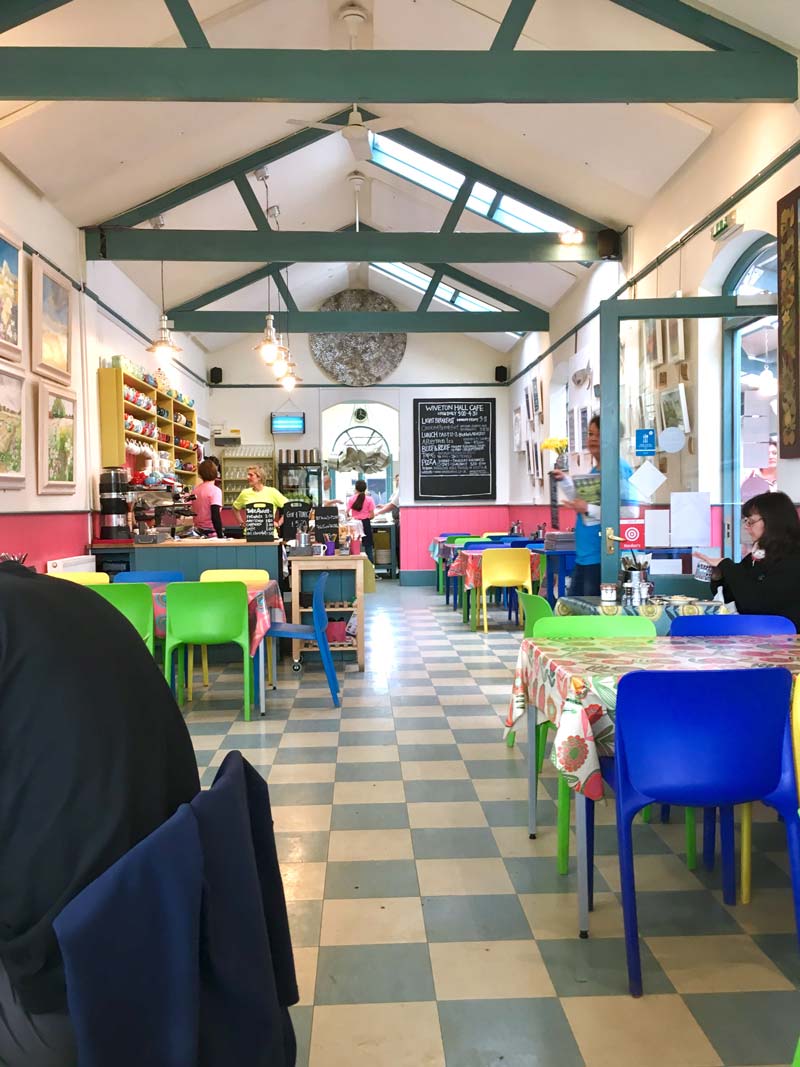 Wiveton Hall
The house itself is a Dutch-gabled, Jacobean building built in the 17th century and has a distinctive E floor-plan and Tudor chimneys. (You see how good it is that you have already read about the Jacobean architecture on my site. 🙂 ) The Edwardian wing was built in 1908 and the farm consisted of a dairy farm and vegetable and fruit garden. Desmond grandfather had a dairy farm as well which only made profit when the herd was sold. When Desmond's father died, his mother did not sell the estate, which would have been the easiest course of action, but kept it and Desmond grew up there. I like the house very much: I love the ambiance of the front garden with sundial (which is an essential ornament of an English manor house), I love that the house overlooks a huge field where daffodils grow in the spring and that you can see the sea from the back. In the walled garden you can grow your own fruit and veg, it has stables, what else would you need? The place has a beautiful and pleasant atmosphere and I can understand why Desmond sticks to it. I would stick to it as well.
A nice lunch in the restaurant
At the end of the tour you could make photo with Desmond. As he is shy he did not look in the camera so the photo is not the best one of my life. Following the tour, we had pre-booked lunch in his cafe. During the lunch Desmond visited everybody's table and had a little chat, so did we! When he learnt I was from Hungary, he said one of his employees was from Hungary and he introduced her immediately. Food in his restaurant was just amazing. Like I said, we have already heard before, his restaurant was really good but to be honest, I did not expect this. I also loved the vibrant colours used in the restaurant, it makes it cheerful and modern. All in all we had a great day with Desmond in Wiveton Hall, had a good laugh, amazing food in a beautiful setting.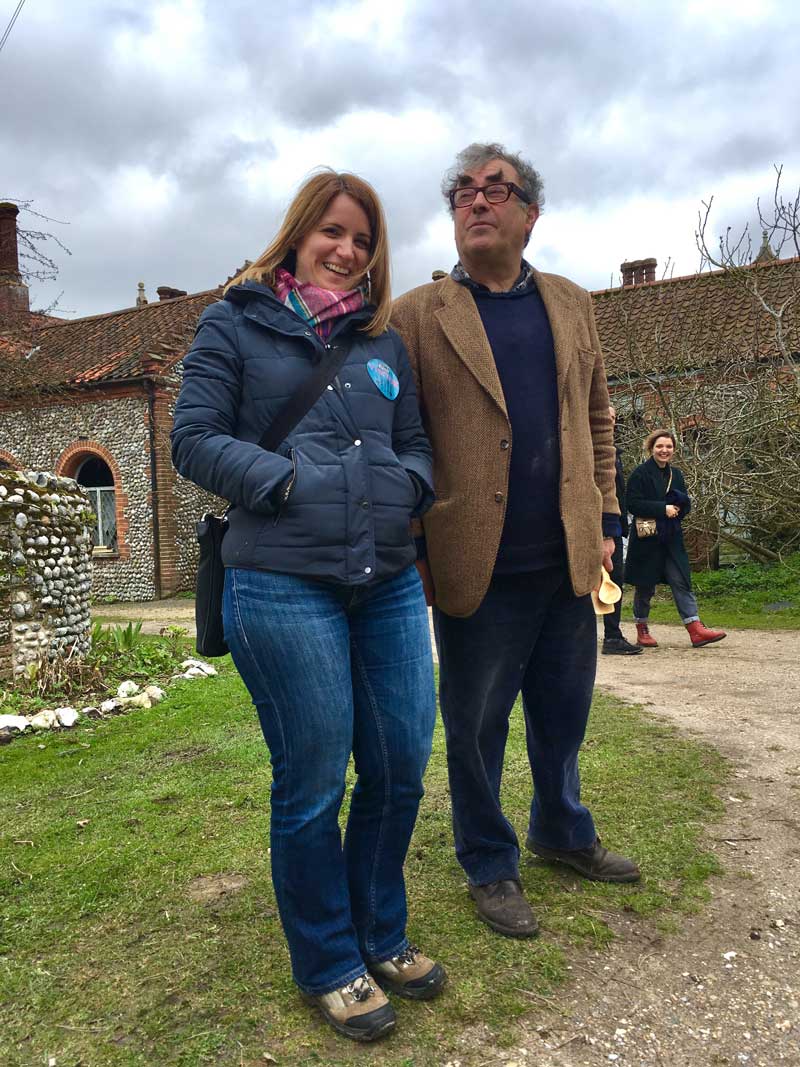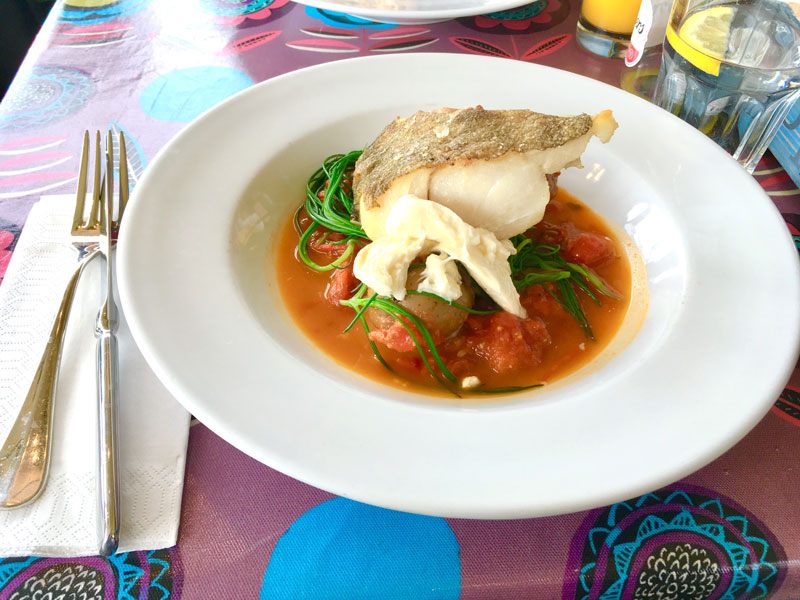 If you are interested in Desmond and the house, visit his website and watch some of the clips on the BBC, however these may upset some and may not always be politically correct. I find the following funny and therefore recommend the "Look at the shot of his" (especially the sentences: "It is mallards or woodpigeons, can't tell the difference. Eye sight is not what it was." 😀 and when he tells off the dog) and the "Birdwatching with Willie" (in the end when the runner lady appears) and for the interior and exterior of the house and how much money is needed watch "A big house needs money".
~
In the UK there are many gentlemen who are very similar to Desmond, but somehow Desmond stands out because of the TV program. Very often people watch the TV and think to themselves that the people they are watching are acting, or making things look worse, or better that they are in reality. Desmond is the real deal. He a a genuine, inspirational and quirky character and the person you see on the TV is the same gentleman that you see in person. We wish him every success with his House and Farm.