There are things in life I am not a fan of but the culture or customs linked to them are attractive. Wine is one of them. I do not like wine and have an allergy to sulphites so drinking wine is out of the question. At the same time there is something romantic about old wine cellars, the harvest and different customs lined to wine production. Beer is the same: I cannot stand it, it is sticky, bitter and is full of calories. As a consequence I am not a pub-girl, moreover, spending time in a pub is not my idea of fun either. Since I have been living here I know that a night in the pub is THE thing here, that is THE social event when all the ladies put their cocktail dresses and heels on (and leave their jeans on when they go to the theatre). I do understand that pubs had a very important role in society especially in rural areas where a night in the pub or inn was tho only form of entertainment in the area.
All in all, I am not a pub-goer but I do like the ambience of English pubs and inns. Having a Sunday lunch or brunch in a charming pub in the English countryside is lovely. There are still many pubs where you would find an open fire or a woodburner and the smell of the wood, the cosy rooms and design just make you go in and have something to eat – especially before Christmas when all the decoration is up and everything looks even more attractive.
As we visited more and more places in the countryside, I realised there are very many different pub names. I was intrigued why one was called this and the other one that, so I investigated the origin of the English pub names.
The beginnings: signs
In the old days, when people could not read it was important to identify the different shops by adopting some immediately recognisable emblem such as the mortar and the snake of the pharmacy, the scissors of the taylors or the boots of the cobblers which survived and are in use even today.
Although alcohol was consumed in Great Britain before the Romans, the Romans were who established drinking places called tavern. Of course the Romans drank wine (nor beer), therefore they often planted grapevines next to the entrance so that the building could be instantly recognised.
After the Romans the Saxons started to produce beer and interestingly making beer was a female occupation. Women making beer were called brewster.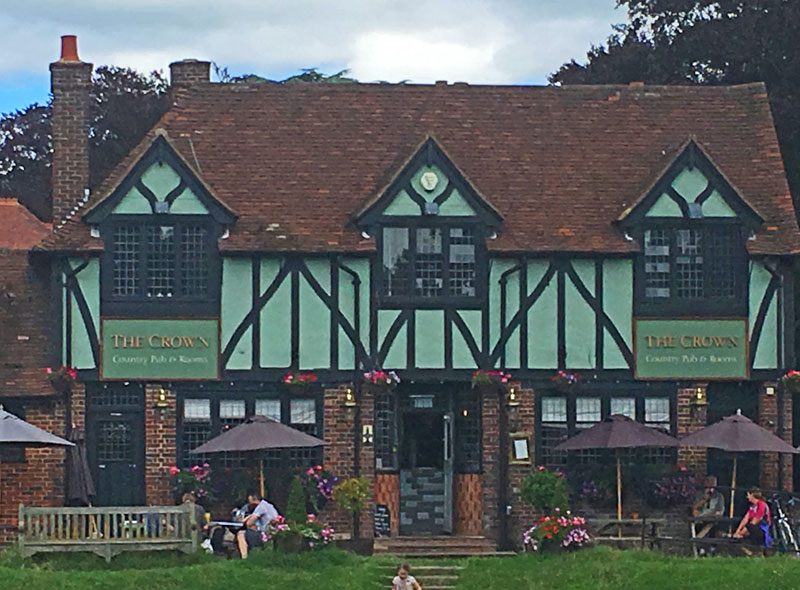 The oldest pub in England
There are many pubs in England who would like to claim to be the oldest pub in the country, but most probably the oldest one is the Ye Olde Trip To Jerusalem in Nottingham which opened in the 12th century. We know it for certain that this was the century when pubs started to have different names. In 1393 Richard III ordered pubs should have clear signs so that beer controllers find their way easier. Believe it or not, the quality of the beer and bread was tested and monitored and if the beer controllers found the beer was weakened with water, the pub had to remove its sign.
Pub signs were very diverse but first of all there were two types of signs: pole signs and hanging signs.
As towns grew, the size of inns as well as competition grew as well. Therefore, it was important for inns and pubs to differentiate from the competition by having a unique sign. What they really needed was an instantly recognisable sign that could be well spotted. This could be a painted wooden board or a metal one. Popular signs were the Sun, the Half Moon, the Bell, the Crown, the Bull, the Bear or the Mermaid.
Name categories
Talking about English pub names there are two big categories to consider:
Names based on folklore
Modern names
Jaqueline Simpson suggests below Folklore sub-categories:
Angels & Saints
Nursery rhymes
Sports & games
Puzzling pairs
Ghostly Barmaids & Haunted Cellars
Puns & Old jokes
Harvesters & Wehatsheaves
Highwaymen & Smugglers
Heraldry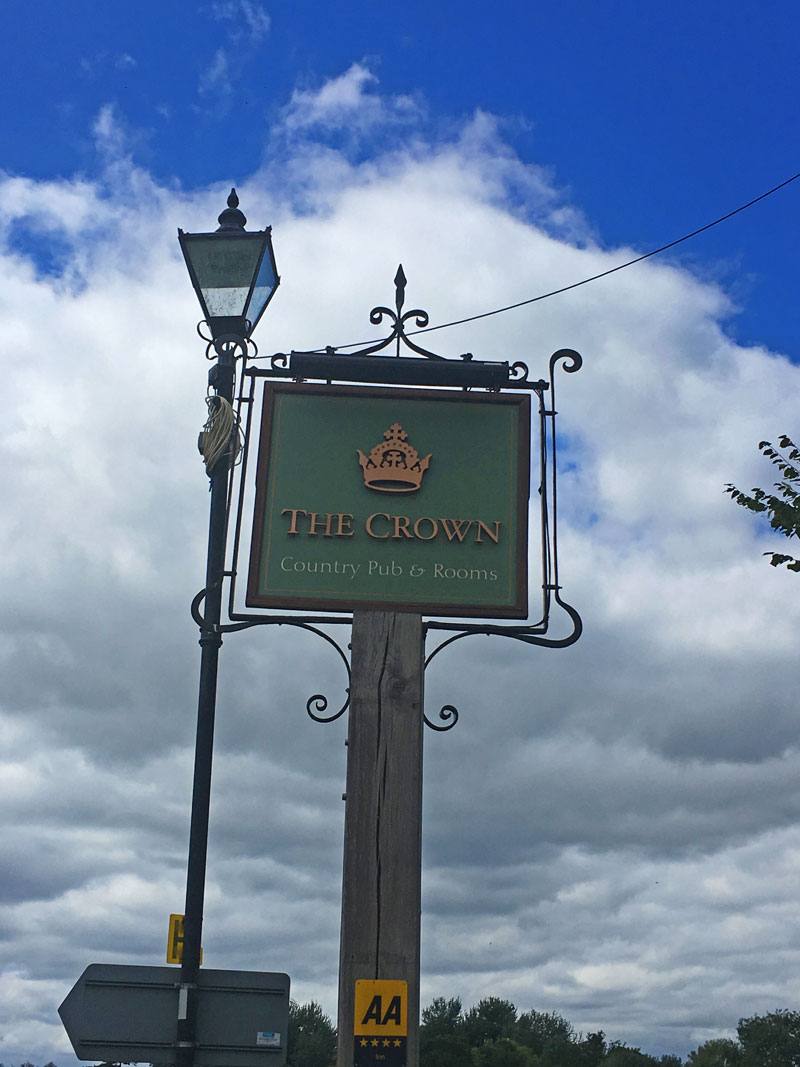 Angels & Saints
In the Middle Ages inns chose names with religious significance, but these were banned and eliminated by Cromwell. Only Biblical persons and epsiodes could be approved such as Adam & Eve, Rainbow & Dove, Samson & Lion or David & Goliath. The most popular name however, was the Angel. Originally this would have contained Mary as well i.e. Angel and Mary but Protestants had objections to the cult of Mary and removed her from the name. The other popular saint was St George, patron of England.
Names like The Pelican or The Phoenix or The Unicorn implied religious significance, but they had nothing to do with it. Bull could equally mean the animal or the Pope's Bull. Crossed Keys referred to St Peter who got the keys to Heaven from Jesus.
The Lamb and Flag also has religious connotations: the lamb symbolises Christ in Agnus Dei. The Anchor has an ambiguous meaning: a pub could have some connection with seafaring but if it was combined with the word hope, it is the traditional symbol of the three cardinal virtues (Faith, Hope and Charity).
Nursery Rhymes
Using names from nursery rhymes made sence as everybody knew them and they recalled good memories of childhood. The most popular names were Cat & Fiddle, Cock Robin, Little Jack Horner or Jack & Jill.
It is worth having a closer look at the latter one. According to the legend Jack and Jill were a couple in Kilmerdsen, Somerset whou would meet on the hilltop during Henry VIII's reign. Jack died in a quarry when a rock fell on him and Jill died in child birth soon after. Another theory suggest a completeley different story in which Jill was not a girl but but a boy, Gill and they represent cardinal Wolsey and Bishop Tarbes travelling to France to try to arrange a marriage between Tudor Mary and the king of France. The hill symbolises their difficult task, the bucket of water the holy water and the failure of their mission refers to their political downfall.
Jack and Jill went up the hill,
To fetch a pail of water,
Jack fell down and broke his crown,
And Jane came tumbling after.

Then up Jack got, and home did trot,
As fast as he could caper,
To old Dame Dob, who patched his nob,
With vinegar and brown paper.

Then Jill came in, and she did grin,
To see Jack's paper plaster;
Her mother whipped her across her knee,
For laughung at Jack's disaster.
Sports & Games
If a pub's name contains a name of an animal, it often refers to a bloody game, unfortunately. The Cock suggests that cockfighting took place in its premises. The Bull or the Bear are not that obvious anymore, however it is almost certain that cruelty was involved and dogs tore Bulls or Bears apart. Bulldogs were bred for this 'sport' sepcifically. These bloody games were banned in 1835 only by the Cruelty of Animals Act.
Names like Dancing Dog or Bear & Bells refer to performing animals trained by travelling showmen and circuses.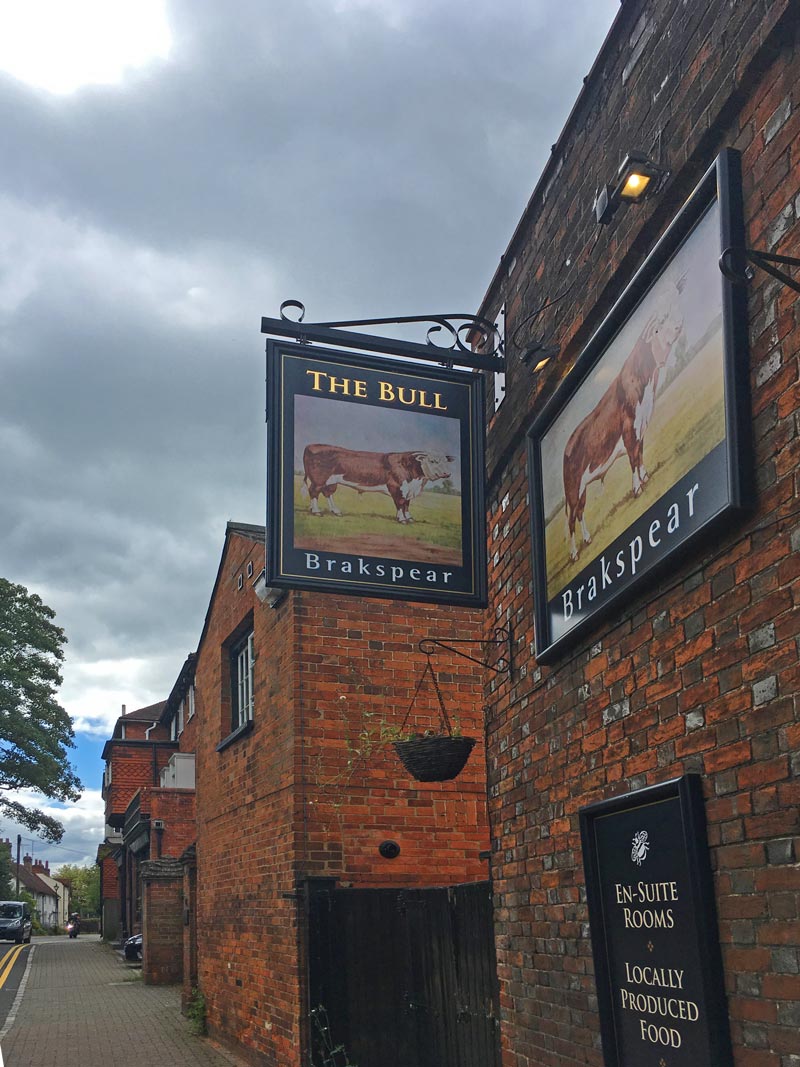 Puzzling Pairs
The most common explanation for double names is that when an existing business moved to other premises which already had a name, the two names were combined such as Crown & Angel or Dolphin & Anchor.
Another theory suggests that some combinations are harmonious in their symbolism and emotional appeal even if from logic point of view they do not match. Rose & Crown are two very powerful English emblems and work well.
The most popular idea is that the name was corrupted, for example people could not pronounce the name of Catherine la Fidèle (Catharine of Aragon) and it was easier to say Cat & Fiddle.
Puns & Old Jokes
Funny and cheerful names are always winners. There is a pub in Plymouth called Nowhere. The reason for the name is that men could tell their wives they have been nowhere if they were asked where they have been. Many pub names implied old jokes which today would be considered as politically incorrect jokes. Names like these are the Turk's Head, the Blackmoor's Head, the Sarachen's Head etc.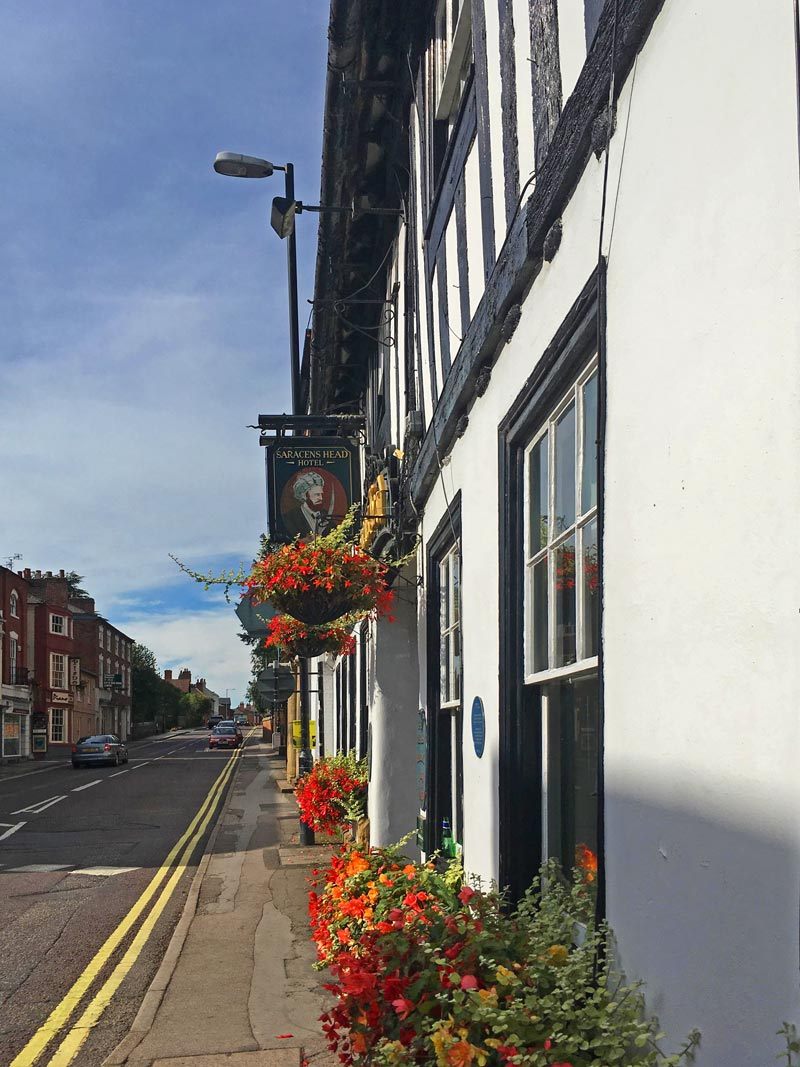 Harvesters & Whatsheafs
As beer was made of grains, it was important for pubs to commemorate the harvest and the plough – Plough & Horses, Plough & Harrow etc. Other pubs reflects the workers: The Harvester – currently a franchise restaurant chain in the UK.
Highwaymen & Smugglers
Crimes are romantic once the danger is over and as such the names of highwaymen and smugglers became popular. Unsurprisingly the most popular highwayman was Robin Hood – a name carried by many pubs in England. The most famous highwayman however was Dick Turpin born in hempstead, Essex in 1705. He joind a band in 1734 who robbed in London's suburbs. The working method of the band was to brek into people's homes where they would frighten them or even burn them to the point that the residents gave them their valuables. The band was arrested and executed within a year but Turpin managed to escape the hook. He started a carrier on his own as a highwayman and stole horses as well. He was arrested in 1739 and hung in York. He was not scared of death: he played cards and drank beer with his fellows. In his days he certainly was not a popular or romantic figure but hundred years after his dead, when highwaymen generally were considered to be somewhat romantic and brave, always behaving like a gentleman, he became very popular.
Ghostly Barmaids & Haunted Cellars
Many pubs are proud to have a ghost. In fact I would be surprised if a pub did not claim to have one! So generally speaking ghost stories are great. The only trouble is that they are locally known stories and because of that there is not a lot of supporting evidence that the they are true. A woman called Mother Marnes was robbed and killed in the Gatehouse pub on Highgate, London who since has been haunting the pub. She would not appearin front of children or animals though.
According to the legend there is a female crying in the Bull in Wargrave, Berkshire who was the owner's wife. When the innkeeper learnt his wife had an affair with another man, he shunned the woman and did not let her see her children. She has been weeping ever since…
Herladry
Names like the Queen's Head, the Red Lion etc are not based on folklore, but on symbols and have a background in heraldry. If a coat of arms appeared in a pub's sign (e.g. Salisbury Arms, Carnavorn Arms) meant the pub was owned by the squire family. If a pub in London contained a coat of arms, the pub paid respect and commemorated the family, duke or baron. The most popular heraldry symbols and persons:
White Heart = Richard II
White Boar = Richard III
Blue Boar = Duke of Oxford
Red Lion = John O' Gaunt
White Horse = kings of the House of Hanover
Three Feathers = Prince of Wales
Symbols were not only used by aristocrats, they were used by other tradesmen: fishmongers used the fish as a sign, wool merchants used the ram as their symbol while bakers displayed wheat.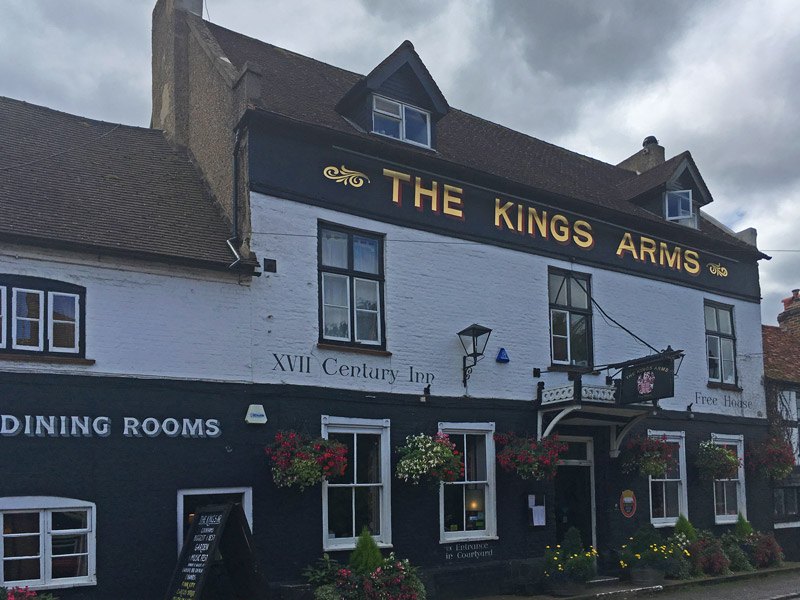 ~
The most popular pub names in England are the Red Lion, the Royal Oak, the White Heart, the Rose & Crown, The King's Head, the Queen's Head, the King's Arms and The Crown. These will be discussed next time.