Exploring Northumberland in 3 days
Northumberland, England's furthest North-East and perhaps the most underrated county. For many industrial areas, mining and ship building would come to mind first but Northumberland has so much more to offer and is full of hidden gems.
From the Northumberland National Park to charming fishing villages and from Hadrian's Wall to medieval castles, this county is definitely worth exploring.
Northumberland has the most castles and fortresses in England, 48 precisely out of which Alnwick Castle is the most famous one known from films like Downton Abbey and Harry Potter.
Like anywhere else in England, you would need at least a week to explore the area properly, however, the famous landmarks can be done in a long weekend.
Northumberland has been on my bucket list for many years, first and foremost because of its fascinating country house, Cragside that I came across in a book. But let me start with Alnwick Castle.
Alnwick Castle
Alnwick Castle is the second largest inhabited castle after Windsor Castle in Britain and has been owned by the Percy Family for 700 years.
I was totally blown away by it even though I'm not a huge fan of castles. There are different programs for every member of the family: Broomstick training for young Harry Potter fans, history tours, falconry, archery etc.
As the castle is still used as a family home, so photography is not allowed in the State rooms. In spite of that I would still highly recommend visiting. Most of the interior was redesigned in Renaissance style in the 18th and 19th century.
The family still uses the Library as their Drawing room and indeed you can see a big television there with comfy bean bags in front of them. In the Salon they have a table tennis set up during the winter months where they enjoy playing games.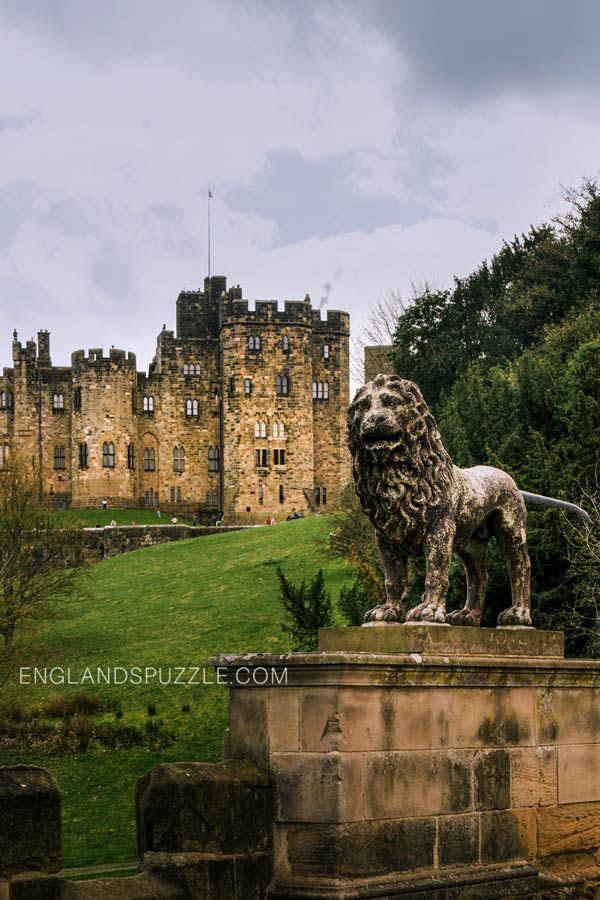 Due to a deep clean I wasn't able to visit the magnificent Dining Room featured in Downton Abbey. However, the ticket is valid for a year, so re-visiting is possible.
The best view of the castle is from the Lion Bridge and from the other side of the River Aln. From there you can appreciate the landscape created by the famous landscape architect, Capability Brown.
Don't forget to visit Alnwick Gardens where a separate ticket is needed for entry. (Due to an Easter activity for children I wasn't able to visit, unfortunately.)
Bamburgh Castle
Perhaps the most majestic castle on the Northumberland coast is Bamburg Castle. Our visit wasn't planned but as we had time left, we decided to pay a visit. And how right we were to do so!
The medieval castle was purchased by Cragside's creator, William Armstrong. He decided to rebuild and refurbish the castle which took nine years to complete and cost £1 million, £60 million in today's money.
The Victorian rooms are amazing as well as the view from the castle. On a clear day you can see the Ferne Islands, home to puffins and seals.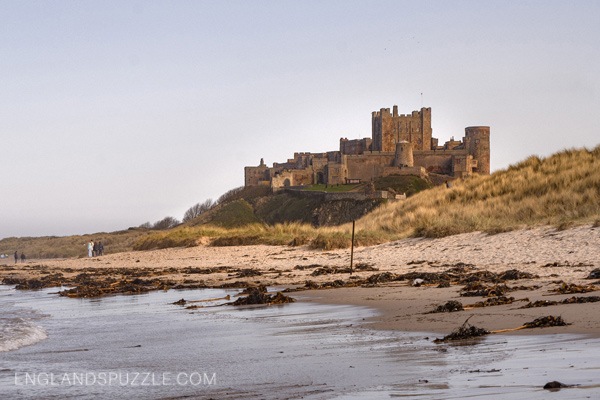 Lindisfarne Castle – Holy Island
Holy Island is a special place. Getting here via the 5 km long causeway at low tide is already exciting, let alone Lindisfarne Castle.
There never was a castle on the island before. The structure on which the later castle was built was a monastery in the 7th century. The castle was refurbished by the famous 20th century architect Sir Edward Lutyens in Arts and Crafts style for the founder of the Country Life magazine, Edward Hudson.
I'm not sure what I was expecting, but certainly not what I found there and the small and dark castle blew me away. There's something romantic and mysterious about the castle. it might be the brilliant architecture by Sir Edwin Lutyens who created hidden staircases, maze-like passages and stylish finishing touches.
Hudson entertained here and threw parties. His guest involved members of the Bloomsbury Group, musicians and even royalty.
The garden was designed by the brilliant arts and Crafts garden designer Gertrude Jekyll, who often worked together with Lutyens on projects.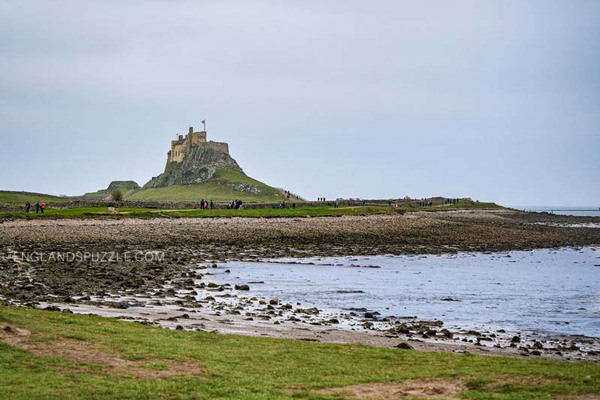 If you'd like to learn more about this quirky castle, read the blog post about Lindisfarne Castle.
Berwick-upon-Tweed
This quaint seaside town with cobbled street is England's furthest North town on the Scottish border. The border of the countries often moved during the history. The last change of the border was in 1482 and the town belonged to England ever since.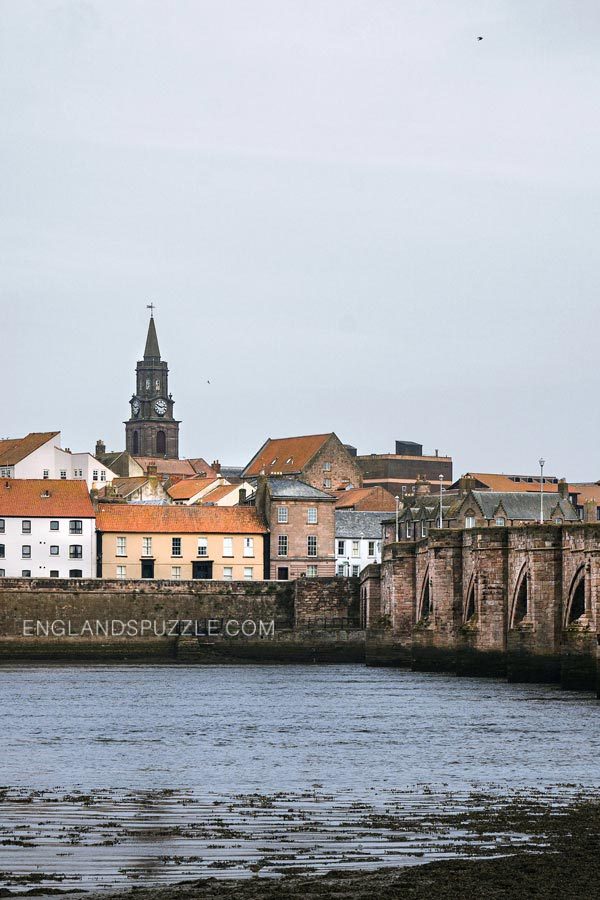 In spite of that 25 percent of the town considers themselves as English, 25 percent as Scottish and 50 percent as Berwickers.
Berwick is famous for its fortresses, Elizabethan ramparts and tweed fabric. The famous painter, L. S. Lowry spent his summer holidays in Berwick in the 1930s.
At first sight Berwick might not seem to be the most charming town in the world. However, having walked along the coastal path, my view of the town changed. There is a certain charm about this town, its Georgian buildings and there's definitely something Lowry-an about it.
The Northumberland Coast
There's something majestic and rough about the Northumberland coast. Whether it's because of the white sandy beaches, the dunes and the castles, I don't know. But it's just beautiful.
Fishing villages might not be as romantic or mysterious as in Cornwall or Yorkshire, but they have their own ambience. It's definitely worth visiting Alnmouth, Craster, Bamburgh and St Mary's Lighthouse in Whitley Bay in Tyne & Wear.
Moorland and Cheviot Hills
A few years ago I wouldn't have appreciated a rough, rocky, hilly moorland covered with heather. But the Moorlands also featured in the Downton Abbey A Moorland Holiday, has blown me away.
Having said that, a far bigger surprise was the Cheviot Hills. The hills are beautiful and seem to be untouched. Certain areas cannot be visited by car or the number of cars entering are limited.
We didn't have time to explore and walk up to the waterfalls but I do hope we can have a hiking day during our next visit.
Cragside
The Wagnerian looking building at Cragside was built between 1869 and 1886 in Tudor revival style for the industrialist and engineer William Armstrong.
Armstrong loved modern inventions so it comes as no surprise that his home at Cragside was the first house in the world to have electric light, introduced in 1878. There was an electric dishwasher, central heating and a Turkish bath as well.
No wonder that the Prince of Wales, the future Edward VII came to stay at Cragside was amazed by the house and its modern equipments.
Cragside is not only famous for its house and modern equipments, but for its unique rock garden which is one of the biggest in Europe.
If you'd like to learn more about Cragside, please read the blogpost about Cragside.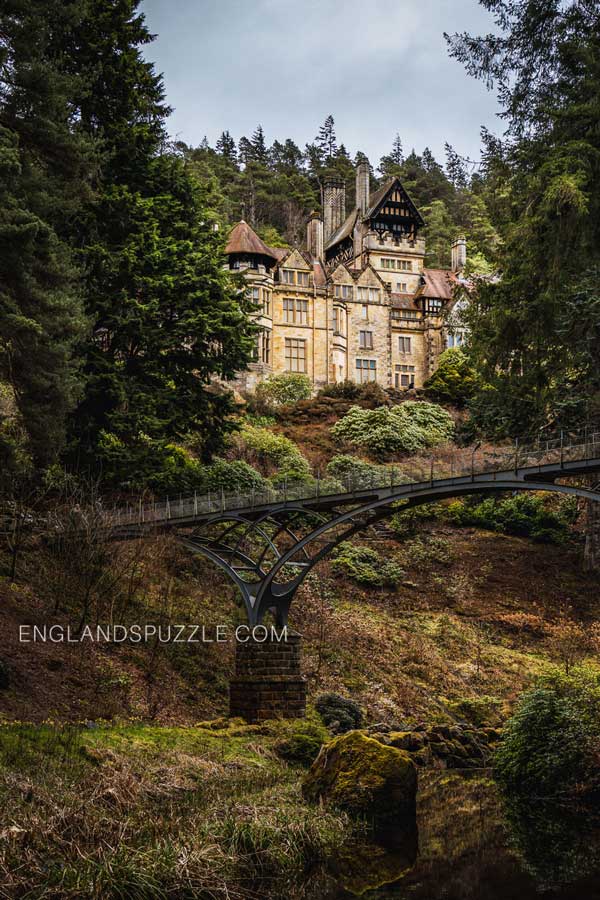 Northumberland
Northumberland was a pleasant surprise. There are certainly more to explore than one would think at first. I hope to return to Northumberland and explore more in the near future.
New here? Subscribe to England's Puzzle blog via email.