How English is the Fish & Chips?
Let me set the scene (not the table!):
At the end of the episode "Yellow Iris", Poirot is hungry as he did not manage to eat whilst solving the case. Now he is complaining to Captain Hastings.
'With all this affair, I have not been able to eat.'
'Oh I see. That's a bit rough. It's not going to be easy finding something at this time at night.'
'No, that's true.'
'I do now one place though…'
(Hastings returns to the car from a fish and chips van carrying two large packs of fish and chips.)
'English cuisine. There is nothing like it in the world. You must agree, Poirot.'
'Eh bien, Hastings… it is cold and dark… and there is nothing else to eat. It is possible.' – says Poirot who first grimaces then enjoys the food.
Captain Hastings is right. One of the most English foods is fish and chips. But the question comes…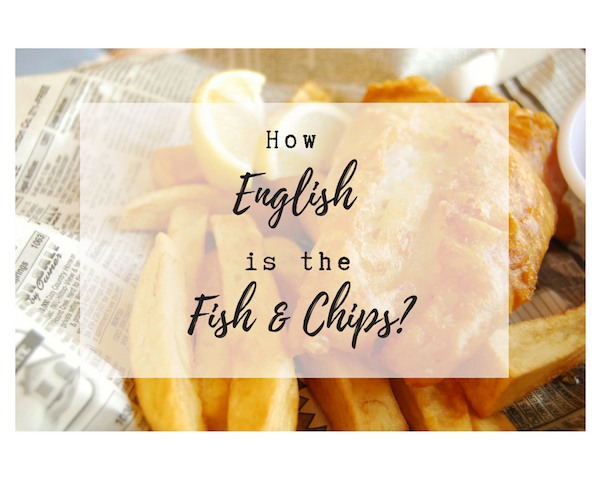 The first fish and chips
I have to say, I too was surprised when I found out that the first fried fish coated in flour was made in the 17th century by Western Sephardic Jews (Jews from Spain and Portugal) settling in in England. To combine the fish fried in batter with fried potatoes was an idea of a 13 year old Sephardic Jewish boy in London, Joseph Malin. He probably started selling fish, walking in London's streets with a tray hanging in his neck. Later a shop was opened as a family business and sold hot fish and chips, however some Jews bought it on Friday and ate it cold on Sabbath.
And how about the chips?
They aren't English either. Apparently, the River Meuse in Belgium froze in the winter of 1680 leaving no fish to catch. Poor women cut fish shaped potato slices and fried them in oil and the chips were born.
Business of Immigrants
It appears that making and selling fish and chips is a business of immigrants: in Scotland a Belgian immigrant started to make the first fish and chips, whilst in Ireland, it is a business of Italian immigrant families.
How do English eat it?
This reminds me of having lángos at home (Hungary), as we too have our ritual: when we take the lángos in hand, we go to the stand where we can put salt and garlic sauce on top, or some of us have it with sour cream and cheese. This is similar for the English regarding fish and chips. They have salt and malt vinegar, both on the fish and on the chips. Ketchup, mayonnaise, mushy peas, pickled onions and eggs are other accessories. This really looks like a ritual and indeed it has a special mood that can not be beaten.
According to the regulations, the menu must state the type of the fish that is sold, it cannot be called just fish, it is either cod, or haddock or hake etc. Another interesting detail about the dish, is that the batter is made of either flour and water or flour and beer – beer would provide a nice orangy colour. For frying lard or dripping is used which gives a more distinctive taste, apparently.
When do the English have it?
Mostly on Friday evenings and it originates in Catholic customs. Indeed, on Friday after work you would find more people in the fish and chips shops than other times. Of course it is also a popular dish by the seaside, on beaches (a bit like fried hake or bream fried in paprika-flour with gurkins for us at lake Balaton). However, some English, especially those living by the sea, believe you should not eat fish if you can't see the sea. Well… Bill reflected on this statement saying "we have been to Brighton the other day and ate fish and chips on the pier and it was not the best we have eaten". 😀 And he was right, it was indeed poor. (Sorry, Brighton, maybe next time…) But down in Cornwall, in Penzance we had the most beautiful fish & chips ever. (See photo below.)

How popular is it?
One would say, very much so, but the fact is, it is not anymore. According to the NPD Group below servings were sold in 2017 in Quick-Serving Restaurants (QSR):
Chinese: 179 million servings
Pizza: 171 million servings
Burger: 82 million servings
Curry: 70 million servings
Fish and Chips is only ranked 5, the same ranking as kebab. The Fish and Chips business seems to shrink year by year: whilst in 2009 fish and chips was 6.4% of the QSR business, by 2017 it is 5.6% only. People say there is nowhere to sit and eat properly in fish and chips shops plus they do not offer desserts – these are the reasons behind its decline, apparently. However, let me say in the fish and chips shop we go to, they do offer battered Mars bar. 🙂
Last but not least a few creative fish and chips names:
Mr Cod
Oh My Cod
Thank Cod It's Friday
Fry-Days
The Codfather
~
I do like my fish and chips, however I prefer lemon to malt vinegar and I love it with ketchup and mayo. Sometimes on a Friday we too pop in to a fish and chips shop if we fancy having it. Today we miht as today is the National Fish & Chips Day. 🙂
How do you like Your fish & chips?