Is everything Michelin Star these days?
When Roux at Skindles, another restaurant which is expected to win a Michelin Star, opened on the other side of the river, Bill and I sighed and asked the question: "Yet another one…?" You could ask why we reacted the way we did. The reason being that there are an unbelievable amount of Michelin star restaurants in the area we live in and we started to have the impression there were more Michelin star restaurants than Fish & Chips shops. Is that true? I did some investigation and have some interesting figures to share with you.
But what does a Michelin star mean at all? And what does a tyre have to do with restaurants?
I am sure everybody knows the Michelin Man, the little white figure that advertises the tyres manufactured by the Michelin Brothers, Edouard and André. The businessmen came up with a brilliant marketing idea at the end of the 19th century to promote driving around the country: They published a map which indicated the best restaurants and hotels. The guide book became internationally renouned in 1904 and countries like Belgium, Holland, Switzerland, the United Kingdom etc had their own guide.
Michelin stars are always given to the restaurant and not to the chef. If a chef is working in a Michelin star restaurant, then the chef could be called a Michelin star chef, but he does not own the star itself. During the inspection only the food is considered based on below criteria, service, decor etc are not considered:
The quality of the food
Cooking method, perfection of the flavours
Style of the cuisine
Price value ratio
Frequency of visits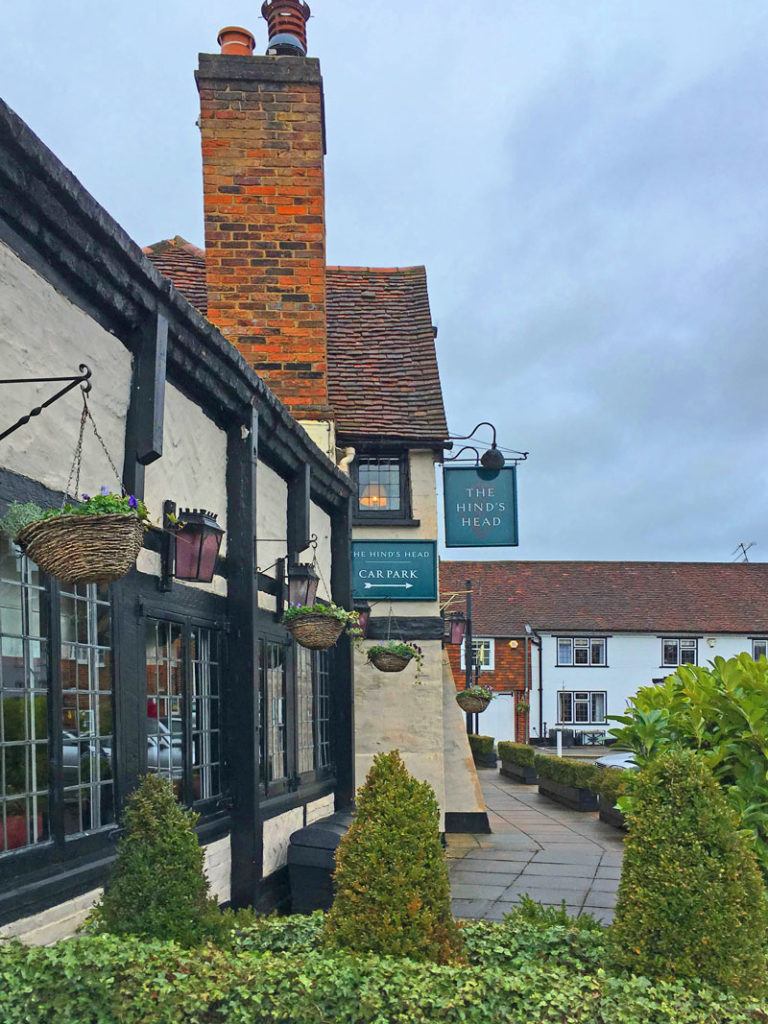 About the number of the stars
One star means "a very good restaurant in its category", two means "excellent cooking with a detour", three means "exceptional cuisine, worth a special journey". At this point let me remark I have been to Michelin star restaurants (one star though) and I found the food amazing. Therefore, I have absolutely no idea what food at a 3 Michelin star restaurant could be like…
It is worth to mention another rank, the "Bib Gourmand" which means the restaurant serves "high-quality food at a reasonable price".
That is all about the terminology, now let's see how many Michelin star restaurants are in our neighbourhood and in the United Kingdom.
What springs to mind regarding Michelin star restaurants in this area are the followings:
3 stars:
The Fat Duck and the Waterside Inn – both in Bray, Berkshire. Isn't it amazing having two restaurants in the same village both with 3 Michelin stars!!
2 stars:
The Hand and Flowers in Marlow owned by the TV chef, Tom Kerridge
1 star:
The Crown – Burchett's Green, Maidenhead
The Hind's Head, Bray – Blimey! There are 3 Michelin star restaurants in the small village of Bray… What a luxury…
The Coach – Marlow
The Royal Oak, Payley Street, Maidenhead – however, they lost their star last year.
And on top of below after checking:
Coworth park – Sunningdale
The Blackbird – Newbury
The Woodspeen – Newbury
L'Ortolan – Shinfield
Not to forget the Bib Gourmand restaurant: The White Oak in Cookham.
Now you could ask why there are so many Michelin Star restaurants in Berkshire. Well, I can only guess… Firstly, the county's official name is the Royal County of Berkshire, so at the end of the day the Royal presence might have an impact on the fine dining business. Secondly, when these restaurants were opened around Maidenhead years ago, I guess the property prices were still much more reasonable than in Windsor or in Marlow (Buckinghamshire) or Henley-on-Thames (Oxfordshire), not to mention Surrey. This might have attracted chefs and/or investors to Berkshire and its neighbouring counties.
As you can see there are 10 (and probably soon 11) Michelin star and 1 Bib Gourmand restaurants in our area. Wow… that is something especially if we consider the whole country. The below chart shows that the highest number of Michelin star restaurant within the UK is in England and within England London has the highest number, followed by Berkshire and Warwickshire. (Before you would tell me off for mentioning Michelin Star restaurants outside of Berkshire, let me clarify, I considered the area around us and in this part of the country, county borderlines are quite tricky having 4 counties close: Berkshire, Buckinghamshire, Oxfordshire and Surrey.)
Interestingly (or not), half of the English Michelin star restaurants (48%) are located in London.
I wondered where abouts in London the highest concentration of Michelin star restaurants can be found. Well, Mayfair has the most (20), then Marylebone (5) followed by St James's (4).
The number of Michelin star restaurants (162) might seem to be tremendous especially compared to Hungary where there is one 2 Michelin star restaurant (Onyx) and three 1 Michelin star restaurans: Costes, Costes Downtown and Borkonyha). However, if we look at the number of Michelin star restaurants in France, where there are 616 Michelin star restaurants and 645 Bib Gourmand and out of the world's 54, 3 Star Michelin restraunts, there are 26 in France, then the UK still has a long way to go.
But do the British need to go a long way?
Do we need that many Michelin star restaurants? I don't think it is a bad thing to have restaurants which offer high-quality food. There must be a demand for them and people who can afford it. However, not every Michelin star restaurant is overly expensive and in case you have an important guest to invite for a meal, or have an important family event, then a Michelin star restaurant is a perfect choice. At the same time, it used to be a big thing to go to a Michelin star restaurant and the fact they are becoming more and more affordable and available, somehow makes me think the Michelin star restaurants lose what it was they once had that was "Special".
~
Getting back to the original question whether there are more Michelin star restaurants in our area than Fish & Chips shops? The answer is No! There are 5 Fish & Chips shops (Oh My Cod, Ross Fish Bar, Ali's Fish & Chips, The Fat Fish, My Cod) and 5 Michelin star restaurants. Going further, you don't need to worry that the Michelin star restaurants will rule the dining business: there are 10.500 Fish & Chips shops, 1.200 McDonald's and 840 KFC shops in the UK.