Oops, I got it wrong again!
Now that I have been photographing, blogging and vlogging for some time, I thought to share the unluckiest and funniest moments and challenges. I think the expression that would describe them best would be "Sod's law". 🙂
Photography
Almost every time I switch on the camera, find the right angle, composition, settings and just about to take a photo, something or somebody will appear in the picture. People walking across the street, cars driving up the street, delivery vans stopping right in front of the building I want to photograph. This means that I often have to wait minutes to be able to make a photo for which I have to stay calm and patient. It is not always easy! Below picture is a classic example. When I shot it, I laughed out loud because I could not believe it! Imagine the situation: you are having a gentle stroll in a seaside town, spot a charming seaside Cottage door with beautiful flowers, and the upper part of the stable door is opened – Oh what a lovely scene! You switch the camera on, zoom in, do the right settings and as soon as you hit the button, a hand appears in the door throwing some breadcrumbs out. What is the chance of that?? 😀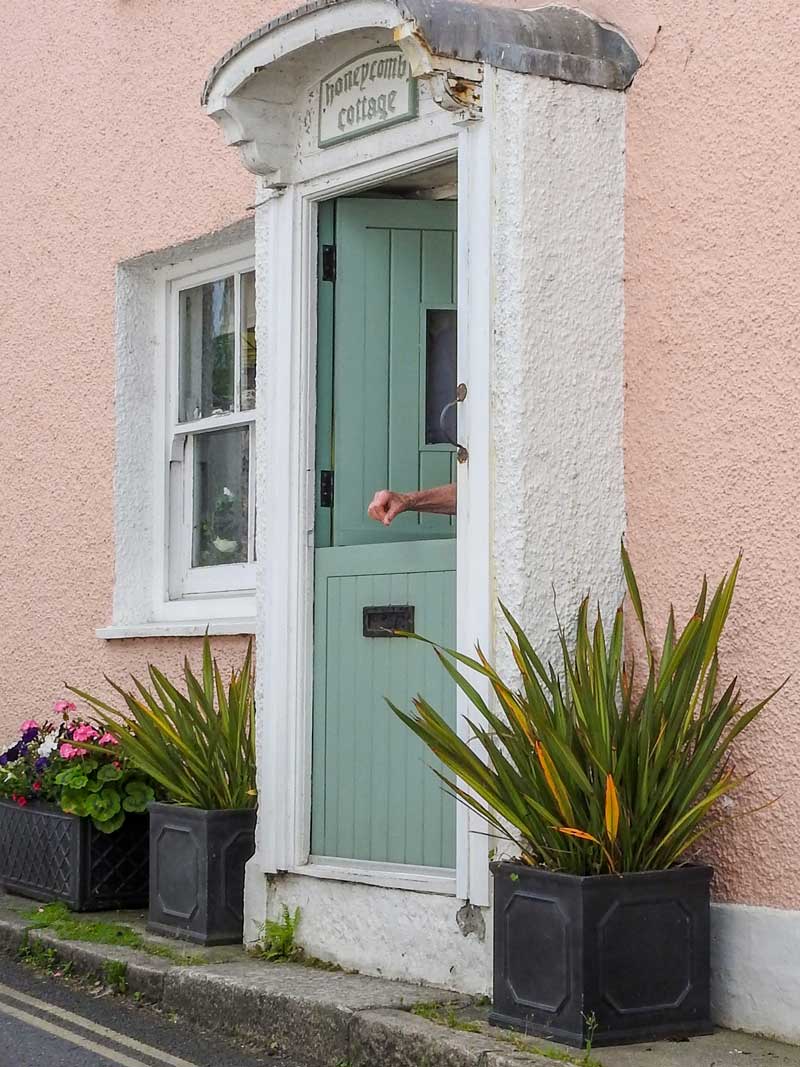 Weather
It is Sod's law as well whenever I go shooting or filming, it is either raining and I have to mind the lens and try to keep it dry, or it is so bright that I have to squint and actually struggle to see things whilst talking into the camera. If I turned the camera, then the background would not be properly lit so catch 22.
I wash and dry my hair before filming so that I look presentable in the video. You can be sure that on the day of the filming it is either windy, raining or drizzling or at least the weather is humid and by the time we get to the filming location, my hair is all over the place.
Repairs, renovations
It happened on several occasions that a building I wanted to make a photo of had scaffolding around it or was closed due to renovations. It is quite annoying when you travel hundreds of miles and then it turns out that there is scaffolding or works going on.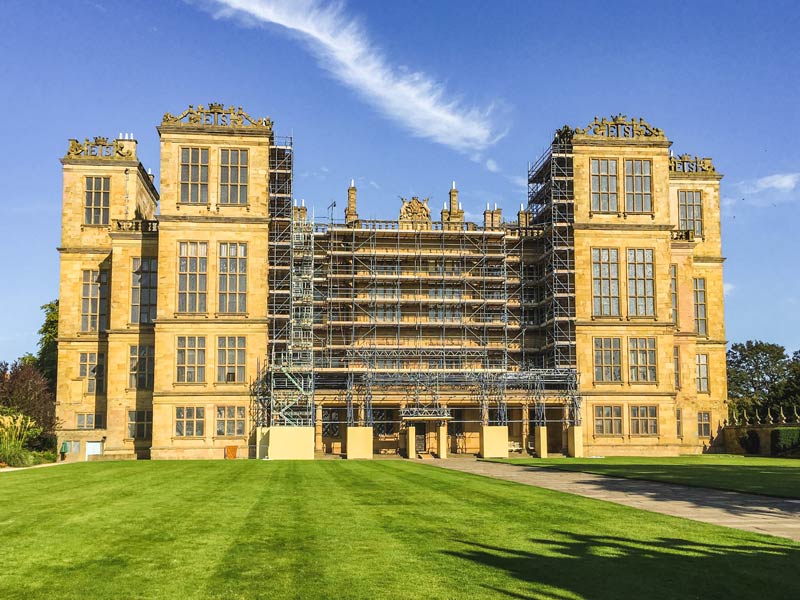 Filming
Once we were filming on an estate and managed to make a good footage and I could talk fluently and was relaxed in the video which does not happen too often! When I watched the video at home, it turned out that I did not connect the wireless microphones properly to the camera, so there was hardly any sound…
Tongue twists
Even in my native language I often have tongue twists, no idea why. As a result sometimes one part has to be recorded a dozen times.
Timing
I left the best to the last. At the very beginning, being a shy person, I decided to visit an estate in order to practice talking into the camera. I chose Sunday morning and wanted to be on site for the opening thinking there are less visitors on a Sunday morning and I will not be disturbed whilst talking to the camera. That's because you do have to practice not to be disturbed when somebody walks in front of you and stares at you. So I wanted to practice this on this estate in a quiet corner of the garden.
When we got there, we could not believe our eyes: thousands of cars, crowds, a stage in the north corner of the garden and an Elvis Presley song was blasting out of loudspeakers because there was some sort of festival on that particular day. I cannot put it into words what I felt.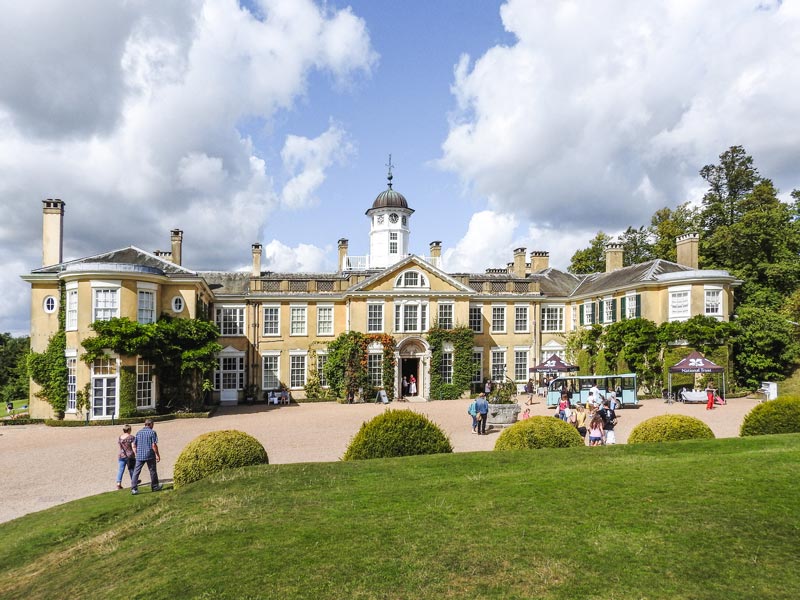 After this frustrating experience we went to another estate to practice where I sort of managed, but realised I should also practice talking spontaneously. For doing that we decided to pop over to a third estate which I know very well and possibly could have talked about more spontaneously. We estimated our arrival at the country house at about 4pm. Perfect, we thought. People will be gone by four, the lights will be perfect in the sunset and I won't be disturbed in any way. When we got there, the gates were shut. There was a lady who asked why they were shut. She explained they had a summer fair that day and exceptionally they closed at 4…
~
As you can see, blogging and vlogging can be quite frustrating and requires patience and some good sense of humour. But more importantly you can see that the pictures and videos have been produced with dedication and fun for your enjoyment and pleasure.