Stowe – The perfect landscape garden
I think, probably most of us has a picture in mind about a romantic, sometimes mysterious English landscape garden, with lakes, groves, pavilions, follies and tea houses that we once saw on television, probably in a Sherlock Holmes film. Whether you visit this Buckinghamshire estate on your own, or with kids or dogs;
Stowe gives a unique experience of a perfect example of the English landscape garden.
This place is fantastic, seriously beyond words, so that I decided to refrain from excessive writing and will let the photos do the talking. Just to put this experience into perspective: we spent 5 hours which included walking around the house and gardens, we did 10 km in total and we felt like we have been on a treasure hunt. I will show you in a second why, but let me give you a short history of the place first.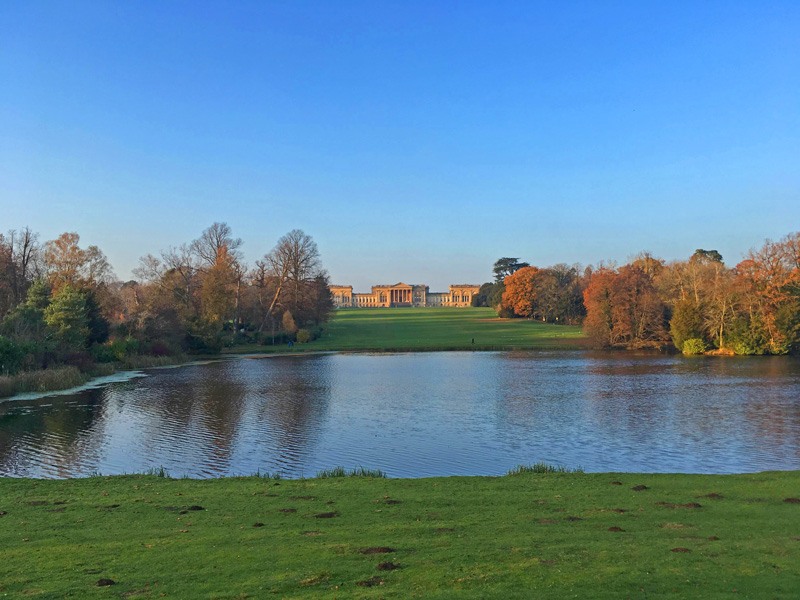 Well worth a visit
Stowe must be one of the most popular estates in England, or at least this is what I thought, until we got there on a sunny Saturday and realised we were the only visitors for the first house tour. I expected crowds to be honest as it is always the case when the sun is out. However, the reason for the little interest of the house might be down to the fact that the building functions as a private school and does not belong to the National Trust and as such you have to pay a small amount of money to visit the house. Well if anybody had doubts about visiting the house let me say, it is absolutely WORTH the money, even when the kids are there – we were lucky as they all went home for the weekend exceptionally and no one was in the building at all.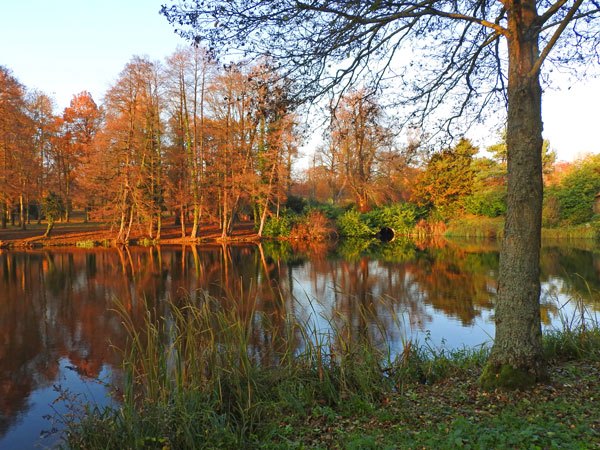 When you take the map of the estate in your hands at the entrance and see there are 45 (!) objects in the gardens, you are fascinated. You get even more fascinated when you walk in front of the South Facade, which is huge. Alright, alright! Buckingham Palace is also huge one could say. Just to put it into perspective: Buckingham Palace is 108m wide, the South Facade of Stowe is 140 (!) m.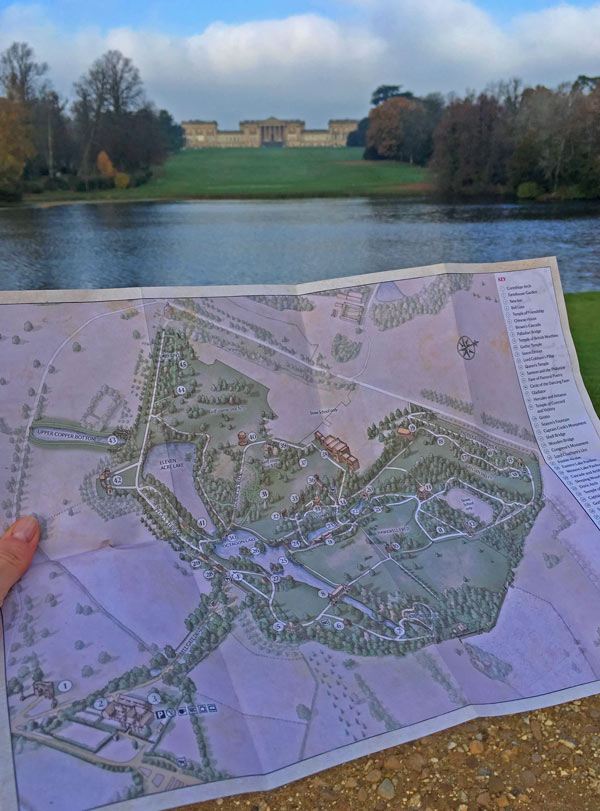 Why is everything so big at Stowe?
The short and simple answer is: because of megalomaniac owners.
The idea of creating Stowe was born in Richard Temple's head, the 1st Viscount of Cobham. His family were shepherds in the neighbourhood who bought land and a knighthood, then baronet titles. Temple inherited the estate from his father. He was only 9 years old when he joined the army and served as a soldier for 30 years. In those days the treasures and spoils of war that they got hold of during the wars could be kept. Temple got hold of cannons and guns which he then sold for good money. Of course on top of guns he got many pieces of fine art: statues, paintings, books etc which he absolutely loved. When he returned to England he married well: his wife was from a wealthy family which enabled him to make his dream come true and establish Stowe in the styles he saw on the continent. He was a greedy man and wanted more and more of everything. Looking at the sizes and extent of Stowe, it was impossible to build everything during his lifetime. Having no children, he gave the estate to his nephew, the 2nd Earl Temple.
Richard Grenville-Temple was a very ambitious person and went to school at Eton and Oxford. As it was very fashionable among young men, he too went on the Grand Tour, which meant travelling around France, Italy and Greece to learn about ancient architecture and different styles. After three years of travelling he returned to Stowe and wanted to form the estate according to what he saw on the Grand Tour.
Not only was he ambitious but arrogant and lived a lavish lifestyle which meant he threw parties which last from Saturday until the following Saturday. Queen Victoria refrained from visiting Stowe as she thought the estate was over the top and too luxurious, however she did visit Stowe in 1845 at last. She only wanted to stay for tea, but because it snowed, she stayed for 3 days. The Earl spent in today's money 3 million pounds (!) for the royal visit. No wonder that the lavish lifestyle Richard Grenville-Temple ended in him becoming the world's biggest debtor, by 1847 he had 100 million pounds debt. Several estates of the family as well as fine art collections, furniture, books went to auction. This is why Stowe is so empty and has little that is original.
Needless to say, the future heirs inherited not only Stowe but the debts as well. The house was empty between 1908 and 1922 when governors bought the place and converted it into Stowe School.
Stowe House
Stowe House is one of the finest example of neoclassical architecture in England. Characteristics: pediment, portico, piano nobile etc. By the main staircase on the South Facade there are Medici Lions.
Egyptian Hall
This is the winter entrance on the North Facade, built in 1803. It is said to be the first Egyptian room in England which became fashionable during the Napoleonic wars.
Eastern corridor and Grand Staircase
Dating from the 1730s, one of the earliest examples of a floating staircase (cantilevered from the walls). It is decorated with a beautiful wrought iron balustrade. The ceiling above the staircase is painted with Fame and Victory.
Blue room
This room used to be the Print Room where more than 55 thousand prints were stored next to the library. Currently walls are covered with blue silk and the ceiling cornices and wall and door beading is decorated with 33 carat gold leaf.
Library
The ceiling cornices and wall and door beading is decorated with 33 carat gold leaf, valuable books went to auction in 1849. The library was furnished with furniture on wheels so that they could be removed and the room used as a ballroom.
The Marble Saloon
It is located behind the south portico and was built on the basis of the Pantheon and it was meant to impress. I think it will impress anyone… Interestingly only the floor is made of Carrara marble.
State Music Room
State Drawing Room
The ceiling was originally decorated with gold, but after a renovation in 1965 they used silver which later turned to black. Therefore, the silver was removed and aluminium has now been used to have a nice look.
State Dining Room
This has always been used as a dining room and interestingly it is close to the kitchen unlike in many other stately homes.
The garden
Many garden designers and architects worked on the gardens of Stowe. The landscape garden was created in 3 main phases:
1) Charles Bridgeman garden designer and John Vanburgh architect created an English baroque park between 1711-1735. James Gibbs took over from Vanburgh after his death in 1726.
2) William Kent took over in 1731 as garden designer and worked in Palladian style.
3) Capability Brown was appointed to head gardener in 1741 and worked together with Kent and Gibbs. He mainly worked in neoclassical style.
The main parts of the gardens are:
Octagon Lake
Eleven Acre Lake
Elysian Fields
Hawkwell Field
Grecian Valley
Lamport Garden
Stowe is said to be the first English garden for which a guide book was produced. No wonder, there are so many things to see in this garden that you would be lost without a map.
Entry
Bell Gate, Lake Pavilions
Elysian Fields
St Mary's Church, Temple of Ancient Virtue, Temple of British Worthies, Shell Bridge, Grotto, Season's Fountain, Captain Grenville's Column, Captain Cook's Monument
Hawkwell Field
Gothic Temple, Congreve's Monument (a pyramide on an island), Pebbles Alcove, Palladian Bridge, Lord Chatham's Urn (on an island), Saxon Deities
Grecian Valley
Temple of Concord and Victory, Hercules and Antaeus, Gladiator, Circle of the Dancing Faun, Fane of Pastoral Poetry, Samson and Philistine, Lord Cobham's Pillar (For the Circle of the Dancing Faun you can find more info on my Facebook Page or Instagram.)
The western garden
Doric Arch, Rotunda, Statue of King George II, Dido's Cave, Silent Wood, Eleven Acre Lake, Statue of Queen Caroline, Roman Wrestlers, Lower Cascade, Temple of Venus, Gothic Cross, Southern Facade
~
Do you think it is too much to take in? You are quite right. It is. At the same time it is an unbelievable experience and you will love it. What I noticed though is, wherever you go in the garden, make sure you look all around you as sometimes you have the best view from one thing from where you would least expect it.