Highclere Castle aka How I became a Downton fan
I must admit, I didn't watch Downton Abbey when it was first on television. It has a very profound reason: it was a period in my life when I was not interested in watching television or series at all. As a result, I completely missed Downton Abbey. A few years ago, however, I wanted to catch up and tried to buy the box set, the Hungarian version though, because I tend to prefer an edition which has both Hungarian and English languages available. Well, it was impossible, everything was sold out and nothing to be found on the likes of eBay etc. I was really sorry, because since I moved to England, the social history of this particular era (well, not quite, but almost: from the late Victorian times until the Second World War) with everything that involves (servants lives, social life, etiquette etc) has become one of my favourite topics which I started to research intensively. 
How it all started…
As we visit different country houses and estates in England and we walk from the ball rooms downstairs, to the servants hall or up to the attic where the servants had their bedrooms, I can feel the history coming through the walls and I am sure if they could talk, they would tell many stories… It has been a few years now since I read the first book on this topic, yet for the time being the only film reference for me was 'You rang, M'lord?' And other English or Canadian films.
I cannot recall how we ended up with the idea of buying the box set in English, but in the end we did buy it at end of March 2019. As there was nothing interesting on TV, we decide to watch all the seasons and episodes. Hmmm. That's a challenge!
You know what? I  do not mind now at all that I missed Downton many years ago. Firstly, because the topic and the era of Downton touched me in this period of my life and made me research it now, secondly because I did not have to wait days or weeks for the next episode and more importantly, I did not have to wait for adverts. We watched at least three episodes every night, at the weekends even more until early in the morning. We managed to watch all seasons and episodes in two weeks and once we have finished, it felt odd having nothing reasonable or sensible to watch.
The truth of a story lies in the details
There have probably already been, thousands of posts praising Downton and explaining why it is a brilliant series. It has been written about many times, how well it reflects the Edwardian era, the fact that they tried to use as many original clothes as possible, that an expert explained every details to the actors for example how far they can pull out a chair from the table and how they should move, that they used original motorcars, that they spoke a language of the time and they did not touch or hug each other because it simply was not fashionable. Downton has become the King of period drama for all of these reasons and I believe if it ever captures you, it will get under your skin.
It was a pleasure to see visually what I have read about so far, the series confirmed (almost) everything perfectly. I watched it also with a 'professional' or 'historian' eye. Of course there have been many books about the series and I have only read two of them. Although they were written by the writer of Downton Abbey, Julian Fellowes, I did not find these books particularly exciting or authentic. However, since March I have read a few books about the era, which made me realise many elements of Downton Abbey are based on the lives of real aristocrats in Britain. This is not an issue by any means, it rather shows and justifies that Downton is indeed a true reflection of the era.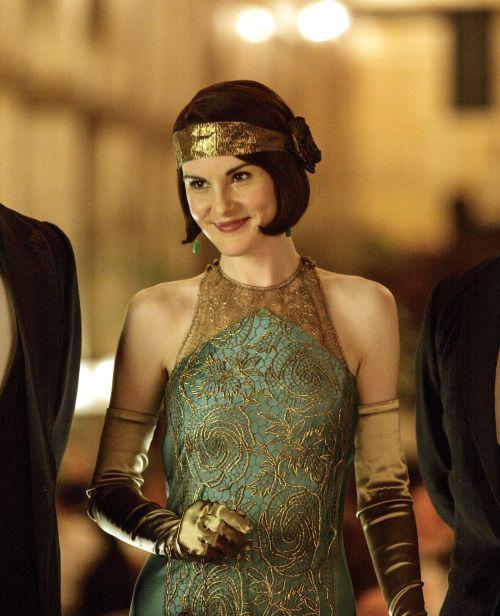 My only concern when watching the series in English, was that I will not enjoy it as much as I would in Hungarian, but I was completely wrong. I could not have enjoyed Mrs Hugh's Scottish accent, Tom's Irish accent and O'Brien's, Daisy's and Thomas's Yorkshire accent in the Hungarian version, as there is no distinction in Hungarian. Still, the Hungarian voices are always wonderful, but this time… well… I did not think Lady Grantham's or the Dowager Countess's voices were spot on. Elizabeth McGovern has a much softer voice in English and Maggie Smith's voice is really far from the Hungarian actress, Erzsi Pásztor's voice. Do not get me wrong, I love her voice and she was brilliant in Anne of Green Gables where she did Marilla's Hungarian voice, or many other roles in different films and series. She is brilliant, but not for Maggie Smith, I am afraid.
Can you have a favourite character in such a great film…?
But let's just leave the Hungarian voices for a moment. Can one have a favourite character in a brilliant series in which all the characters seem to be perfectly spot on? Hardly! However, I am sure everyone of us has a secret favourite or favourites who we like a tiny bit more. I love Maggie Smith's performance and her always polite but ironic punchlines. The other one I like a lot is Thomas. Yes, him. I know what you are going to say and I agree. He was really nasty at the beginning and perhaps we all wanted him out of the series and could not wait for the moment to come. Downton Abbey is a so called Bildungsroman which focuses on the psychological and moral growth of the protagonists and indeed every character goes through changes. In my humble opinion, Thomas is one of them who goes through the biggest and possibly the hardest change and that deserves respect. Besides, allegedly it is always more difficult to play a negative character than a positive one.
From Bampton to Highclere
Having watched the series the next tasks sort of became obvious: visiting the filming locations. And how lucky we are to have almost all of them around us, within one hour driving distance. When we visited Faringdon in April, on the way back we popped in to Bampton, which is the home of the Downton village scenes. I can not put it into words how happy I was when I saw the spiral of that distinctive church, the little place in front of the church with the huge oak tree and Mrs Crawley's house. I was hopping around like a little rabbit, although it was just one of the many limestone villages of Oxfordshire, even if the scene was spoilt by cars.
As far as Downton Abbey ie Highclere Castle is concerned, I have been thinking about visiting it anyway, but never made it. The castle is open to the public on certain days only. This year, I did not miss it and managed to secure tickets.
Whenever I visit a place that is close to my heart, or has some sort of significance, I am close to tears. Highclere Castle was no exception. However, I was very disappointed as it started to drizzle just right before we entered the grounds, but as soon as I saw the famous towers, I had a huge smile on my face and forgot about the weather, but within minutes the sun appeared and blue skies showed Highclere in all its glory.
How did it feel  standing in front of Downton Abbey? 'Surreal but nice' as William (Hugh Grant) said in Notting Hill. 🙂 That is the thing about England: no matter where you go in the country, you can be sure to bump into a filming location of a world famous movie.
Interesting facts about the castle and Downton:
Highclere Castle has 300 rooms of which 61 rooms are bedrooms. Even today there are some 50 rooms which are uninhabitable and need renovation.
During the Great War the castle was opened as a convalescence hospital and Lady Almina, the Fifth Countess of Carnarvon offered her services as a nurse – just like Lady Sybil did in the series.
George Herbert, the Fifth Earl of Carnarvon found Tutanhamon's tomb with his friend Howard Carter in 1922. It is said that the Mummy had a curse on him for bringing artefacts from Egypt to Britain. Maybe this is why he died one year later…?
Before Downton Abbey, in 2009 the owners of Highclere Castle, Lord and Lady Carnarvon were struggling to save the building and they needed in the region of 12 million pounds for renovation.
Lord and Lady Carnarvon live in the castle during the winter season and they move to one of the cottages in the grounds during the summer when the castle is opened for the public.
Lord Carnarvon is the Queen Elizabeth the II's godson.
The servants quarters downstairs have long gone and accommodate the Egyptian exhibition. The kitchen, the servants hall and servants bedroom scenes were filmed in a London studio.
I have been to quite a few country houses in England and I know that all of them are different and have a unique ambience. Therefore it is pointless to compare them. However, I did notice a few things.
Positives:
If anything, this castle should feel extremely commercialised, but it does not. Even the Downton craze is displayed in a very subtle and elegant way, I think. We did not have the feeling that we were pressurised to buy anything (I think you do it anyway when you are there, especially if you are a Downton fan), and everything was very relaxed. This makes a huge difference as we have been to places where we felt everything was done for the masses and was commercialised. Whether this is because Highclere is still a family home and lived in, I don't know. Maybe! Like I said, even Downton appears in a reserved way and that is quite right. The castle should reflect the history of the Carnarvon family and not purely Downton. Having said that, I am not sure how popular Highclere would be without Downton. Although being a Jacobethan country house makes it unique. I am sure many people would equally develop feelings to any country houses that appears in a series.
The food in the restaurant/café was very good and they offered different meals to what you are used to at country houses. Again, they are right to do so, as a place like Highclere can not afford serving bad quality food. It should be spotless so that your experience becomes even nicer and you will never forget it.
Surprisingly all the guides in the building seemed to be extremely knowledgeable and knew much history of the house and objet d'art. It is worth talking to them as you can learn other stories as well. For example we learnt that Hugh Bonneville (Lord Grantham) has become a friend of the Carnarvon family and he is very much into the history of the castle, so much so, that sometimes he guides guests around the castle himself. We also know now, the 2019 film was shot in October 2018 at Downton/ Highclere and the crew – which consisted of some 230 members – only spent 15 days filming at Highclere.
The shop again was lovely because it was not full of Downton souvenirs. Don't get me wrong, there were pens, T-shirts, fridge magnets or bookmarks with Downton theme, but you could not find books or DVD about Downton.
What we missed though…
Was a map of the grounds. It would have been nice to get a map at the time of the entry, or to have at least a display by the entrance so that you can check how to get around the estate.
It would be nice to be allowed to make at least some photos in the building. I do appreciate it is still a family home, but still… However, it is not necessarily a bad thing to pay attention and take in everything you see rather than seeing everything from behind your phone or camera. It was funny to see the 'red room' where Kemal Pamuk died or Lady Edith's room. It is a shame you can not go to the rooms, but I understand they try to preserve those that are used today or used for the shooting.
~
All in all it was a wonderful day and I even the weather changed from drizzling cloudy miserable to sunny and pleasant. I could not have wished for better. As a Downton fan Highclere Castle is definitely a must.