Whenever you go to a souvenir shop in England, it is guaranteed you will find the following symbols in the form of a keyring, fridge magnet, money box etc: cab, Big Ben, British guard, Beefeater, double decker, corgi, phone box and post box. All of them are iconic as they are all part of the street view in England. When someone spends a little time in England either as a tourist, or as a resident, what definitely can be felt is that this place is so different to the continent. The above mentioned characteristic symbols play a huge role in that. Wherever you go, you will bump into a red phone box and post box, the amber coloured lights of the Belisha Beacon are flashing, red, green and blue double deckers are turning off at the end of the road and a black cab passes behind us. Because all of this we can feel THIS is England. One of the things that is a true LOVE for me of the above list is the Englsih post boxes. Let's have a closer look at them!
When I relocated from Hungary to the UK, all I realized about the post boxes was that they were red (mainly) and there are pillar boxes and wall boxes. Nothing else. But then I was interested in them and started to observe them and realized there is so much more about them than the colour and the shape.
The post box is born
As the majority of the classicly English things post boxes too were born in the Victorian times. As the infrastructure developed and the railway network expanded, letters and packages were delivered in a much more shorter period of time than ever. Interestingly, the first pillar box was erected on the Channel-Islands, on Guernsey in 1852. Why here? Apparently, the postal service of the Channel-Islands was in a mess, therefore the Post Office sent their surveyor, Anthony Trollope to the islands to find out what the problem was. He found the delays were caused by the unreliable ship schedules. Trollope suggested erecting a post box, similar to what he had seen in Paris previously.
The first pillar box
The first pillar box on the mainland, however, was erected in Carlisle in 1853 but the oldest post box still in use is in Sherborne, Dorset. These pillar boxes were made by John M. Butt & Company of Gloucester. On a spring day we decided to go on a post box hunt and popped down (mean 230 miles round trip!) to Dorset to make some photos of different post boxes for this post. After a bit of search we found this oldest post box still in use in Sherborne. It is at a crossing where roads meet (Barnes Cross) outside of town in the middle of nowhere really. There is only one cottage there and the post box. Seems a bit odd, but hey… As we drove around the area we found many different types of post boxes. We wondered why the area had so may of them, but finally we agreed that it must have had something to do with the first railway lines of London and Bristol.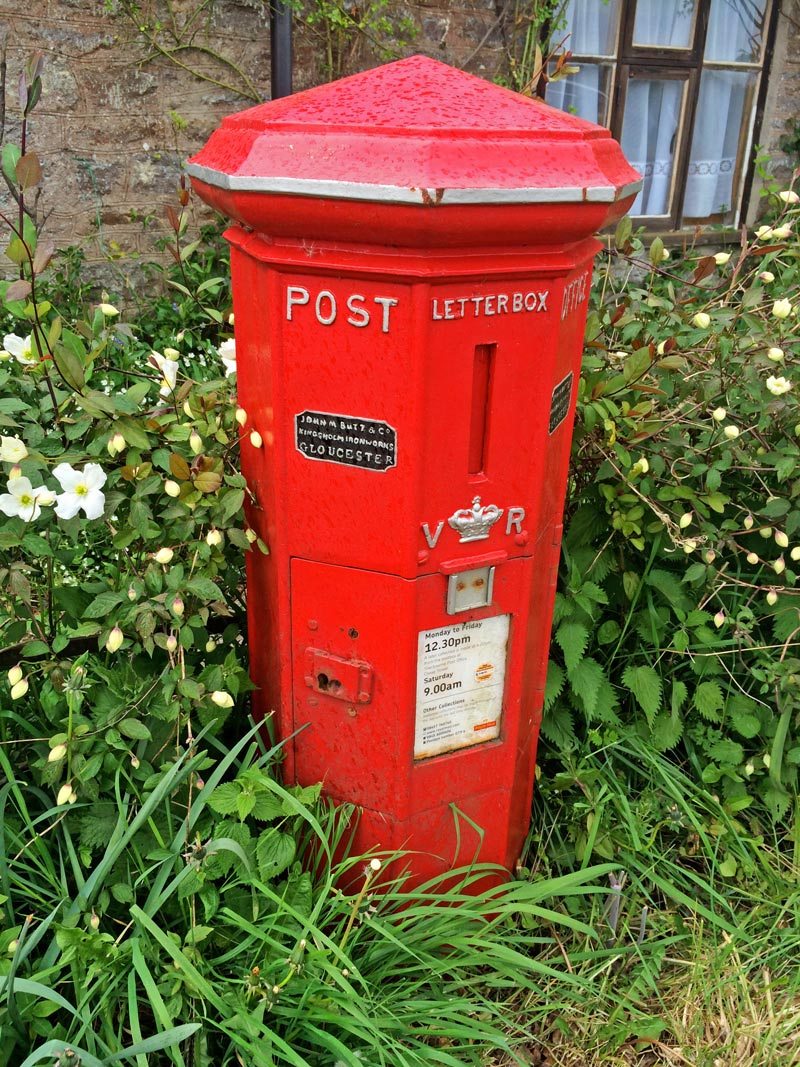 The prototypes
But let's get back to the prototypes! In the middle of the 19th century district surveyors were responsible for designing and purchasing post boxes. As far as the design concerned, pillar boxes the post boxes in the eastern and western districts differed from the ones in the North and in Ireland. The latter were square with crown on top and had a horizontal aperture. The early post boxes had a vertical aperture because it was believed to be more difficult to steal letters out of the box. At the beginning there were many different designs depending on manufacturer and there were some mistakes as well when the manufacturer misunderstood the specification and produced a 2.4m (!!) high post box with a huge bell shaped top. In spite of their size they were put into service one is still visible in the Post Office collection.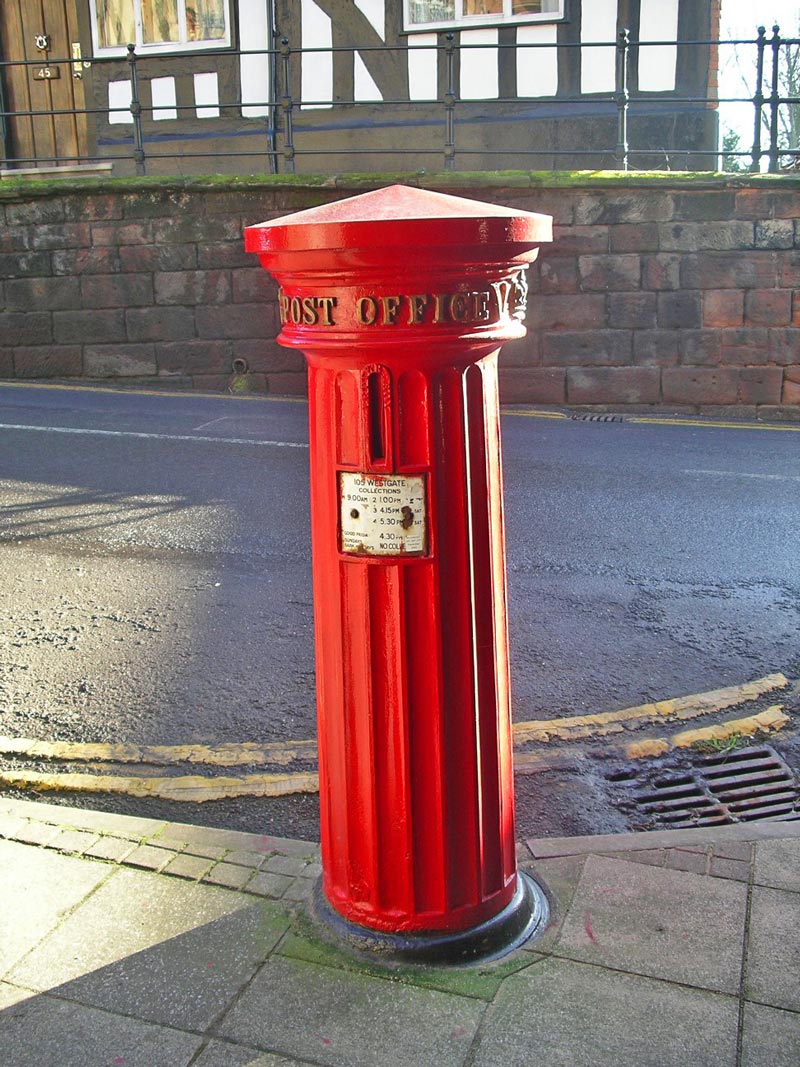 In 1857 the Post Office decided to harmonize the design of the post boxes and launched a competition. The first standard post boxes were produced in 1859 by Cochrane & Company. These were cylinder pillar boxes with a round cap on top. The aperture was below the cap and was horizontal. This existed in 2 sizes: type A was bigger than type B.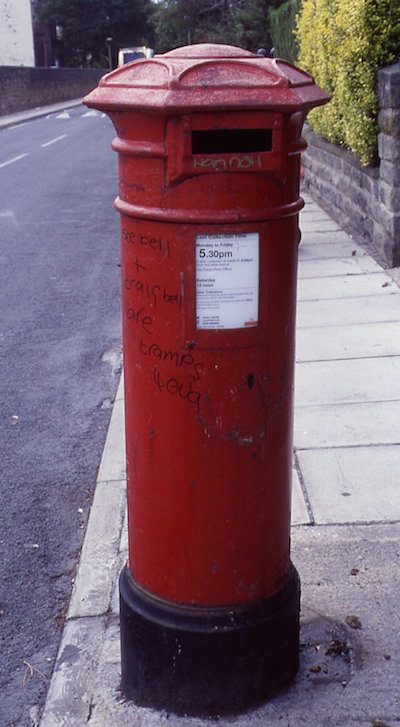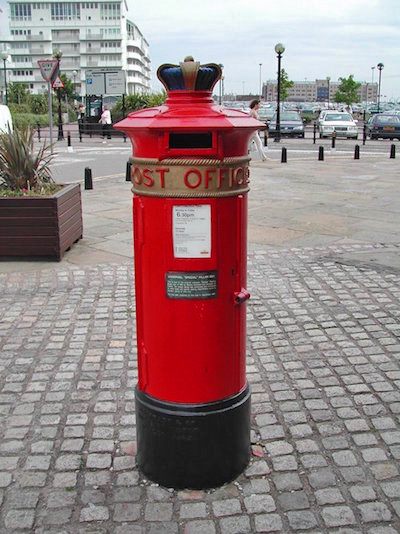 The Penfold post box
The favourite post box of the Victorian times is surely the Penfolds post box which got its name after its designer, J. W. Penfold. These were hexagonal pillar boxes, with a top decorated with acanthus leaves and balls and of course the royal cipher VR. Whenever there was a new sovereign on the throne, the royal cipher changed on post boxes, but the previous ones were still used. Until 1874 boxes were painted green but because of not standing out and many people bumped into them, the Post Office decided to make them more visible and used the vibrant colour of red.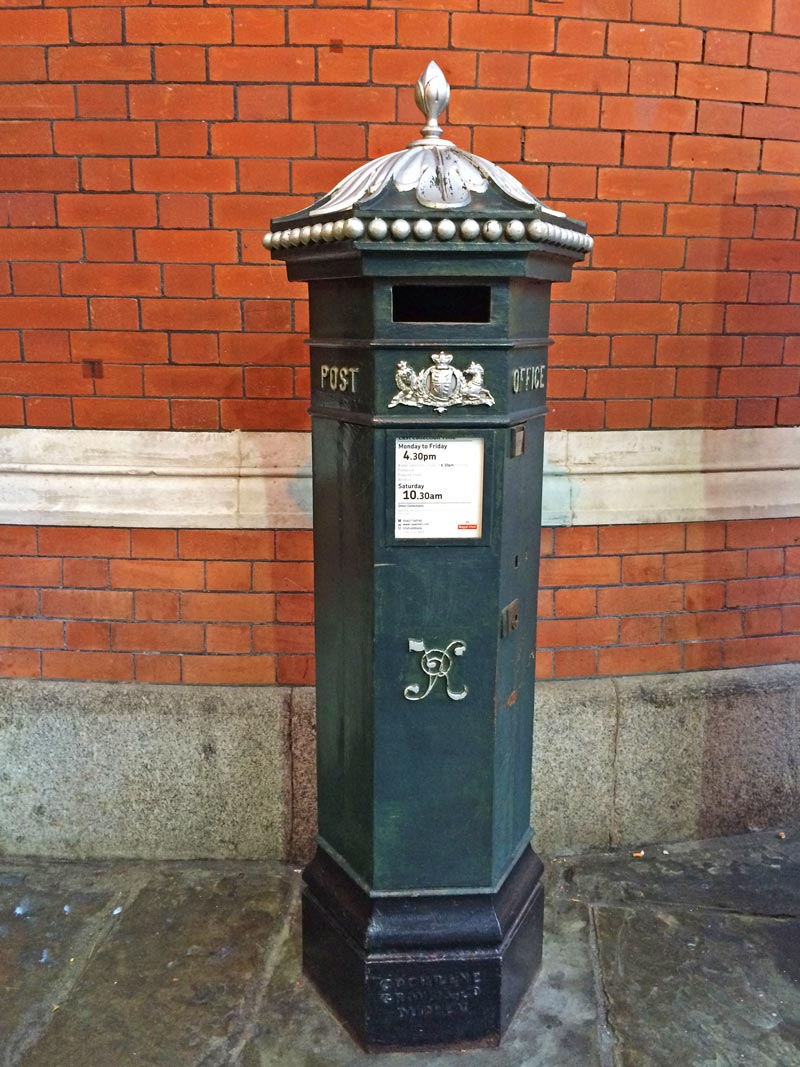 THE design
In 1878 there was another competition and the winner was a cylinder pillar box manufactured by Handyside. This is THE design we see a lot today and THE design of that keyring in the souvenir shop, THE design we can see on a Christmas card with a robin sitting on top. There is no royal cipher on Handyside boxes made between 1879 and 1888, therefore these ones are called "anonymous boxes". The Post Office realized they made a mistake and made sure that from that year onwards the royal cipher was on post boxes with the text "POST OFFICE" on either side of the aperture.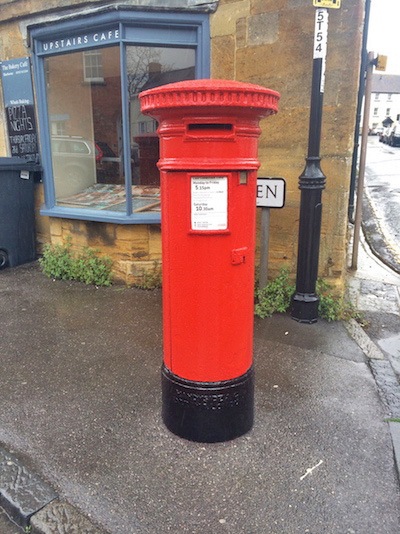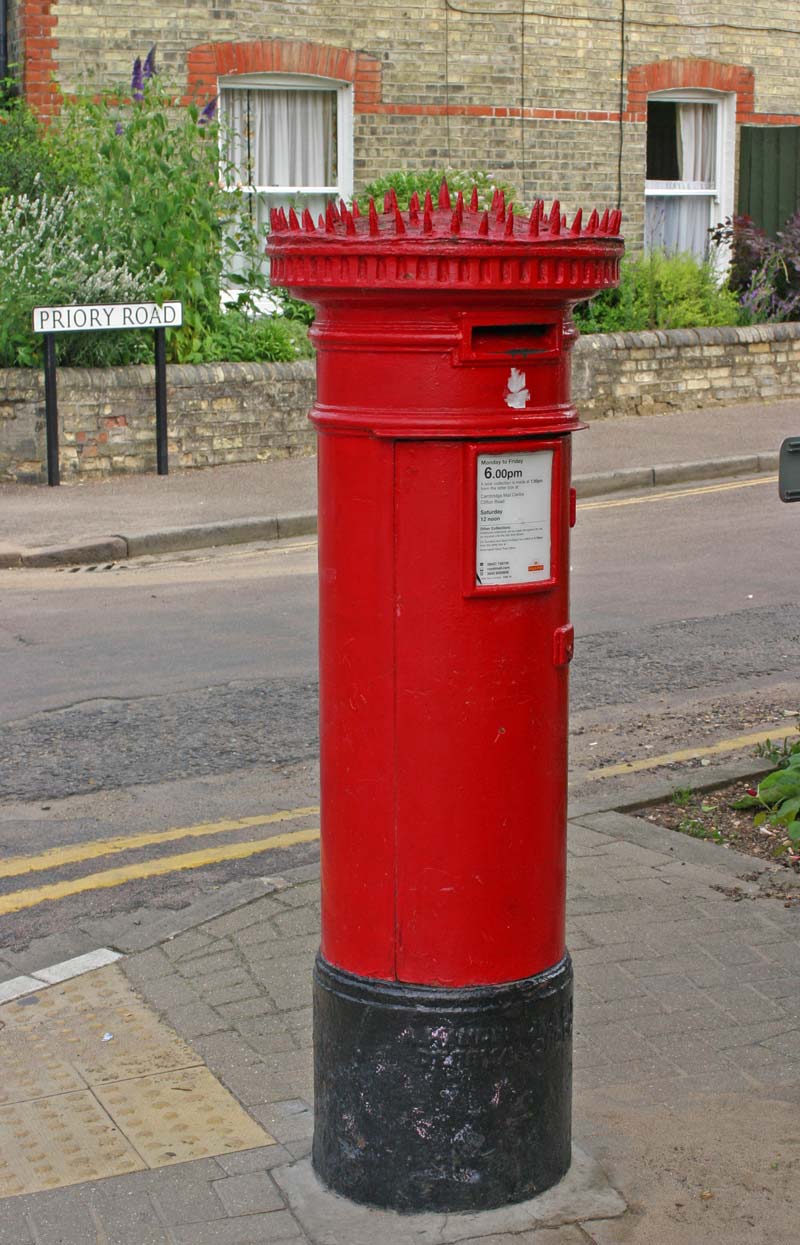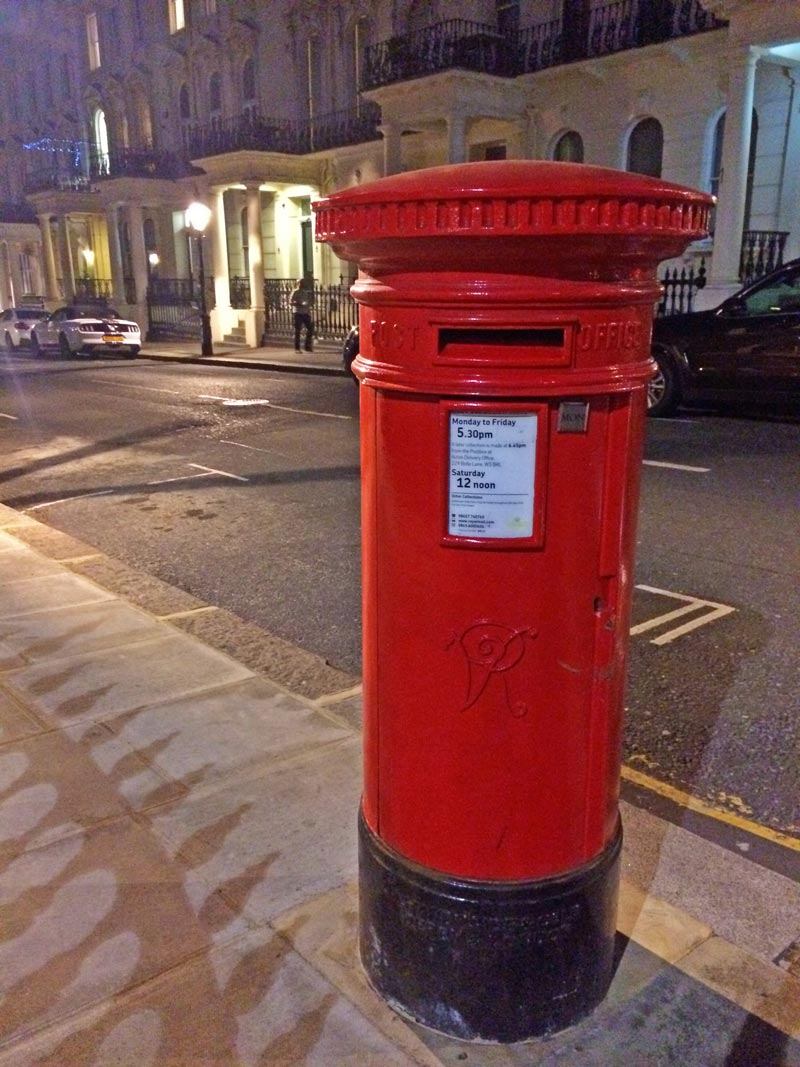 Twin boxes were put in service in London first because of the increased numbers of letters. Having two apertures, one for town and one for the Country made sorting a lot easier.
Air Mail Pillar Box
During the reign of George V the Post Office had 3 experiments. For air mail blue painted pillar boxes were put into service in London. These had double collection plate holder to show collection times and airmail fees. The project finished in 1936 when airmail service did not require surcharges anymore. The blue boxes were re-painted red but the double collection plate holder reveals their past. The other two projects tried to combine a post box and a stamp vending machine. In one of the versions these were built in a phone box (K4) in the other one into a pillar post box.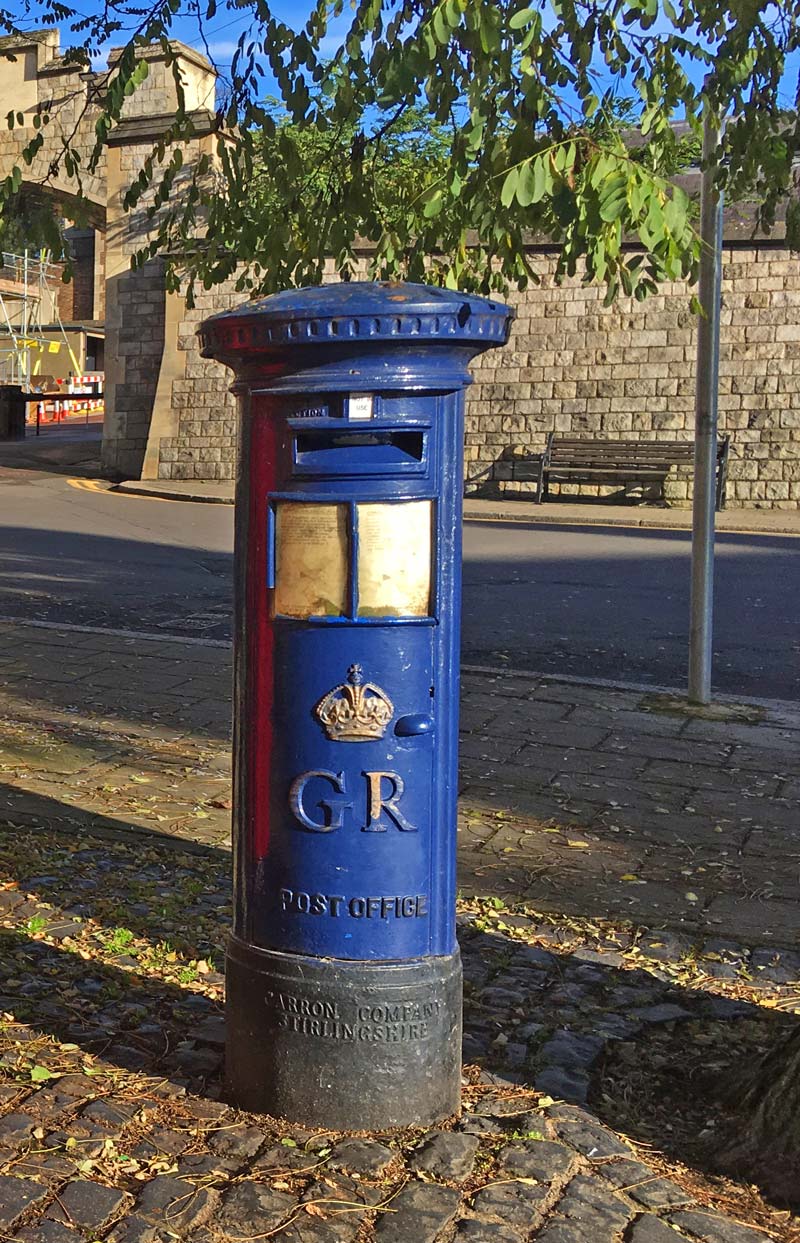 Edward VIII
To me it seemed to be unbelievable that even during the 327 days reign of Edward VIII pillar boxes were erected with his royal cipher (161 in total). What seems to be charming is when you see two pillar boxes next to each other one with the royal cipher of G VI and another one ER II – father and daughter. 🙂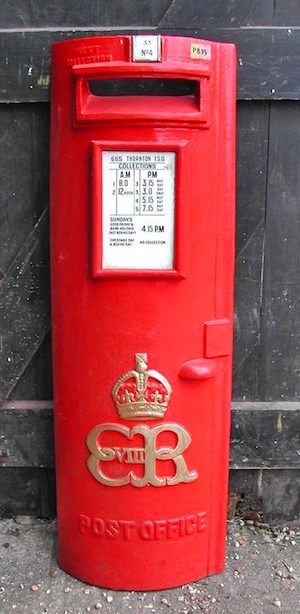 New designs – Vandyke & K pillar box
In 1968 there was a completely different design (Vandyke), a rectangular one that was not made of cast iron anymore but stainless steel. This design was short-lived as the stainless steel did not stand the good old English weather and started to rust, hence the low number of this type to be seen today. This postbox was followed by the K type pillar box which was made of cast iron again. Post boxes from 1994 are Royal Mail instead of Post Office.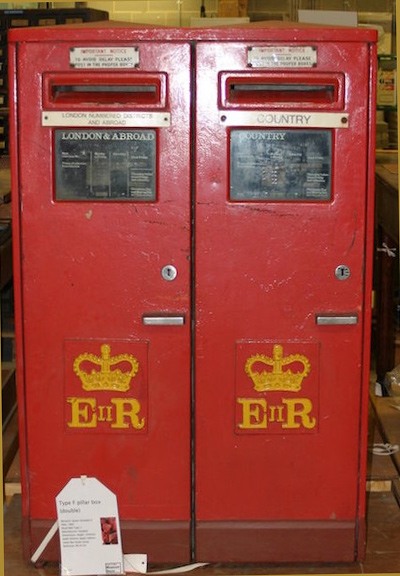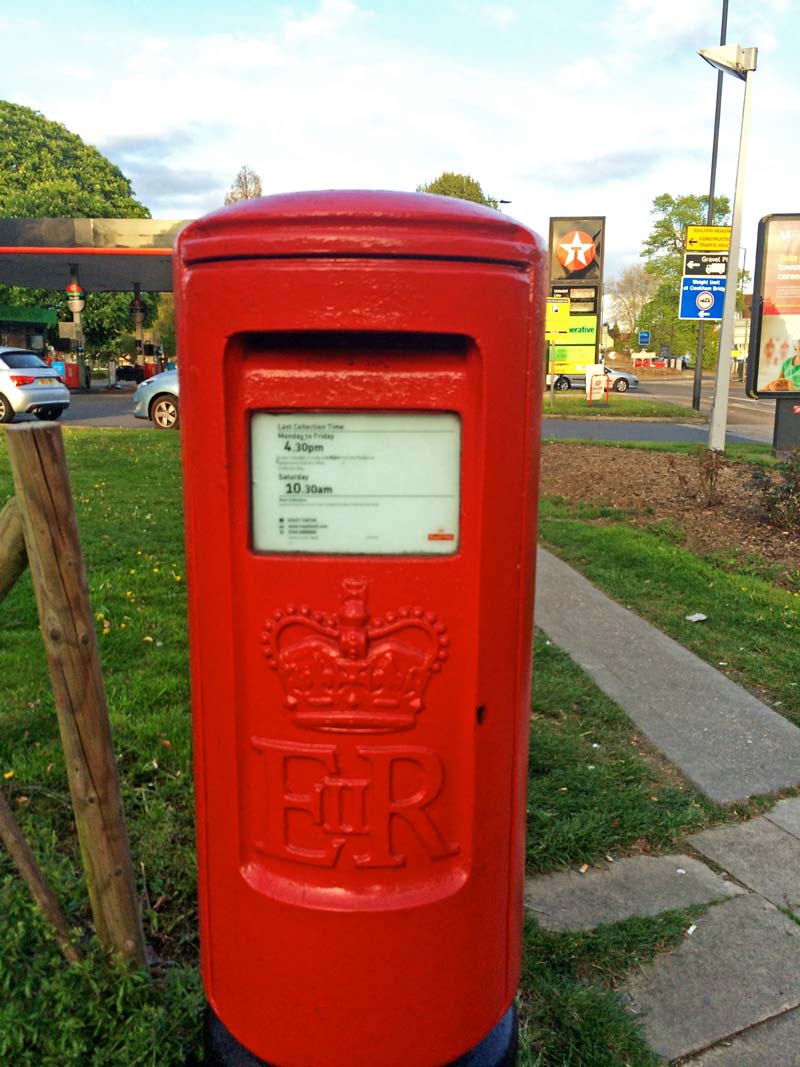 Gold pillar boxes
There is one more thing regarding pillar boxes I realized during my walks. There are some painted gold. I had no idea why so I looked it up. After every gold medal of the 2012 Olympics won by Team GB a post box was painted gold and bears the name of the medalist. What a nice thought and initiative, isn't it?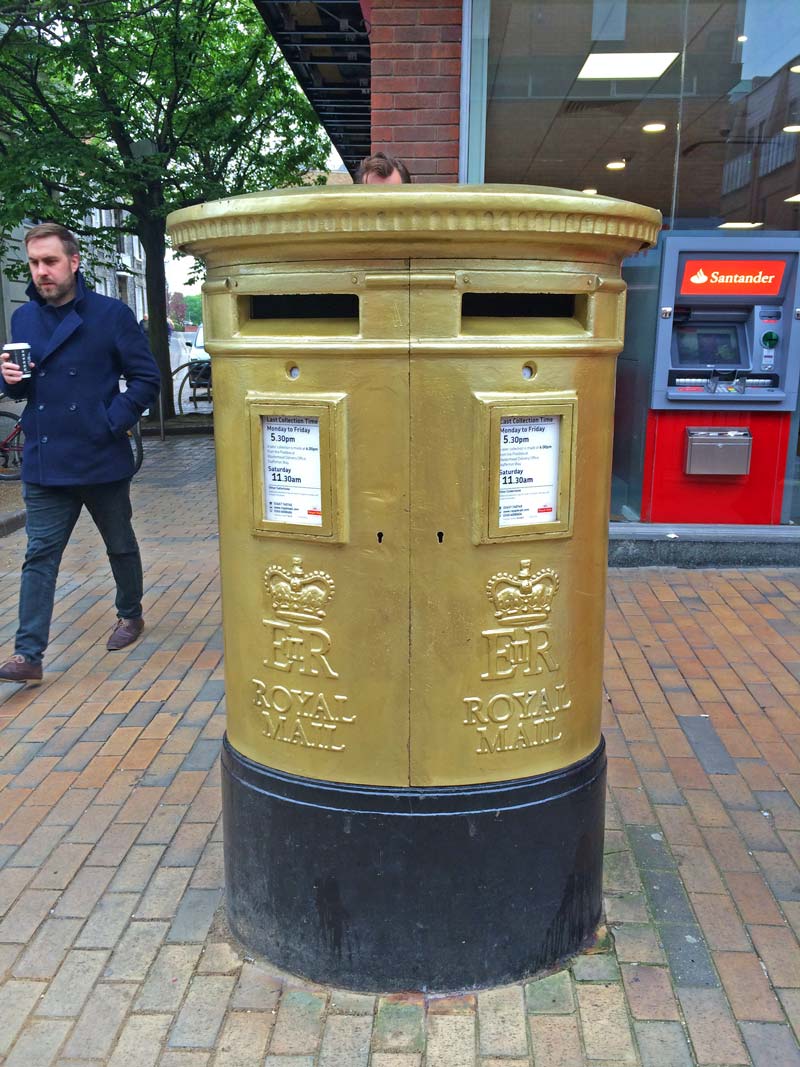 Wall post boxes
Of course there are not only pillar boxes in England but wall post boxes and lamp boxes. Wall post boxes were introduced in 1857 and spread quickly because they were quarter of the price of the pillar boxes plus could be used in rural areas and villages where the letter traffic was smaller. The downside of wall post boxes was that they had to be modified quite often because there was always something which was not right: either rainwater leaked in and damaged letters or letters fell out when the door was opened. The fix these issues a hood was put above the aperture and the keyhole and a wire basked inside. The place of the Post Office sign was moved as well: from the door to the hood then below the aperture. Even the size of the post box was modified: as the population grew, bigger wall post boxes were needed. Therefore wall post boxes became wider and were made of cast iron, painted red wearing the royal cipher just like pillar boxes.
Ludlow-boxes
Before the cast iron post boxes, however, there were letter-receiving houses or post offices dealing with letters in England. Most of the time, these were coaching inns where the Royal Mail coach would stop and pick up the letters. On the walls of these houses there was an aperture functioning as a letter box. Such early structure were the Ludlow-box that were the predecessor of wall post boxes. It got its name after James Ludlow from Birmingham who used to manufacture. Before the Post Office started to supply villages with standardized post boxes in 1895, post officers were responsible to purchase a post box and absorb the costs. Therefore they chose the Ludlow box which were smaller than cast iron wall post boxes and were made of wood and more importantly much cheaper. Only the door was made of cast iron and they have a very distinctive enamel plate with the sign POST OFFICE LETTER BOX. There were different sizes available and plates either displayed collection time or not. Later they got a hood above the aperture and the font type was changed as well.
Lamp post boxes
Lamp post boxes were used in rural areas with little traffic or where lightning was introduced and steer lamp posts appeared. First types contained the sign LETTERS, which soon were changed to LETTERS ONLY. Interestingly, the first lamp post box was attached to a lamppost in 1896 in Church End, Finchely, North London.
Later lamp post boxes appeared on a separate post and we can see a lot of these today. My favourite type is a streamlined model from 1999 that reminds me of Alien. 🙂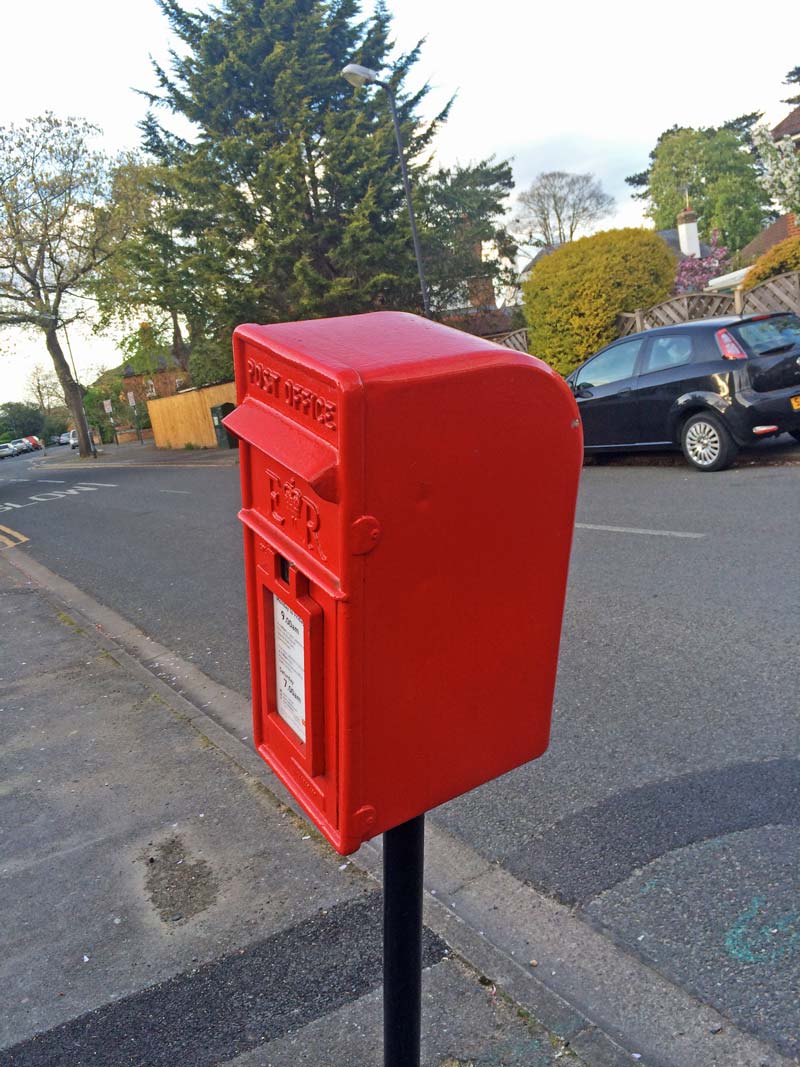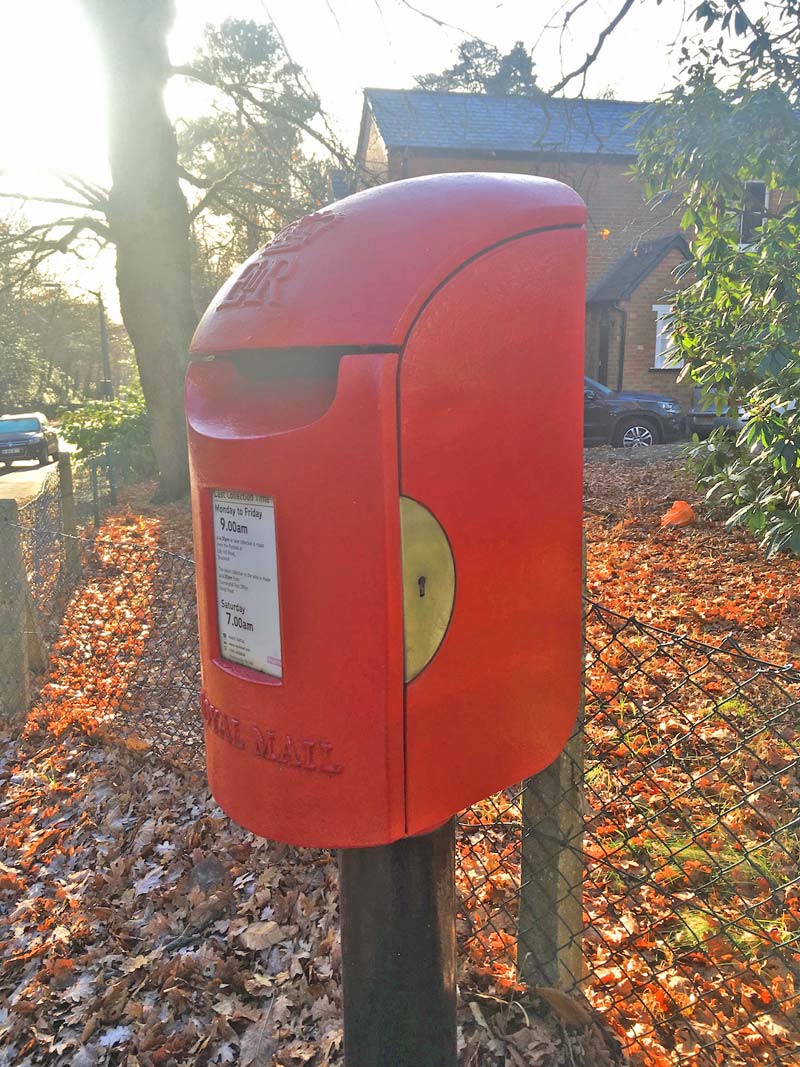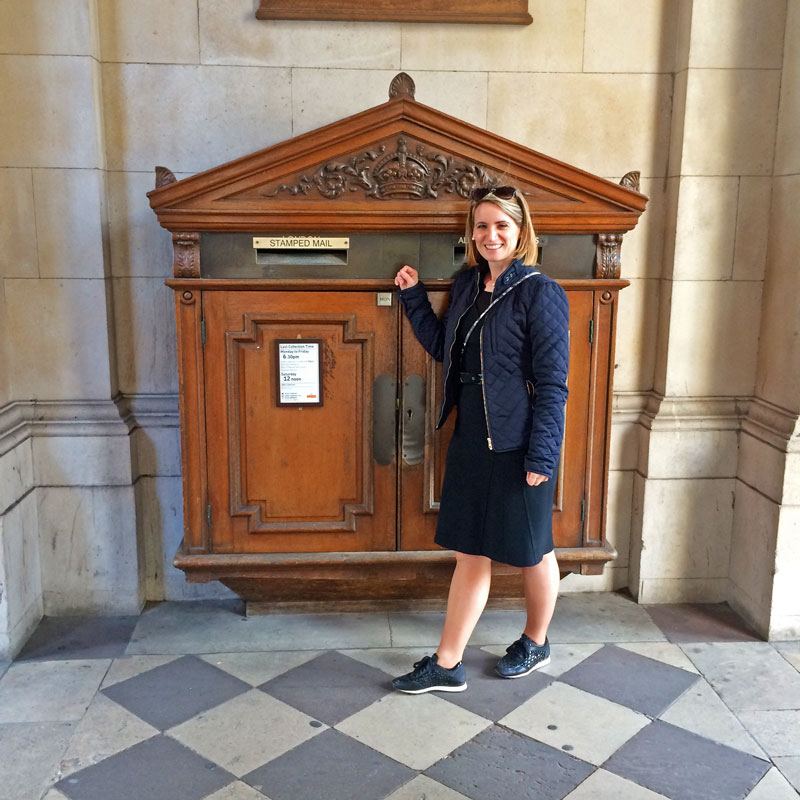 ~
As you can see, postboxes, one of the iconic symbols of the UK have a very interesting history and there is so much more to know about them than just having a keyring…
PS: The majority of the photos were taken by me. I always make photos during my walks and dedicate some trips to certain topics. I used royalty free images for those post boxes I could not make an own one (Cambridge, Liverpool, Warwick, standard post box, rectangular post box, door of a pillar box Edward VIII, lamp post boxes).