Just like Tudor gardens, Stuart gardens were built to impress. Following the French and Dutch garden design trends, gardens in England during the Stuart period became even larger and more impressive.
History of the Stuart Gardens
Up until the Glorious Revolution of 1668 the trend in garden design was set by royal gardens and the most extravagant garden buildings were built by royalty. However, many Stuart gardens were demolished during the revolution and the trend in garden design changed as well.
Whereas in Europe gardens and landscapes including grand garden buildings were still set by royalty, in England it was the aristocracy who laid out trend-setting gardens.
Towards the end of the Stuart period, during William and Mary's reign Dutch gardens became popular. Aristocracy often followed suit and copied royal garden styles to show their support to the monarch. Imitation is the most sincerest form of flattery…
William and Mary loved gardening and they built a Dutch style garden at Hampton Court as well.
The main features of Stuart gardens are a flat terrace (parterre), long avenue of trees, water features such as canals and fountains, topiary, statues and wilderness.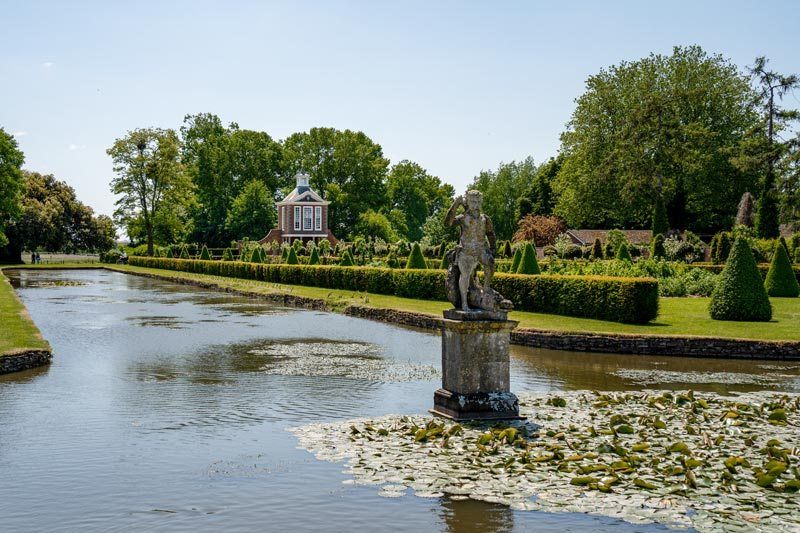 The parterre
Typical feature of the Stuart garden was the parterre which was laid out in a decorative pattern with avenues radiating from a single point to roll out for miles on end. These avenues would be planted with trees , often in a goose foot pattern (patte d' oie) and ended in a focal point – a pavilion, tea house or a statue.
The paths crossing the main avenues would create parterres in a triangle or a polygon shape and these would be planted with flowers. The idea of the parterre was that it also provided a gorgeous view from the upper floors of the palaces.
Canals and fountains
Due to the Dutch influence beside fountains canals became popular as well. Perhaps the most beautiful example of this is Westbury Court Garden in Gloucestershire. Apart from their aesthetic function these canals were often used to stock fish for the table.
Fountains came in all shapes and sizes, mainly round, oval, rectangular, hexagon or octagon, often featured with a statue in the centre. In order to create sound, drama and impact, the water fell heavily to the basin rather than gently.
Beddings
Although the main purpose of Stuart gardens was to impress, it was also designed to to be productive as well.
Beside common vegetables, seasonal vegetables such as artichokes and asparagus were grown as well, while tulips, irises, crocuses and hyacinths were planted alongside vegetables and fruit trees.
The beddings were decorated with box hedges and the paths were laid out with small stones.
Another typical feature of Stuart gardens were the terracotta or stone pots along paths and terraces in which citruses and palm trees were planted.
Popular flowers were lavender and roses as well as white lilies and peonies.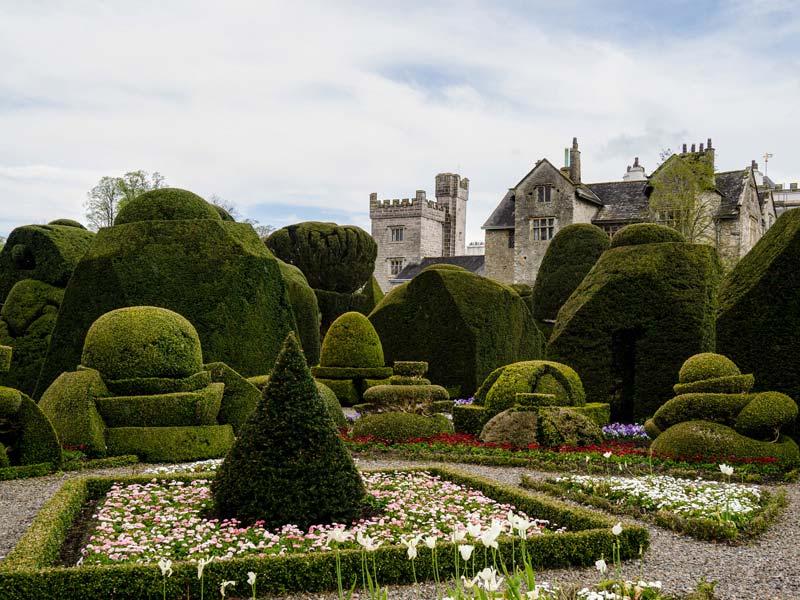 Topiary
Perhaps the most iconic feature of the Stuart garden is the topiary. They mainly used yew trees but beeches and lime were also common.
The most popular figures were peacocks and geometrical shapes such as balls, cone, pyramid and spirals, however later irregular shapes appeared as well.
Perhaps the most beautiful example of a topiary garden is in the Lake District at Levens Hall.
For labyrinths box and yew trees, sometimes beeches or holly were used.
The wilderness
In the 17th century the so called wilderness became fashionable. This is not a jungle, but a garden of trees and shrubs laid out in a formal pattern where people could walk, exercise or play hide and seek.
As you can see Stuart gardens were productive, however their main purpose was to impress and show off. It represented power, luxury and grandeour. This, however, will start to change in the following era and its garden design.
Where to see Stuart gardens
Levens Hall, Westbury Court Gardens, Hampton Court, Ham House