David Suchet On Stage – A London Theatre Experience
Although I have already been to a concert and to a classical music concert in London, I must admit, I only managed to go to the theatre now. We saw two, short comedies at the Harold Pinter Theatre in London last Saturday, which was quite interesting, so I thought to share it.
Choosing the right play!
Bill was looking for the right play for hours and he was not in an easy position to be honest, as I do not like musicals. Now London being London, is of course full of musicals and it might not be easy to find a good play. Helping him, I suggested checking if one of my favourite actors was playing on stage this season, as my first choice was Davit Suchet (Poirot). I feel extremely lucky as David Suchet is performing on stage this September and October, so we booked the tickets and counted down the days to the event.
We had absolutely no idea what these plays were going to be about, but we thought they would be OK as David Suchet would not play in something he considered to not be good. I deliberately did not look up what the stories were about, this time I simply put up with the information found on the website, which said these were two comedies that were very successful in the 1960s.
The Harold Pinter Theatre
The Harold Pinter Theatre was built in 1881 within 6 months only, apparently. It was opened as the Royal Comedy Theatre. It still looks very Victorian with the horse-shoe shaped balconies, the gold and blue interior design and detailed decoration. An interesting and a quirky solution: when you walk in, you are actually on the dress circle which in normal theatres would be on the first floor.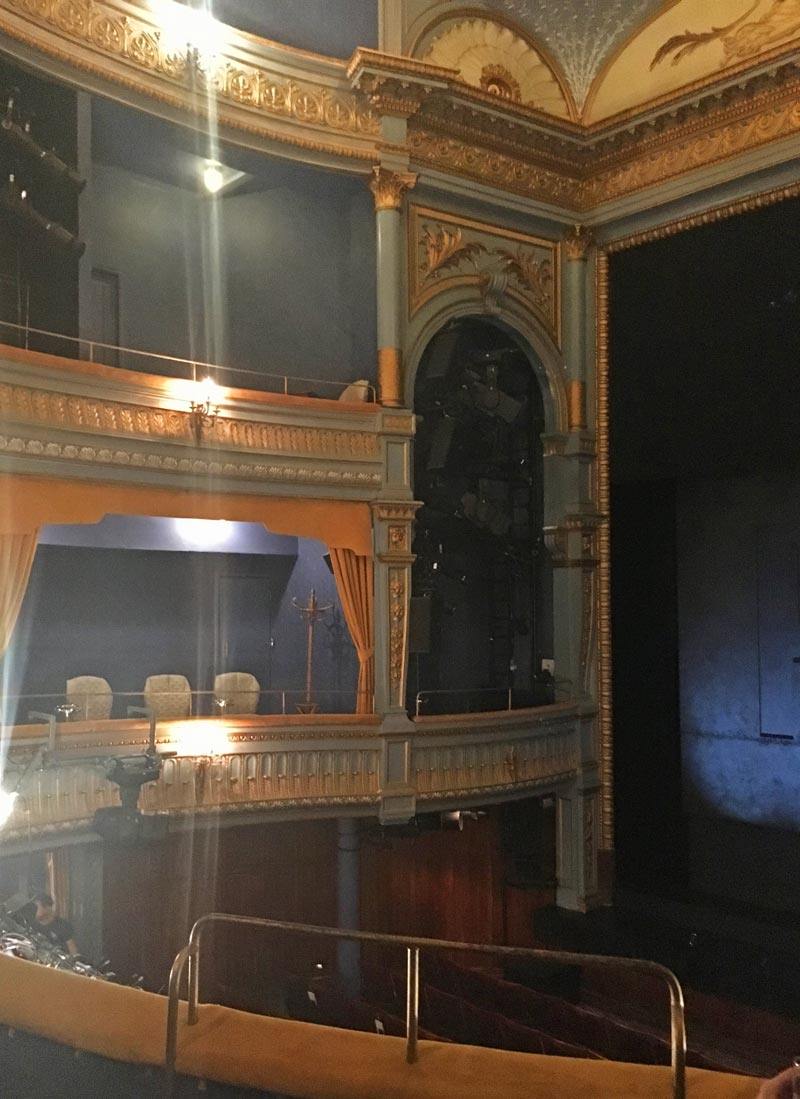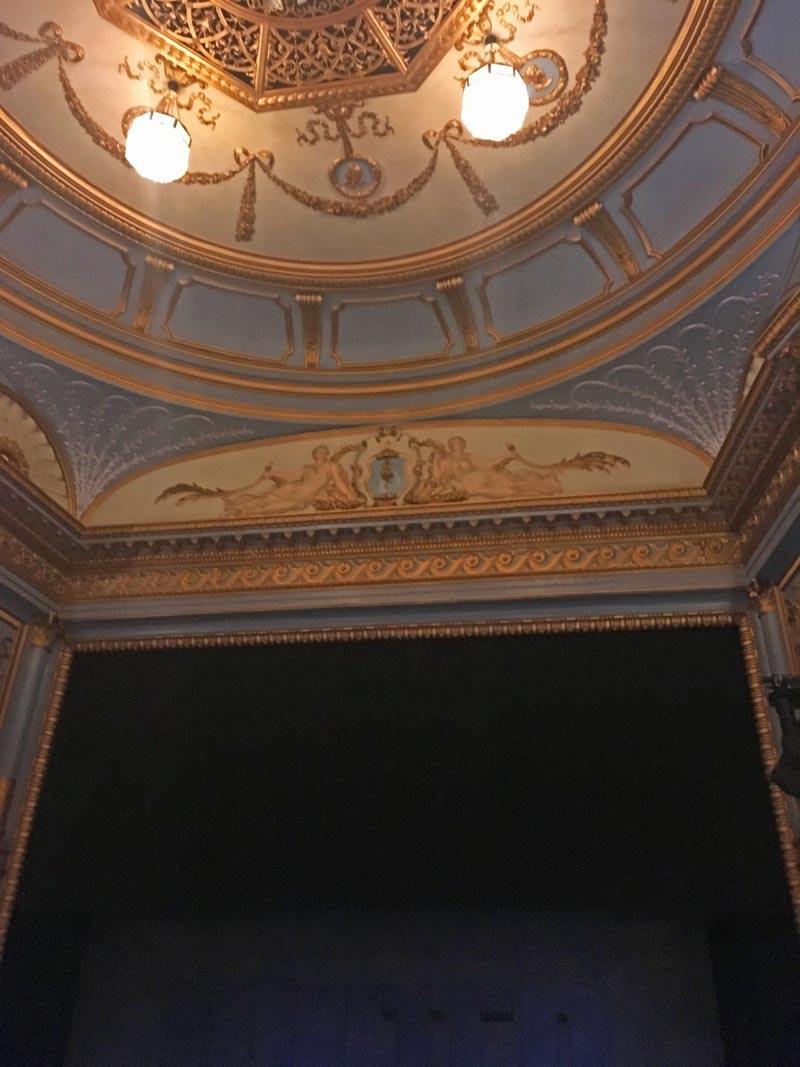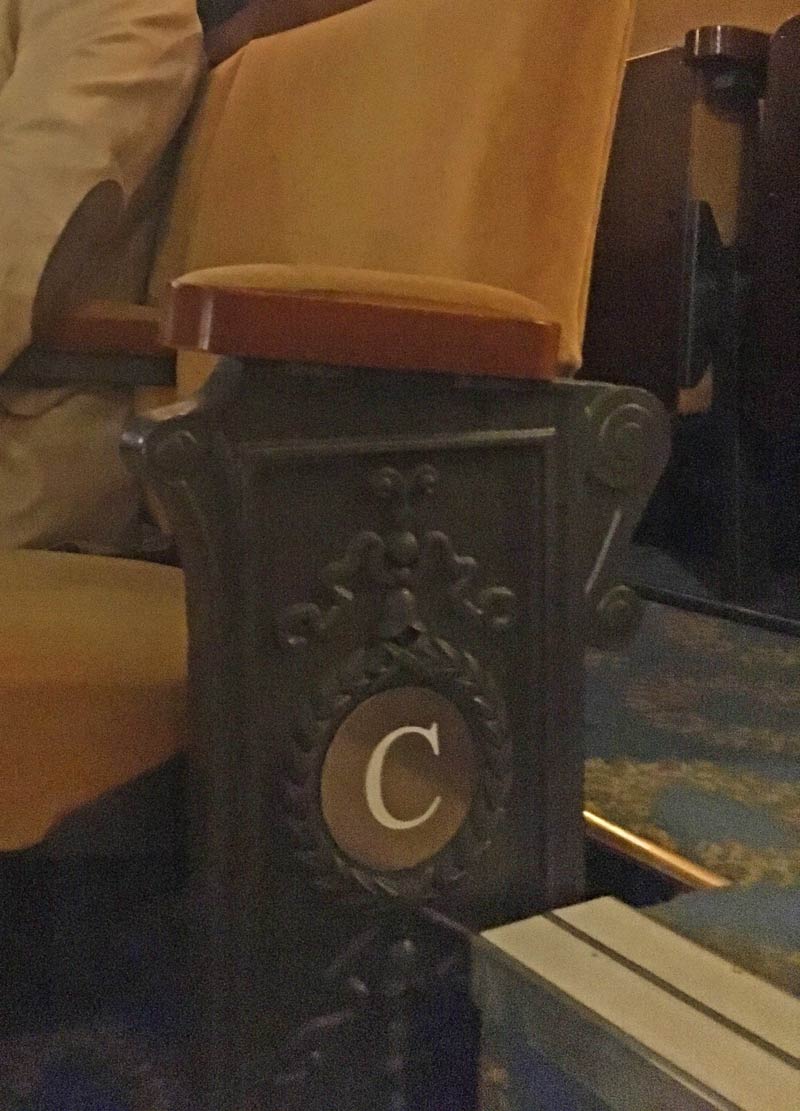 Just to put this theatre into perspective, it is sort of in the middle in terms of capacity with its nearly 800 seats and it is classified as a theatre with plays and NOT musicals. (Oh, yes!) I was intrigued how many theatres there are in London and I was amazed when I found out that there are 38 theatres in the West End only! Outside of the West End I found another 119 theatres, which is an unbelievable number (however, looking at the number of theatres in Budapest we are not doing bad, either, I have to say). Apparently, there are commercial and non-commercial theatres in London, the latter stage drama and classical plays (Royal National Theatre, Shakespeare's Globe, Barbican Centre etc.) which is what I would prefer.
Some interesting facts:
Longest running musical on the West End: Les Misérables
Most popular theatre genre: Musicals
Longest non-musical play in the world: Agatha Christie's The Mousetrap which has been performed since 1952.
Differences between the Hungarian and English theatre
I appreciate, for an English person the things I found unusual at the theatre in London are normal just like Bill said that he did not expect anything else. Obviously, being a foreigner for me these differences were quite strange and new.
01. Dress Code (or rather non-existing dress-code)
You could say that having been to one theatre in London can not be representative, but I have a funny feeling even if I went to another 10 theatres in London, that would not make any difference and I would have the same or very similar experience. The feeling I had, is that going to the theatre in London is not the same as going to the theatre in Budapest, or even in Hungary, I would say. Of course it does not have to be, yet I was somewhat surprised… Although I am pretty sure the situation has changed a lot at home since my childhood and even since 2014 when I think was the last time I went to the theatre in Budapest, but I would think people still dress up nicely. Maybe it is not a sin anymore wearing jeans in the theatre (unlike in my childhood when it was!), yet everybody tries to wear something elegant, or at least smart casual.
Well, London itself is quite diverse, why would the dress code at London theatres be any different? To be fair, I did not have a clue what to put on and what to expect at the theatre, but in the end, I could not, be not me, so I put a dress on (OK, not a cocktail dress or a gown, just a simple dress) and tried to look elegant and civilised and respectful towards the actors. "It is always better to look elegant than dressed-down", I thought. As for the shoes, I wore ballerinas, but carried my heels in a bag so that I could change them at the theatre. Well, I did not need to… 🙂 When we arrived to the theatre, the audience were dressed in the most unusual and different clothes I have ever seen, for theatre goers. I must admit, I didn't really understand how some of these attires were let into the theatre… You could see people wearing strappy, hiking sandals (barefoot), shorts with Doc Marten boots, mini skirts with over-knee boots… At this point, having felt completely overdressed anyway, I thought there was no point changing to my heels…
Of course, you can say it is great that theatres are that liberal and you can wear whatever you want and all that matters is you feeling comfortable, but I don't know… If young women (and even older) can dress up nicely for a night in the pub, why can't they do the same for the theatre….?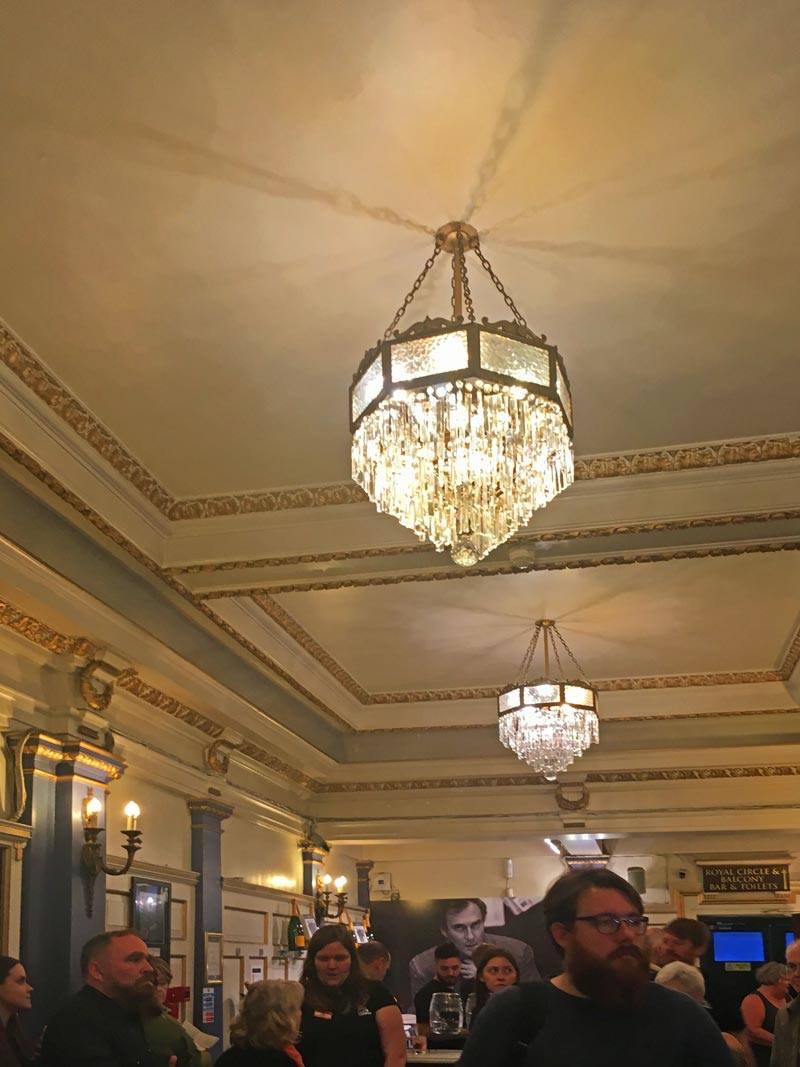 02. Food and Drinks
The other thing which I am struggling to understand, is the consumption of food and drink during the performance. I will never forget how exciting it was at theatres in my childhood, when we had a fairy cake and a drink in the buffet during the break and the adults would have some champagne or a coffee and we had to finish our refreshment when the bell rang. Then we went back to our seats and enjoyed the rest of the play. In London (or let's say in this theatre) people sat in their seats with a glass of champagne, a plastic glass of beer and ice cream in tub. Ouch… Please, help, I don't understand… !
03. Applause
Perhaps it is already known by Hungarians that the strong, loud, rhythmical, synchronised clapping that we call "iron applause" is not known in Western Europe. Fine! I have to say, I was quite surprised, when at the end of the performance the actors bowed, then ran off stage and came on stage again and bowed once more, but then that was it! During the second bow you could hear some "Bravos" coming from the audience, but soon after this the lights were put on, everybody in the audience stood up quickly and left the theatre. So did the actors. They disappeared. The stage was left there, not even the curtains were pulled. "Is that it?", I asked myself the question. I am used to actors coming on stage one by one, then together several times during the applause. It was not the case here. Two bows and that was it.
Let's get down to business: David Suchet on stage!
For me, the perfect Poirot is the one performed by David Suchet. I appreciate some might prefer Peter Ustinov or others, for me David Suchet IS Poirot. I love the fact he read every Agatha Christie's novel, he made notes about Poirot's character, observed the little Belgian man and paid attention to details to create Poirot. He IS Poirot and even he admits in his book, he loves the character, even if it can be disadvantageous as the audience often associate the artist with that character only and are disappointed seeing the actor in other roles. Well, I have seen David Suchet in the films "Gulag" and "Moses", a biblical film and I loved his performance in both, so I was not too worried that I might be disappointed because I expected Poirot to appear on stage.
In the first play (Harold Pinter: The Lover) there were only two actors and neither of them were David Suchet, so we started to worry a little bit that we might have misunderstood something and he will not play in these comedies. Thankfully it was not the case. I had to strain my eyes a little bit at the beginning of the second play to recognise David Suchet (the wig puzzled me a little bit), but because of his distinctive, curved eyebrows and voice, there was no doubt: David Suchet was on stage! Wow, I saw David Suchet on stage in London! Yes, it is a big thing, because he does not play in theatres every year, the last time he did was in 2015, and he is not getting any younger either unfortunately, so the sooner you see him on stage the better – before it gets too late.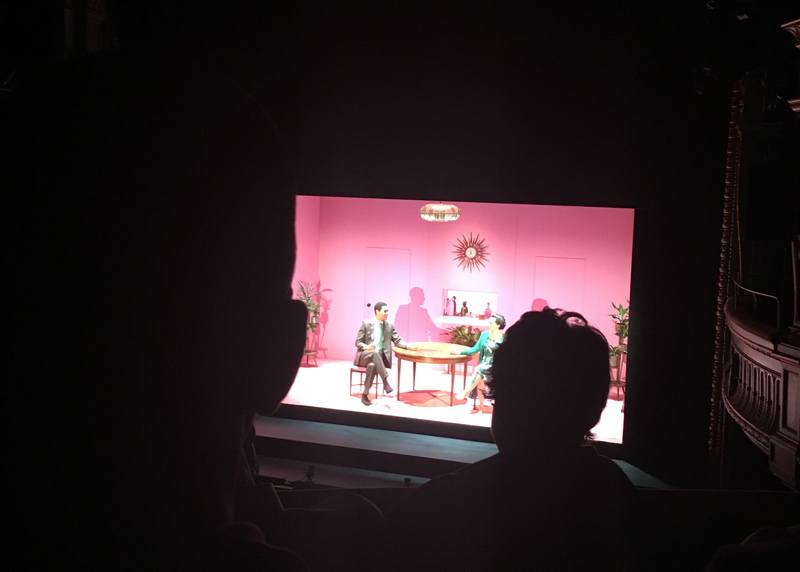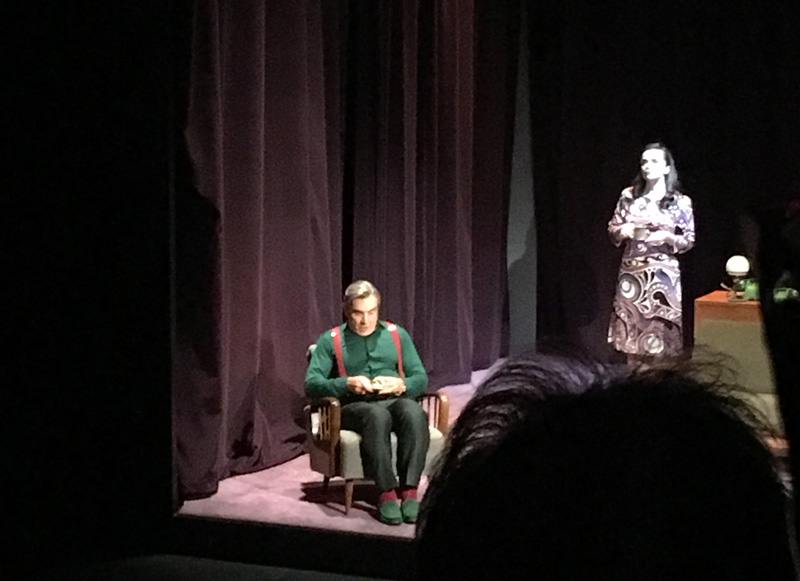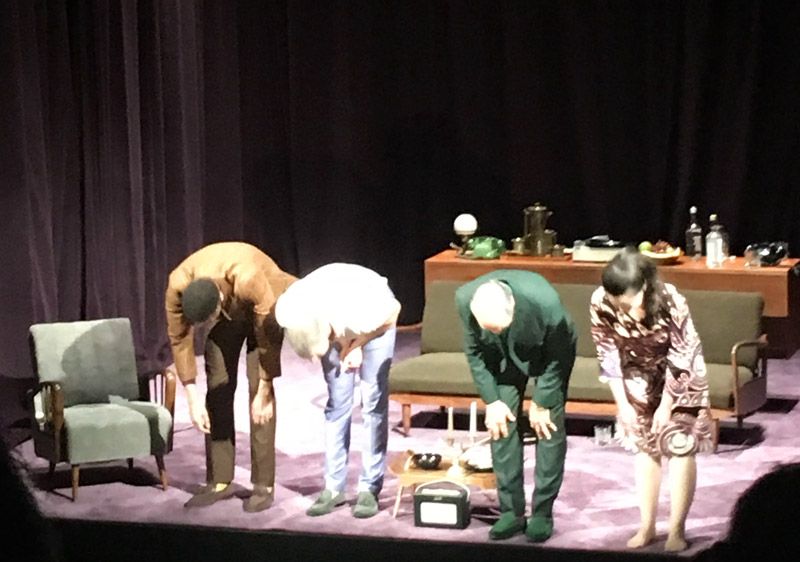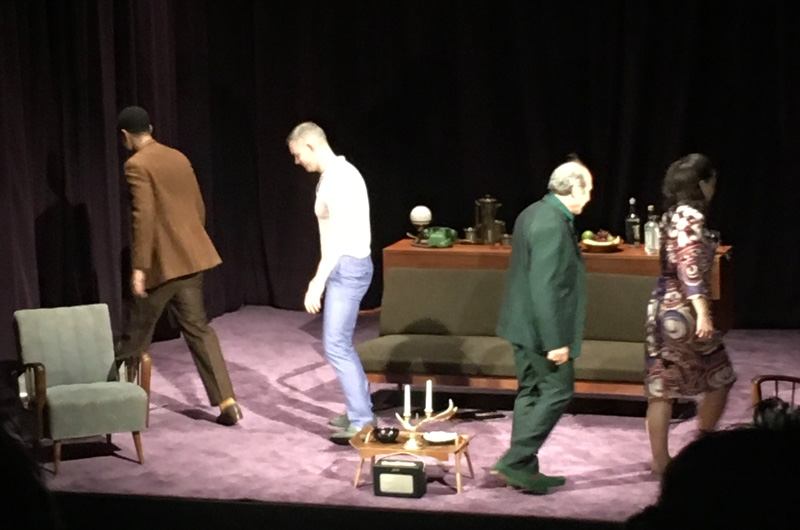 He was brilliant in his role, Harry (in Harold Pinter's The Collection), a gay man in his forties living in Belgravia. He was articulate, spoke beautiful English and I could understand every single word. What I liked the most was his mimic. It was good to see David Suchet on stage and in a different character. I could not be happier and wish for more.
~
All in all the theatre was great in-spite of the odd English customs. I think, I have to apply the "When in Rome, do as the Romans do" saying and everything will be even better. Therefore, next time when we are going to see "Les Misérables" at the Queens Theatre in London, I may wear jeans with ankle boots and have a hot-dog during the performance… 🙂