Alright, alright the title might not be too attractive, but believe me it is worth reading this post (and it won't even be that long) and more importantly have a look at the photos. I assure you, they will be quite interesting.
So this is another big love of mine: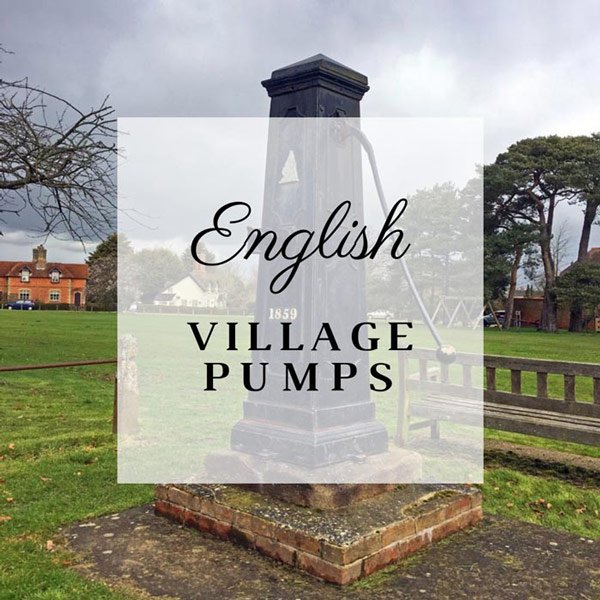 How did this affection start?
Actually we were driving in the countryside to go and see the oldest postbox on the mainland that is still in use when I suddenly saw a village pump on the green of a village somewhere in Wiltshire. I got out of the car and took a photo of that particular village pump and I knew: one day it is going to be another post on the blog and another collection and love has begun. Since, we have been on village pump hunts (no, we are definitely not normal 🙂 ) and we always stop if we see one no matter where we are.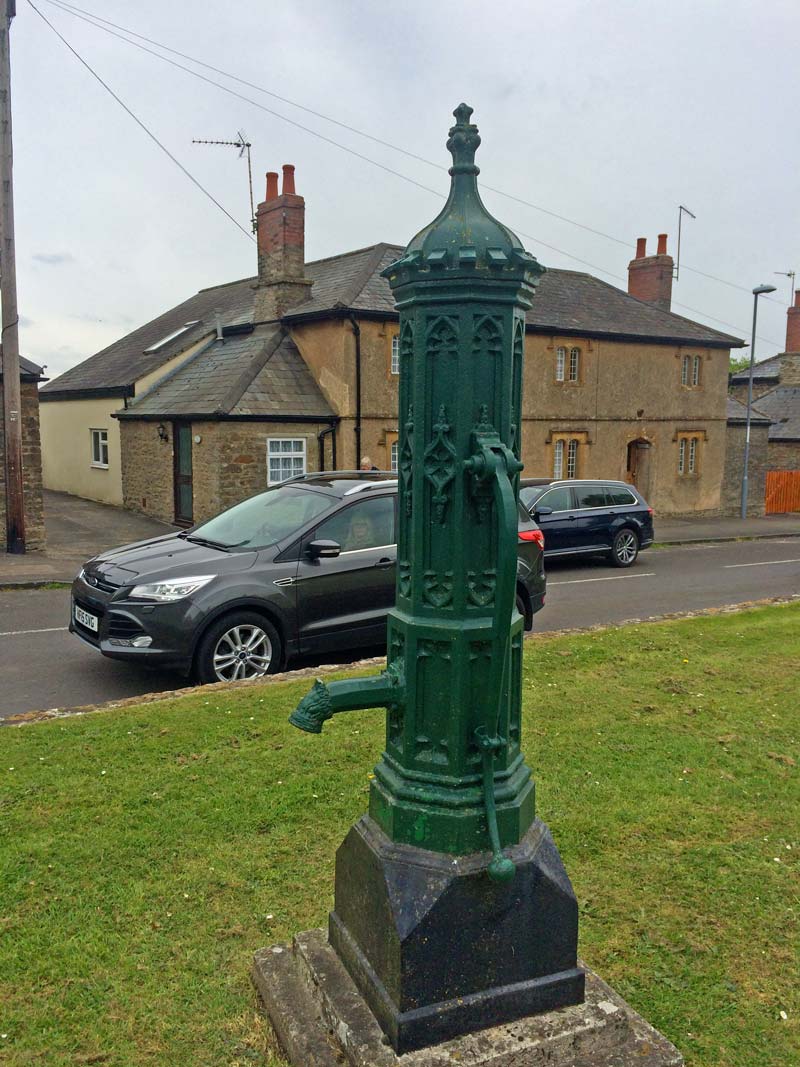 Why are village pumps of such a great interest?
I don't really know, but perhaps because we only have 3 types of wells in my home country, Hungary: the flywheel, the shadoof and the post-communist, so called "blue pump" which are disappearing these days as the councils are removing them. These iconic blue pumps were installed in the 1950s when the majority of the houses did not have direct water supply installed and water had to be available within a reasonable distance. Now, most houses are connected to the water network, so these blue pumps are not used anymore and the councils try to avoid their annual running costs. It is a pity as the good old blue pumps remind me of bike rides and excursions of my childhood when we stopped to drink some cold water. All in all, these are the 3 main types of wells/pumps you can find in Hungary and although I have not done any deeper research, I am sure the flywheel has the most diverse design. By contrast, in England there are various designs and some really quirky ones. These wells are not open – thank's God because for some reason I am scared to death of Hungarian wells that are.
But what is worth knowing about these wells or pumps?
I would not attempt to give a detailed history of pumps or explain how they work, my intention is to highlight some interesting facts and show them.
Let's start at the beginning to understand the evolution of the pumps. After the Roman period wooden pumps were used in Britain which were mainly made of oak, elm or chestnut. Unfortunately, but understandably, there are only a few wooden pumps left because the wood rotted. Later, pumps were made of a more expensive material: lead. Being a soft metal that can easily be formed, pump makers often decorated the pump and the rectangular tank which was fitted to the pump. The most common motifs were leaves, flower, trees, garland, cherub, star, sun and a crescent plus the maker's initials and the year the tank/pump was made. Although you can still bump into one or two lead pumps in Britain, like I bumped into one in the Savill Garden in Windsor, there are not many of them left, because they were often stolen and sold for the metal content. What a shame, I have to say. The Industrial Revolution brought a cheaper solution in the form of the cast iron pumps which spread quickly all over the country. Pumps were installed at houses, farms, inns, hospitals, schools etc. According to my own observations pumps often can be found next to churches, but I could not find any explanation for that.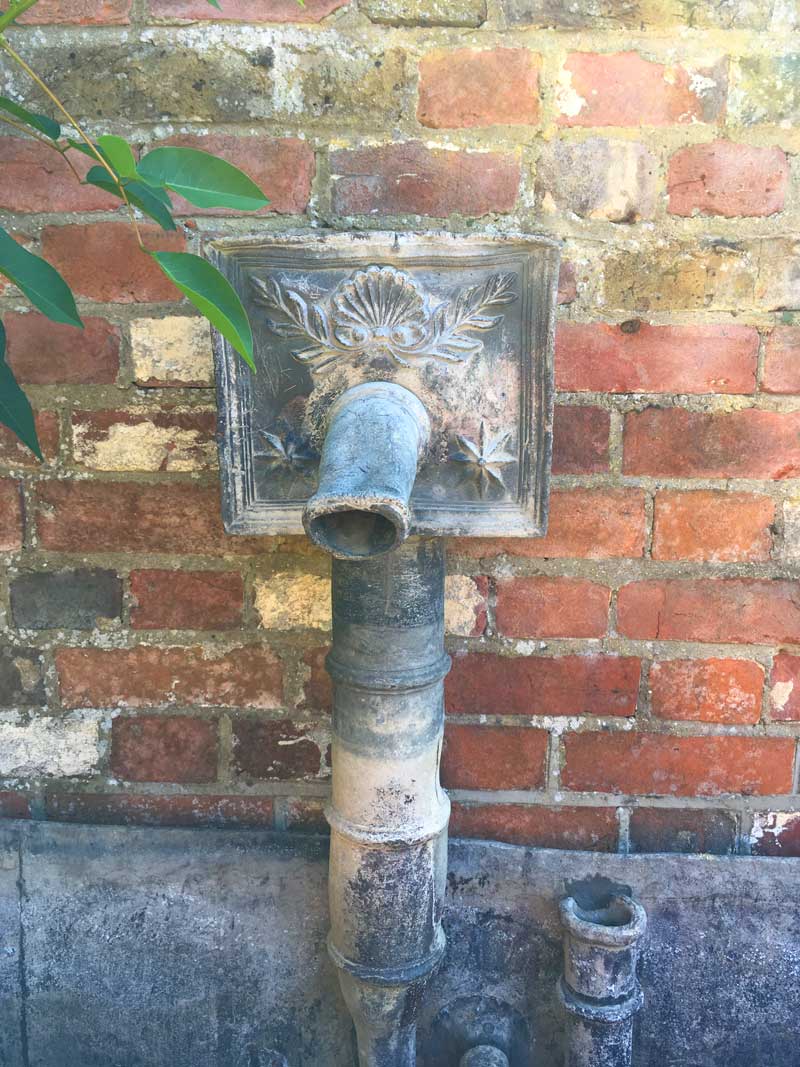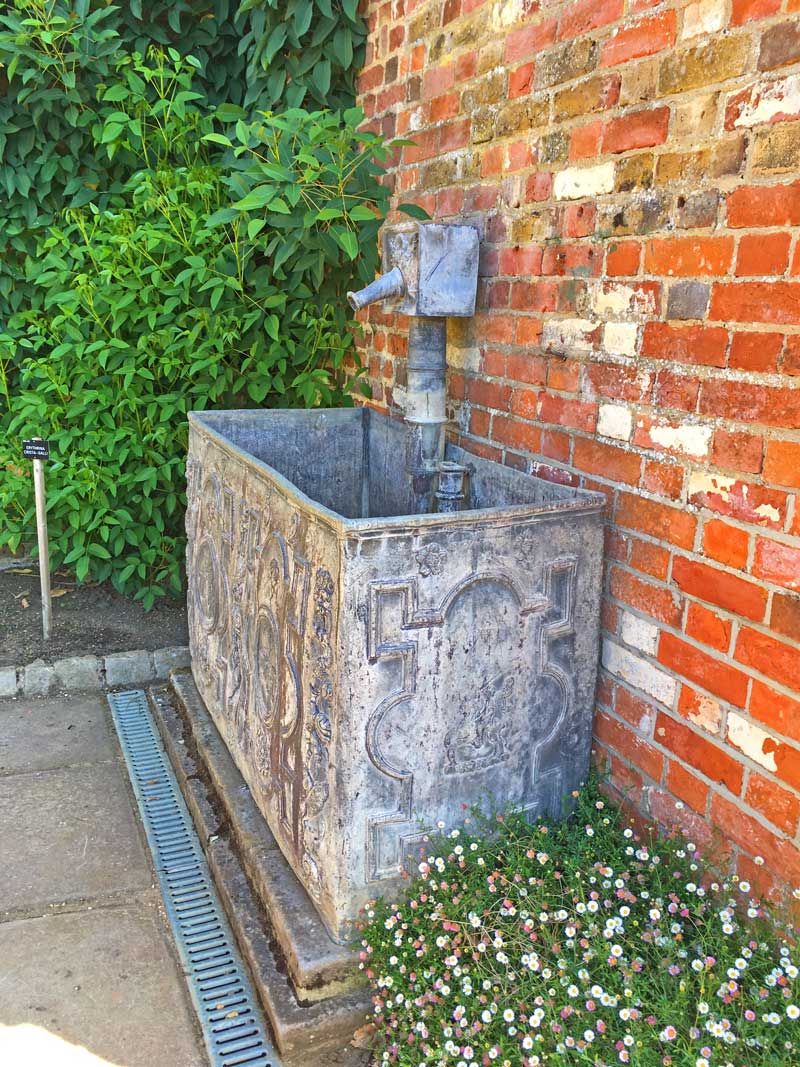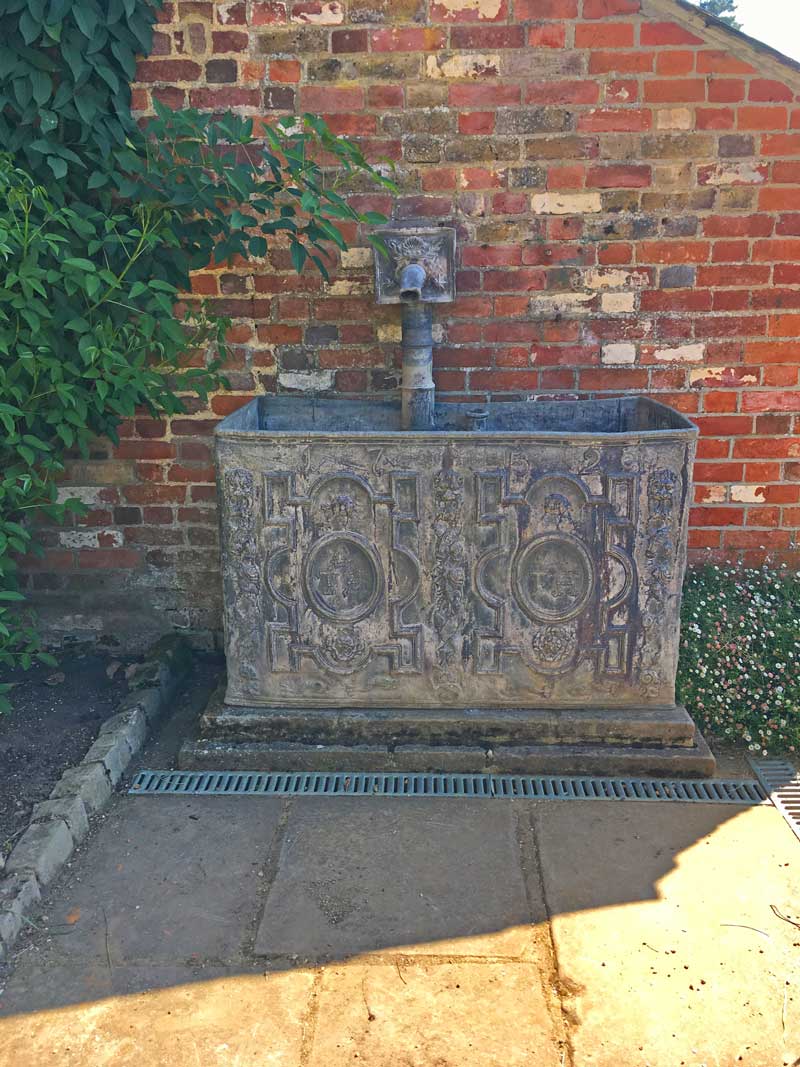 You may ask the question how clean the water of these pumps were.
Well, not that clean… Pollution was a growing problem especially in overcrowded cities such as London, where in 1854 the Cholera epidemic broke out from the Broad Street pump in the Soho. The Public Health (Water) Act of 1878 stated that it was the responsibility of each parish, "to see that occupied dwelling-house within their district, has within a reasonable distance an available supply of wholesome water sufficient for consumption and use for domestic purposes of the inmates of the house." It is no wonder that after this date, more and more pumps were installed and these pumps were often not just pumps, but the main attraction or focal point of the village or the town. Or perhaps even more… People gathered around the pump, gossiped, told stories, children played by the pump. It was quite popular among women as they did not have too much chance to get together in public, so they took the opportunity to socialise a bit whilst they filled up their buckets with water. It was anyway a women's task to fill containers with water and on a Saturday they had to take more as work on Sunday was not allowed.
These pumps were respected and looked after and some activities like cleaning fish or taking water for cattle were not allowed. Obviously, it was a huge problem in the life of a village if the pump broke down or froze. Therefore, in many places they made sure the pump was regularly maintained.
Various designs
As far as the design is concerned, you will see the English were very creative having the most extraordinary designs for their village pumps. When wealthy locals provided a pump for the village to commemorate some great event in their lives, then they wanted to be known and the pump had to be unique. Some of the village pumps look more like a mausoleum than a simple village pump, however, I do not have an own photograph of such type, unfortunately. So let's have a look at some really interesting ones.
Let's start with some basic designs. Here you can observe the parts of a pump: spout, bucket hook, handle– the end of it is often decorated with a curl, a pear or rose motif. The head is often fluted, caps often have finials in the form of a geometric shape of a spike or a ball, acorns, acanthus buds or pineapples.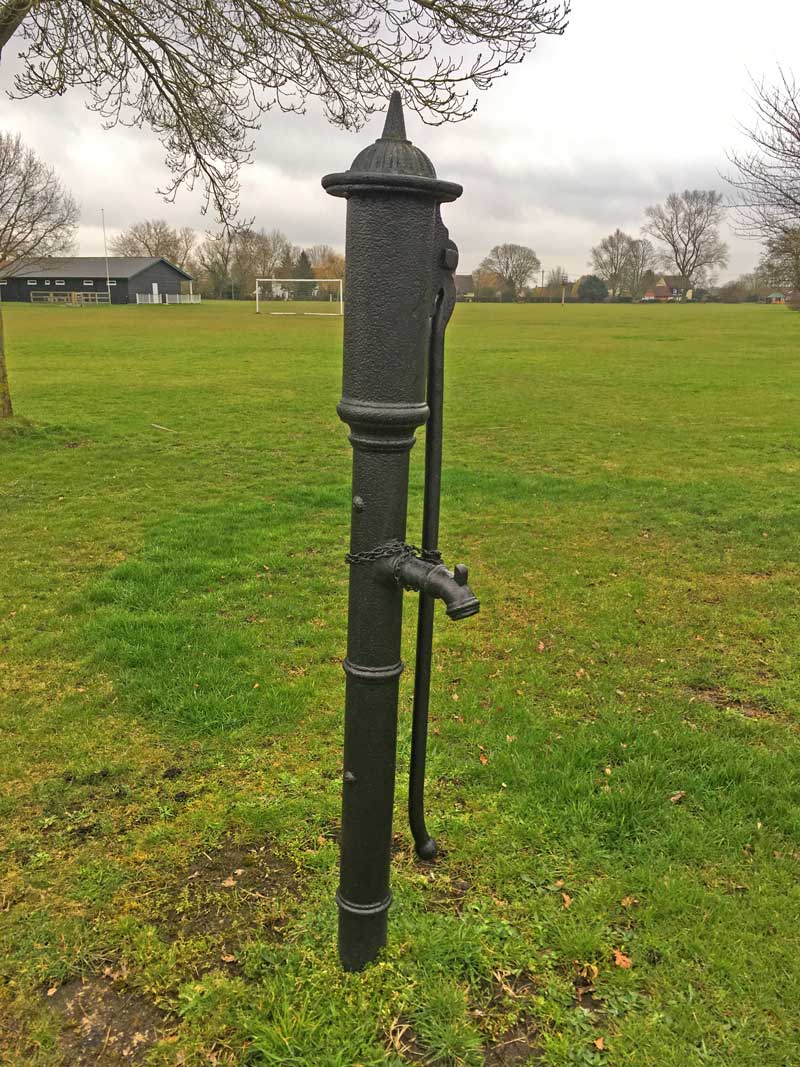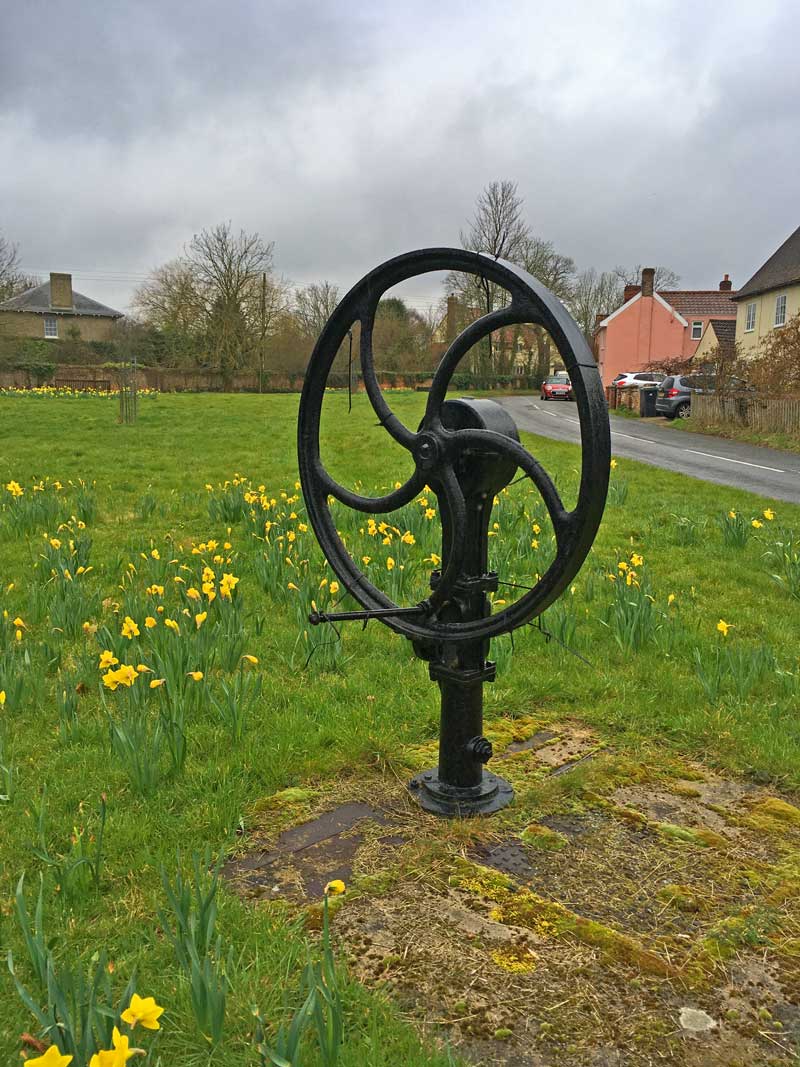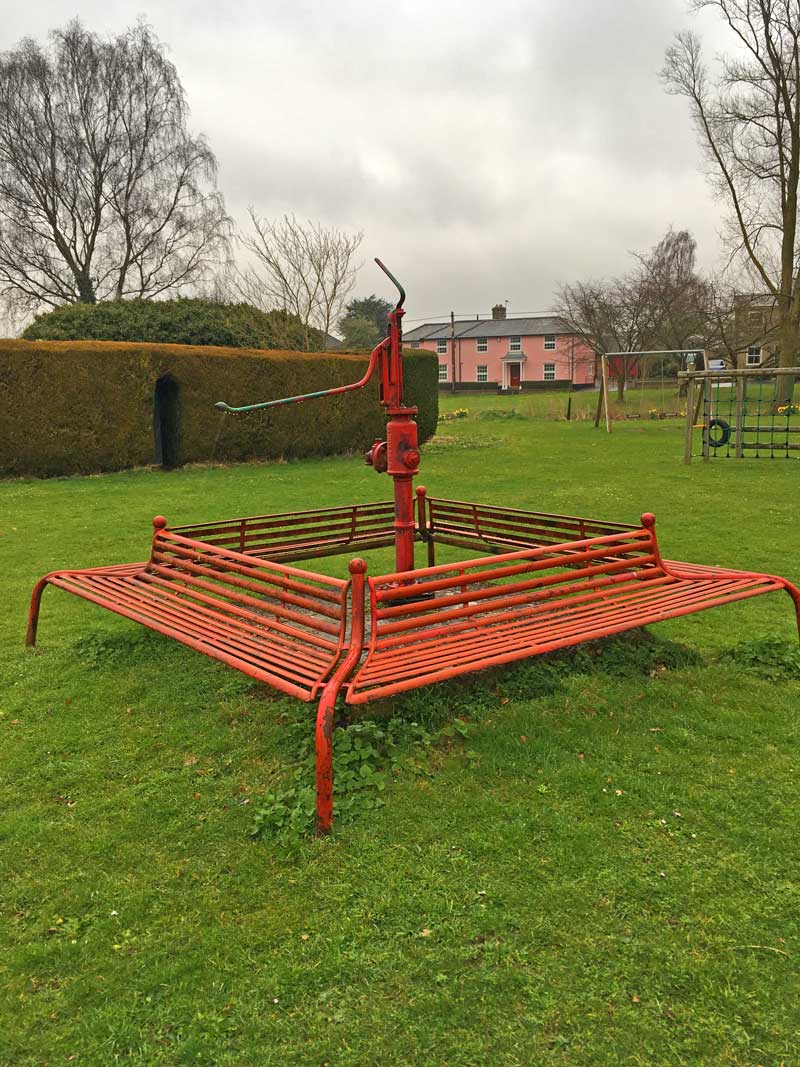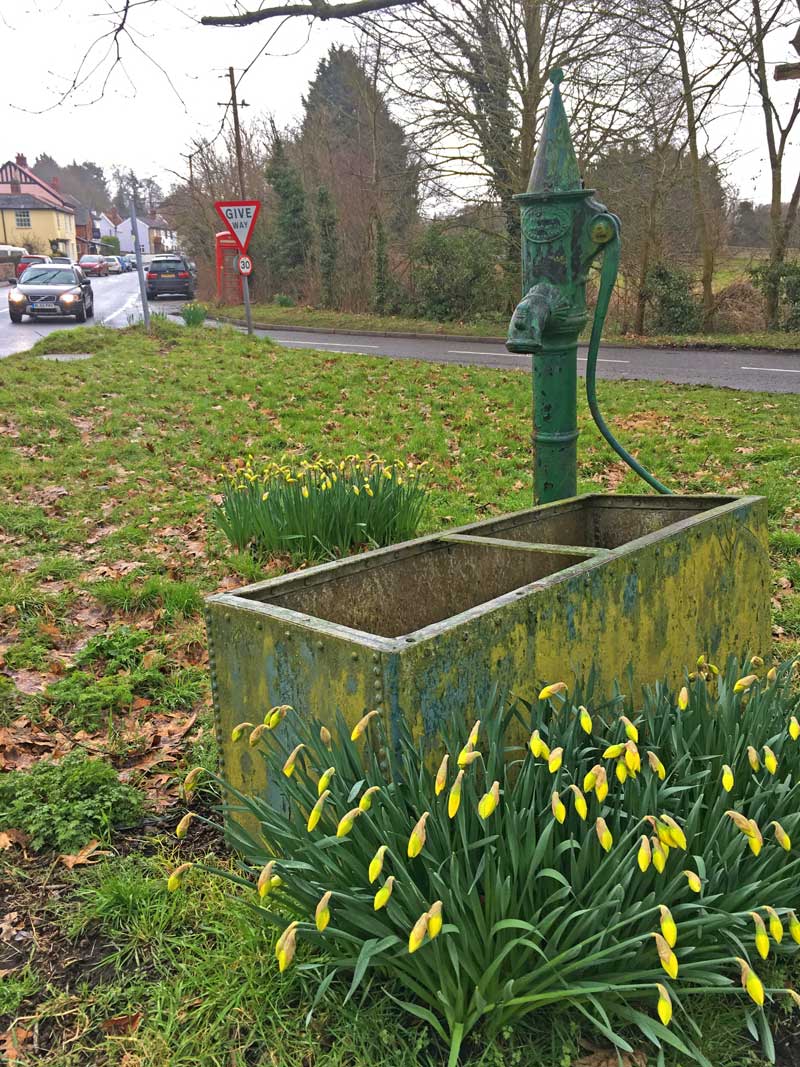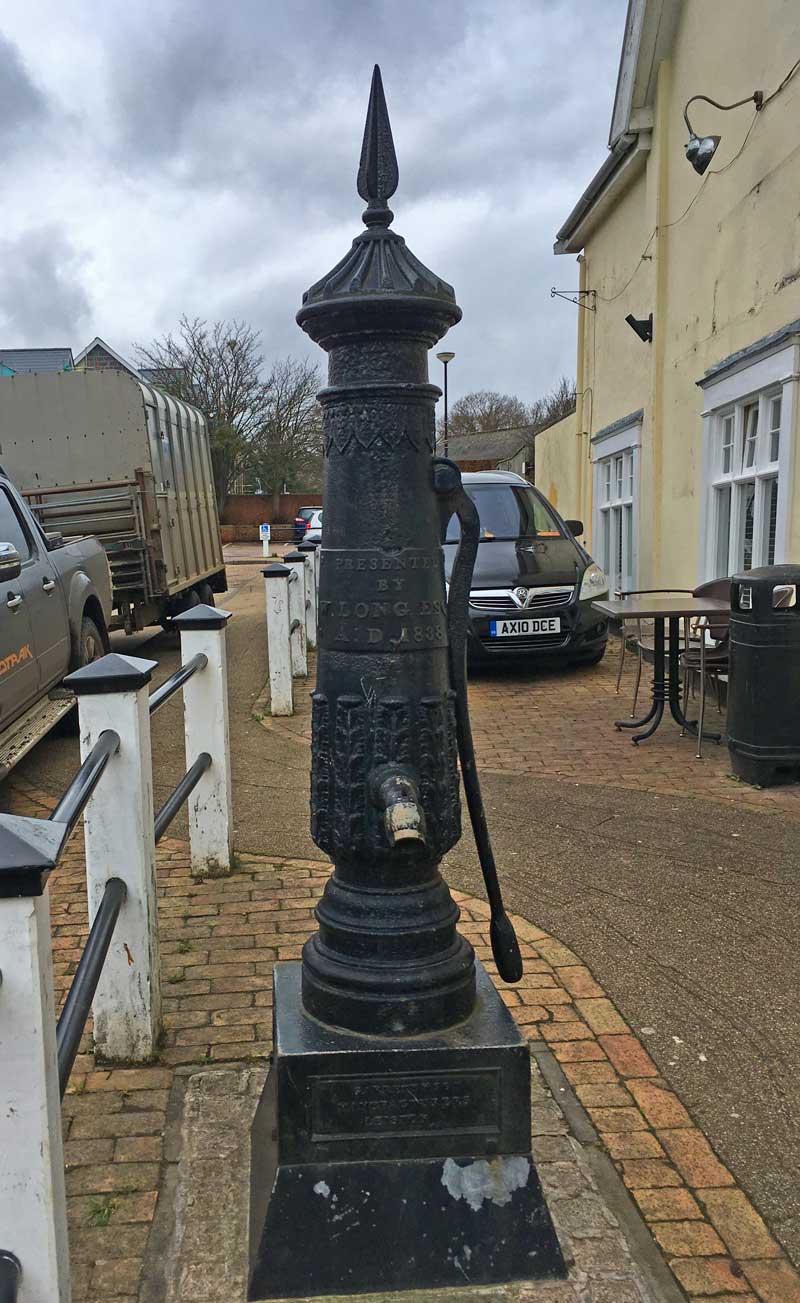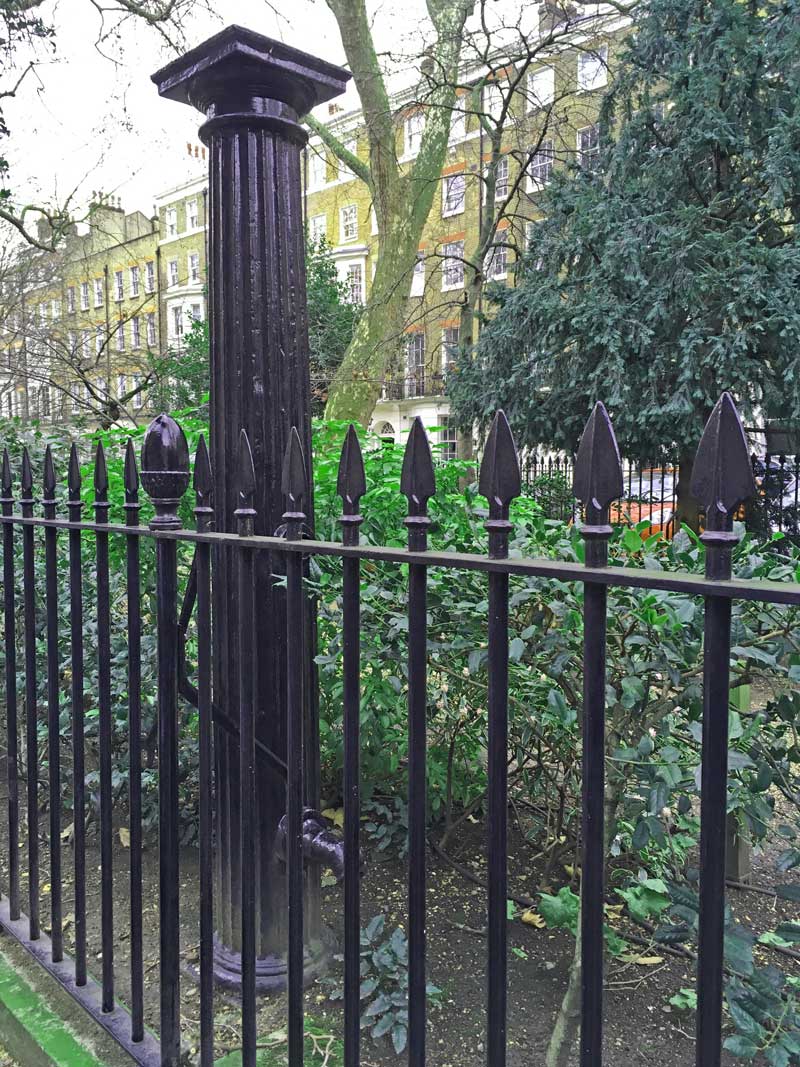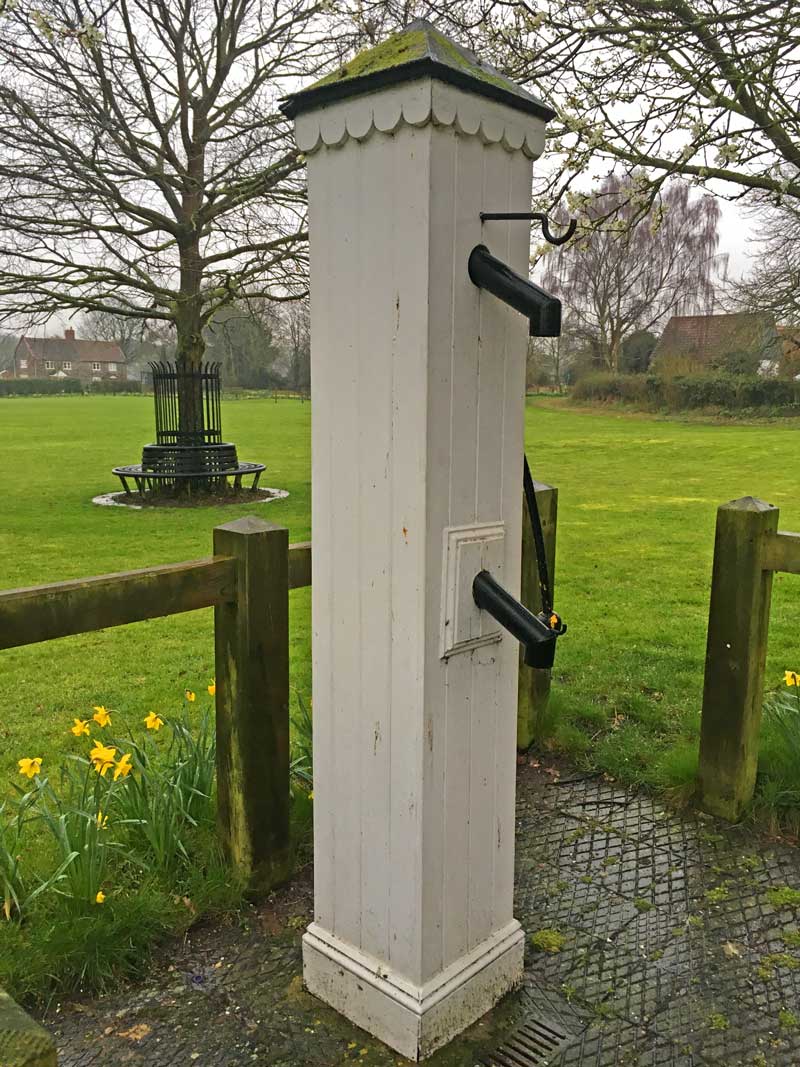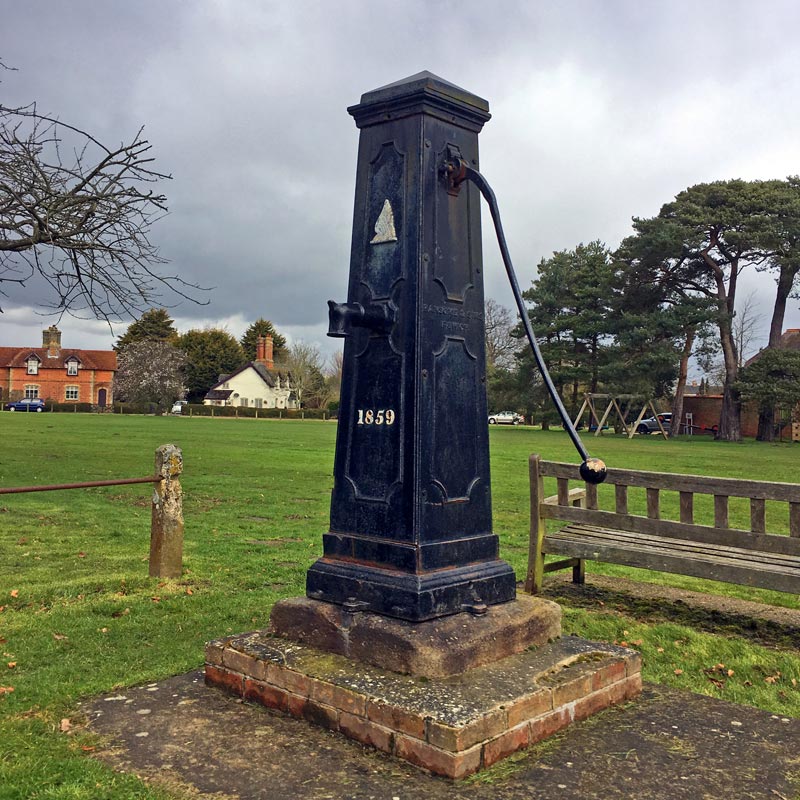 And now some of the quirky ones.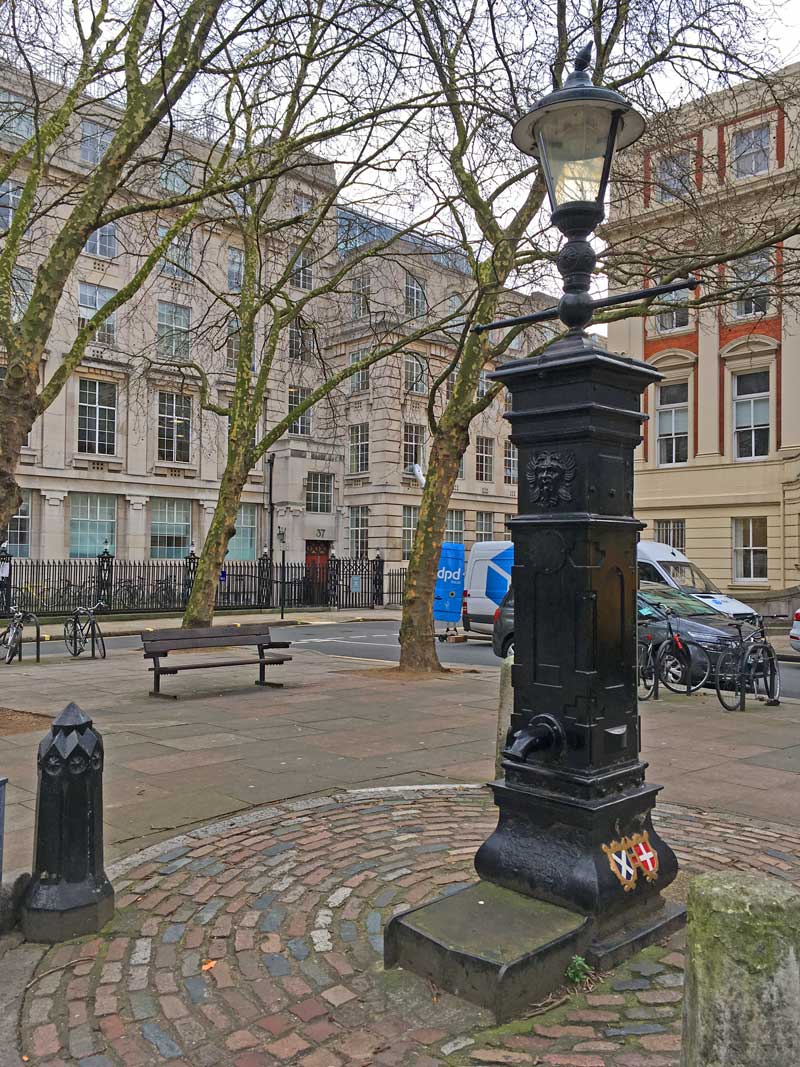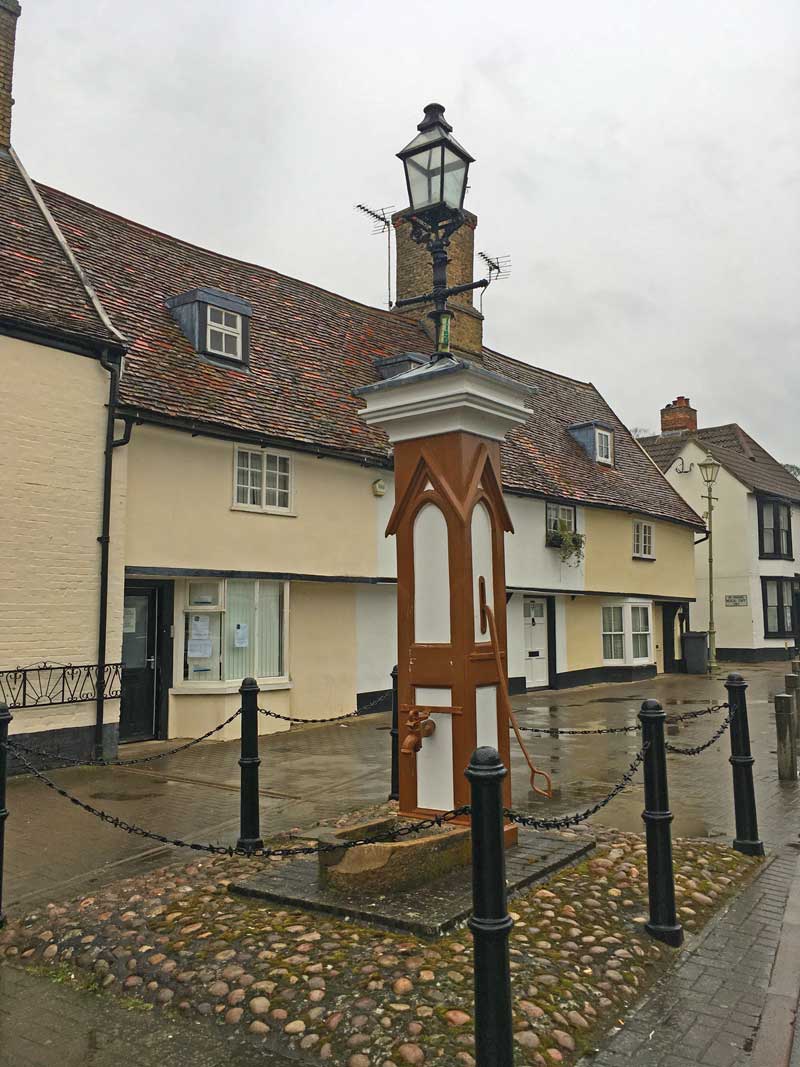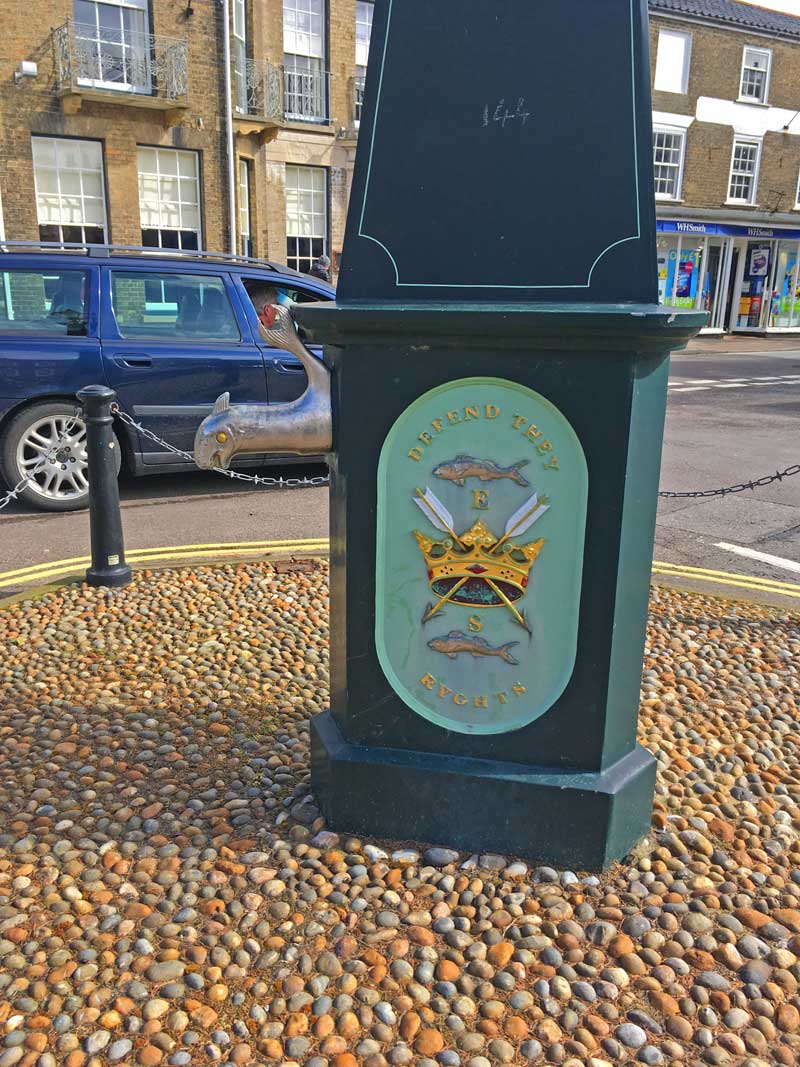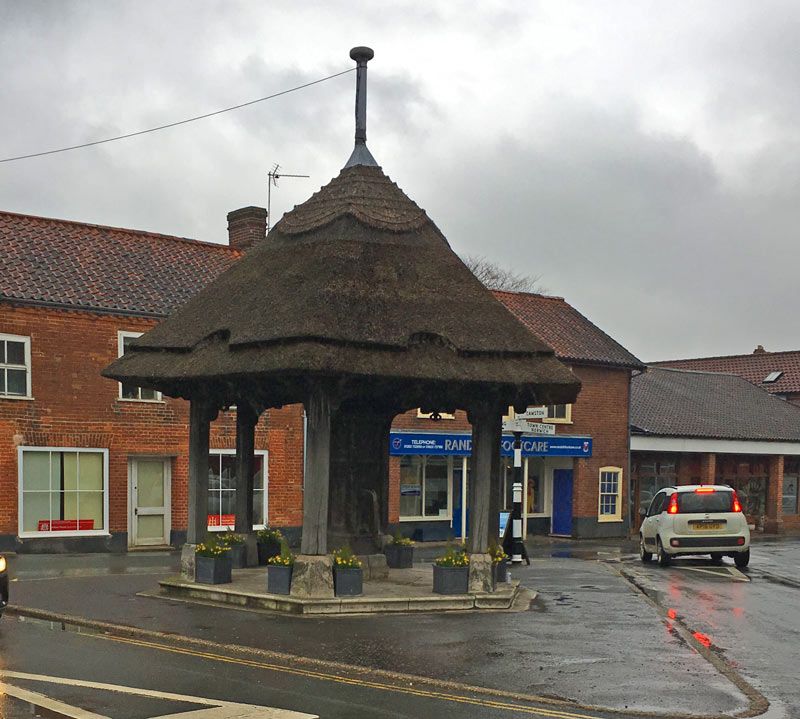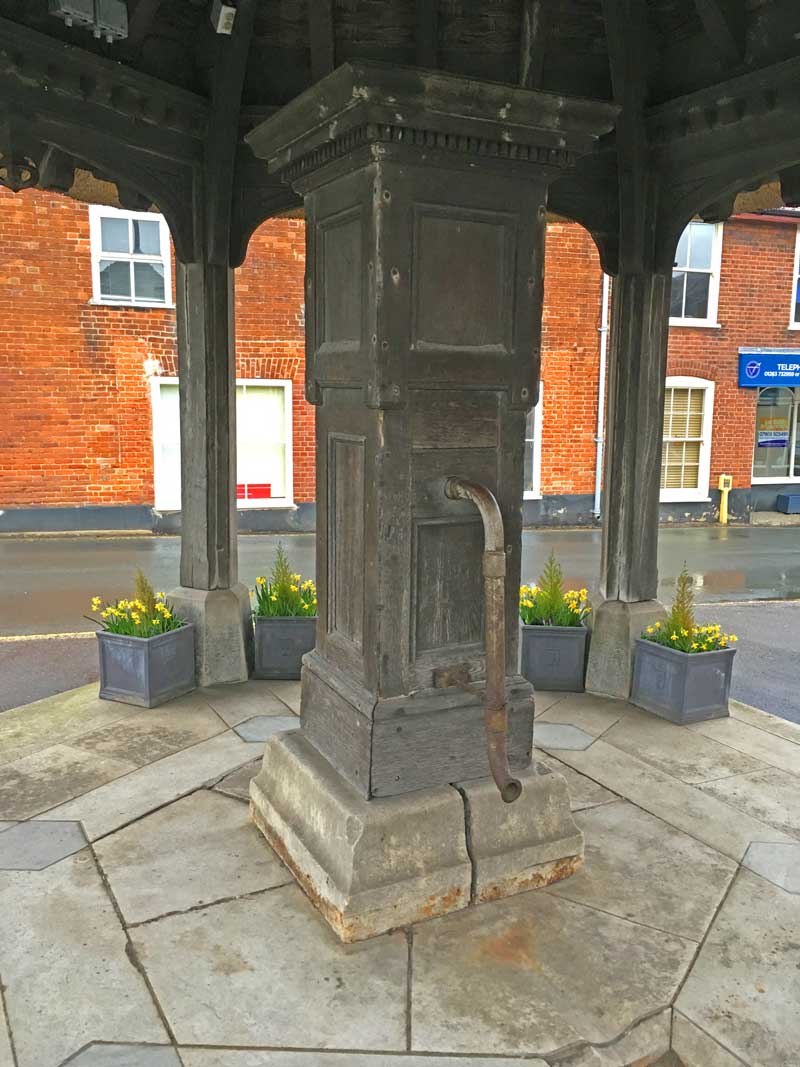 And this last one at Woolpit, Suffolk is truly beautiful. It too has a shelter with a tiled roof and the pump was erected to commemorate Queen Victoria's Jubilee. Each pillar has a carved statue of a British queen: Boudicca, Elizabeth I, Anne and Victoria.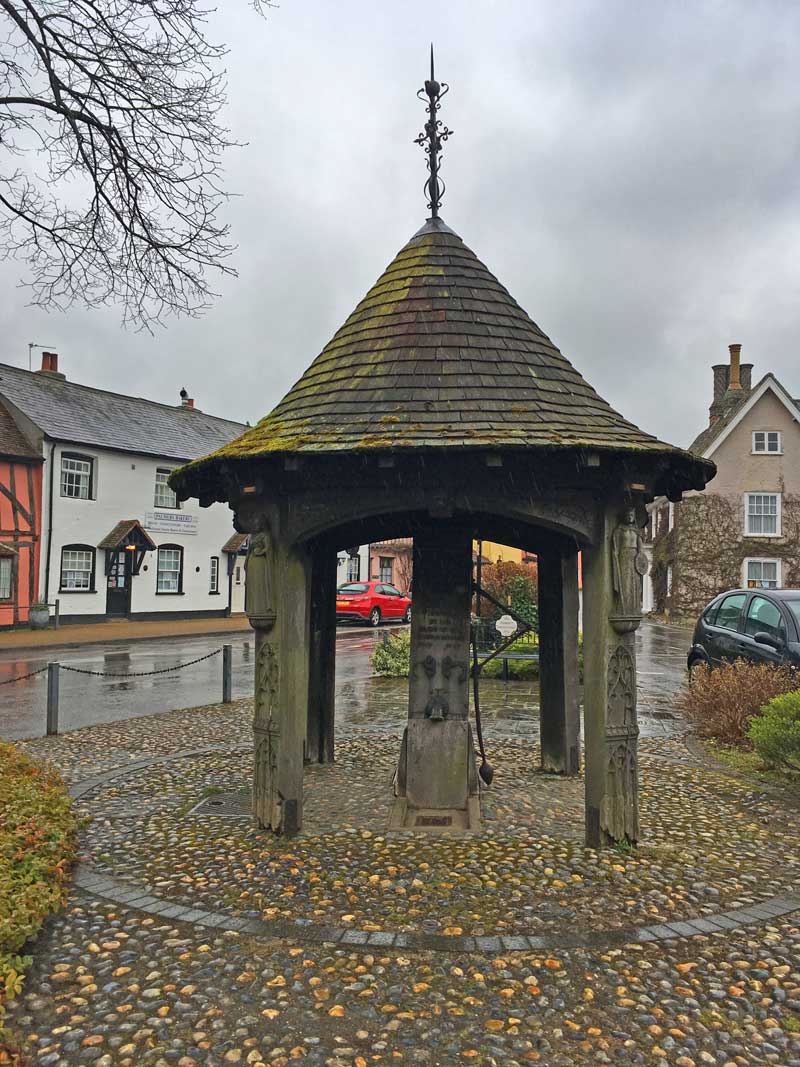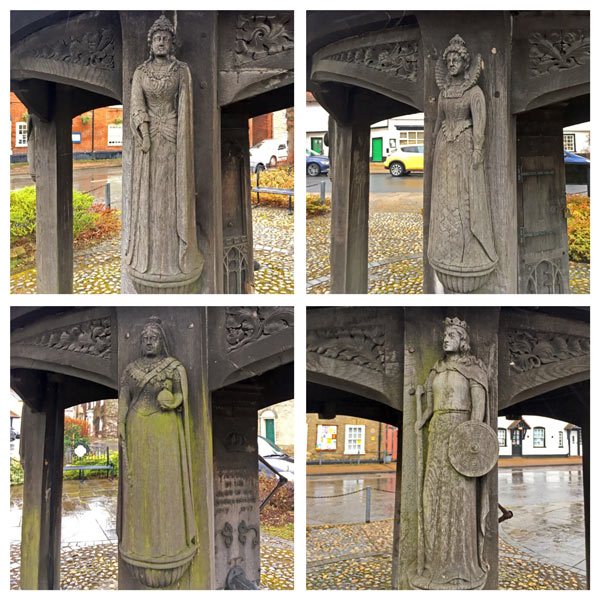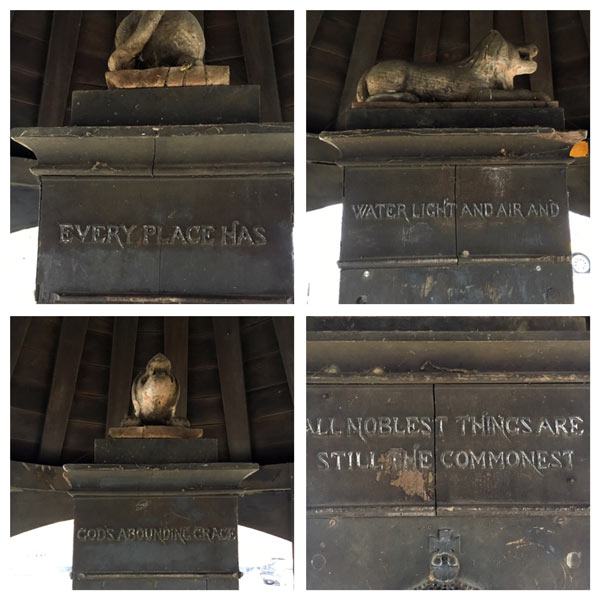 ~
As you can see, just like the phone box, the letter box, the Belisha Beacon, buttercrosses or gas lamps, village pumps are also essential part of the English village/town. They are less known or perhaps slightly more hidden and you have to look for them (not always the case), but it is well worth it, I think as they are beautiful elements of the English countryside.