The English believe that tea tastes much better when drinking it from a teacup than a mug – NB using mugs spread from America. I must admit, first I found this statement funny, but as I had the chance to drink tea from proper antique and vintage teacups, I did realise it was actually true! Whether this is the reason why I fell in love with antique English teacups, I don't know. But I do love and find them beautiful and they are certainly different to the French, German and Russian porcelain. In this blogpost I am going to give you a short summary about the different types of English teacups and what's worth knowing about them.
What to look at?
Whenever you look at a teacup, you will find that its style is determined by the following: material, shape, handle and design. So in order to get to know them, we have to learn about these things as they reveal quite a lot of information about the tea cups's age and value, or whether they are rare or not. Of course, it may happen that you fall in love with a cheaper vintage teacup rather than a rare antique one and that is absolutely fine. They are all beautiful in their own right.
First of all what is antique and what is vintage?
Teacups before 1920 are considered to be antique, everything after 1920 is considered vintage.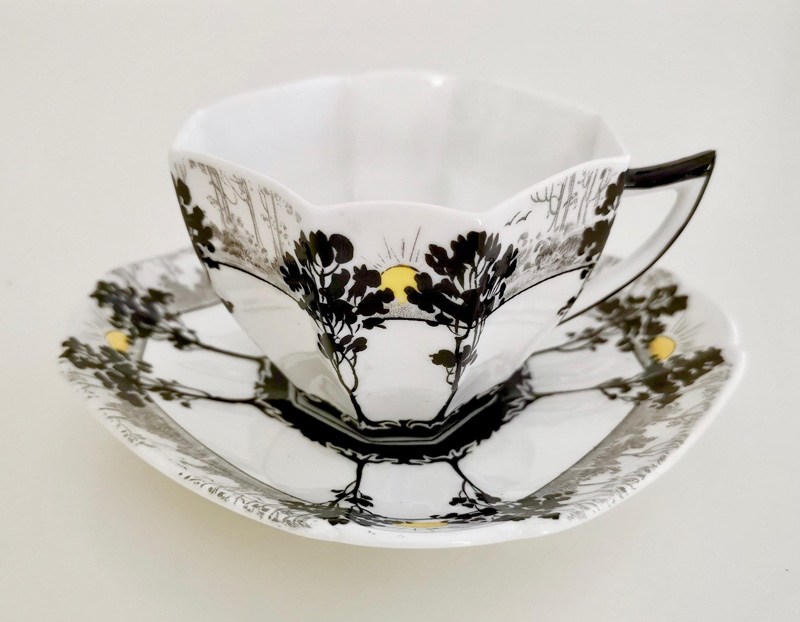 Types
Speaking about teacups, we have to learn what types of cups and tea services or tea sets there are.
  Tea bowl
   Tea cup
   Coffee cup
   Coffee can
   Tea service
   Cabaret set
   Moustache cup
   Invalid cup
   Commemorative cups
Tea was first drunk from tea bowls which did not even have handles. Later, the first teacups did not have the typical teacup shape but looked more like mugs. As coffee also became popular in Britain, coffee cups and cans were produced as well. These are slightly taller and thinner so that the coffee stays hot longer.
As tea drinking became fashionable very quickly, the tea service was established which consisted of: teapot, sugar bowl, milk jug, 12 teacups, 12 coffee cups, 12 saucer, slop bowl, 2 cake plates, spoon tray. It might not seem obvious at first glance, but this meant that the saucers were in a much higher use as they were used both for teacups and coffee cups which resulted in damage. It was difficult to replenish the saucers, therefore buying an antique teacup is always more valuable when it comes with the original saucer. Those teacups without a saucer are called "orphans".
Trios consist of a teacup, a coffee cup and a saucer while duos of a teacup and a saucer only.
Demitasse is a smallish cup mainly for coffee or mocha.
Cabaret sets are designed for two people, normally used by a couple in their bedroom for morning tea.
The so called moustache cups were invented by an English potter, Harvey Adams in the 1860s. Moustache cups were practical because in the Victorian era the moustache was very fashionable (if not a must for gentlemen) and it was hardened by wax which tended to melt when drinking a hot drink. The moustache cup prevented the wax melting from the moustache.
Invalid cups were invented in the 1890s for feeding the ill with broth or a mixture of milk and flour called pap.
Commemorative cups appeared first in Britain when potters produced mugs with the portrait of King Charles II to celebrate the Restoration of the monarchy in 1660. Most commemorative cups are related to the Royal Family: coronation, wedding, jubilee etc. however occasionally it can relate to other events e.g. Princess Charlotte Augusta of Wales who died in childbirth in 1817.
Materials
The so-called hard porcelain was produced in Meissen, Germany in 1709, whereas in England soft porcelain was produced around 1740 and the first potteries were founded in 1745 in Chelsea, Vauxhall, Worcester, Derby and Liverpool.
At the end of the 18th and beginning of the 19th century, Britain did not import porcelain from Europe which resulted in a higher demand of locally produced products. As taxes of tea and silver were reduced, tea drinking became more affordable for many and more tea ware was needed. The number of potteries increased from 27 to 106 between 1810 and 1820.
During this time calcined animal bones were added to the porcelain which strengthened and whitened the body. The whiter the porcelain is, the better the quality.
Shapes
The shape of the teacup reveals a lot about its age therefore, it must be looked at. There are many different shapes, so I am only listing here perhaps the most known ones. You will see that some shapes (and handles) were produced in a certain period or decade, which makes them valuable as there are not many left and they are rare. The most valuable teacups and tea services are from the end of the 18th and beginning of the 19th century, however there are some very valuable art deco ones as well.
Teacups were functional until the 1780s then they started to become ornamental and became a status symbol.
Cups with vertical fluting appeared around this time and remained in fashion for 15 years. At the beginning of the 19th century fashionable shapes were: Hamilton flute, Royal flute and Bute.
The London shape with its distinctive handle appeared in 1812.
The so-called Paris-flute was popular between 1815 and 1825. It was a shallower and wider cup with a higher positioned handle.
Empire shapes were fashionable between 1815 and 1830.
Around 1830 a unique shape appeared called Adelaide in the honour of King William IV's beloved wife. It was in fashion until 1845.
The so-called Sutherland shape was a neo-rococo design and was in between 1830 and 1840.
Footed tea cups were fashionable in the mid 19th century.
New shapes with completely different designs appeared only during the Art Nouveau and Art Deco. Shelley launched their wavy design called "Dainty White" in 1896. The company started to use names to identify each cup they produced such as Vogue, Eve or Regent. Art deco loved polygonal teacups, triangle shaped handles and geometrical ornamentation.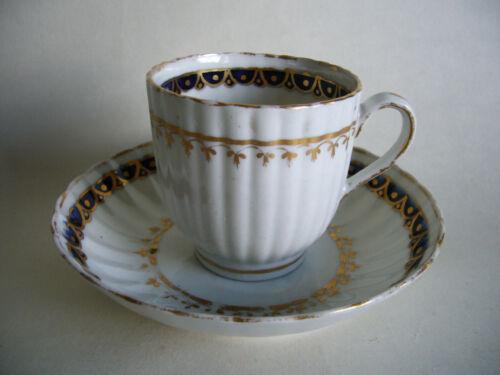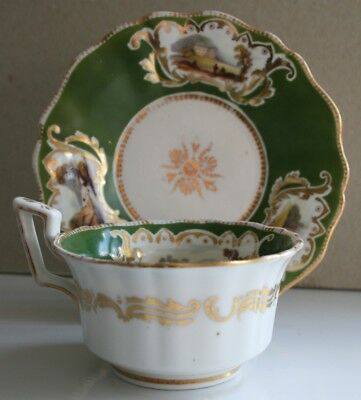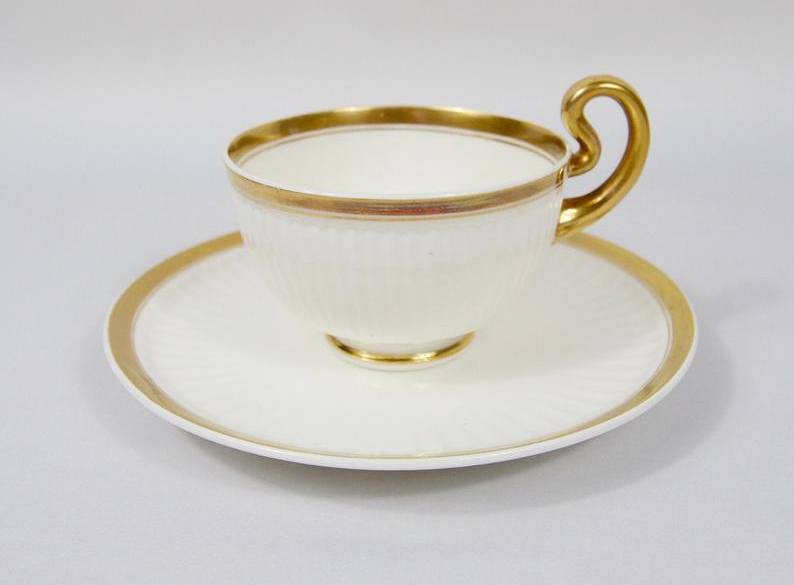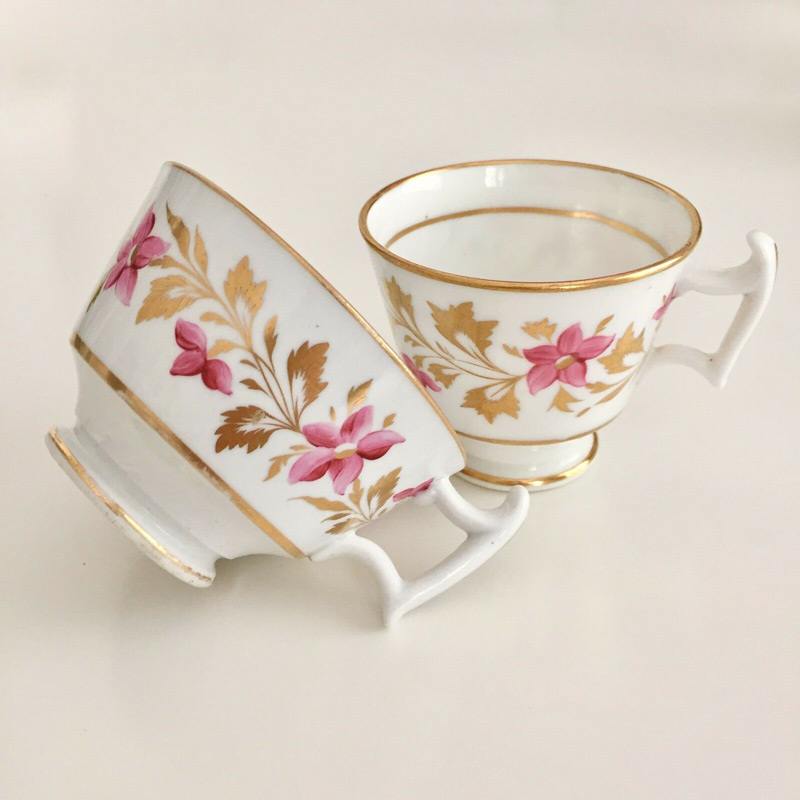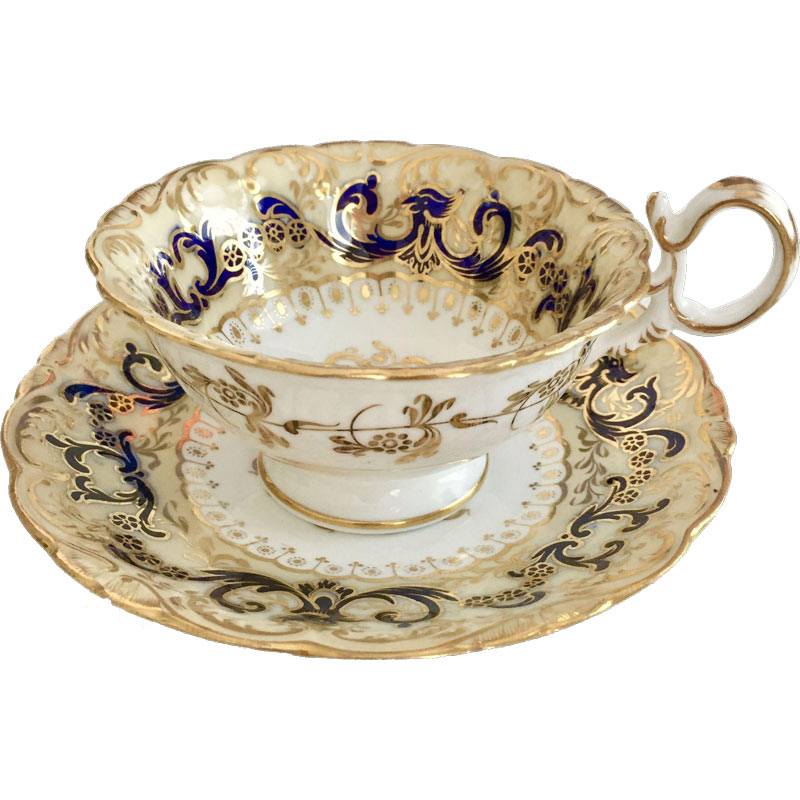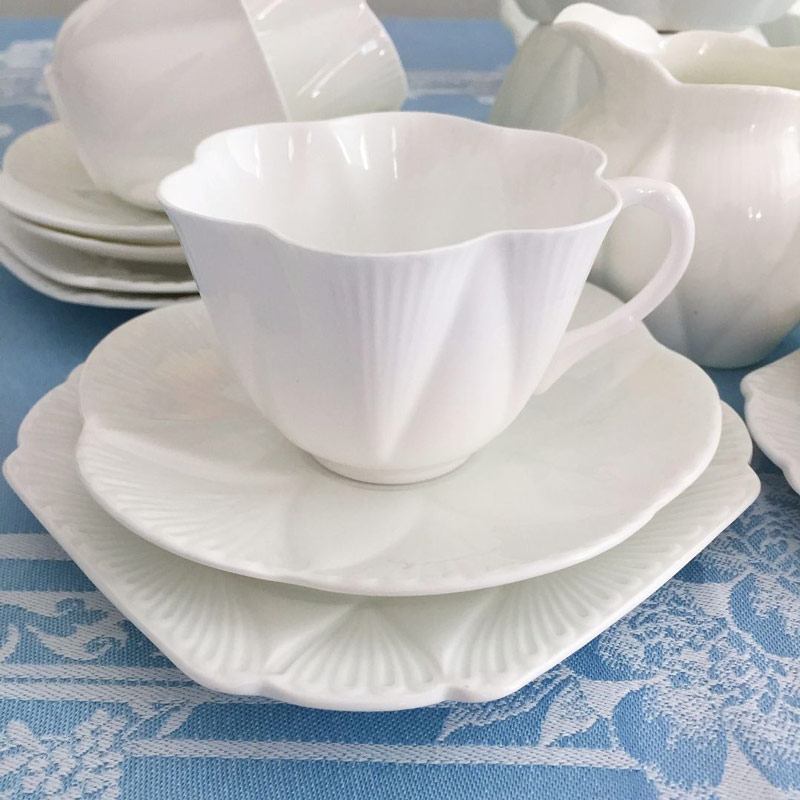 Handles
Handles not only reveal the time the cup was produced but in some cases the manufacturer as well. Some handles were only produced or typically used by certain manufacturers. Below you can see a few of the most common handles. Others are: notched loop handle, Spode's kinky handle, inner spur handle, curled, pinched handles.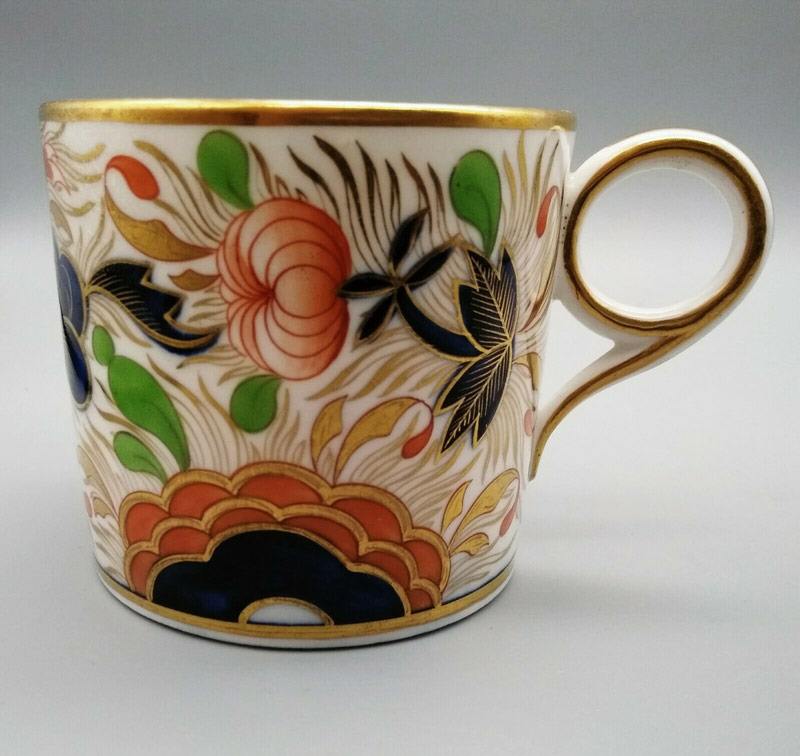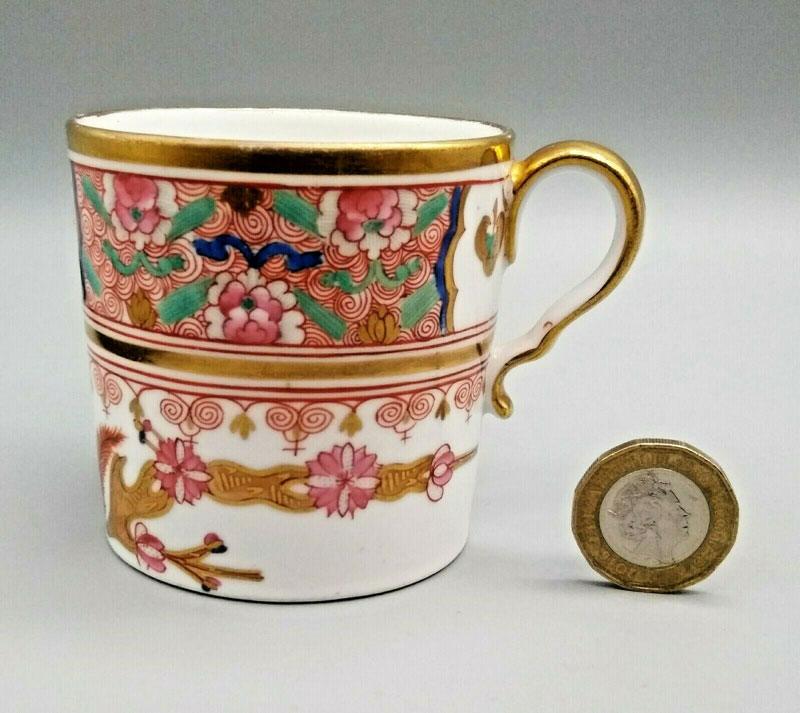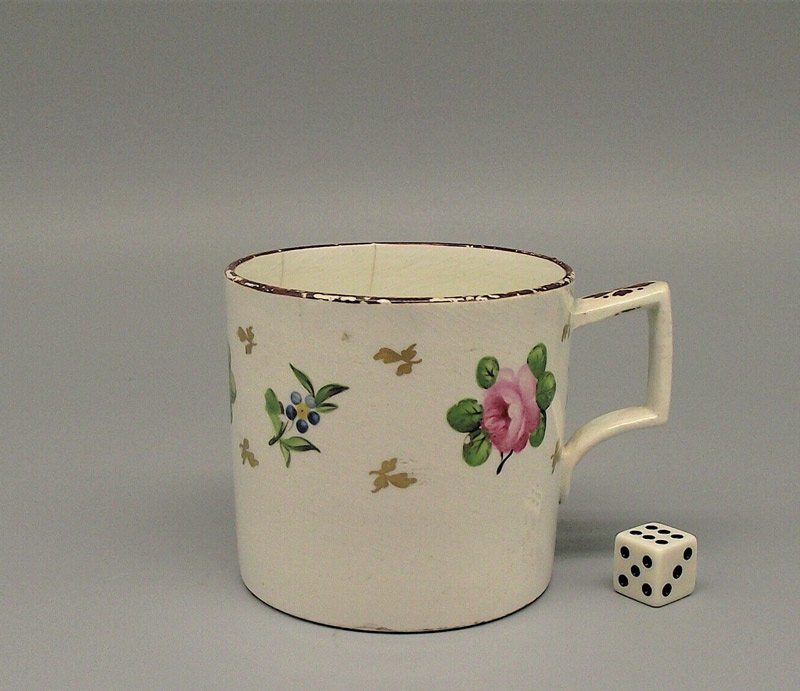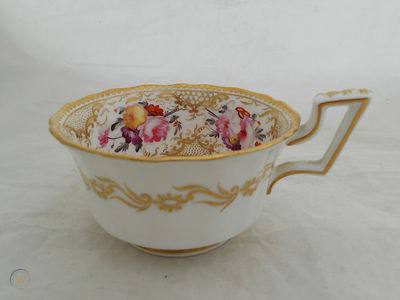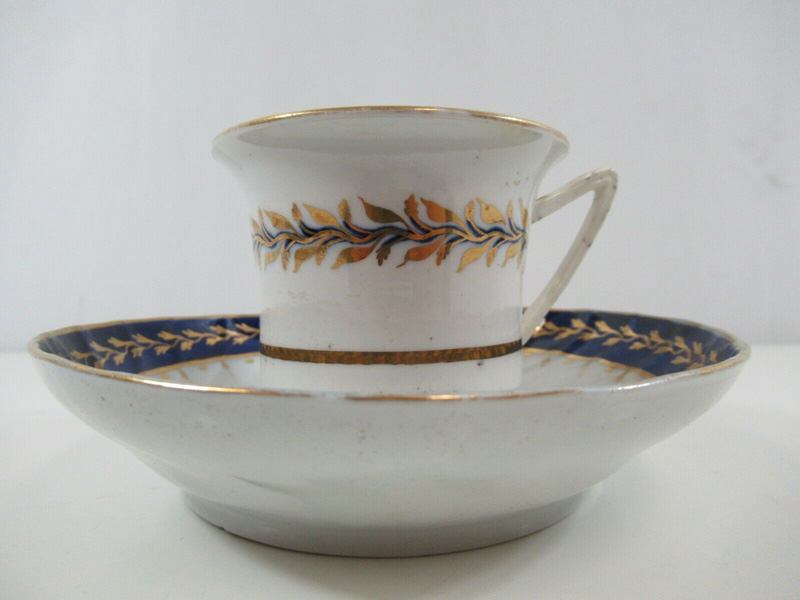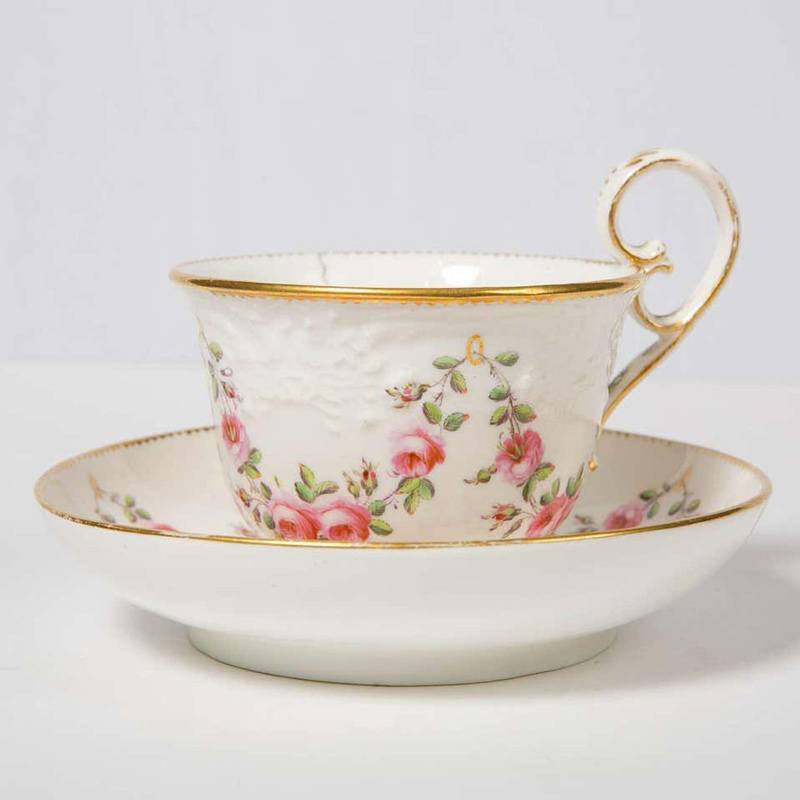 Design
Transferware
Perhaps the most traditional and known design is the blue and white transferware. Soft paste porcelain had to be glazed as the body would otherwise be porous. These teacups were either manually painted or printed onto the body before they were glazed. The material used for the decoration was metallic oxide of cobalt which was black when applied and turned blue after firing.
Transfer printed decoration means that a copper plate was etched or engraved with the required design and then inked with a ceramic pigment. The copper plate was cleaned so that only the engraved lines contained pigments. Then a special paper welted with soap was placed on the copper plate, rolled through a press, peeled off and transferred to the porcelain surface. The paper was removed once the design was securely in place.
Only cobalt oxide can withstand the very high firing temperature but some factories like Worcester, Liverpool, Lowestoft and Bow used enamels to decorate their cups. Worcester products reflect Chinese influence, Chelsea's Japanese.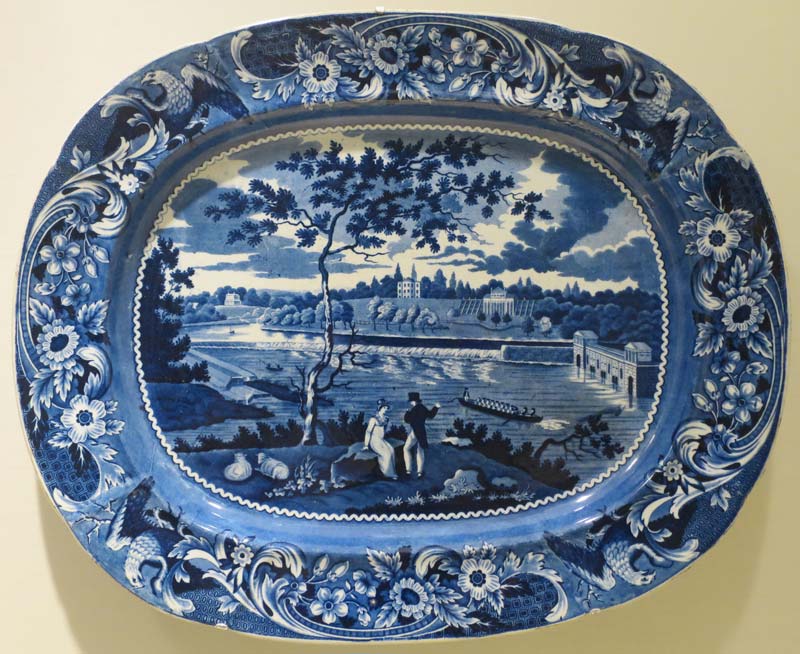 Blanc-de-chine
Teacups and teapots decorated with this technique were not painted but decorated with simple moulded flowers and leaves.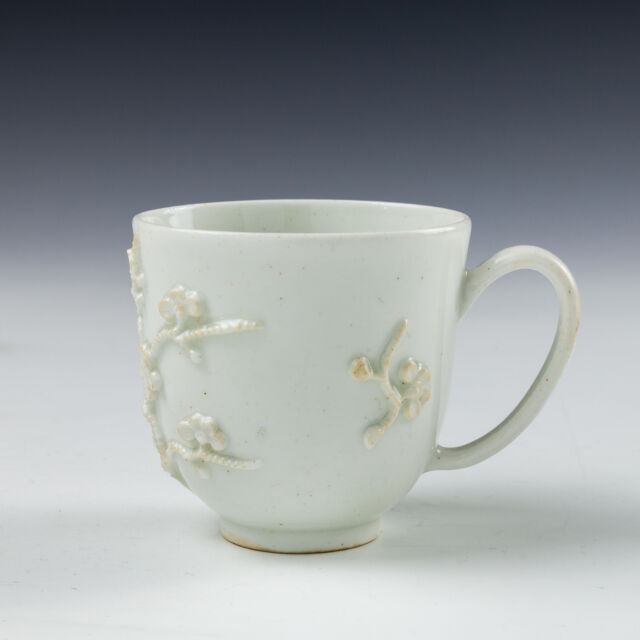 Bat-printing
A new method of printing called Bat printing was used for decorating ceramics. The quality of the print was much better and finer. Most bat-printed tea ware is black. Landscapes were popular.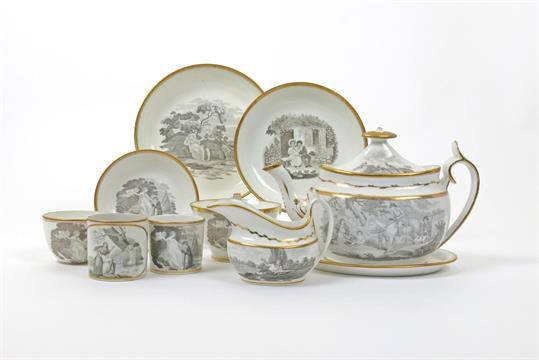 Gilding
Gilding became fashionable from the 1800s. One of the main reasons for using gilding was that dining rooms were lit by candles and gold sparkled and provided a beautiful reflection on the tableware and teacups making them more elegant.
Hand painting
The most beautifully painted teacups are hand painted. There were many talented painters in England producing high quality designs whether landscape or flowers, does not matter. The finest experts, however, were the Welsh painters who then relocated to Stoke-on-Trent as the Welsh factories did not survive. The first factory who started to use numbers for identifying its patterns was Derby in 1784. Needless to say that several factories copied both the marks and the patterns of their competitors which makes identification of teacups even more difficult.
Some of the most know potteries:
Coalport
Coalport was one of the first leading potteries around Stoke-on-Trent. Their products were popular and many survived. It is one of the most collectible brands.
Derby
Derby is the oldest porcelain factory still operating today. It was founded in the middle of the 1700s and became known later as Royal Crown Derby
Spode
Spode was founded by Josiah Spode who invented bone china. His factory was one of the earliest in the end of the 18th century. Its original name was Copeland & Garrett, then it became known as Copeland and finally Copeland Spode. This is how you can find their products.
Minton
Minton is famous for its excellent quality and white porcelain. Its patterns are often special and unique.
Ridgway
Ridgway produced a wide variety of products from tableware to chamber pots. It can be extremely difficult to identify a Ridgway teacup as they were not marked. Their style was elegant just like Spode's however, the cups were slightly thicker potted.
Worcester
Worcester was one of the very first potteries which then was operating under the name of Royal Worcester. Unfortunately, the factory closed in 2009.
Belleek
The Irish Belleek porcelain factory was founded in 1849 to give work for people during the Irish Potato Famine. Their teacups have a very special rattle sound and a distinctive pearly glaze. Queen Victoria fell in love with Belleek porcelain in the 1880s and Belleek became a success. Their products are often decorated and shaped as shells or leaves.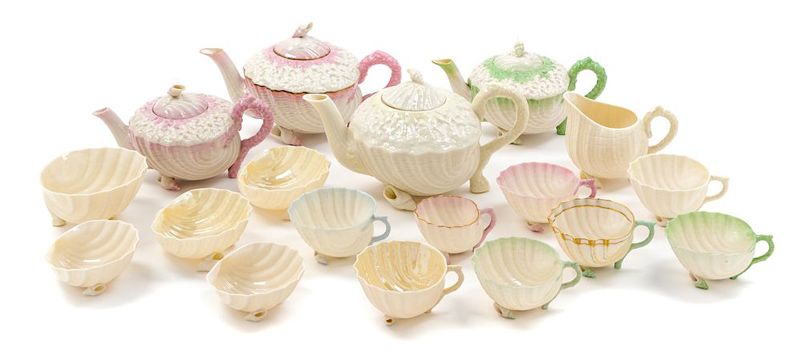 Wedgwood
Wedgwood founded in the 1770s has to be mentioned as it was the first who started to produce jasper-ware. Products had a matt surface and the most popular colour was the Wedgwood blue. White motifs taken from ancient mythologies were applied to the body of the products which provided a classical look. Wedgwood made replicas of antique treasures like the famous Portland Vase, but busts and other items were popular as well. Wedgwood was popular in the middle-class all over Europe.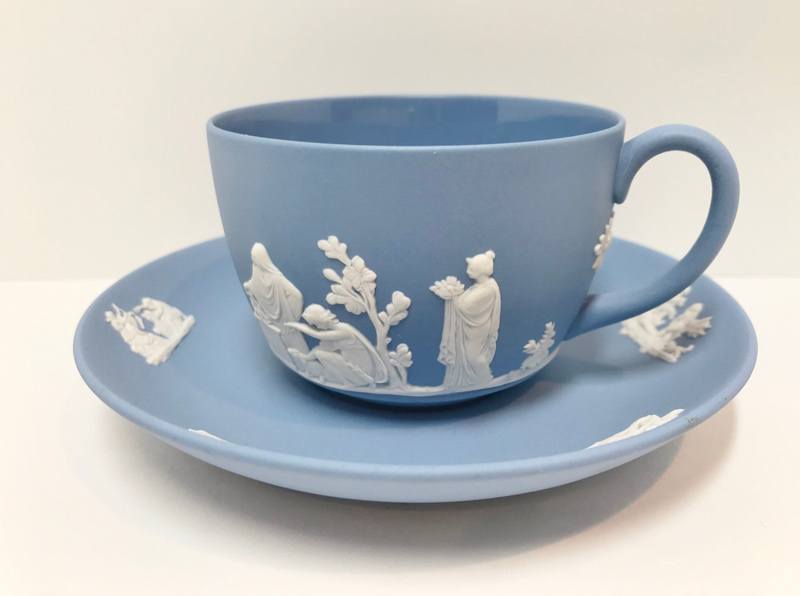 ~
So in summary there are many designs of Tea Cups that you can choose. It will depend upon your own individual style and preference. However, to get the most out of your tea cup you must also use it and savour the brand and flavour of your favourite tea in these wonderful vessels. Perhaps with a small piece of Wimbledon Cake or Lemon Drizzle, from my earlier blogposts. Take a relaxing moment with your very English tea.