Norfolk somehow seems to be forgotten when it comes to holiday choices. Quite wrongly I shall say, as Norfolk has amazing white sandy beaches that could easily compete with Cornwall's. Besides, Norfolk has magnificent country houses, gardens and a unique heritage. As most Brits have staycation this year due to the pandemic, we knew half of England would head down to Cornwall. Therefore, we deliberately chose another destination for our holiday. It was a good decision, I must say!
Norfolk is so big that we could only explore West Norfolk and the north coast and couldn't make it to the Broads. Although we visited Norfolk three years ago, the weather was awful (it rained all the time), so we missed a lot. Not this time! As Bill said, Norfolk owed us a week of good weather and we got it!
Heritage
Norfolk is the fourth biggest county in England after Yorkshire, Lincolnshire and Devon. Although its highest point is just over 90m above sea level, don't think the county is completely flat! Its bendy roads with ups and downs sometimes make you feel like you are sitting on a rollercoaster.
In the 11th century, the East of England was the wealthiest part of the country. Later, monasteries and Dutch immigrants found refuge and peace here which explains why there are more than 600 hundred churches in Norfolk and houses with Dutch gables as well as windmills. The county thrives from agriculture and tourism and indeed: as you are driving around you have the impression that Norfolk is feeding the whole country. Wheat and barley fields, rape fields and pig farms everywhere.
Nature and wildlife
Norfolk's major areas from the point of view of nature and wildlife, are the Wash in the West, which is a bay and estuary. It's also the biggest nature reserve in England with its 8880ha. On the eastern side you have the Broads, an area with many rivers and lakes, a heaven to birds. You also find moors, wet areas covered with reed between seaside villages and beaches as well as pine trees.
One of Norfolk's major attractions is the seal trip at Blakeney Point. There are four providers who organise trips from Morston Quay to Blakeney Point by boat. It's worth booking it in advance as it's quite popular. Also check the time as it depends on the tide which varies depending on the month you are visiting.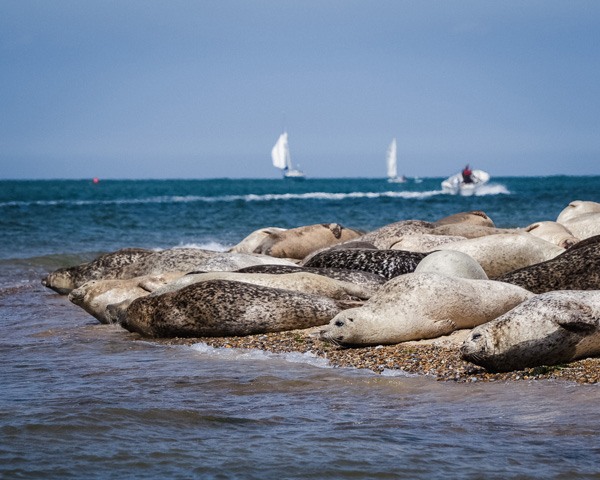 I must admit I had reservations about the experience, but because every guide book tells you it's a must when in Norfolk, we did sign up for it. Have to say, I was positively surprised and I absolutely loved it. The boat trip itself (1 hour) was lovely, the information shared by our skipper and guide was interesting and engaging and the seals were the icing on the cake. Although the seals were quiet, I was pleased to see a bunch of them in their natural environment where – according to our guide – there are ten thousands of them during the winter.
Beaches
The North Coast of Norfolk is amazing. Like I said, Norfolk beaches can easily compete with Cornwall's. There are white sandy beaches, dunes but also stony and rocky beaches. Perhaps the major difference is that whilst in Cornwall you may have to descend on rocks to have access to a white sandy beach (and climb it when you leave of course), in Norfolk you may have to walk 1 mile on a dam. Well, neither is too appealing in hot weather especially if you have to carry bags etc but a steady walk on a dam sounds better to my ears. 🙂 I found the landscape between fishing villages and beaches beautiful and reminded me of Gainsborough and Constable paintings.
The most beautiful beaches in Norfolk are: Wells-next-Sea, Cley-next-Sea, Burnham Overy, Holkham Beach, Sheringham, Hunstanton, Brancaster and Heacham.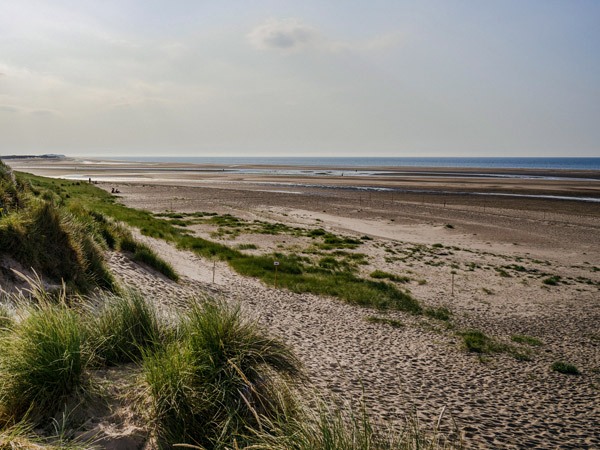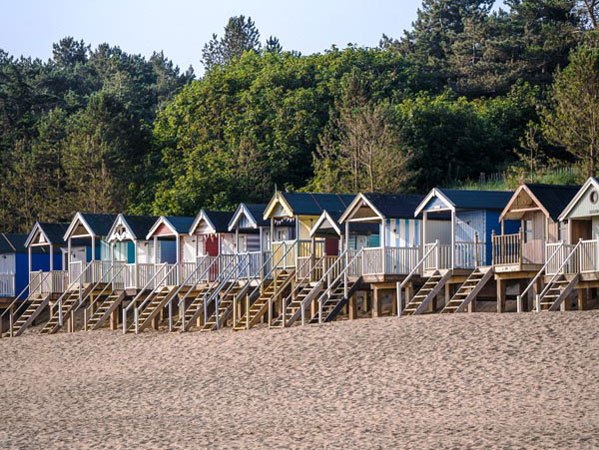 Seaside towns
Seaside towns in East of England became popular during the Victorian era when the Great Eastern Railway Company opened their lines. Many seaside towns became accessible and attracted tourists. The Victorian feel is best preserved in Cromer which also has a Victorian pier and Sheringham. Hunstanton is also a big seaside town with many entertainment facilities.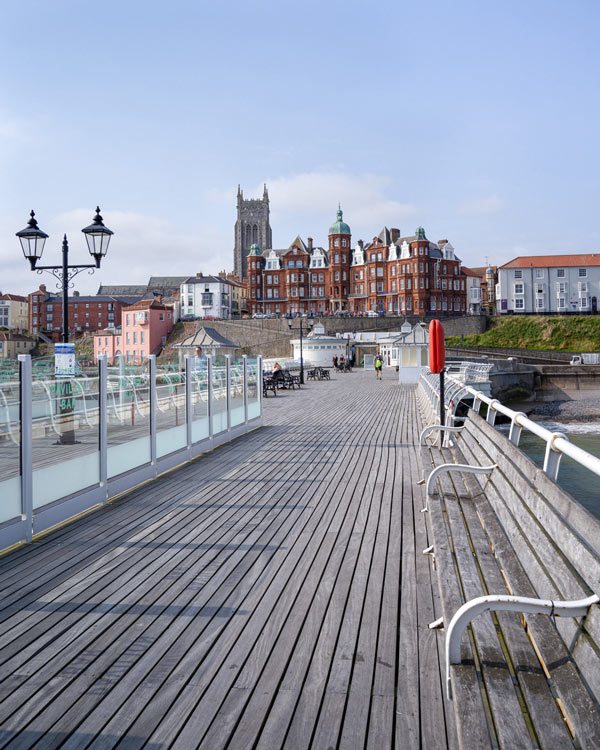 A pleasant surprise was King's Lynn. All I knew about this town was that the drummer of Queen was born here. I had no idea what to expect, so I was positively surprised how organised and clean the town is (many public toilets as well) and what a rich history the town has. It has lovely medieval and Georgian buildings and the town reminded me of Cambridge and Eton. It's definitely worth a visit.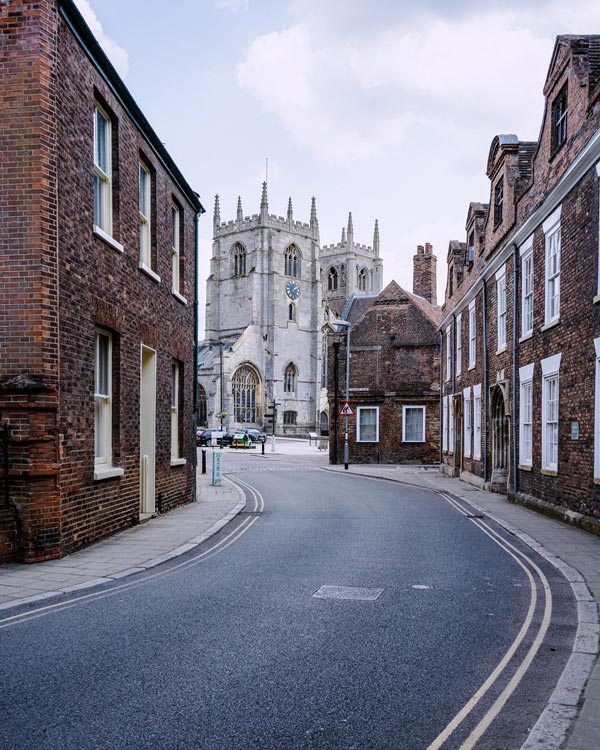 Windmills, cottages
There are approximately 100 windmills in Norfolk and at one point there were more than that. The iconic windmills on the North Coast are in Burnham Overy and Cley-next-Sea. Both can be rented as they have been converted to apartments and are available as holiday lets.
As for cottages, don't expect thatched cottages here. You may find the odd one, but the main building material here is brick and flint which is also lovely by the way.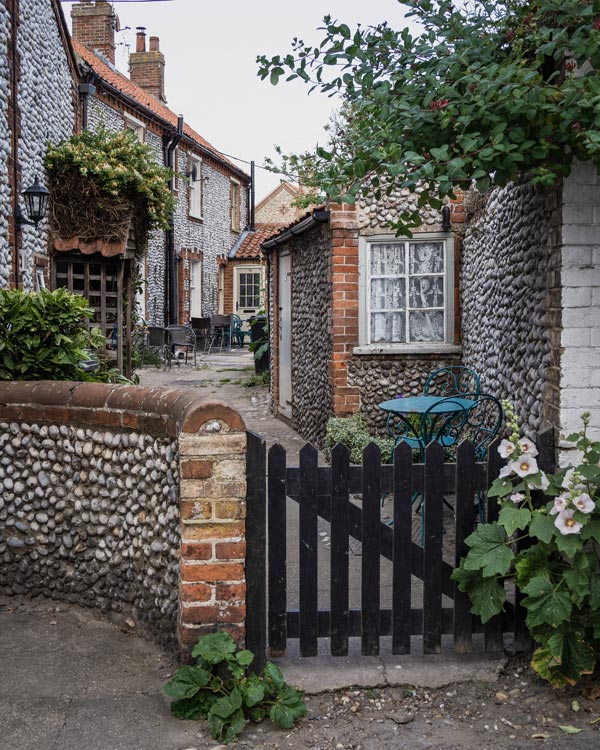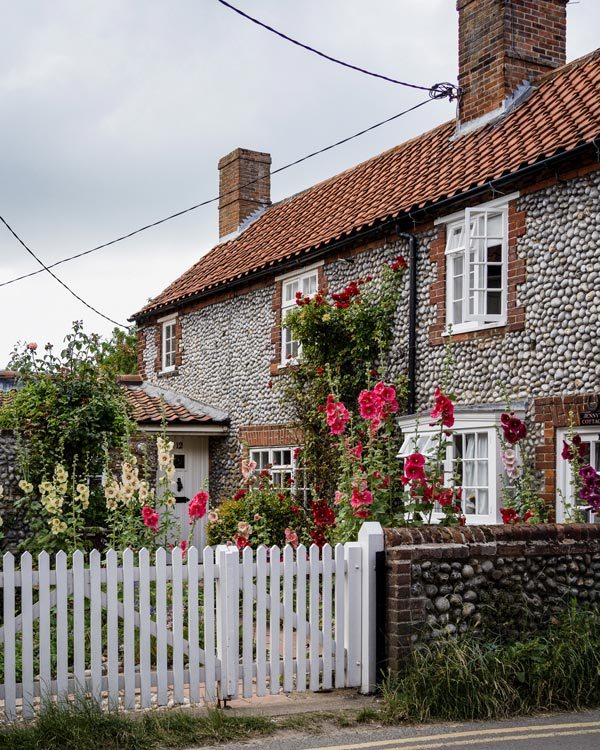 Country Houses
West and North Norfolk are full of amazing country houses built in different architectural styles.
Sandringham
It's definitely worth visiting her Majesty the Queen's country residence at Sandringham. I must admit, I had reservations about visiting a royal estate as our Balmoral experience was not clever a few years ago. I'm pleased to report that everything was perfectly organised at Sandringham, everybody was kind and polite and the audio guide was OK. There was 2-3 minutes worth of information about every room and it was interesting too. (Unlike at Balmoral where the audio guide just dragged on and on and was boring, not to mention the Scottish accent which I'm not sure how foreigners who are not used to this distinctive and lovely accent could understand.)
The entire house is intimate, cosy and homely. As you step into the house you land in the sitting room where the Royal Family would watch television at Christmas. There is also a table where they would do puzzles. You suddenly understand why the Queen prefers to celebrate Christmas at Sandringham.
Although photography wasn't allowed indoors, the rooms had subtle pastel colours. You could see the Queen decorating the lower branches of the Christmas tree that always stands in one of the bay windows. My heart jumped when I saw a painting in the corridor about Edward VII on a hunt near Keszthely, Hungary. I explained the guide in the room that I was from Hungary and I would spend summer holidays of my childhood around Keszthely. (I'm sure guides at royal estate are used to all sorts of reactions… 🙂
Although the house was criticised many times (architects, art historians referred to it as a golf-hotel and frenetic), I liked it a lot. I also admired the gardens and grounds which were big but not massive.
Holkham Hall
Who would think that a huge, privately owned Palladian stately home stands on the North coast of Norfolk? Well, Holkham Hall has been standing here since the 18th century and it's massive. When I say massive I do mean it. We have never ever seen such a big walled garden – it took one hour to walk around it! The house is surrounded by a landscape garden and deer park and indeed you can see deers on the grounds. The house tour is well worth it – interesting facts and the interior looks like a palace. The historic kitchen at the end of the tour was the icing on the cake. Holkham Hall can well be a full day programme (they have a very good restaurant) but a half-day at least.
Further country houses to visit in West and North Norfolk: Blickling Estate, Felbrigg Hall, Oxburgh Hall.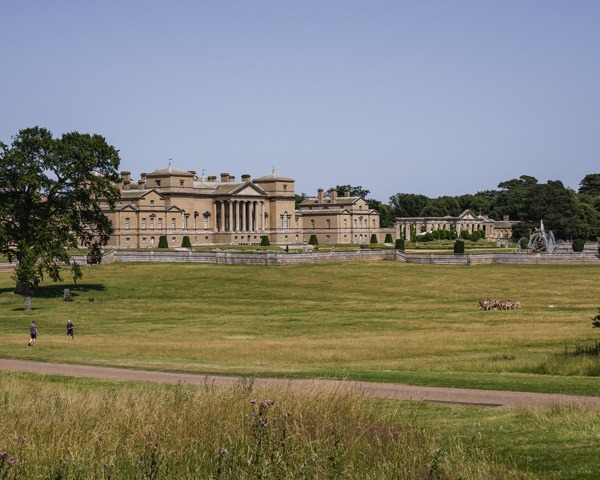 Gardens
Norfolk is full of beautiful gardens as well which are mainly privately owned and open up on certain days only. We visited two medieval moated manor houses and their gardens:
Hindringham Hall
and
Mannington Hall
. Both blew our minds! The gardens are just amazing and they serve home made cakes and tea. It's worth visiting places like these because they are less crowded and give a different experience to National Trust sites. (Both gardens are perfect examples of the
medieval garden
which I wrote about on the blog a few weeks ago.)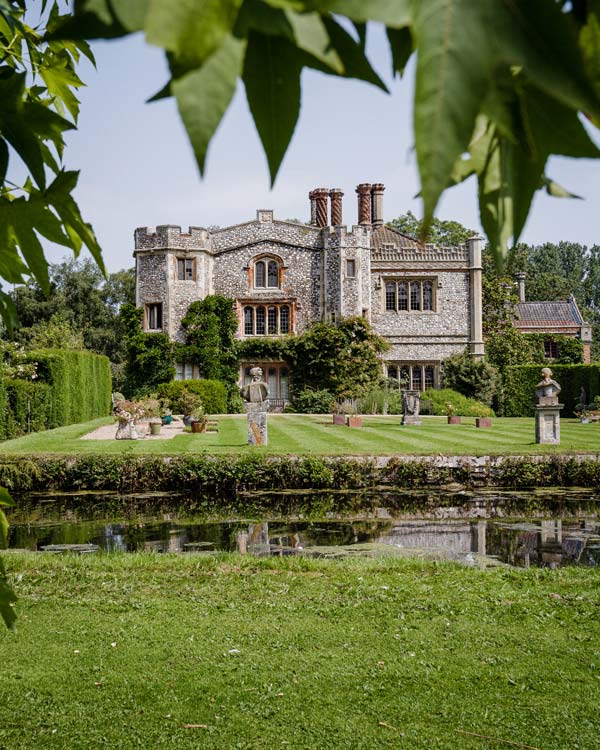 Impressions, mood
I don't like comparing things and I don't want to. Everything is equally beautiful and nice and things might only be different. However, when I tried to summarise what sort of impressions I had of Norfolk or what sort of mood Norfolk has, I had to recall my Cornish memories. Although Norfolk is full of amazing beaches, seaside towns and fishing villages, somehow I didn't get the coastal feel. Cornwall has a much stronger coastal feel. Whether it's because of a completely different heritage combined with some mystery due to King Arthur, pirates and smugglers, I don't know. Norfolk is much more subtle. I had the impression that Norfolk might have been the country retreat for the wealthy back in the day where they could enjoy shooting and the tranquility of their country houses and the sea was just a bonus. Almost as if the sea wasn't the main attraction here. I can still see people turning up here with their Landrovers dressed in Barbour and wearing Hunter boots ready for the shooting season. Anyway, I didn't get the coastal feel even in fishing villages, although as you can see in below images, it was there…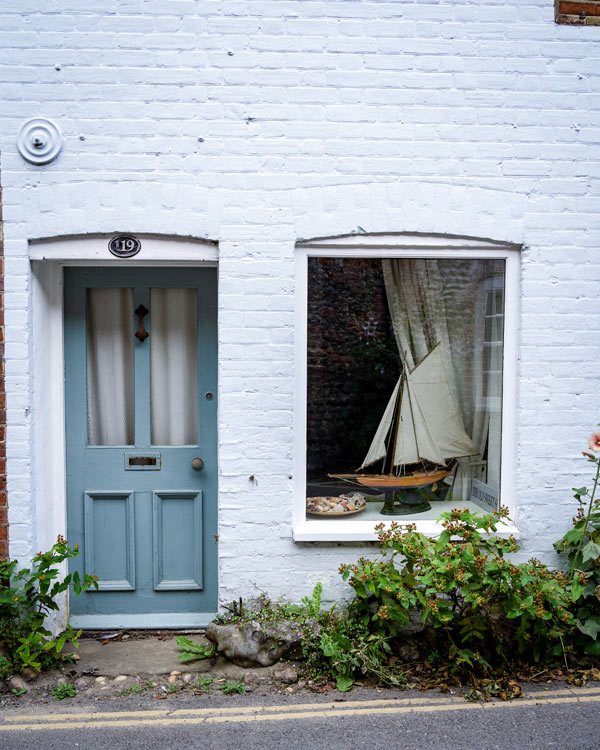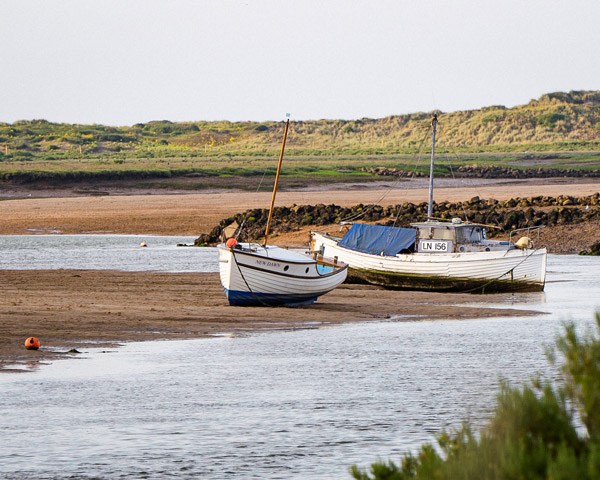 We had a fantastic holiday in Norfolk and loved it. As much as would love to explore the Broads. Well, there is always another time, isn't there?