How to get from London to Windsor
At last you are in London. You love the buzzing city and enjoy the special atmosphere London is so famous for, but after a few days a though is creeping in. Wouldn't it be nice to visit Windsor as well…? It appears to be a perfect one day trip from London that you should not miss. But then you start to think:
"How do I get there…?"
You are not really sure, the journey seems to be complicated, you are not prepared or have the right information and in the end you abort the idea until next time.
This post helps you to be prepared and have the right information in order not to leave Windsor until next time.
Train
First and foremost what you need to know that Windsor has two train stations:
Windsor & Eton Central – this is straight in the middle of the town, trains arrive from London, Paddington,
Windsor & Eton Riverside – located by the Thames from where it is a few minutes walk uphill to reach the Castle, trains arrive from Waterloo, London.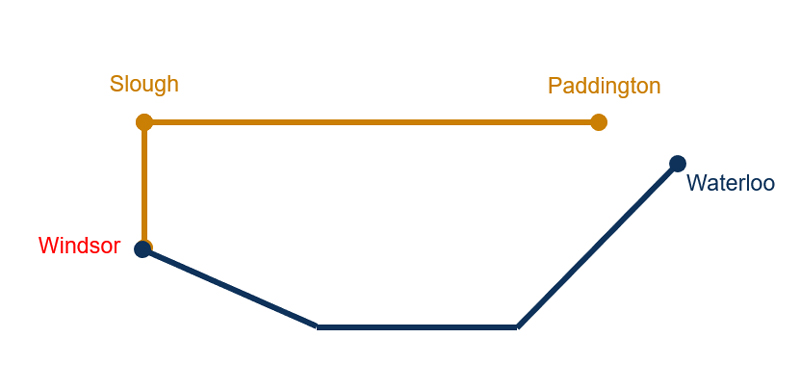 1) London, Paddington
You can get to Paddington train station by buses and tube from almost every corner of London. Trains from Paddington go to Windsor & Eton Central. Unfortunately this is not a direct link, you have to change in Slough. Trains are running frequently but it is worth checking the timetable as the duration can vary from 26 to 39 minutes.
It is almost hundred percent sure you have to climb some steps and go over from the track that you arrive on in Slough to get to the track where the train to Windsor departs from. Do not worry, you can not miss it: the Windsor train always arrives and departs from the same track. There are no stops between Slough and Windsor & Eton central, it is a direct link.
Trains are operating as early as 5am until 11pm. Timetables are available at the National Rail's website. You can also download their app to make checking it easier.
You can buy tickets online or at the station at the office or by using vending machines.
2) London, Waterloo
Waterloo Station is certainly an option if you stay or live in South London or close to Waterloo. Although the travel time is almost 1 hour, the good news is that you do not need to change: it is a direct link to Windsor & Eton Riverside. However, do check the timetables as some trains are not direct. Use the National Rail's website or their App. The first trains leave London Waterloo as early as 6am and run until 10:30pm.
Bus
The bus journey from Victoria Bus Station in London to Windsor is considerably longer, around 1.5 hrs. Therefore, my recommendation would be taking the train if possible. If not, coaches leave Victoria Station and stop almost in front of Windsor Castle. Fares and timetable are available on the National Express website and App.
Besides lines 702 and 703 operated by Green Lines run from London to Bracknell and they stop at Heathrow Terminal 5, Legoland and Windsor. You can check timetables here. Buses between Windsor and Legoland run every 30 minutes.
Local buses (Courtney)
2 – Dedworth to Slough via Windsor
10, 10A, 11, 11A, 11S – Bracknell to Heathrow via Dedworth and Windsor.
600 – Legoland Shuttle Weekend Service
Taxi
Of course taxis are available any time from London to Windsor and vica versa. An estimated travel fare from Heathrow to Windsor is £30. From London it is more dependnig on your location/pick-up or drop-off point.