Windsor Castle was one of nine castles
Windsor Castle is the world's largest and oldest inhabited castle and is still one of the most important country residences of the British Royal Family. Standing on a 30m high chalk cliff, the castle looks grandiose and is visited by thousands of people every year.
Perhaps it is less known that Windsor Castle is one of the ring of nine castles that surrounded London.
After the Battle of Hastings in 1066, William the Conqueror started to strengthen his victory. Whenever he captured a town or village, important roads or riverbanks, he then built a castle. These castles had a defensive function against any Saxon uprising and attack. The structure of these castles were made of earth and wood and were surrounded by a moat. The castle had two parts: the motte and bailey. The motte was a tower built on a man-made mound.
To strengthen his power, William the Conqueror built three castles in London, firstly, the Baynard's Castle and Montfichet Castle followed by the magnificent White Tower which was built between 1078 and 1097.
Three castles were not enough for William the Conqueror to protect his position, so he built a ring of castles around London, about 20 to 30 miles apart from each other and within a day's march of the city. The nine castles were: Windsor Castle, Colchester Castle, Rochester Castle, Guildford Castle, Canterbury Castle, Oxford Castle, Wallingford Castle, Hertford Castle and Berkhamsted Castle. In the map below I pinpointed the locations of these castles.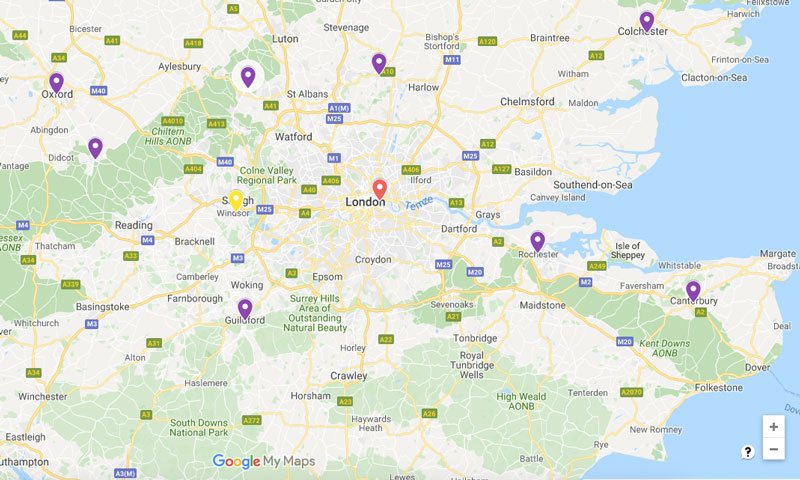 Out of the nine Windsor Castle is probably the most impressive with its 13 acres, spreading over the equivalent of 269 tennis courts. With that it is England's biggest castle as well. Although the castle was built by William the Conqueror, the Lower and Middle Wards were altered by Henry II and subsequent Plantagenet and Tudor monarchs.
~
Visiting the castle you will learn about its history, its military history its chapel and the ability to see the famous Dolls house and so much more.