How The Curry Got To England – With A Recipe
Maybe most of us know that curry has become the national dish of the United Kingdom. As the National Curry Week is between 10th and 16th October, I thought it is high time I had a look at the curry.
I was intrigued, how the curry arrived in England! The first thing that sprung to my mind was that obviously it had to do with the colonisation of India which is correct. But there is so much more to know about it.
What is curry in the first place and where is its origin?
First of all the word "curry" means more things. For me curry, meant curry powder which is an invention of the West in the 18th century and it is a mixture of spices, but when I relocated, I soon learnt curry also means a dish and even several varieties. I think, curry must be similar to our "pörkölt" (a meat stew which originates from Hungary) in so far as that pörkölt can be made of beef, lamb, chicken, pork, tripe, kidney, mushroom and even catfish, just like curry which is made of beef, chicken fish or simply vegetables. The cradle of the curry is said to be the Indian subcontinent, which involves Bangladesh, Bhutan, India, Maldives, Nepal, Pakistan and Srí Lanka.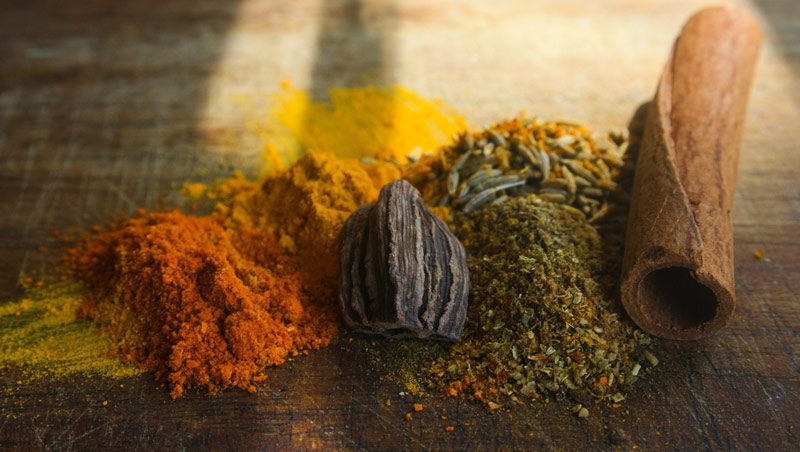 I am not sure it is known how many varieties exist, as the way the curry is prepared depends on regional cultural traditions, religious practice and family customs and recipes. However, the majority of the curries contain cumin, turmeric and coriander.
I found it astonishing that curry is made in the following countries: Bangladesh, India, Maldives, Nepal, Pakistan, Srí Lanka, Burma, Indonesia, Malaysia, the Philippines, Thailand, Vietnam, China, Japan, Korea, South-Africa, Guyana, Trinidad and Tobago, Jamaica, the Bahamas, Fiji and of course the United Kingdom. This is 22 countries all together and we have not even mentioned the regional varieties.
The way to England
Curry arrived in England via the East India Company, or more precisely via those men who returned from India and wanted to enjoy the tastes of India. The rich brought Indian cooks with them and those who could not afford an own cook, enjoyed a curry in coffee houses: the Norris Street Coffee House served curry in 1733 in London, Haymarket and by the end of the 18th century curry and rice became a speciality dish in some of the London restaurants.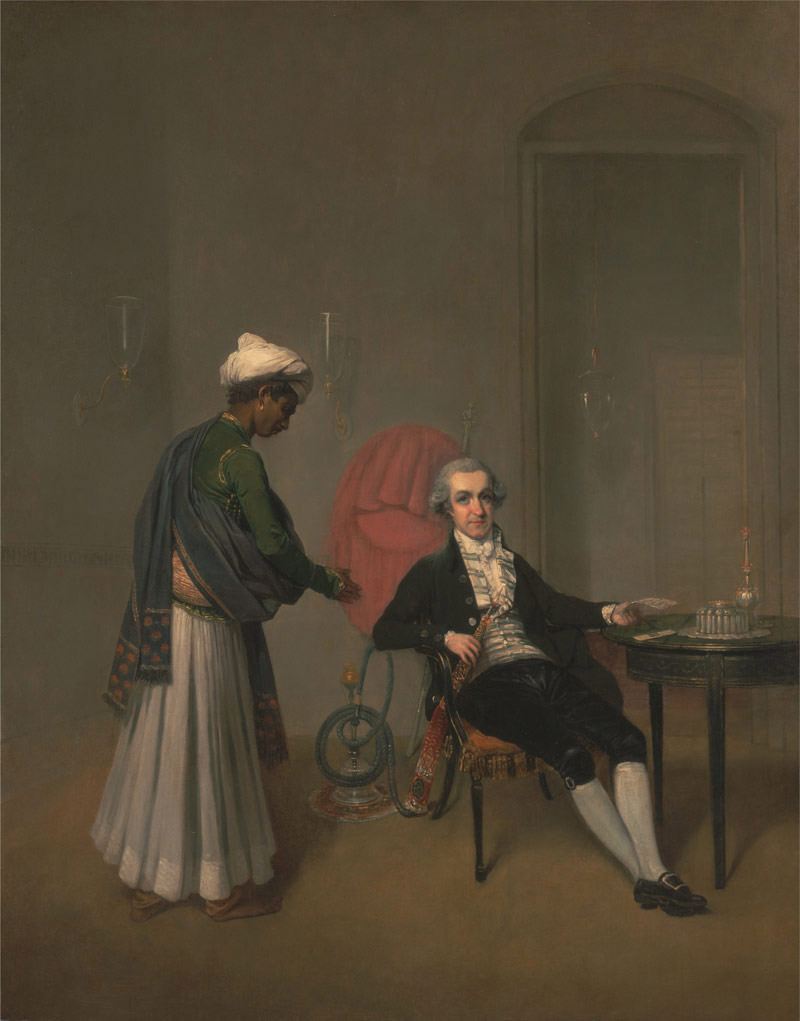 The first Indian restaurant, the Hindoostane Coffee House was opened by Sake Dean Mahomed in 1810 in Mayfair, London. Mahomed wanted guests to enjoy not only the tastes of India but the atmosphere of country as well, so he created the decor accordingly and even a room for the "hookahs". Curried foods are beneficial and helps digestion and improves circulation, it was therefore a popular dish by 1840, however after 1857 Rebellion in India its popularity dropped.
Curry as well as Indian culture and food needed a patron and it happened to be Queen Victoria who was passionate about the country. In her last years she had a close friendship with one of her Indian servants, Abdul Karim from whom she learnt even more about India. The first Indian restaurant in the 20th century was opened in 1910 in London, called "The Shafi" followed by the Veeraswamy in 1926, which is still around today. Later, Indian cuisine and with that curry as well spread by the increasing number of Indian, Bengali and Pakistani immigrants. Although the popularity of the curry houses are declining since the 2010's, curry isn't. Many people started to cook it at home after realising how easy it is to make from scratch and general restaurant also have curry on the menu.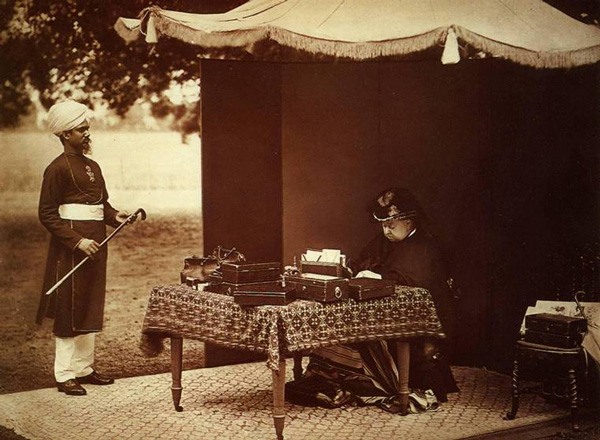 An incredibly delicious Chicken Tikka Masala
Although I have just announced last week I am not going to publish recipes, I cannot, not share this Chicken Tikka Masala one because it is SOOO good. It is unclear, where this dish originates from and there are at least three theories: 1) invented by a Bangladeshi chef in the 60s or 70s, 2) invented by a Pakistani chef in Glasgow in 1971, 3) it is an original Punjab dish. Well, no matter where it comes from, I LOVE it and although it is not the Number one anymore (the green curry has taken over), it is still incredibly popular.
The recipe I am going to share is from a Lorraine Pascale TV program, which I tried instantly, then have made it my own way since. You will see, how easy it is to prepare it and as Lorraine said, you won't want to buy ready sauces anymore.
INGREDIENTS
Serves 2
500g chicken breast
3 tbs tomato puree
small piece of fresh ginger
5 spring onions
1 bunch of fresh coriander
1 tsp English mustard
¼ tsp turmeric
¼ tsp paprika
½ tsp garam masala
½ tsp curry powder
1 clove of garlic
100ml double cream
salt
black pepper
some oil
a small chunk of butter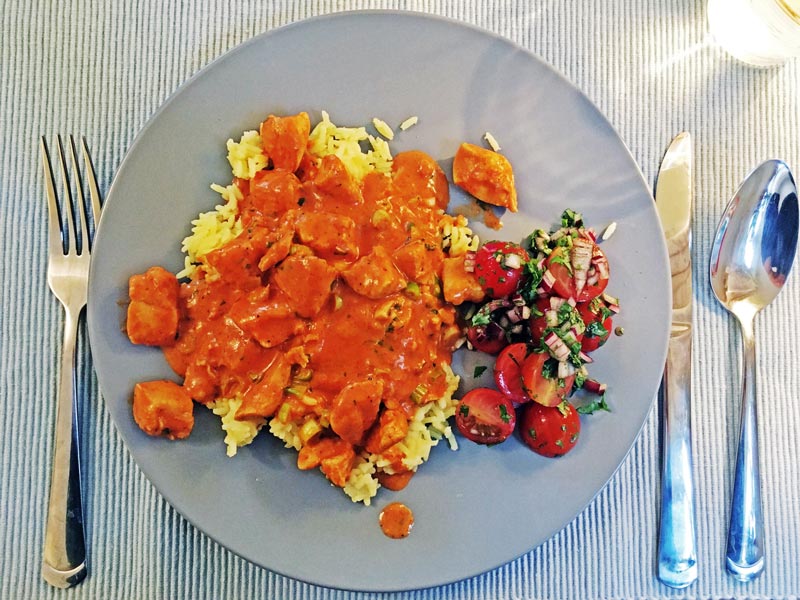 I cut the chicken breast into middle size chunks and season it with salt and pepper. Put some oil and a piece of butter to the pan and fry the chicken until it is golden brown (the butter helps to get the colour). Then I add the spices: paprika, turmeric, garam masala and curry powder and mix it well. I then grind the ginger on top and crush the garlic. Then add the tomato puree and stir it well adding some water to get a thick sauce. If necessary, add some more tomato puree and water. I leave it for 1 or 2 minutes, then add the English mustard, cream, chopped spring onions and coriander. Again, I let it cook for a few minutes and it is ready. I serve it with cooked rice and a simple tomato salsa (tomato, red onions, salt, peper, coriander and balsamic vinegar).
Hmmm, I think I need to now go and prepare my curry…
Enjoy…