Scottish Oat pancake with raspberry sauce
Shrove Tuesday means Pancake Day. I was at high school when I first came across this funny tradition of the English and I still remember the book we read about it: Spotlight on Britain by the Oxford University Press. Shrove Tuesday is the day before Ash Wednesday (the first day of Lent).
The origins of the Pancake Day
The reason people would eat pancakes on Shrove Tuesday was that pancakes were substantial, containing flour, salt, egg, milk and flour and in this way they could be prepared for the lent. The tradition is still alive in England which includes the funny pancake race (not seen any yet, but would love to). According to the legend, in 1445 a woman in Olney, Buckinghamshire was in the middle of making pancakes when she heard the church bells ringing. Apparently, she ran to the church wearing an apron and a frying pan in hand as she forgot to put it down. This tradition was brought back to life by the priest of Olney, Ronald Collins in 1948 (for obvious reasons the tradition disappeared during World War II). During the race contenders have to wear an apron, carry a frying pan whilst running and flipping the pancake.
A lovely hot breakfast for cold mornings…
There are mornings when it is so good to have something different for breakfast. Most of the time I try something new at the weekends, as I have more time for experimenting. I can recall, right after I relocated from Hungary to the UK I literally bumped into a Nigella Lawson recipe. I must admit, I have never been a huge fan of Nigella, but her recipe inspired me big time. And as far as Nigella is concerned, I really started to like this Sagittarius Woman who is probably as big hedonist as I am. I have respect for her as she has refused to be knocked back several times in her life, which was not always the easiest to say the least.
But let's get back to the breakfast and to this pancake which is healthier containing a slow carbohydrate, oats. It is always with what you eat pancakes with that makes it really good, therefore we are going to serve ours with a honey-raspberry sauce. Because of the oat and raspberry this recipe has a Scottish feel, especially if we put some whisky to the sauce to enhance flavours. However, I am not too sure whether it is a good idea in the morning, but I leave it to you to decide…
INGREDIENTS:
100g oat
1 tsp baking powder
1 tsp cinnamon
1 tsp vanila extract
100ml oat milk (or milk)
1 egg
pinch of salt
deep frozen raspberries (fresh is equally good)
honey
some oil for baking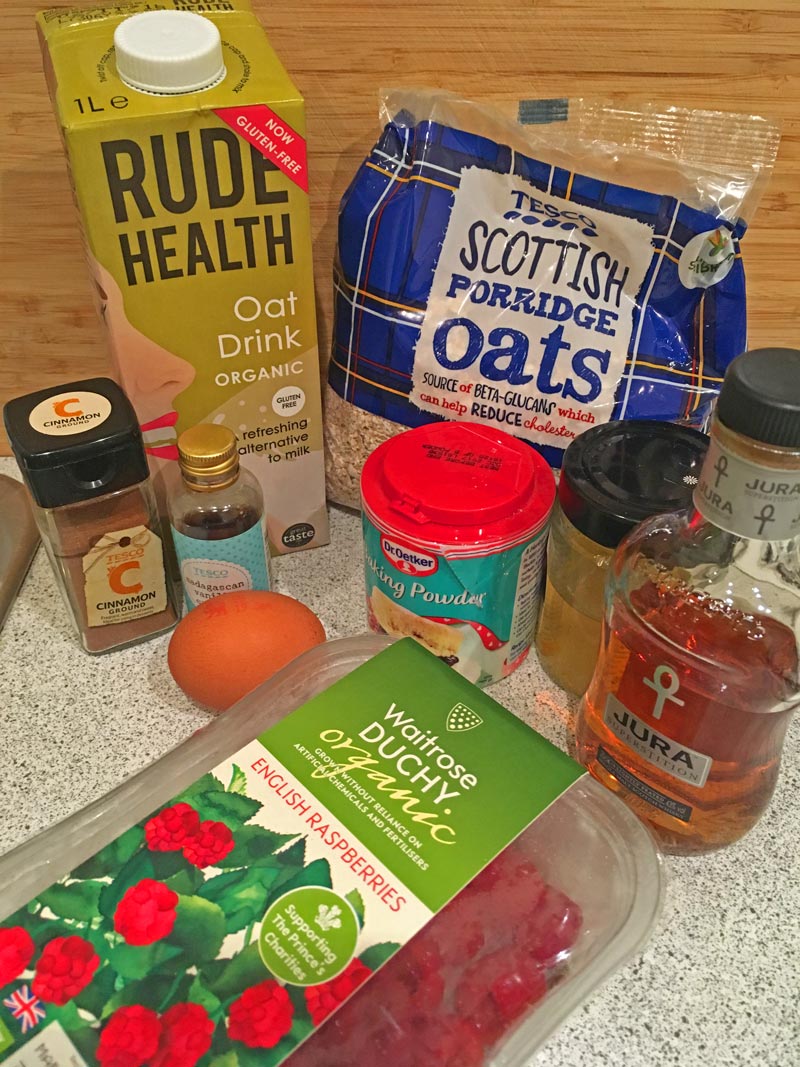 You can grind the oat to get oat flour or use it as is. Stir in the salt, cinnamon and baking powder. Mix the wet ingredients in a separate pot: (oat) milk, egg and vanila extract. Then add it to the dry ingredients and mix it well. Before baking let's make the sauce.
Warm up the frozen raspberries in a pot on a low heat and add a few tablespoon of honey. (If you use fresh raspberries the method is the same but be more careful with the honey and avoid burning.) Let it bubble one or two minutes and add a bit of whisky to your liking. Remove it from the hob and start baking the pancakes. Use a little oil in a frying pan and bake small batches of the batter for making the pancakes. Bake them on mid heat and flip them when the first bubbles appear on the surface. Serve it hot with the sauce. Lovely.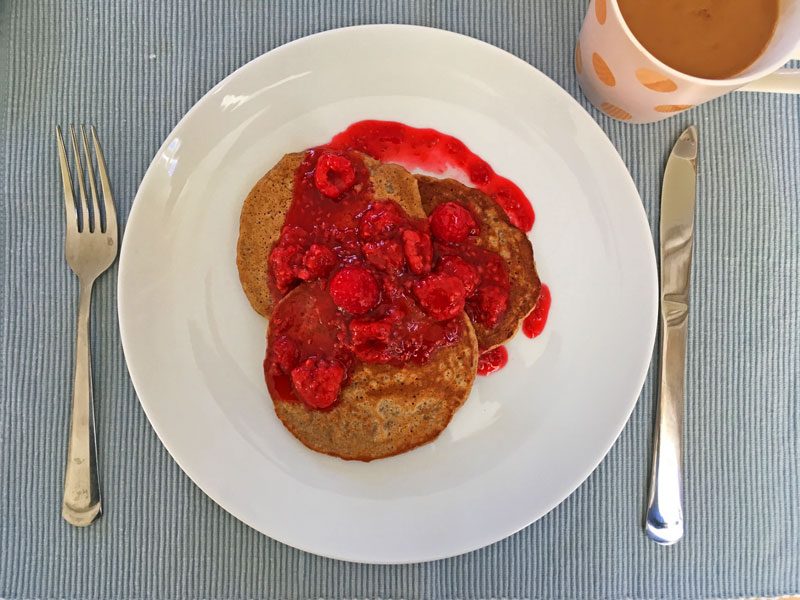 Own tips:
When using oats, leaving the mixture in the fridge overnight makes the oats even softer.
Oat milk is quite sweet, use that.
Desiccated coconut can be added to the batter to have some texture if you fancy.
The oat pancakes are lovely with maple syrup as well, but sweet things like jam or Nutella kill the flavour of the oat. (Not worth it. )