A friend of mine asked me a month ago whether I will cook something for Easter and post it on the blog. 'Well, the English do not really have a special dish for Easter', I said. This is really strange fro me as in Hungary we normally have cooked and smoked ham with hard boiled eggs, fresh vegetables like radish, spring onions, tomatoes and freshly baked bread and cakes. 'Are you going to bake then something for Easter?', she asked. I was not sure as apart from the hot cross buns there is no typical Easter cake in England. Perhaps the simnel cake could be mentioned, but that one is far too rich, so I would not bake it. I was struggling to find a topic for Easter anyway and asked myself the question whether I seriously should post a recipe. Because I had some requests for more recipes from Readers and because I can see in the statistics that recipes and food in general are doing well on the blog, I decided to try something new (it has been a while since there was one on the blog anyway). So, dear Trainers and Sportspeople, or those of you on diet, please look away now 🙂 , there is however a sugar-free version of this cake, too.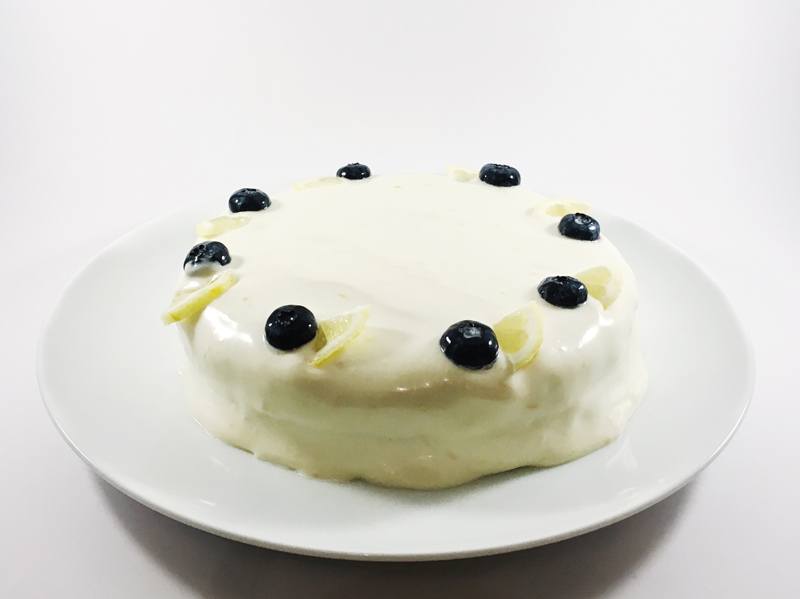 Although the English do not have a special Easter cake, they do have their standard cakes just like we do in Hungary. We too have our rigójancsi, dobos cake, krémes, or isler. Like us, the English too have their favourite flavours, mostly lemon, blueberry, caramel and chocolate, yet I had to think a lot what to bake for Easter. I wanted something fresh, something light which has a bit of Spring-feeling. In the end I decided to combine two of the favourite English flavours: lemon a blueberry. This was the first time I made this cake and even though I did my best, I was not satisfied with the design. The taste was fantastic, but the design (just like my photography) needs improvement. Well, next time! 🙂
INGREDIENTS
(18cm- diameter small cake tin)
For the base150g flour
110g butter
220g sugar (I use much less, almost half of it only)
2 eggs
1 tsp baking powder
1/4 tsp salt
6 tbsp milk
1 tsp vanilla extract
2 tbsp lemon juice
half tbsp lemon zest
100g blueberries
For the frosting
100g cream cheese
100g butter
100-150g icing sugar (maybe more)
1 tbsp lemon juice
half a tbsp lemon zest
In theory, the flour, salt and baking powder should be mixed in a bowl. The lemon juice should be added to the milk in a jug (the milk becomes thick). In another bowl the butter should be beaten with the sugar until fluffy and then the eggs added one by one along with the lemon zest, lemon juice and vanilla extract. Then the flour and milk has to be added to the mixture in three batches. However, as I said before, I would make a sponge in the Hungarian way like my Grandma and Mum used to do, because I bet, the sponge would turn out better and would have a better consistency. So, that means, separating egg yolks and whites, mixing the sugar, butter, lemon zest, lemon juice, vanilla extract with the egg yolks and in another bowl mixing the flour, salt and only a pinch of baking powder. Then adding the flour and milk to the egg yolks. Whisk the egg whites and fold it into the mix. The blueberries need to be rolled in a bit of flour and added to the mix. Then transfer the mix into a tin lined with parchment paper. Bake it at 170C (fan) for 35 minutes. When ready, remove it from the oven and let it fully cool. Once it is cool, cut it into half.
Whilst the cake is baking and/or cooling, prepare the frosting. First beat the butter for 3 minutes until it is white and fluffy. Then add the cream cheese. I would be cautious with it and would only add the half of the cream cheese to get a good consistency. Then add the lemon juice, lemon zest and vanilla extract then the icing sugar gradually. Beat it until you get the desired consistency. If the frosting allows, more cream cheese can be added. Top one half of the cake with the cream and then assemble it and cover it with the rest of the frosting. Decorate it with blueberries and quater of lemon slices.
For the sugar free version, you can use 2 very ripe bananas instead of the sugar and 100ml of vegetable oil instead of the butter for the batter. For the frosting use 2 tablespoon of Splenda (more if you need it to be sweeter) and a teaspoon of cornflour. It works as well and the frosting is equally delicious. 🙂
Enjoy!