The Minack – the theatre carved in rocks
As far as I can recall, I had heard about The Minack in Penelope Keith's Hidden villages program on the Television for the first time. When I saw it, I could not believe something like this exists in England! Luckily, I saw the program on TV before our holiday in Cornwall, so we put it on our list of attractions to visit.
It is already surreal itself having a theatre carved in rocks at the end of the world, in the most South Western point of England. But it is even more surreal that the theatre is THAT fantastic. The extraordinary and amazing lady who came up with the idea and planned it was Rowena Cade. After the Great War, Rowena moved from the Midlands, to Cornwall and bought the land of the Minack where she built a house for herself and her mother. The Minack means rocky place in Cornish.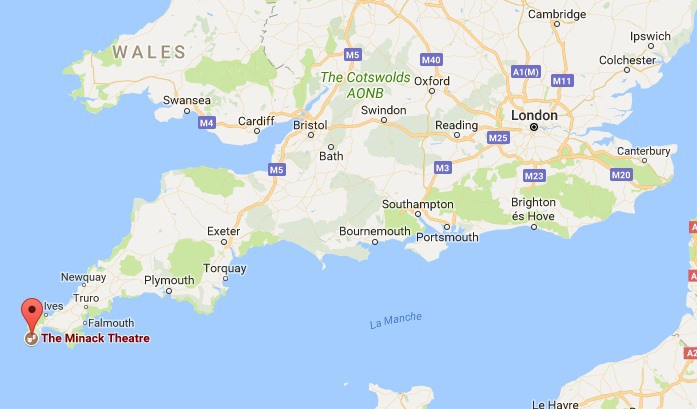 It was in 1929 when Shakespeare's The Tempest was performed by a local group in the village and was a great success. Rowena, being a huge Shakespeare fan decided to transform the rocky area beneath their house to a theatre. She designed a theatre where Shakespeare's works could be performed, meaning to have all necessary equipment such as a balcony, stairs etc. She started the work with her gardener, Billy Rawlings. Rowena worked as a labourer, carrying many of the stones herself, which being a petite lady must have been a hard work. If I remember rightly, seats in the first rows were carved from granite which took a lot of time. Therefore, they started to use concrete for the rest of the seats. So that the decor looks more authentic, Rowena drew celtic motives into the concrete.
At last, "The Tempest" was performed at the Minack in 1932 and was a huge success, but Rowena kept on working on the theatre every year. As many other buildings the Minack was used as a defence facility during the World War II. The theatre had to be rebuilt after the war and was opened in 1951 again.
The theatre really is breathtaking and the alpine garden plants are amazing. I would love watching a play in this theatre even with a cold Atlantic wind. It must be the most romantic and amazing to watch a play with the rocky seaside behind the stage… I even have goose bumps just by the thought of it…