Beautiful English Wallpapers
English wallpapers are beautiful and unique. I think they contribute a lot to the classical English look of homes, stately homes and castles. Let's have a look how these beautiful English wallpapers were born.
17th and 18th century
In Tudor times, wealthy people decorated their walls with textiles and tapestries. Later during the Baroque period, they used silk and velvet for covering walls.
The East Indian Company started to import wallpaper from China in the 1600s which they kept on bringing in to England later with another status symbol: porcelain. Just like porcelain and tea, wallpaper too was very expensive and was affordable by the wealthiest only. These early Chinese wallpapers featured landscape scenes rather than repeating patterns and some elements were painted, some details were added by hand.
Wallpaper production in England started in the 17th century, but it was expensive and complicated as paper only could be produced in sheets not in rolls. Besides, printing techniques were not advanced yet: block printing was difficult, printers used carved wooden blocks which weighed 15 kg. One of the oldest wallpapers (ca 1690) that survives is in Lambeth, London and is called Paradise Row.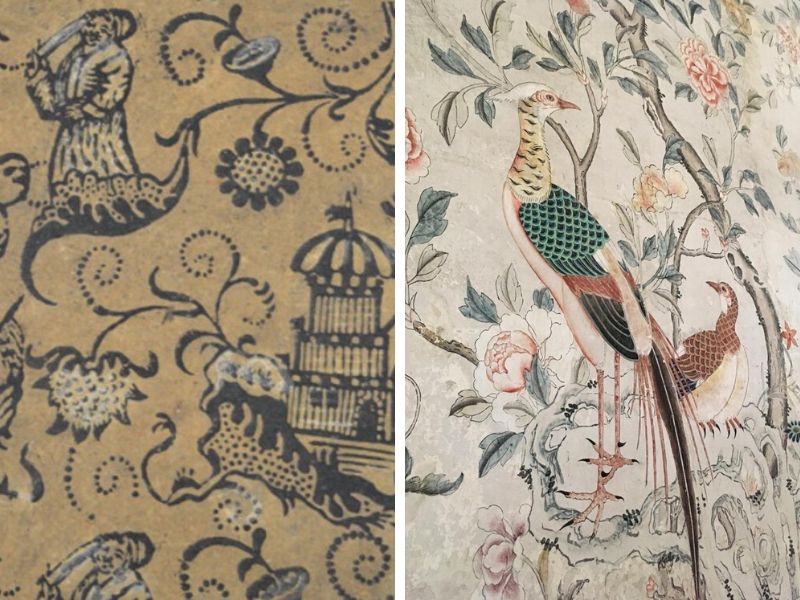 The wallpaper industry was located in London and although wallpaper was still a luxury item (tax was payable on wallpapers between 1712 and 1836), it became more and more popular. Even builders preferred to install wallpaper, as it was easier and cheaper than wooden panelling.
Wallpaper had several functions in a home: on one hand it decorated the walls, on the other hand depending on the pattern and quality of the wallpaper, it explained the social status of its owner. Designers tried to design several patterns to suit every pocket. For instance the middle class preferred smaller, less "showy" patterns. A pattern like that can be seen in Jane Austen's house in Hampshire.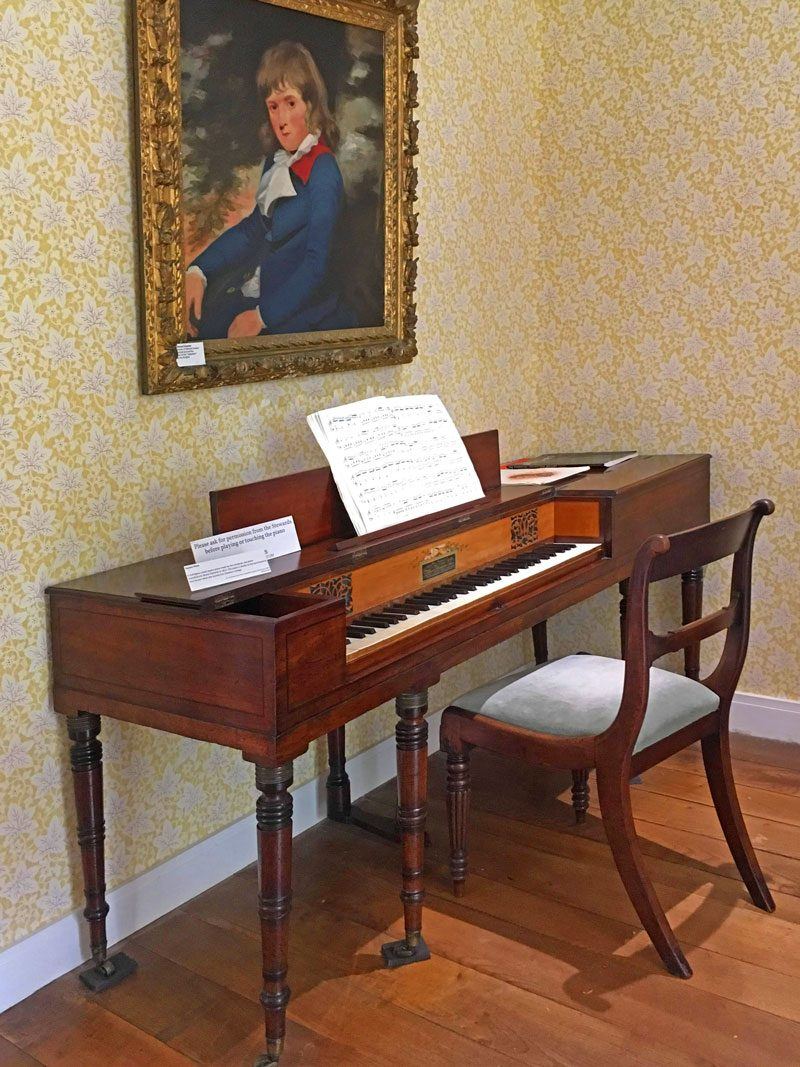 19th century
Wallpaper production started to take off after the German Christophe-Philippe Oberkampf invented a machine for producing paper in rolls. Printing techniques also developed and engraved copper rollers were used which made it possible to achieve finer detail and greater effects on shading and perspective. Cheaper wallpapers did not necessarily look much different from the expensive ones, the only difference was the quality of the paper the pattern was printed on. By the 19th century wallpaper became a necessary element of the interior design for poor and rich. More expensive, showy wallpapers were put up in social rooms like reception rooms and saloons, wallpapers with smaller, less-showy patterns were used in bedrooms and servants' rooms. The middle class preferred huge, naturalistic floral designs but patterns imitating bricks, marble or wooden panelling were also popular.
Some designers thought wallpaper patterns should be flat and should not depict three-dimensional florel bouquets or landscapes. One of them was Owen Jones whose designs were influenced by Islamic art. His patterns are simple and formal.
Another one of them was the famous architect who designed the Houses of Parliament, Pugin. He preferred gothic patterns like the fleur-de-lis that were used in many castles, stately homes and palaces.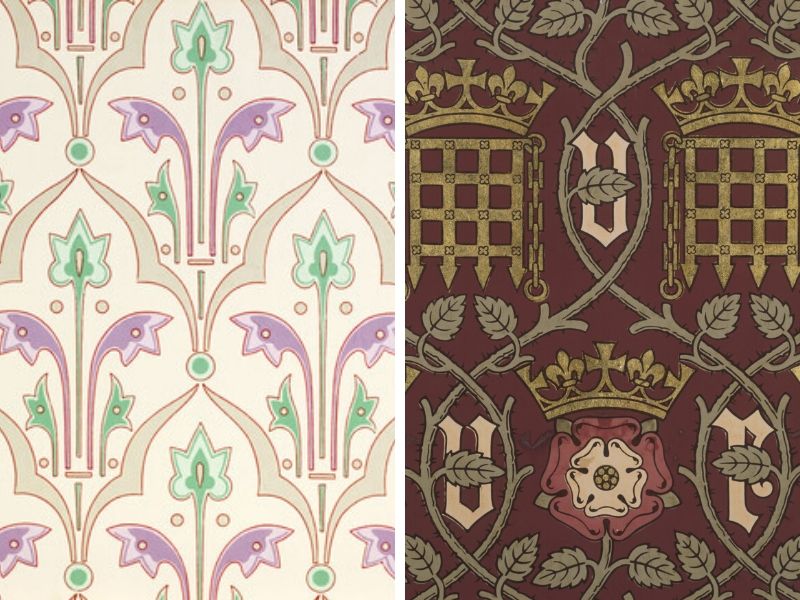 Arts & Crafts and Art Nouveau
William Morris is most associated with the Arts ad Crafts movement and when it comes to English wallpapers, his name probably springs to mind first. In order to understand Morris's aspirations and art, we have to have a look at who he was and where he came from.
Morris was born in 1834 in East London and had a fairly good childhood. He then went to Oxford to study for the church. This is when he met his life-long friend, the Pre-Raphaelite painter Edward Burne-Jones. The two went on an architectural tour of France and they realised they were more committed to art than to the church. Morris strongly believed that craftsmanship produces better quality than mass production and machines. He wanted to create a craft-based artistic community.
Morris established his company in 1861 but he did not start his business with wallpapers. His first products were furniture, tapestry and stained glass. He designed his first wallpaper pattern, Trellis in 1862, Daisy in 1864 and Fruit in 1865. His wallpaper production started in 1864 only and he believed that block printing was more honest and would deliver a better quality.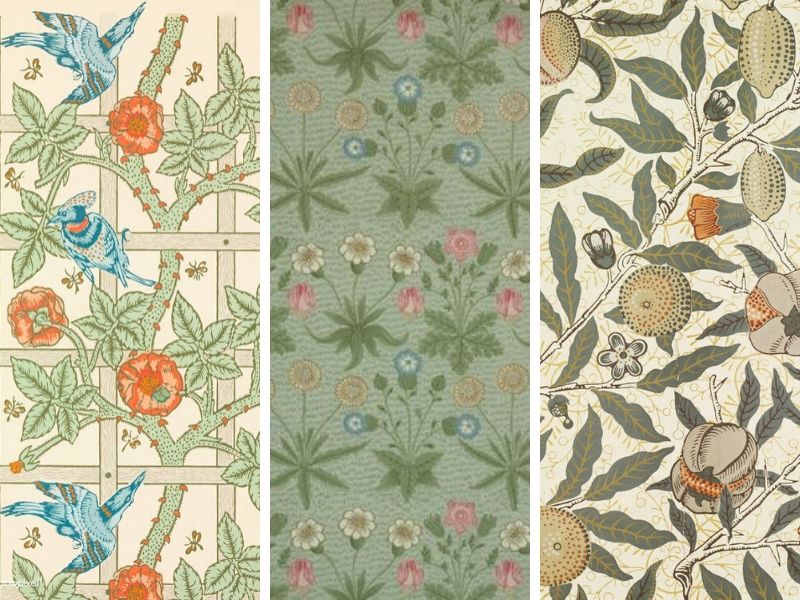 Morris was one of the first designers who marketed his designs and products under different names and understood the value that it created. Morris & Co also had a design service: wealthy customers could commission the company to design the whole interior scheme for their homes. Morris's rich and colourful, naturalistic wallpapers were popular and fashionable, yet not everybody could afford them, plus the rich French designs were still the thing. However, after 1887 when Queen Victoria commissioned Morris to design a wallpaper for Balmoral with the VRI cipher, Morris's wallpapers took off.
In the 1880s Morris designed a textile series which he then named after the Thames and its tributaries. These patterns are interesting for two things: 1) Morris used indigo blue, a colour that was not fashionable in Victorian times, 2) Morris dyed his fabric fully blue and then used bleach on printing plates to clear the dark colour from the fabric and give white flowers.
Morris designed more than 50 wallpapers and numerous fabrics in his life and he studied plants and nature for creating his designs. These patterns are real art and are still very popular in England.
No wonder that other wallpaper manufacturers (Sanderson for example) started to produce similar patterns to Morris. Others started to employ artists to design their wallpapers. Jeffery & Co employed the famous illustrator of children's books, Walter Crane. Crane's wallpapers are colourful, rich and always contain luxuriant foliage and figures from fairy tales.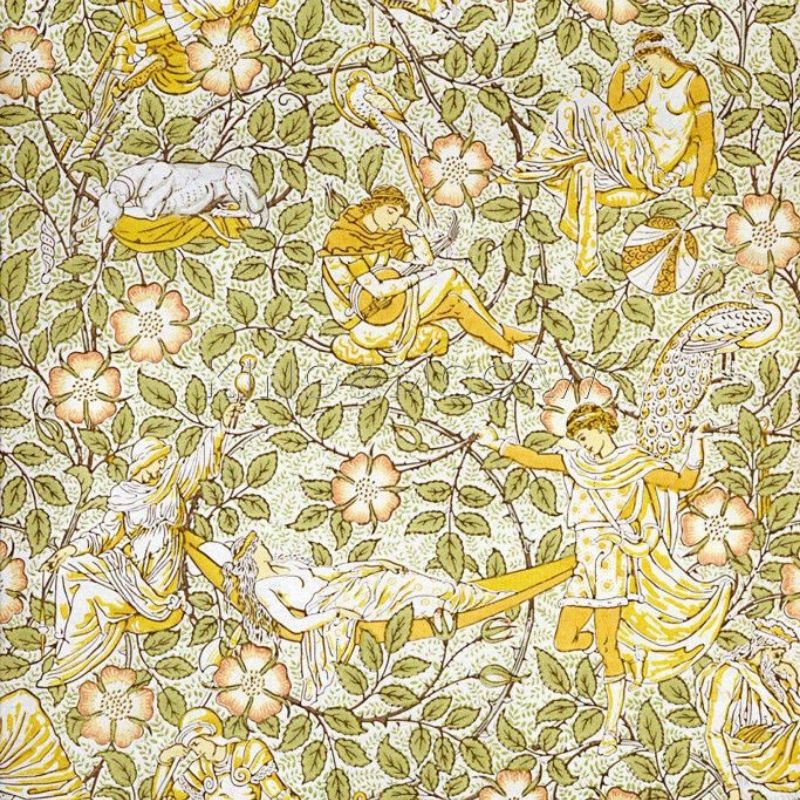 Morris appeared to have taken the biscuit in wallpaper business. Yet, there was one problem. In the 1800s with chemistry developing, new materials were used for enhancing pigments. One of them was copper arsenite known as Sheele's Green which provided a vivid green colour, however, arsenic also enhanced other colours as well. Although it was widely known that arsenic was poisonous, it took decades to realise that wallpapers containing arsenic were harmful for health. In the 1850s doctors raised their concerns regarding wallpapers, but it was difficult to prove their views as it also depended on the humidity of the room. It also made it difficult that people misunderstood and thought only wallpaper containing green colour would be dangerous.
By 1870 some wallpaper manufacturers e.g. Jeffrey & Co advertised their products as "guaranteed arsenic free". Morris's early wallpapers (Daisy, Fruit, Trellis, Venetian, Scroll and Larkspur) were printed with pigments containing arsenic. Interestingly, Morris did not believe that arsenic could be dangerous to health.
Also in the 1870s an innovation appeared on the market. The Manchester firm called Haywood, Higginbottom and Smith developed a washable wallpaper that they printed with oil based paint instead of water based inks. This was called sanitary wallpaper. As it was cheap, it was popular in working class homes but also the middle class used it, mainly in hallways and in children's rooms.
Art Deco
During the 1920s and the art deco wallpapers were considered to be old fashioned. Walls were left plain or painted with one colour and accent colours were added by the colours of the curtains and cushions. Popular design elements were geometric borders or a frieze of hanging blossoms. Wallpapers were still produced, but it was made sure that traditional motifs like flowers were combined with a modern geometric background.
Post War Wallpapers
After the Second World War abstract motifs, hand painted patterns appeared, using mainly vivid colours. Wallpapers become available for everybody: tools, the know-how and wallpapers to different tastes were available.
I would highlight two patterns though. One of them is the Dick Turpin pattern from 1955 which still survives and is popular today, and the other one is Chintz, the popular floral design of the 18th century which re-appeared in the 1970 reflecting nostalgia for rural living and has been a key pattern for shabby chic since.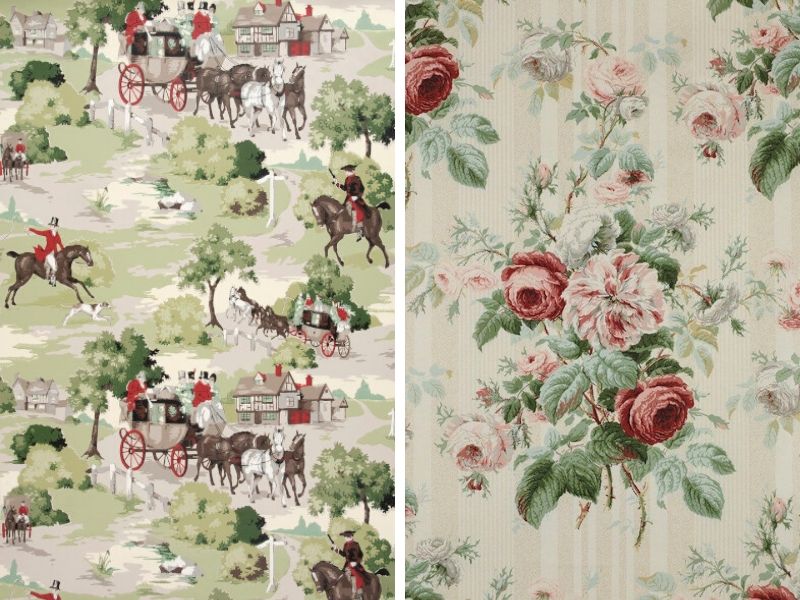 ~
Wallpaper fashions come and go. Yet one thing is for sure: traditional English wallpapers, patterns designed by the likes of Morris, Sanderson and Cole and Son, will never go out of fashion.