Perhaps Slough is not the most impressive and picturesque town in the world, but it too has some quirky stories.
Believe it or not, the first Mars bar in the UK were produced in the Thames Valley, more precisely in Slough, Berkshire.
The story begins when the American child Frank C. Mars suffering from polio learnt from his mother how to hand dip chocolate candy. Unsurprisingly, he later started his own candy factory in Minneapolis. He had a son, Forrest, from his first wife who he left when Forrest was 6 years old. Father and son met again when Mars had to bail Forrest out of Chicago jail. They worked together for a few years and the Milky Way was launched in 1923. The chocolate bar – which did not get its name from the galaxy, but from malted milk – it was a huge success and was three times bigger than it is today. Hershey supplied the chocolate for the coating up until 1965 when Mars decided to produce their own chocolate.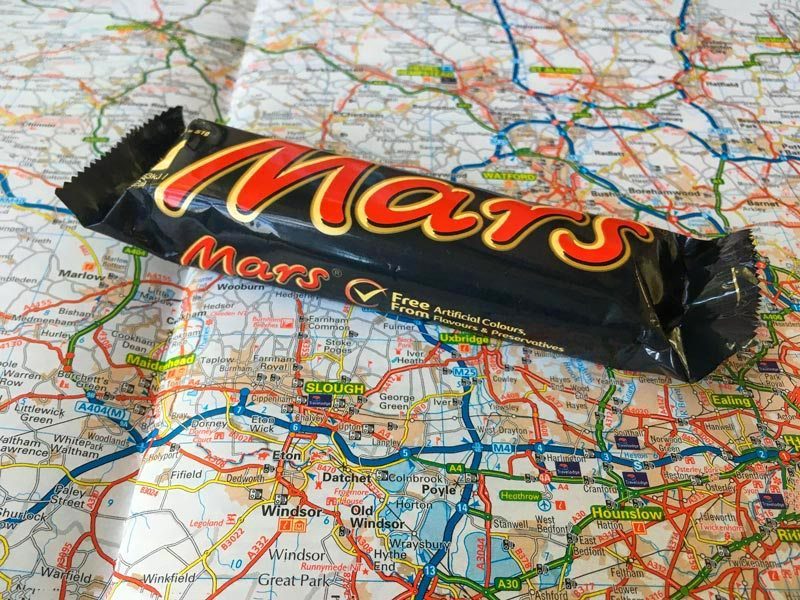 After a quarrel, Mars sent his son to England and he only gave a small amount of cash to him. Forrest Mars began his own company on 17th May 1932 in Slough, Berkshire. Having limited funds, he bought second hand equipment and could hire 4 employees only. For coating the bars, he used chocolate from Cadbury as he would not have been able to produce it at his tiny premises.
As far as the recipe is concerned, Mars was very similar to Milky Way which allegedly was also invented by Forrest. Mars bars became an instant success and the UK is still the biggest Mars bar fan in the world. Forrest Mars also created M&Ms and Maltesers.
Frank C. Mars died two years after his son left the US. Forrest returned to the States to take over the business and he started to produce foods and different products as well such as Uncle Ben's rice, or Pedigree.
There is a huge difference between the UK and the American Mars bars.
The American one contains roasted almonds and less caramel, whilst the UK version is plain and contains more caramel. The American Mars bar is often compared with Snickers and the UK one with Milky Way.
~
Forrest is one of those who set off with a small amount of money and made a success. After his death he left 4 billion dollars and was ranked as 30th richest American in the Forbes magazine. This is not surprising when back in 1961 Mars were able to get Buster Keaton the US silent movie actor to promote the Mars Milky Way product in a television advert in America. In the UK the TV advert slogan was "A Mars a day helps you work, rest and play!"
The UK headquarters of Mars is still in Slough today.