Salmon en croûte with salad
This dish is very light and summery (yes, even in spite of the pastry), but could be served in any season. It is one of my favourite dishes I learnt from Mary Berry. I can remember she cooked this dish for a party and she prepared a huge piece of salmon which was then sliced for the guests. She believes, this dish is perfect to impress your guests.
As far as I am concerned, I have not made this dish for a crowd, but I did cook it for two friends of mine and they both loved it and we have it regularly with Bill, mainly at weekends because we love it. I use salmon slices as opposed to a huge salmon fillet, mainly because it is just two of us and the odd guest as we do not entertain a crowd. It is very simple to prepare it, but let's see the ingredients first.
INGREDIENTS
2 slices of salmon
2 teaspoons of sundried tomato pesto
puff pastry ready to roll
1 egg for the eggwash
FOR THE SALAD
Mixed leaves salad
Cherry tomatoes
2 spring onions
3-4 radishes
carrot
flat leaf parsley
sunflower seeds
sliced pickled beetroot
Salad Cream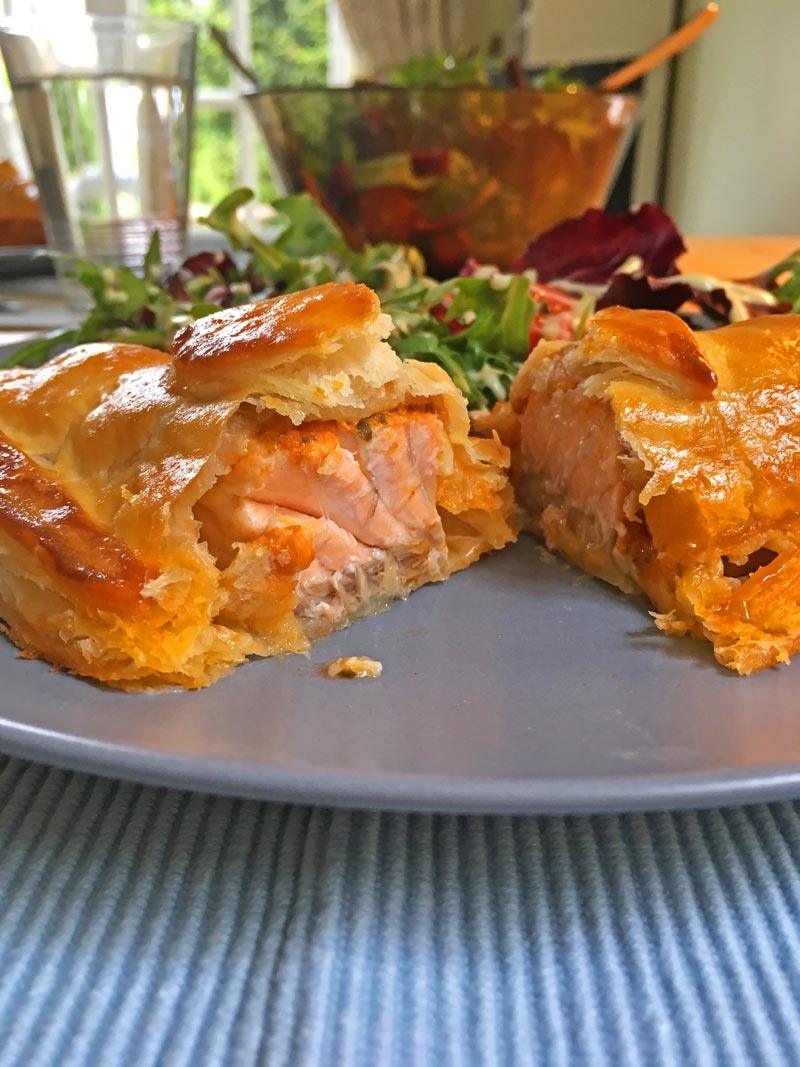 Remove the skin of the salmon slices and rinse them with water to make sure no scales are left on them.
Layer the baking tray with non stick baking parchment.
Unroll the puff pastry and roll a little longer until it is about 1.5cm longer than the fish itself. Place the pastry on top of the baking tray.
Place the salmon on the pastry and spread a teaspoon of the sundried tomato pesto on the slice of fish. Brush the edge of the pastry with the beaten egg.
Roll out the pastry and cut a slightly bigger size this time so that it can cover the fish. Lay the sheet on top of the fish and press the edges to seal. Brush the pastry with eggwash. Alternatively, you can decorate it with a little fish cut from the remainder of the pastry – I always do, it just makes it look more delicate and fun.
Put it into the pre-heated oven (180C fan) and bake it for 30 minutes or until golden brown.
As long as the fish is cooking, prepare the salad. Place the mixed leaves into a large bowl, add the cherry tomatoes, cut into halves. Grate some carrot and add sliced radishes and spring onions. Cut the pickled beetroot into cubes and add them along with finely chopped flat leaf parsley and sunflower seeds.
We normally have the salad with Salad Cream which can be purchased at the British Store in Budapest. I am not sure Tesco have them in Hungary but might be worth checking it. If not, any type of dressing would do, even a plain mayonnaise.
By the time the salad is prepared, the fish is ready and it does not take longer than 30-40 minutes to make this dish.
Isn't it brilliant? Although salmon is not exactly cheap, I think if you want to spoil yourself (or your guests) or just fancy something different, it is the perfect choice.
Enjoy!