Red berries and rhubarb crumble with custard
It has been ages since I wanted to make a crumble, which is a dessert that became popular during the Second World War in Britain, as it was an alternative to pies, due to shortages of ingredients that were rationed.
Crumbles, often remind me of cosy pubs, as you can be almost sure to find some sort of crumble on pubs' dessert menu during the winter season. For me, crumble is a typical autumn and winter dessert, served hot and topped with warm custard. I was surprised how easy it is to make and now that I know, I am definitely going to make it more often! Hope you too.
The best thing about a crumble is that you can use and vary, any fruits you like, plus you can use frozen fruits as well. You can use apples and blackberries or just apples, red berries and rhubarb or only rhubarb or plums. It is really up to you. In this recipe I used frozen red berries and tinned rhubarb.
INGREDIENTS:
(one baking tray)
50g flour
50g oats
50g butter
50g sugar
a hand full of walnuts
some sugar
1 tbsp lemon juice
frozen fruits or the fruit of your choice
fresh fruit would need to be pre-cooked, for best results
Custard:
570ml milk
55ml cream
½ teaspoon vanilla extract
4 egg yolks
2 tsp cornflour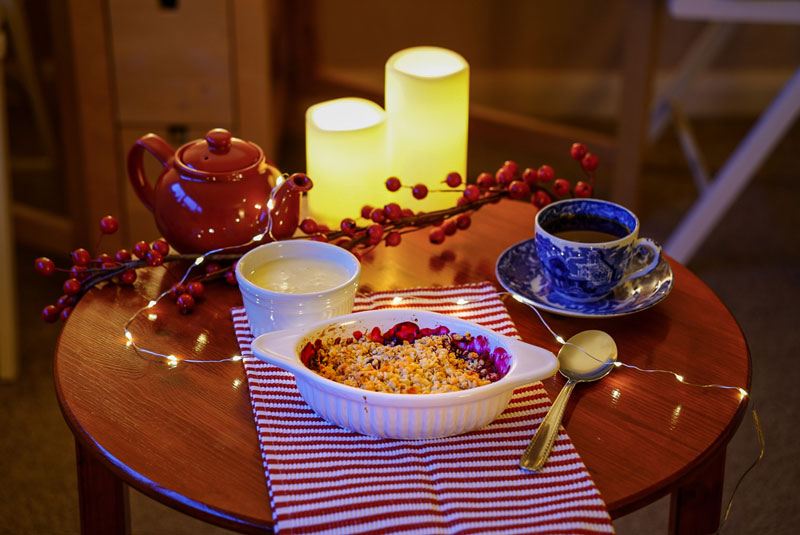 Method:
Put the flour, butter, sugar into a bowl and rub the butter until it is evenly distributed and the mixture looks like crumbs. Then add the oats and the walnuts and mix it to the crumbs. You can skip the oats and the walnuts if you are not keen on them, but they just add to the flavour and give more crunchiness.
Put the fruit into the baking tray, drizzle it with some sugar to taste and pour the lemon juice on it. Then mix the fruit.
Spread the crumble mixture on the top of the fruit and bake it at 180C for 20-30 minutes. Basically the crumbs should be golden brown but be careful as the juice of the fruit can bubble over.
Whilst the crumble is baking, let's make the custard. Mix the egg yolks, sugar and cornflour in a bowl. Mix the milk, cream and the vanilla extract in a saucepan and bring it to the boil. Then gradually add the milk to the yolks while stirring it. Once you have added all the milk, transfer the mixture to the saucepan and cook it over medium heat while constantly stirring it until it reaches the desired consistency  – I like it thick. (If your first attempt is not thick enough use a little less milk next time to find your optimum consistency.)
Once the crumble is golden brown, it is ready to be served. With warm custard it is delightful. The perfect dessert on a cold winter evening and definitely lifts the spirits.
Enjoy!