Does Brown Windsor Soup exist?
As winter arrives it feels good to have a bowl of hot soup. Approaching Christmas, I remembered a scene! Do you remember when Poirot ordered a soup on the train in the episode Poirot's Christmas? If not, here is a refresher:
(Poirot is travelling to the English countryside and is sitting on a train in the dining carriage. He is having a sip of his Port.)
"Are you ready to order, Sir?"
"Ah yes, thank you very much. But please, do tell me What is this Brown Windsor Soup?"
"Well, Sir it is soup from Windsor."
"I see."
(The waiter is serving the soup)
"Well it does not look very délicieux…"
"Well, Sir, it IS Brown Windsor soup."
(The scene is not in Agatha Christie's 1930 book.)
Well, I was intrigued what this Brown Windsor Soup might be – even more so now living very close to Windsor. I was hoping to get more explanation than Poirot, so let's see what Brown Windsor Soup is!
Not a lot to know about it…
There are a few English dishes we know little about: the lemon drizzle cake for instance and the Brown Windsor Soup. The latter is said to be a popular dish in the Victorian and Edwardian era, but in fact it only appeared on restaurant's menus in the 1920s and 1930s.
Some recalled having eaten it on trains, but the Great Western Railway searched their archives going back to the 19th century and did not find any records of Brown Windsor Soup. Soup would not be served on trains either for obvious reasons. The author Evelyn Waugh wrote in 1924 that "things were not as good as they used to be — including Windsor soup".
Is there a Brown Windsor Soup at all then?
It would be logical for the soup to have some sort of romantic history like Queen Victoria's Italian chef, Francatelli making Brown Windsor Soup for the monarch at Windsor Castle, which became her favourite soup, but that is not the case, unfortunately. Brown Windsor Soup appears to be a mystery which many have heard of but nobody has tried or seen it.
However, there was a Windsor soup, but it was not brown. King George III's and King George IV's favourite soup was the so-called Vermicelli a la Windsor soup. This was a white soup though, made of white meat and noodles.
Francatelli did make a soup for Queen Victoria which was called Calf Feet Soup a la Windsor. It had a thick gelatine body made of calf's feet, chicken, noodles, white wine and cream, however it was never on the Royal menus. Francatelli's soup was altered with time: Madeira wine, cayenne pepper was added and the soup was darkened with caramel. Perhaps that's the clue…?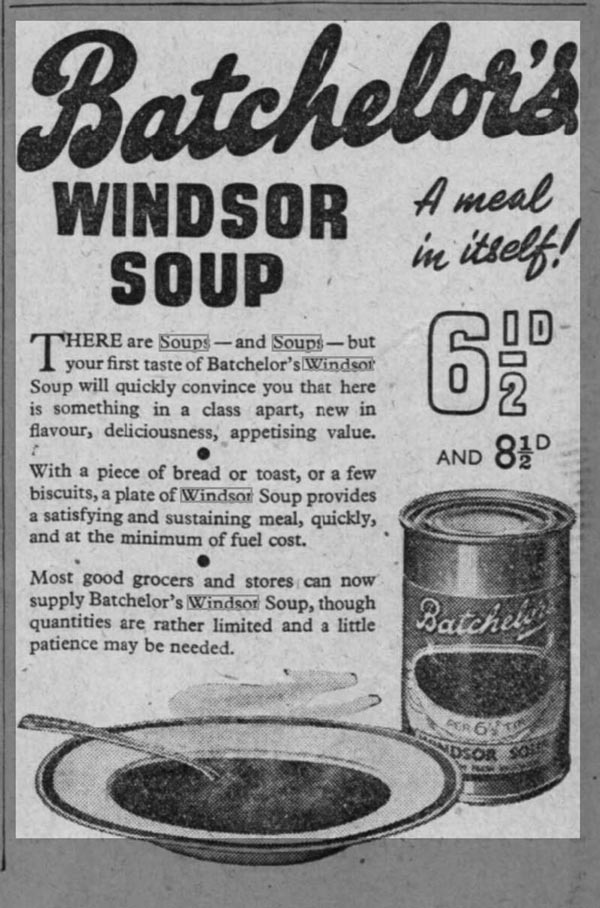 What do cookbooks say?
Although the Harry Potter and Downton Abbey cookbooks list the Brown Windsor Soup, none of the cookbooks mention it before the Second World War.
In the 1920s restaurants offered Brown Windsor and Tomato soup on their menus, but no one knows what the Brown Windsor Soup was made of. In the 1940s a tinned Bachelor's Windsor Soup appeared which allegedly tasted like gravy. Some believe that in the 1950s when food was still rationed, leftovers were mixed into mystery brown soups.
Food historian Annie Gray notes that the soup did exist but it was associated with shabby establishments where they tried to compensate the circumstances with a posh sounding dish to serve. Brown Windsor Soup also became a meme in the 1950s when it appears in comedies and jokes.
~
All in all Poirot may or may not have eaten Brown Windsor Soup on the train. I let you decide whether he did or he did not.