Christmas at Windsor Castle – From Queen Victoria's journal
From decoration to Christmas cards, from cakes to customs, the Christmas we know today was established during Queen Victoria's reign. Queen Victoria's journal gives an insight into how the Royal Family used to celebrate Christmas at Widnsor Castle in the 19th century and also how Queen Victoria liked these celebrations.
German traditions at Windsor Castle
Until the death of her beloved husband in 1861, Queen Victoria spent every Christmas with her family at Windsor Castle. After Prince Albert's death Queen Victoria spent Christmas at Osborne House (Isle of Wight) where the family gathered for the celebrations. The traditions established by Queen Victoria and Prince Albert are still held in the Royal Family. One of these traditions is to have two Christmas trees: one for the Royal Family and another one for the Royal Household. But this was not always like that: At the very beginning, every memeber of the family had an own Christmas tree at Windsor Castle.
Because the first image of a Christmas tree surrounded by the Royal Family was published in the Illustrated London News in 1848, many believe that Prince Albert introduced the Christmas tree to England. Albert probably encouraged the tradition but he was not the first one to have a Christmas tree.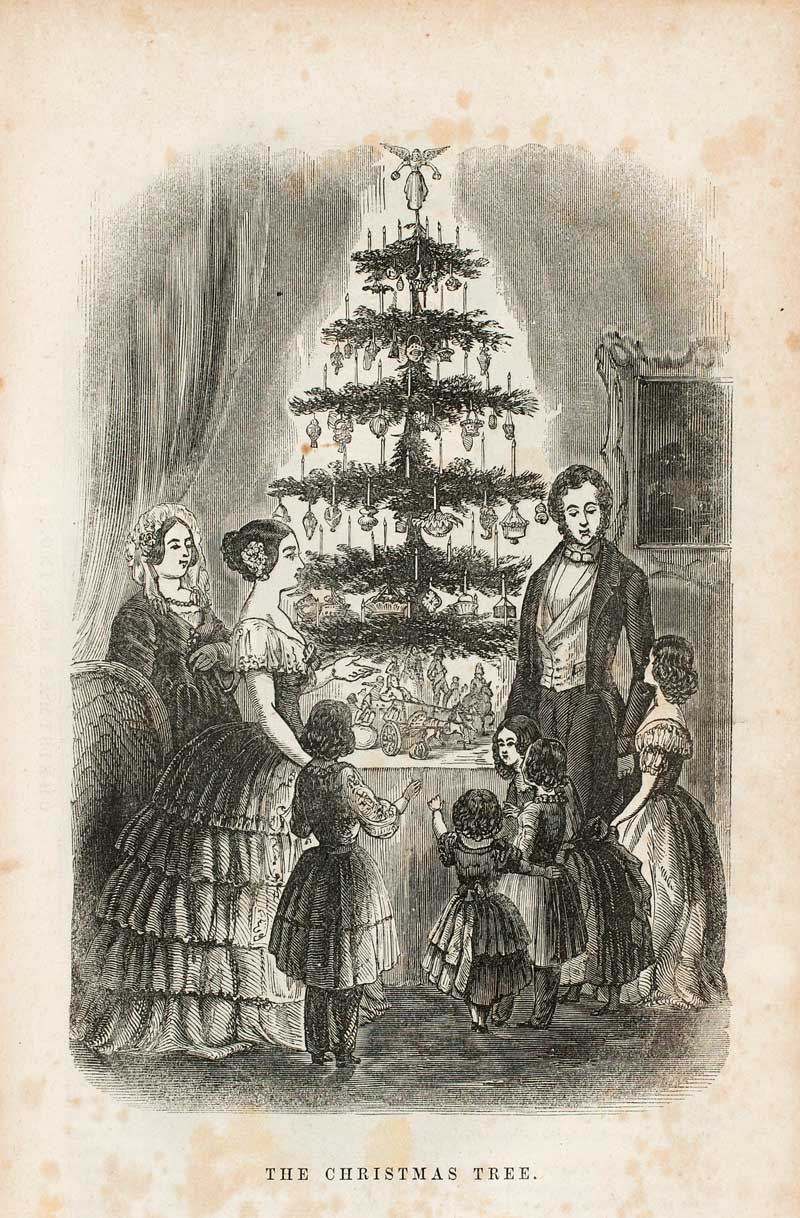 King George III's wife, Queen Charlotte held a festive party for children in Windsor in 1800 and a Christmas tree was a centerpiece of the celebrations. Also, the 13 year old Princess Victoria wrote in her diary in 1832 that there were Christmas trees at Kensington Palace.
Perhaps it is a less known fact that the Royal Family followed the German tradition of exchanging gifts on Christmas Eve, rather than on Christmas Day. Victoria was happy to follow German traditions, they even spoke German to each other from time to time – no wonder: Queen Victoria was fluent in German by the age of 10.
24th December 1850, Windsor Castle
'The frost gone, & a raw dull morning. Albert out shooting, & I, walking with the Children. We walked out in the afternoon, & found it raw & damp. We began, by giving our presents to poor Ly Lyttleton, a bracelet containing the portraits of our five younger Children, & 2 prints of the Children. Then gave presents to our personal servants &c, & were busy arranging the tables.
At a little after 6 we all assembled & my beloved Albert 1rst took me to my tree & table, covered by such numberless gifts, really too much, too magnificent. I am delighted with really splendid picture in watercolours by Corbauld, representing the famous scene at the Coronation in 'Le Prophete' – 7 a very pretty oil painting of 'Faith' represented by a female figure & 2 angels, by Mrs. Richards, also a fine oil painting of 'L'Allegro' & 'Il Penseroso', by Hurseley. The one present from dearest Albert, which is of infinite value to me, is a miniature of my beloved Louise in a clasp to a bracelet in dull, deepish blue enamel, with a black cross, the cypher & stars in diamonds, all, dear Albert's own design & very lovely.
I also received charming gifts from dear mama. The 3 girls all worked me something. The 7 children were then taken to their tree, jumping & shouting with joy over their toys & other presents; the Boys could think of nothing but the swords we had given them, & Bertie of some armour, which however he complained, pinched him!
Mama had her tree & table in the same room, & Albert his, in the 3rd last room. Amongst my gifts was a painting by Landseer, as a pedant to his 'Lassie' – a Highlander in a snowstorm 'on the Hull', with a dead eagle in one hand, & a dog near him. The colouring is beautiful, & the whole thing is a 'chef d'oeuvre'.
Dear Albert was kindly pleased with everything, but I felt it was so poor in comparison to what he had given me. At 7, we gave the Ladies & Gentlemen their tree and gifts, & then showed them our things. Mama, &c to dinner, Ld. Camoys sitting next to me, having just come into waiting…'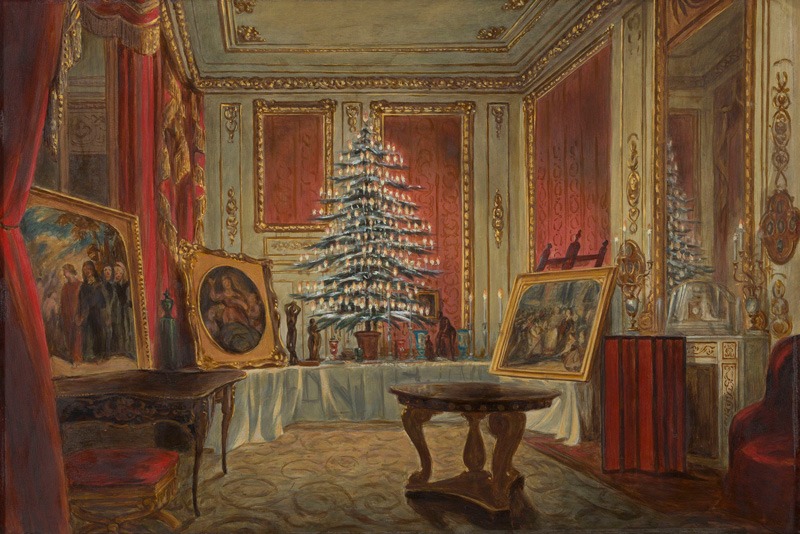 Royal gifts
As far as the gifts are concerned paintings and jewels were the highest regarded, most expensive and most valuable gifts. We may wonder today why paintings were that popular but if you think about it, photography did not exist (the first Dagguerreotypes were taken in the 1840s) so if people wanted their beloved ones to remember them, they ordered a painting. Of course paintings were popular as well as art d'objects. However, books, notebooks, fans, Fabergé eggs, inkstands etc were also popular gifts.
25th December 1850, Windsor Castle
'The return of this blessed season must always fill one with gratitude & with the deepest devotion to Our Lord & Saviour! May God grant that we may all see happy returns of this great Festival. We walked with the Children to the Kennels, where I gave the good little McDonalds toys & stuff for dresses. The day was beautiful but almost too mild for Christmas! Service at 11. Went several times to look at my beautiful presents. The trees were lit up in the evening, & the Children were all playing about so happily. Mama, &c – the Phippses, Mrs. Grey, Mrs. Bouverie, Gen. Wemyss, Mr. Wellesley, Mr. Birch, Mr. Glover & Meyer, dined. The 2 little girls & Affie appeared during dinner, & the others, after.'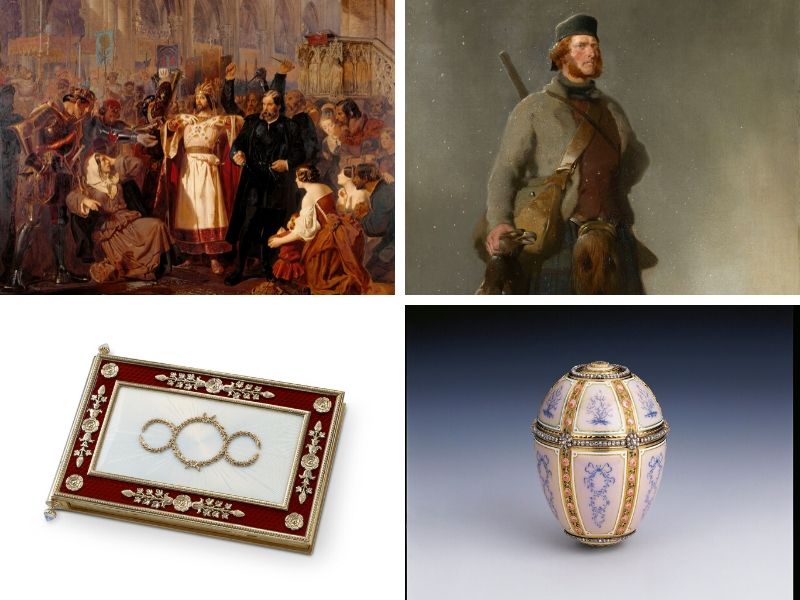 Activities at Christmas
At the Christmas celebrations at Windsor, Queen Victoria's children sang songs, performed plays, had festive dinners and enjoyed winter sports. Prince Albert was an enthusiastic skater and often popped down to skate on the lake at Frogmore Estate. Queen Victoria took lessons from a tutor in Eton but she preferred to be pushed around in her sledge. On one occassion when Prince Albert was skating in the gardens at Buckingham Palace, the ice broke under him and Queen Victoria helped him to get out of the water. Prince Albert returned to the palace to have a hot bath and a rest.
26th December 1850, Windsor Castle
'A dull & raw morning. Albert, out hunting, & I, walking with the Children. The little McDonalds & little Flemmings (to whom I had also given something) were much delighted with their Xmas presents, when we went to see them. Rode afterwards in the Riding School on 'Hammon' & 'Ronald'. A rainy afternoon, but got out for a short walk. At 1/2p 6 the Children performed their Charade, the same as last year, but without the dancing & the last scene. Some of the scenery from our Theatre was made use of, & the whole looked very nice. The Children were particularly well got up, but did not act as well, being rather absent. Bertie spoke the best. They each recited a piece of poetry, and Bertie the 7 Ages, by Shakespeare, which he did remarkably well. The performance ended with a little dance with the Phipps Children, who had come to see the Charade. Bessy Douro, Caroline Cavendish, Stockmar, & Clark were also there. Mama, &c to dinner.'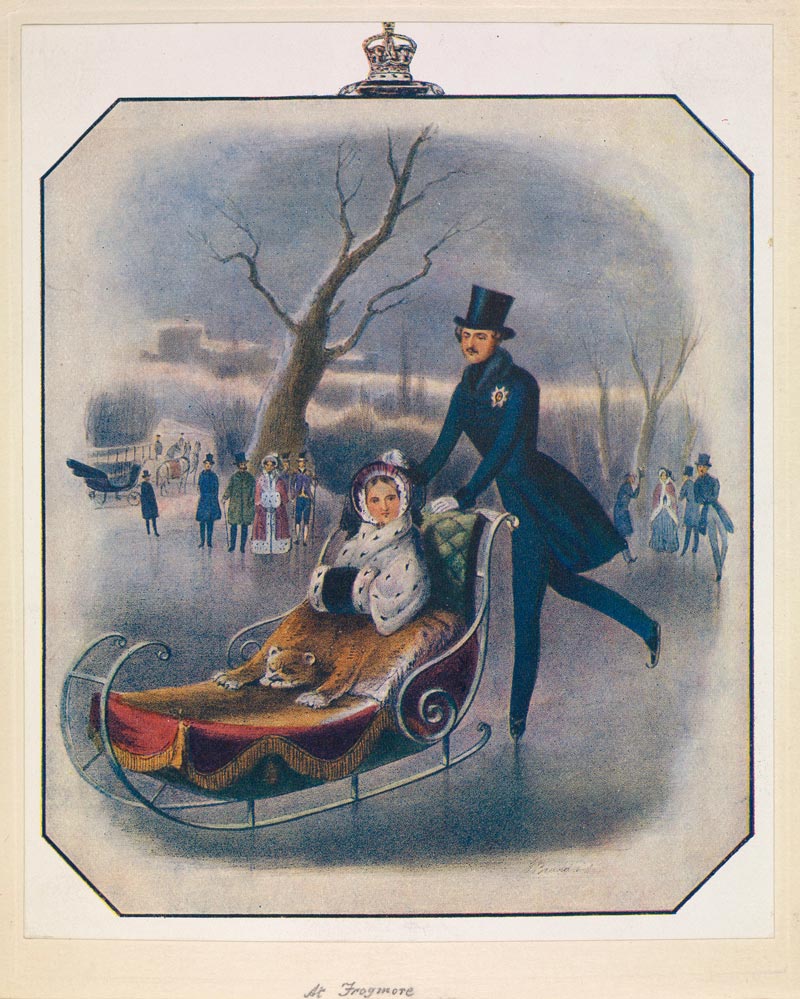 ~
There is something magical about the Victorian Christmas and we all seem to like going back in time and let ourselves enchanted by Dicken's world and Christmas. I personally can not see people stop loving the Victorian Christmas ambience.
What do you think?
Who is who?
Lady Lyttleton – lady-in-waiting to Queen Victoria since 1837, in 1843 she was appointed to the governess of the children. She was also made Lady of the Bedchamber. In 1850 she asked permission to resign as Lavinia, one of her daughters died.
Lady Camoys – wife of Thomas Stonor, 3rd Baron Camoys, who was Lord-in-Waiting to Queen Victoria.
Phipps – Harriet Phipps confidential attendant of Queen Victoria.
Charles Grey – In later life, he served as private secretary to Prince Albert and later Queen Victoria.
Major-General Wemyss – Equerry in Waiting
Arthur Wellesley, 1st Duke of Wellington
Charles Bell Birch – English sculptor
John H. Glover – Librarian at Windsor Castle c.1859-60
Mr Meyer – horticulturist
Lady Douro – Lady Elizabeth 'Bessy' Douro was Queen Victoria's Lady of the Bedchamber from 1843 to 1858.
Caroline Cavendish – Harriet Elizabeth Georgiana Sutherland-Leveson-Gower, Duchess of Sutherland, Mistress of the Robes
Christian Friedrich, Baron Stockmar – German physician and statesman, who was a leading player in the affairs of the United Kingdom under Queen Victoria.
Sir James Clark, 1st Baronet – British physician who was Physician-in-Ordinary to Queen Victoria between 1837 and 1860.