A classic English summer dessert: Eton Mess
Eton Mess is a classic, English summer dessert that consists of meringue, cream and strawberries. English summer is impossible to imagine without it – and without the "Wimbledon Cake".
The history of the Eton Mess
Allegedly Eton Mess was first mentioned in the newspapers in 1893 when the dessert was served at Eton College after the cricket match against Harrow.
However, there's a much cuter version of the story from 1920. The story goes that a pavlova was packed in a picnic basket which was to be served for the Eton boys after the cricket match. Allegedly, a labrador sat on the basket and smashed the pavlova. The boys didn't mind and ate the dessert anyway.
Well, I leave it to you which story you believe.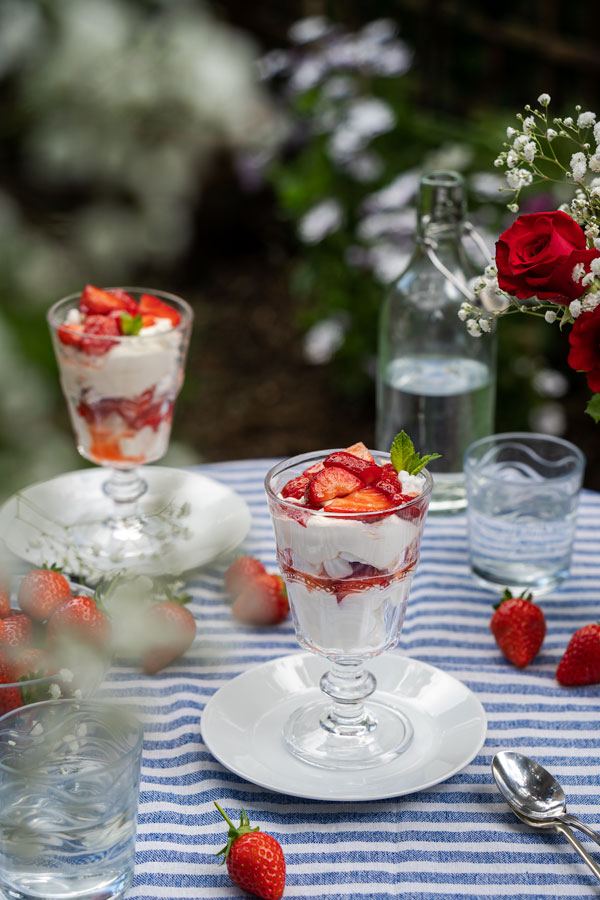 How to make Eton Mess?
It's very simple to make, especially if you use ready made meringues.
INGREDIENTS
6 meringue nests
500g strawberries
50g caster sugar
juice of half a lemon
450ml double cream
1 tbs icing sugar
Cut the strawberries in half and put them into a bowl. Sprinkle the caster sugar and squeeze the lemon over them.
Whip the cream until just short of stiff.
Break up the meringues with your hands into different pieces and place a layer into a bowl or a glass. Put a layer of cream on it and then a layer of strawberries. Depending on the size of the bowl or glass repeat the process.
Dust with icing sugar and serve.
Enjoy!