What comes to your mind when you see a Chesterfield sofa? A billiard room, or a library in an English country house? A gentlemen's club in London? A cosy English pub? A study full of smoke and Churchill sitting on a deep brown Chesterfield sofa smoking his cigar? Or perhaps a silver velvet Chesterfield sofa with Marylin Monroe elegantly laying on it?
As for me the answer is quite simple:
England
Although the Chesterfield sofa is not yet among the official culture icons of Britain, for me IT IS an icon. If anything, then the Chesterfield sofa IS English (British) and as such, cannot be missing from a decent pub, from a gentlemen's club or in a velvet version from a lady's boudoir.
Sofas were luxurious furniture
Before moving on to the history of the Chesterfield sofa, let's have a look at the history of the sofa as it is equally interesting. This piece of furniture appeared first in the 1800s, which in England was the Regency period. I have not found any information as to where it first was made: England or France. Both can be possible as in France the sofa was named after Madame Récamier, a lady who entertained artists and whose portrait with her sitting on a canapé was painted in 1800. The sofa was a status symbol and being a completely new piece of furniture, only the wealthiest could afford one. Men and women could sit next to each other on the same piece of furniture for the first time in history rather than on individual chairs. This provided intimacy and the upholstery and the luxurious fabric could be seen as encouraging adultery. Perhaps, this is why in English the two-seater is often called "loveseat".
Maybe the most exciting version of the sofa is the so called fainting couch, with a back that is traditionally raised at one end. This was a very popular piece of furniture in the 19th century, primarily among women. There are different theories why this type of sofa was made: 1) ladies often fainted because of their tight corsets and needed somewhere to lay down quickly, 2) female hysteria was treated at home by manual pelvic massage and for this something was needed to lay down.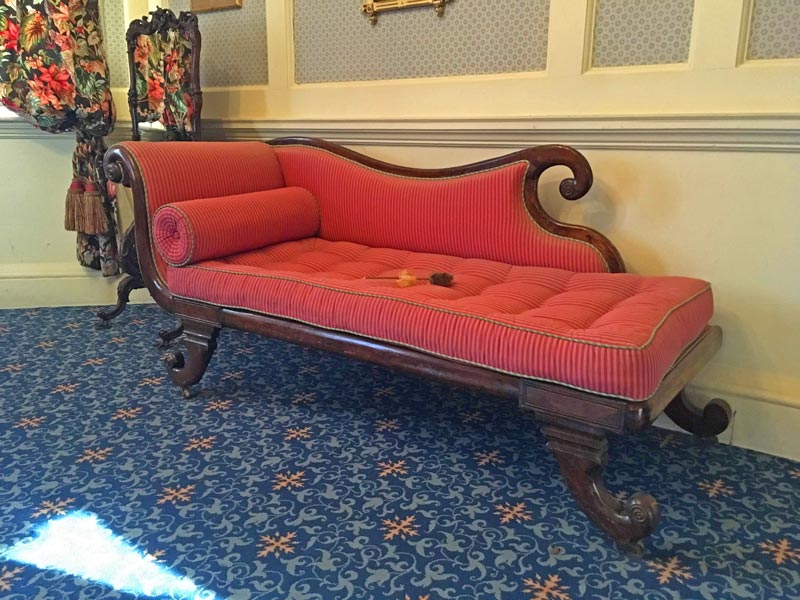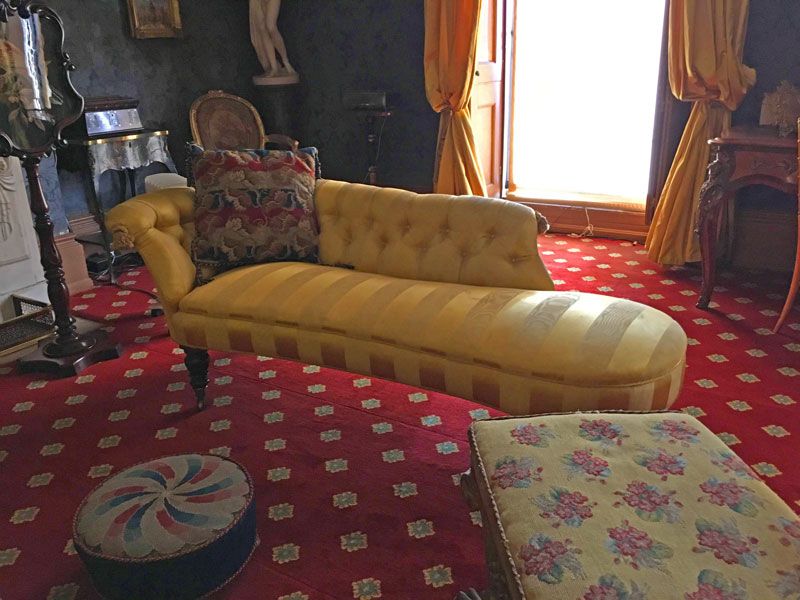 The sofa had many variants later: récamier, canapé, divan, futons, lounge etc. Up until the 1900s, however, the word "Chesterfield" meant any couch in England. After this date it has been associated with the deep buttoned sofa, usually made of leather with arms and back of same height.
But how was the Chesterfield sofa born?
The first one was commissioned by Philip Stanhope, the 4th Earl of Chesterfield. The British statesman and diplomat, who was a fashion expert as well, ordered a seating, "which would allow a gentleman to sit upright in the upmost comfort without wrinkling the garments". There is a legend as well which explains Chesterfield's last words on his death bed in the presence of his servant and friend, Mr Dayrolls. Apparently he said "Give Mr Dayrolls a chair". His servant was confused as to whether Chesterfield meant to sit down or to give him a chair as a gift. It is unlikely that Mr Dayrolls left carrying a Chesterfield sofa, but others believe he did…!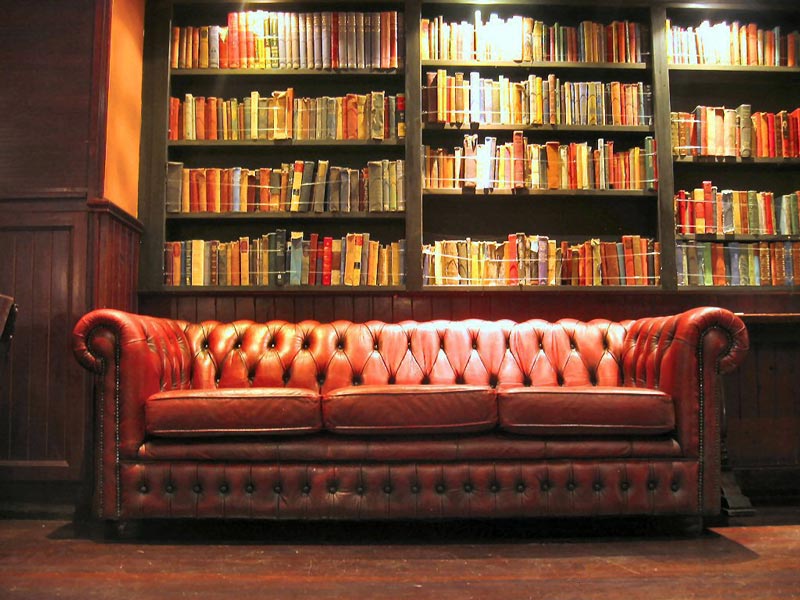 Characteristics
Chesterfield sofas are always hand made.
It has polished mahagony bun feet. Today they have castors mainly.
It had two cushions each filled with horsehair and padding for a firmer sit.
Deep buttons, placed in diamond formation into the oxblood leather. However, Chesterfield's sofa probably was made of velvet being a softer material and more fashionable in that period.
Scrolled arms with a back at equal height are one of the most distinguishing characteristics.
Apparently, to own a deep purple velvet Chesterfield is marked as officially middle-class.
Springs were patented in 1828 and added to the Chesterfield in the 1850s.
In the mid Victorian period almost every gentlemen's club had Chesterfield sofas.
Perhaps the most famous Chesterfield type of sofa belonged to Siegmund Freud.
~
By 1920 the Chesterfield sofa became a quintessential icon of the age and will always remain a fashion icon. I have yet to buy mine… 🙂