Holiday in England during COVID-19
COVID-19 Holidays can be very different and at the same time not different at all! I guess it depends on what you are doing during the holiday and whether you allow the virus situation to spoil your holiday. One thing is for sure: a holiday during COVID-19 certainly gives you a different experience.
During our holiday in Cornwall, I thought I ought to share our experience and provide some useful information. Hopefully, these practical insights will help you to prepare for a holiday during COVID-19.
Mask
Masks are basic and you do not even notice it anymore really. Wearing masks in shops and public transportation, is mandatory in England from 24th July 2020. You cannot enter a shop without wearing a mask and depending on the size of the shop, they limit the number of customers that can enter at one time. No issue with this at all, I think this is the right thing to do. We also wore our masks when we were walking around in a fishing town which was full of other hoildaymakers. In fact, all we wanted to do is to leave the place, because it was full of people, which may have been the same feeling even without the virus situation.
One-way system
They try to introduce one way systems almost everywhere: at National Trust places, shopping malls, restaurants, shops and toilets. No issue with this either, however, sometimes it does appear a bit over the top (OTT) especially when you have to walk through the entire pub and hotel to get to the toilets and then you have to get out to the street to enter the place again. Alright, that's the new system, take it or leave it, yet it is strange at times and places. But to be fair you would not expect anything else from the English, would you? They are world class in Health and Safety. :)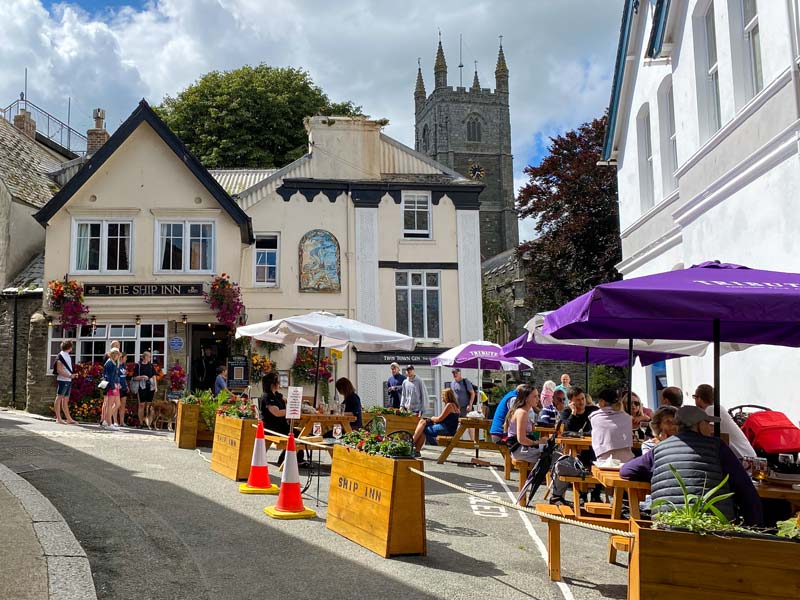 Toilets
Public toilets and toilets at various sites are open now. Of course you have to queue especially that one toilet is always blocked between two for social distancing. Equally you cannot use sinks and dryers next to each other to maintain social distancing. Instead, you can use paper towels and hand sanitiser. The latter is used by everybody by the way – or at least I saw everybody using it whenever they were in the restroom. You can find a toilet whilst walking around in fishing villages. However, it is far more complicated because of the limited capacity and queueing. If you have an upset tummy, then it is an issue, so try to avoid food that you are unsure about.
Take-away
Something that I am not too sure is necessary. Packing your food and drink even if you consume it at the restaurants' or cafes' premises. Several locations did not serve anything using proper plates, teacups and crockery, but packed the food as if we were taking it out for a picnic. We had tea and cake on more than one occassion during our holiday and I looked at the extra packaging materials that we generate just because of this virus and I was astonished. How many trees are going to be felled just because of this take-away craze now…? And how much more plastic are we using just because of the pandemic…? I guess it is the case of catch 22 and we shoot ourselves in the foot. :(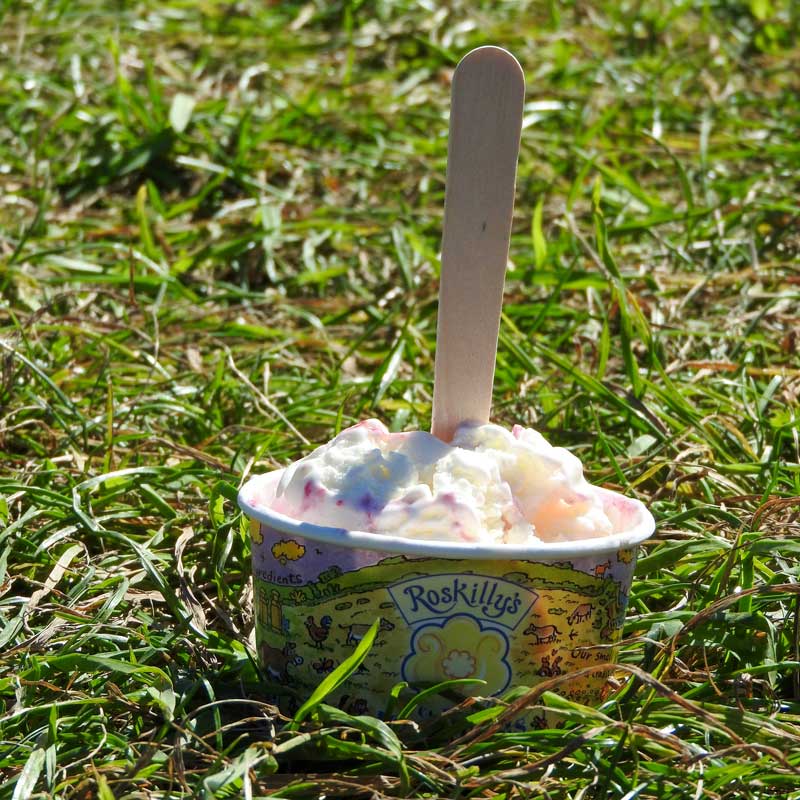 Parking
If you are planning to go on holiday in England now, get a huge sack of coins from your bank. Under daily circumstances I have no idea where to get coins from, as nobody seems to take cash, yet when it comes to parking, coins seem to be the only and most certain solution. Card payment is preferred everywhere, but not in car parks. Don't get me wrong, there are many car parks where the vending machine is designed for cash and card and even mobile payment. But here comes the but, in most of the cases the card payment is not working! OK, let's pay online then. Nearly every village uses a different application so you have to be prepared to download the app in the first place. If you can, I may add as the signal in some part of the country is so poor that you do not even get the opportunity to download it. Even if you do, the app does not work either! Well, not all of them. Given that parking is at least 2-5 pounds in these fishing villages (depending on the lenght of your stay), you need a lot of money in coins to be able to park. I do get it that these villages live from tourism and that is fine. But then their councils should make sure that the paying machines work properly or install change vending machines in the car parks as well so that people can get coins. Finally the car parking is often in divisions of the pound, so unless you have small change you will have to round up to the nearest pound.
Accommodation
Perhaps the least trouble is with accommodation. Having said that, after the confirmation of my booking I received at least 6 times the special COVID-19 rules and instructions. "Come on!" If somebody cannot get the message twice, he/she will not get it anyway. So as per the instructions we were not allowed to check in until 5pm because of the extra time and effort the cleaners need during the virus situation. They clearly stated that the usual stuff like salt and pepper, oil, etc will be removed from the apartment and you have to bring your own. Also, we were instructed to strip the bedding, remove all rubbish from the property, put the dishwasher on the highest temperature programme, not to leave any food in the fridge before leaving otherwise we will be fined. Well, upon arrival we found salt and pepper, ice cream in the freezer, milk and a bottle of wine in the fridge… I would like to emphasize that I have absolutely no problem whatsoever with the above requests (we being very clean people, do most of the things anyway when renting an accommodation), I wondered: if we do all what is requested, what are the cleaners doing then…? :)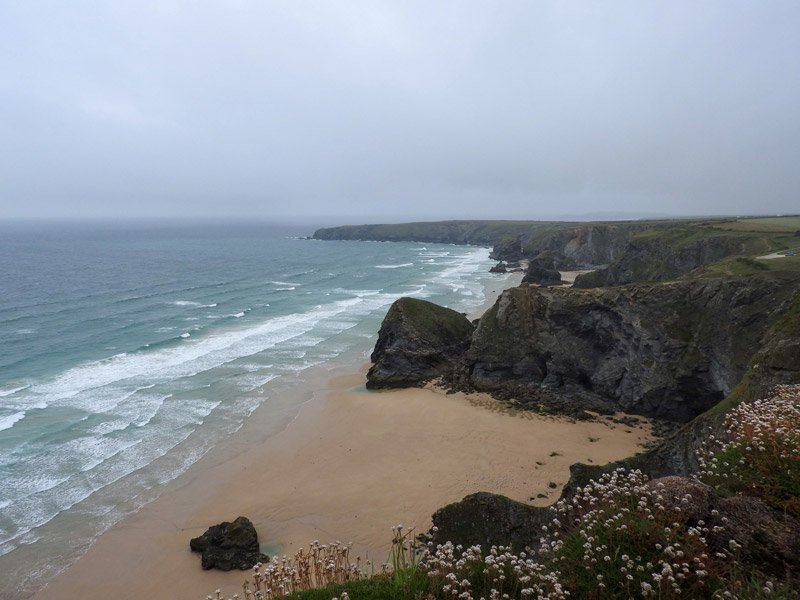 Restaurants
Most restaurants switched to online ordering via an app. For us, that meant we entered the restaurant and got a simplified menu printed on an A4 sheet of paper, we got the wifi password and explanation which application to use on our phone to order the food and also pay for it. Once ordered and paid, the food suddenly appears on a drop-off table.
The stickers on the floor signaling the one way system, the gaps between the table and the deathly silence definitely make dining out a very different experience. Perhaps if there had been background music, it may have been more relaxing. Imagine an otherwise lovely seaside pub with smuggler's history and decor without atmosphere. Once you finish your meal, you have to put your plates back on the drop-off table.
There was one positive thing though: we did not have to wait hours to get the bill and pay which often is the case at restaurants. At the same time it is weird just standing up and walking out the door.
This was our only experience of eating in a restaurant/pub during our holiday and due to this experience we made no further attempts to eat out. I am sure that many places work hard to make eating out a much more pleasurable event!
Pre-booking
Everything has to be pre-booked. Whether you want to go to a castle, a National Trust or English Heritage place, or to a restaurant or café, pre-booking is a must. It certainly has positives: I would like to think that the number of visitors are balanced in this way and crowds at peak times can be avoided. The downside is that if there is no signal, or the internet is poor at your accommodation, then pre-booking becomes difficult… Not to mention that the spontaneity is completely lost.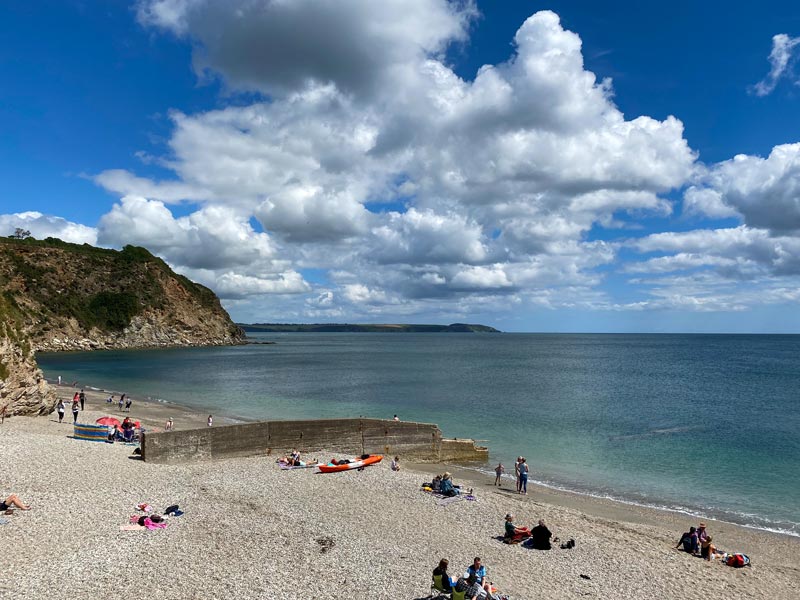 ~
Summary
In spite of the different situations and the rules one has to comply with these days, we had a wonderful holiday in Cornwall. Experiences like walks along the South West Coastal Path are the same, no crowds, although it can be busy. The views are still fantastic, it is lovely to have a gentle stroll in fishing villages and have Cornish ice-cream and you can visit estates and gardens and everybody is trying their best to make tourists feel relaxed. Cakes, ice cream and the fish and chips are as delicious as ever. These experiences are no different.
You feel the differnce once you would like to have a social experience like going to a pub or restaurant or just pop into a shop for a coffee. It is not as carefree and spontaneous as it used to be. If you are prepared for this and are willing to play by the rules, then you still can have a great holiday in England. Even during COVID-19. One thing is for sure: you will deffinitely remember it.
The above comments are not meant to dissuade you from taking a holiday in England, but if you are aware of some of the changes, your holiday can be as much fun as it always is.